Isaiah Thomas x Pizza Guys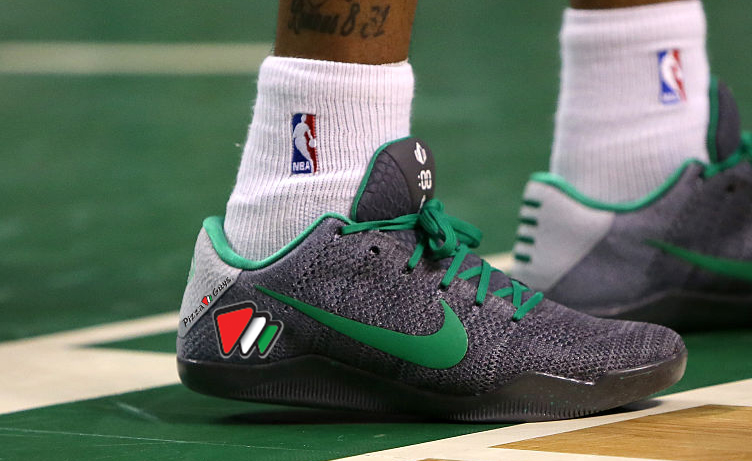 Little known fact: Before Isaiah Thomas was an All-Star point guard in Boston, he was a Pizza Guy in Sacramento. No, really, the last (No. 60) pick in the 2011 NBA Draft was a big-time spokesperson for the California-based pizza chain, and the cheesiness of said commercials are somewhat legendary in that region.
I've had the pleasure of informing Isaiah Thomas — by way of a scream — that I am aware of his time as a Pizza Guy, and it always invokes a nervous, 'I was the 60th pick in the NBA draft and they really don't pay that position enough, so I accepted the role as 'Pizza Guys' spokesperson despite how bad those commercials were' smile.
This is a no-brainer. Take my money.
Big Red x Matt Bonner x New Balance
Big Red is one of the more popular soda brands in Texas, and being that Matt Bonner is also a Big Red, and played a lot of basketball in Texas, it really is a match made in heaven.
The best part is, Big Red actually sponsors Matt Bonner, and that makes Bonner one of four current and/or former basketball players with their own signature soda. It puts Bonner in the same category as LeBron James, Shaquille O'Neal, and Russell Westbrook.
New Balance actually dropped Bonner as an official sponsor several years ago, but I have to believe the proposed Matt Bonner x Big Red x New Balance signature shoe would reel them back in. Take another minute to realize how awesome it is that New Balance actually sponsored Matt Bonner. If you told me New Balance sponsored any professional basketball player, I wouldn't believe you, but if you followed that up with"'what about Matt Bonner?" I'd have to reverse course. Sometimes, things just make sense. Of course New Balance sponsored Matt Bonner. Duh.