Look, it's one week of official games in the bubble and things are getting a tiny bit slow. It doesn't mean things aren't going to pick back up again, but so far guys have cooled it on going down waterslides at 3 p.m. because they are probably practicing instead. It's one of the pitfalls of this industry, the chronicling downtime of professional athletes trapped in an experimental bubble industry, but it won't alter in any way the frequency or quality of my work. You've got my word on that.
Otherwise, the biggest developments this week were night swims and general submersion after dark, a recurring appearance of one very bold duck, and shoes with fake pieces of fried chicken on them. Let's see!
Victor Oladipo
Let's start with a snack. Victor Oladipo sat down at one of the many restaurants housed in the Grand Floridian alongside teammate, Jeremy Lamb, and very quickly became transfixed and mildly obsessed with the apple creature creation set down in front of Lamb. Which, fair. Is this on the menu? Is it off menu, like a secret specialty? Did someone send this out just for them, or does every table get one? Is there just one artist back in the kitchen whose job it is to create creatures out of fruit, because if so, I can tell you right now this mystery master with a paring knife might be better suited for a gig with a subsidiary of Disney, The Jim Henson Company.
Rating: Who ate the head with its innocent, trusting eyes first?
Al Horford
It's nice to see Horford spending his down time really MILKING the endorsements. No, honestly, chocolate milk is a wonderful, quenching drink, best served in a chalice balanced in one hand by Al Horford while he works a basketball in the other. But it's also fine right from the carton.
Rating: This is not a paid promotion but Milk, if you would like it to be, my hands are just as hot as Horford's only with clankin' keys instead of threes.
Bradley Beal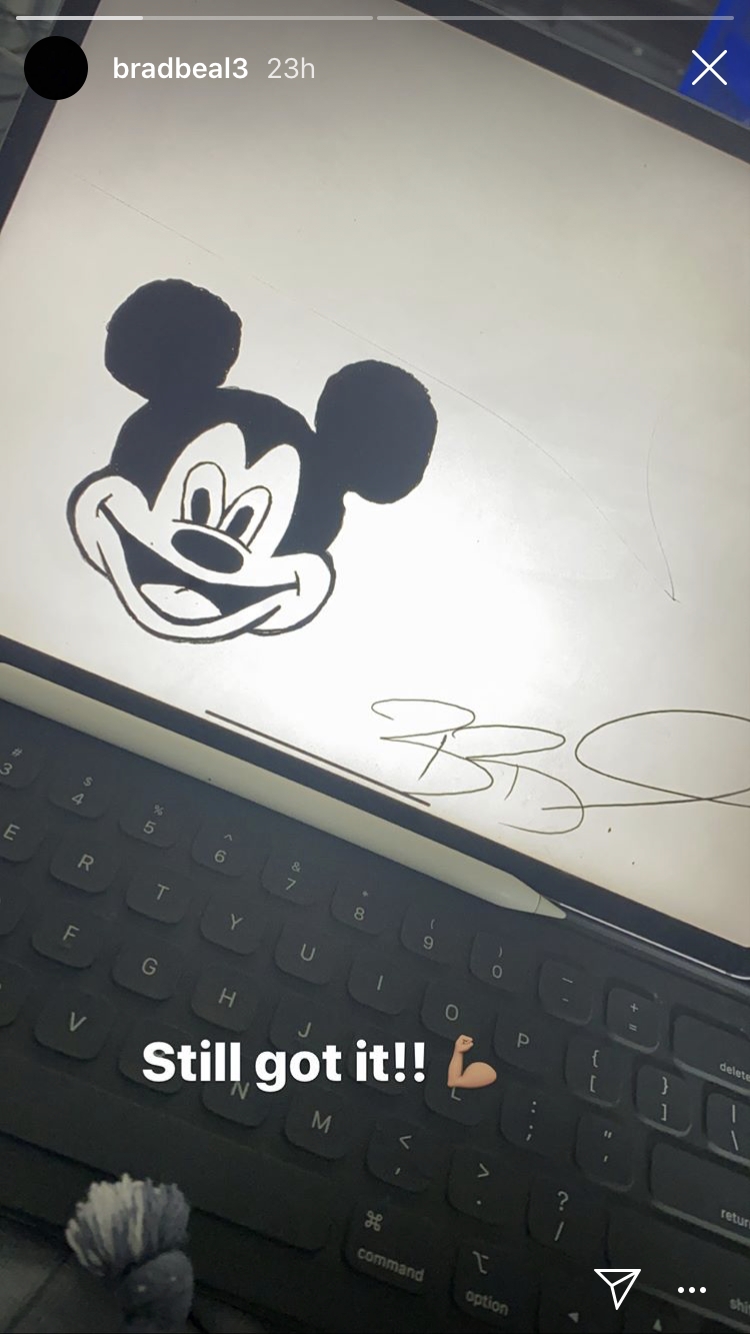 It's been nice to see the hobbies guys are getting into as their downtime dwindles, or else falls at really strange times where going out to sit by the pool at midnight (though that is coming up a little later) might not be the best choice. Beal has a drawing tablet and he has been sketching his heart out. Most notably, this vaguely menacing Mickey.
Rating: Do Scott Brooks next.
Donovan Mitchell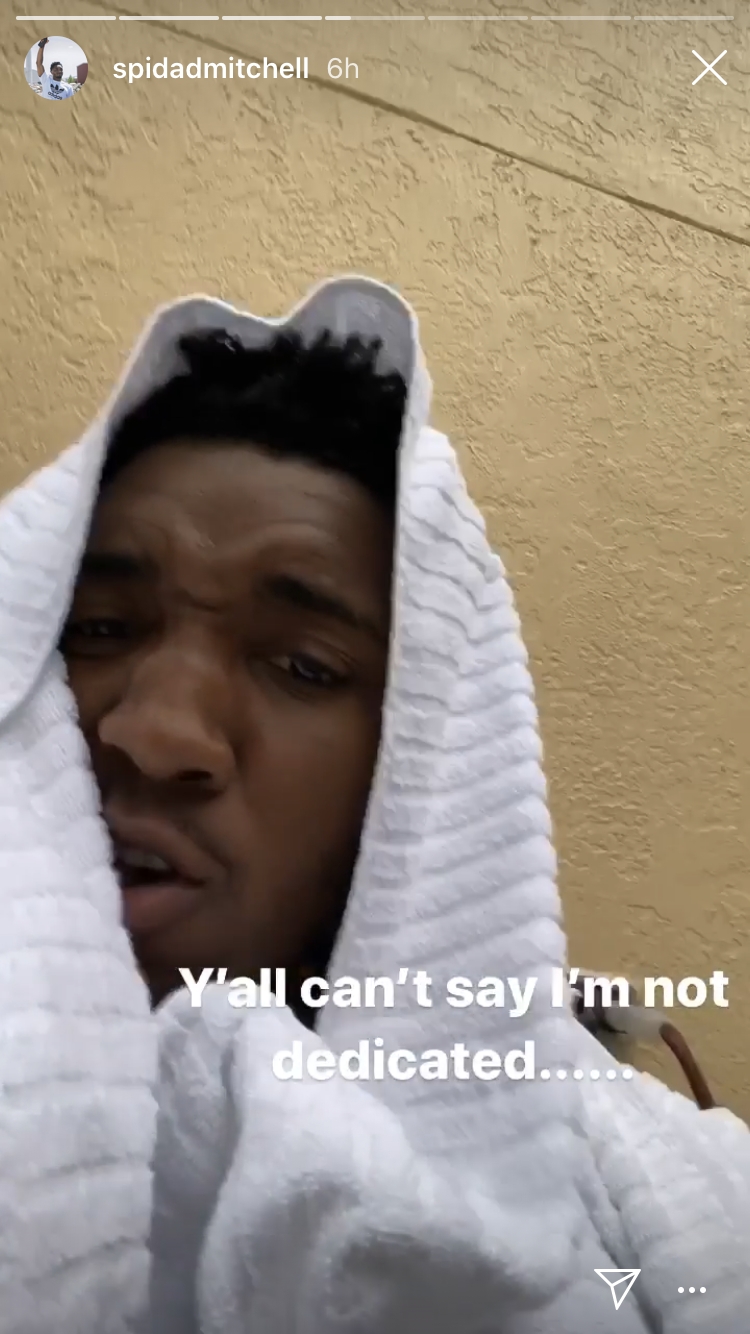 Ice baths to athletes are a lot like the call of the wild, or is it the call of nature? Anyway when they call, you need to answer. Time, place, outdoor conditions all may be unideal, but guys have to bravely ford their icy waters, much like early pioneers. Mitchell had to sit in one this week in the pouring rain as the tail end of Hurricane Isaias skimmed by Orlando. I wonder if it would be less painful, to have tropical rain hitting you as your lower half slowly froze? Or would it put your senses on an even higher alert?
Rating: I hope someone was handing him dry towels, at least.
Damian Lillard, C.J. McCollum, Jusuf Nurkic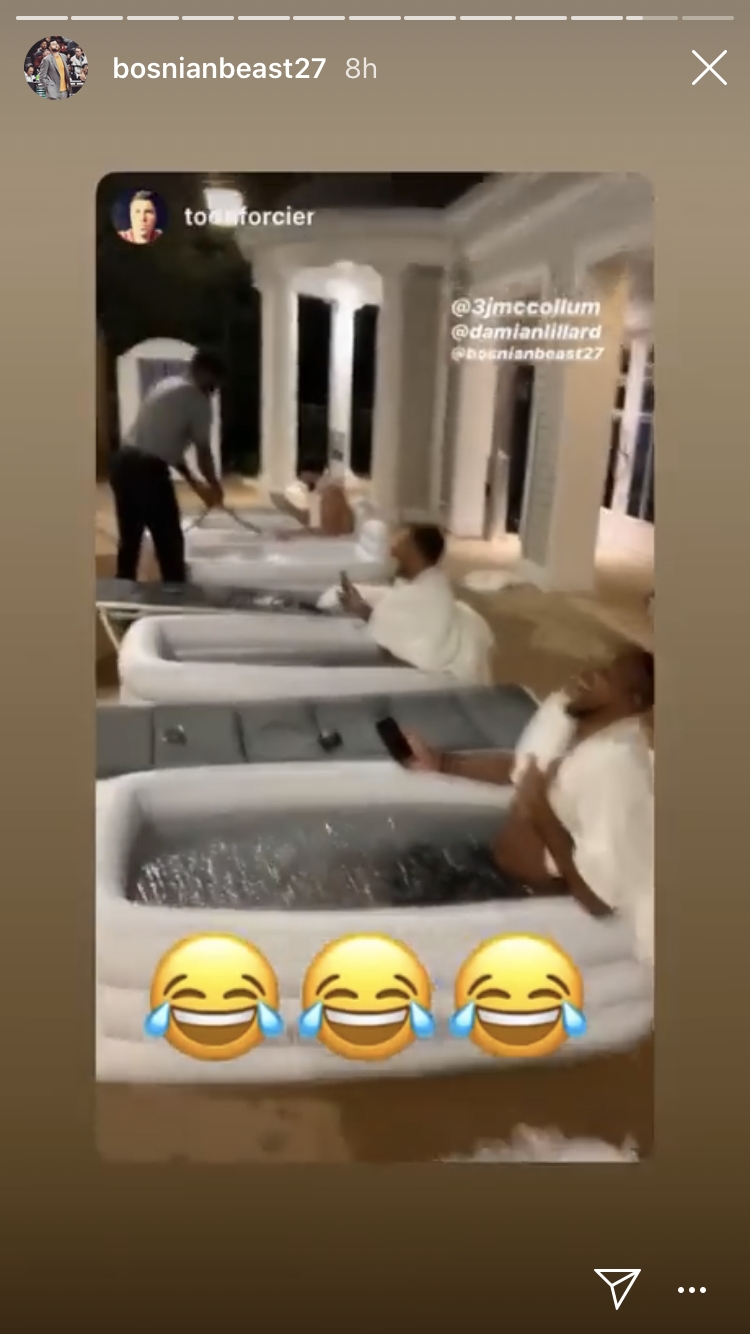 The 24/7 ice baths continue with a solid chunk of the Blazers sitting in them after midnight. This felt a lot like a summer camp escapade because they chronicled their journey from arena, via golf carts, over to where the baths were being set up, and it was all filmed by Nurkic in black and white which sort of made it seem like a night vision camera. That's why Damian Lillard looks like a Dracula. That's the only reason!
Rating: They had fun.
P.J. Tucker
Tucker continued to maintain an immaculate sense of self in the bubble this week, operating truly at his own pace, with his own preferences. The preferences in this case being extremely expensive, very old vintage wines. We know some players brought portable hyperbaric chambers into the bubble for their rooms, what we don't know is if they have a wine cellar equivalent setting.
Rating: P.J.'s wine plug is putting in more work than James Harden does in keeping Rockets basketball entirely efficient and completely joyless.
Malcolm Miller
Somebody's made a good friend in room service.
Rating: Watch for "Famous Amos" to be the next track Dame drops from the bubble.
Jaren Jackson Jr.
I guess I take back completely what I said earlier about players' poolside habits needing to change or not being that convenient. A good motto to live by is the one on display here by Jackson: When you want to go to the pool, go to the pool. Pool closure hours are another tool by a capitalistic society trying to keep us ignorant of the pleasures of lying beside one after dark.
Rating: Can you "close" water? Can you tell the ocean to cool it? Pool anarchy now.
Hassan Whiteside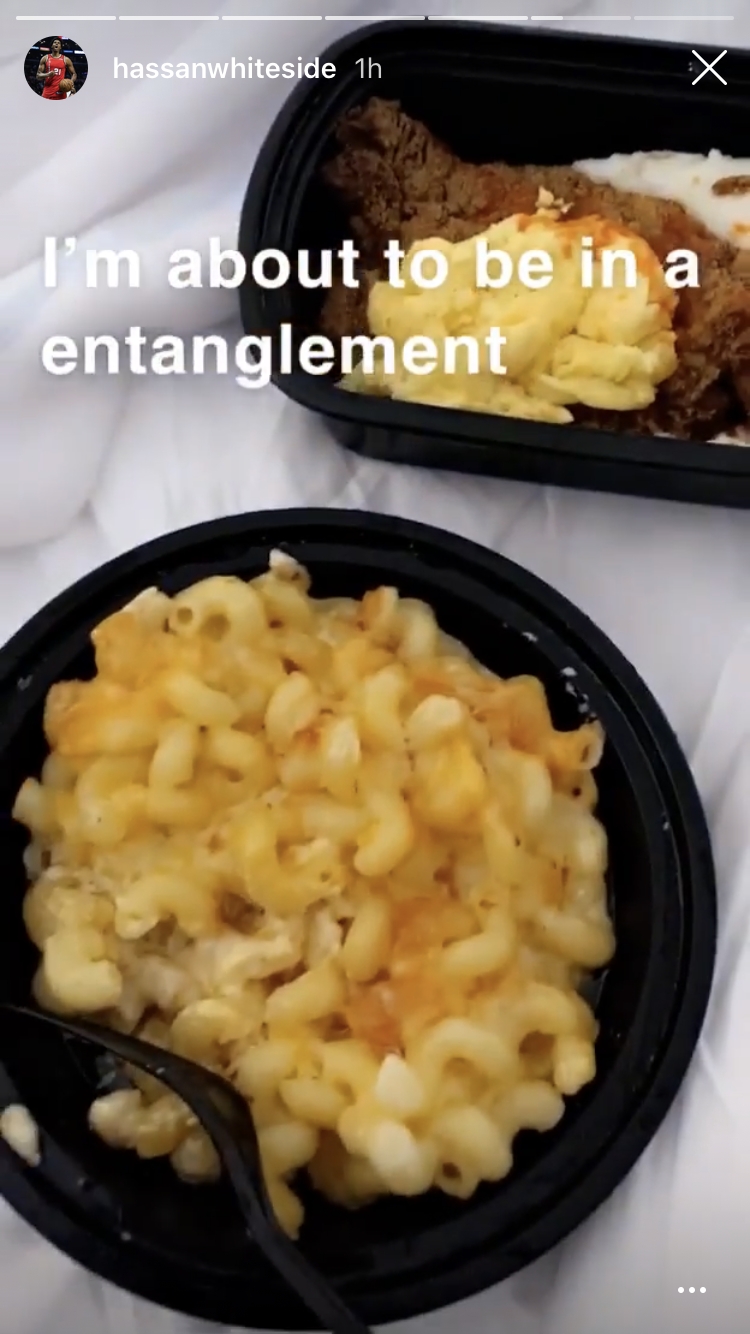 Whiteside has traveled a lot of new roads of personal growth and discovery in the bubble. First, the joy of Rick Springfield, and now, a new and potentially disastrous relationship.
Rating: Summer loves weren't meant to last forever.
Shai Gilgeous-Alexander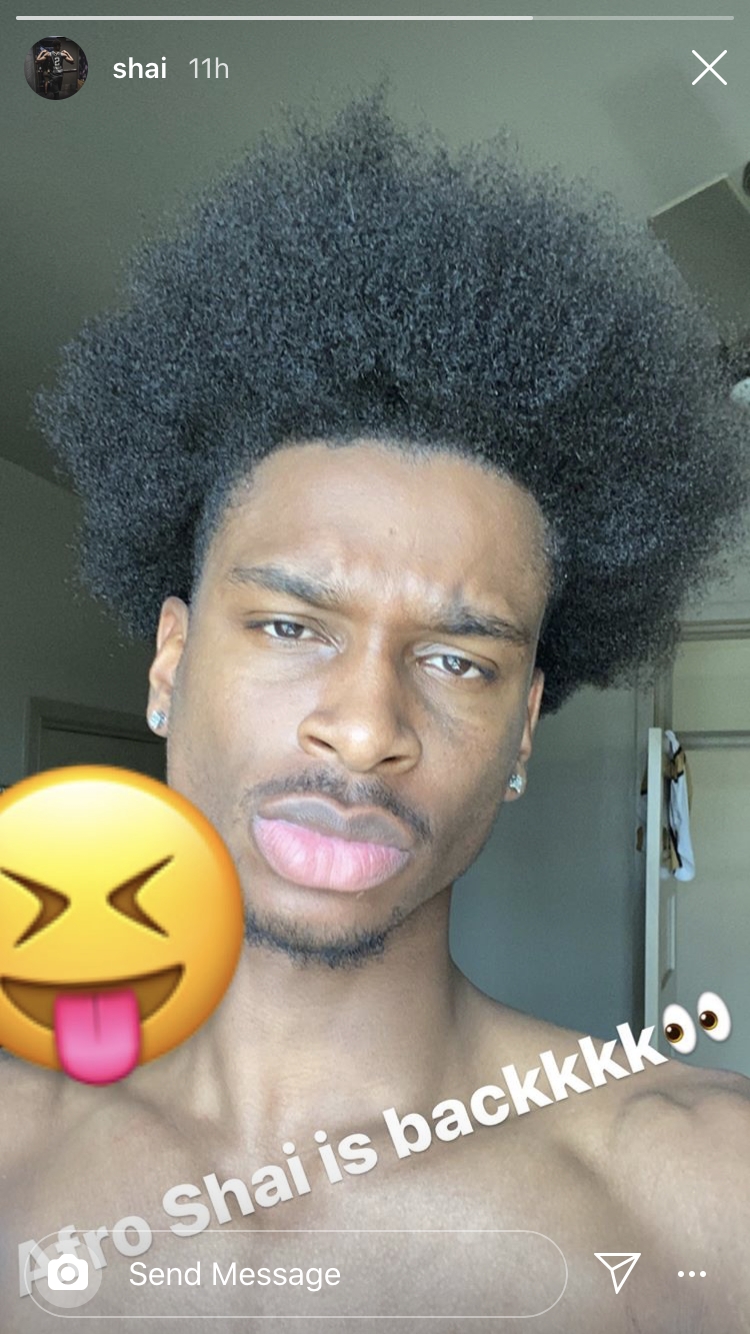 Shai took his braids out this week.
Rating: He got them redone in time for his next game but for a little while Afro Shai was out there, just living.
Chris Boucher
The good news for fans of this column and the bad news for the storage capacity of my phone is that I finally learned how to screen record, and here is the inaugural treasure I present to you. Boucher, like many, probably all, is getting a little bored in the bubble. He remedied this by slapping on a spooky eyeball filter and juxtaposing that with one of the most soothing songs of all time. The results? Mesmerizing.
Rating: You're gonna watch this 15 times.
Josh Richardson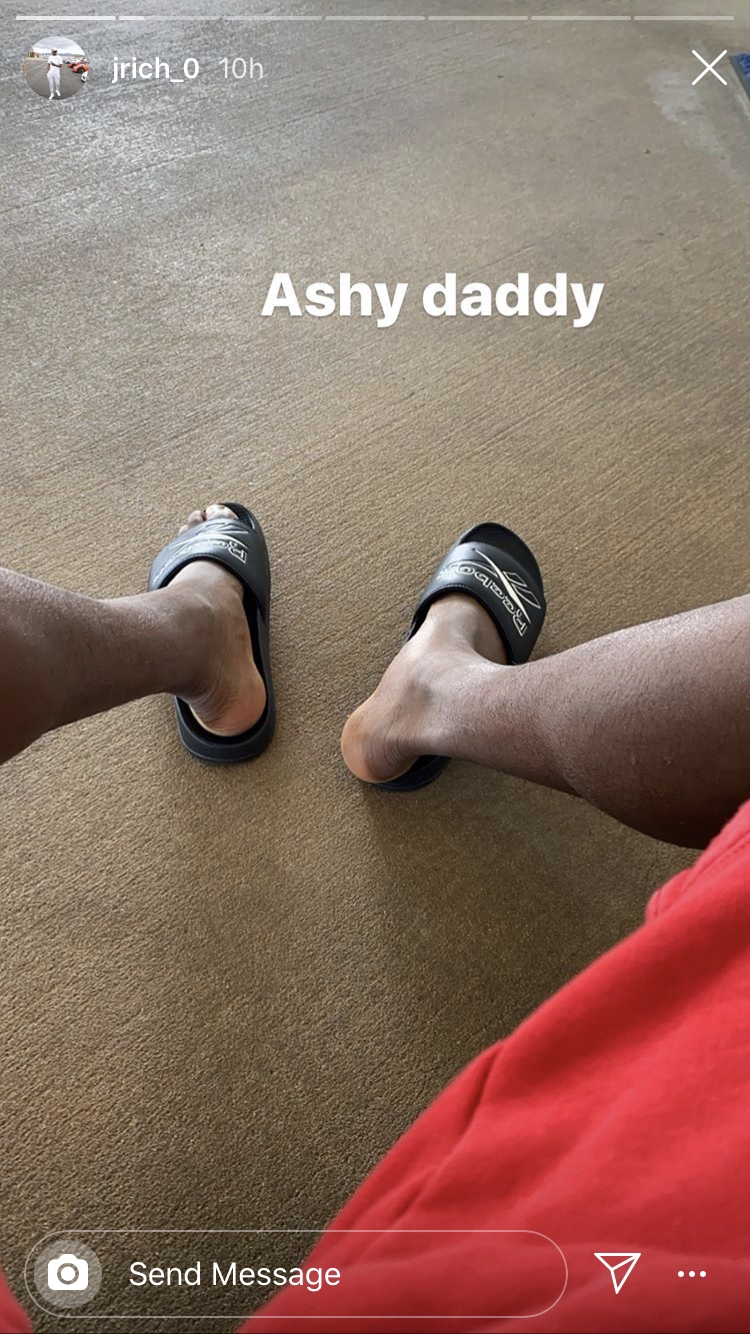 Not sure if this nickname will stick on court but godspeed to Richardson who, hopefully, got something else to stick off it.
Rating: Lotion, I mean lotion. For his legs.
Josh Okogie
While NBA Wine Guys is a club that meets regularly, it is also a state of mind untethered by schedule. Here, Okogie put that ethos on display while dipping his legs in the heavenly and heavily chlorinated hotel pool waters with a nice nightcap of vino, a Cabernet to be precise.
Rating: Cheers to you, Josh, I'm sure P.J. will share his $500 bottle of Cab Sauv with you if you ask.
Troy Daniels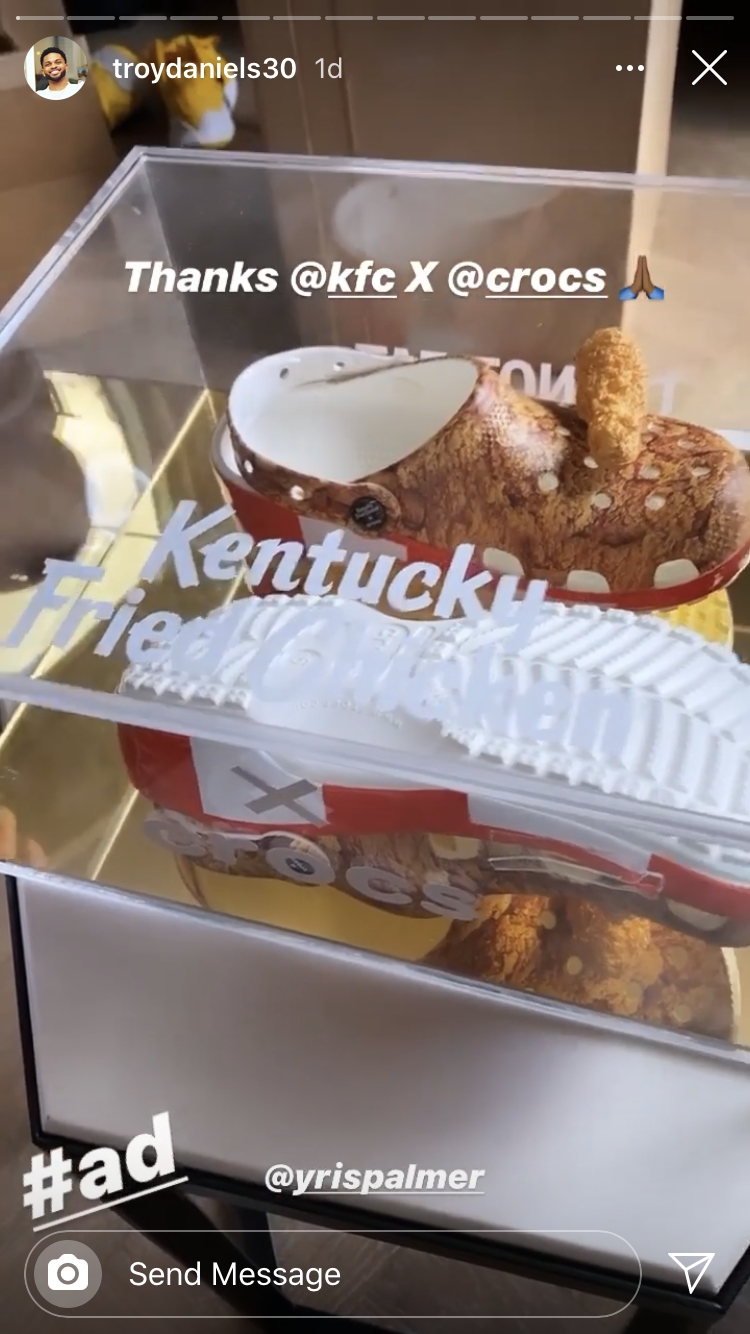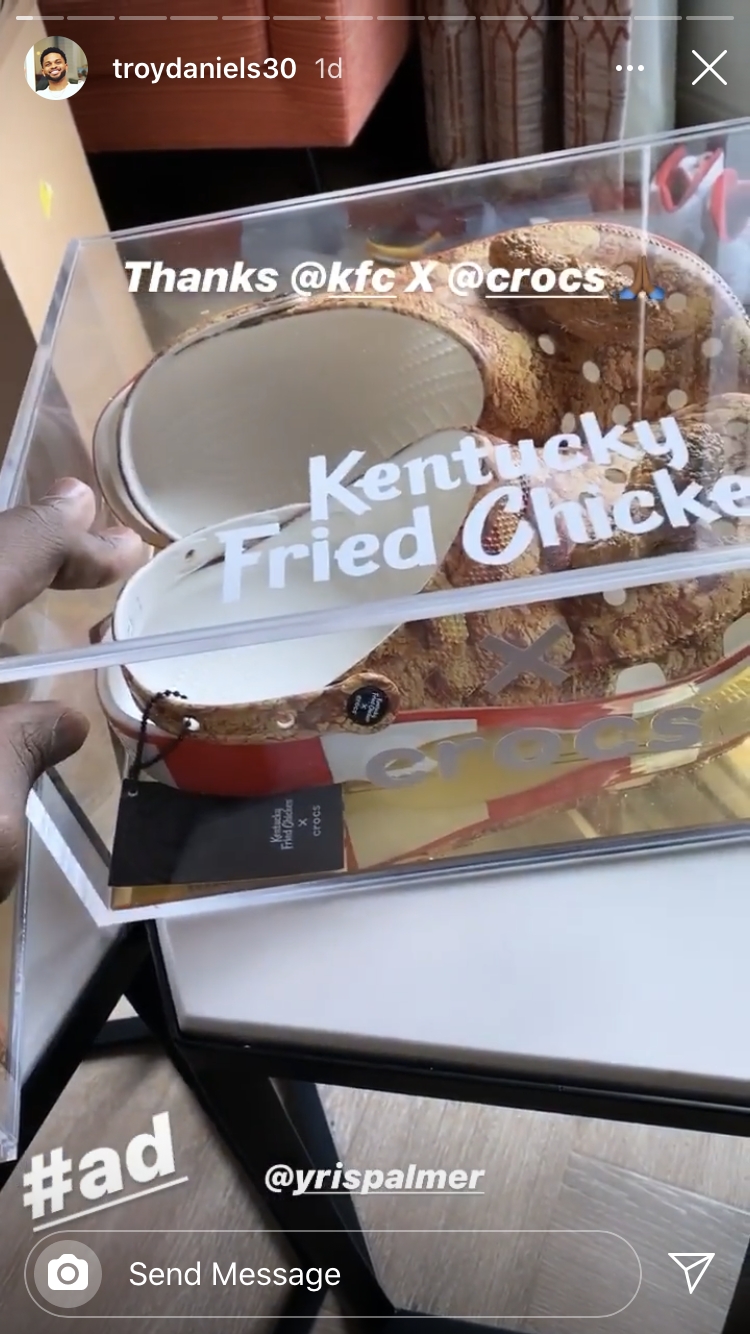 Daniels received one of the most simultaneously thoughtful and disgusting gifts of all time this week, Crocs covered in KFC. The all over print monstrosities even have little fake pieces of fried chicken affixed to their toes and came in a plexiglass case with gold inlay. No sightings yet of him wearing them around the grounds which is probably for the best in case a real croc laid its googly eyes on them.
Rating: This is what people mean when they say someone couldn't buy a bucket.
BONUS: The Grand Floridian Mallard Duck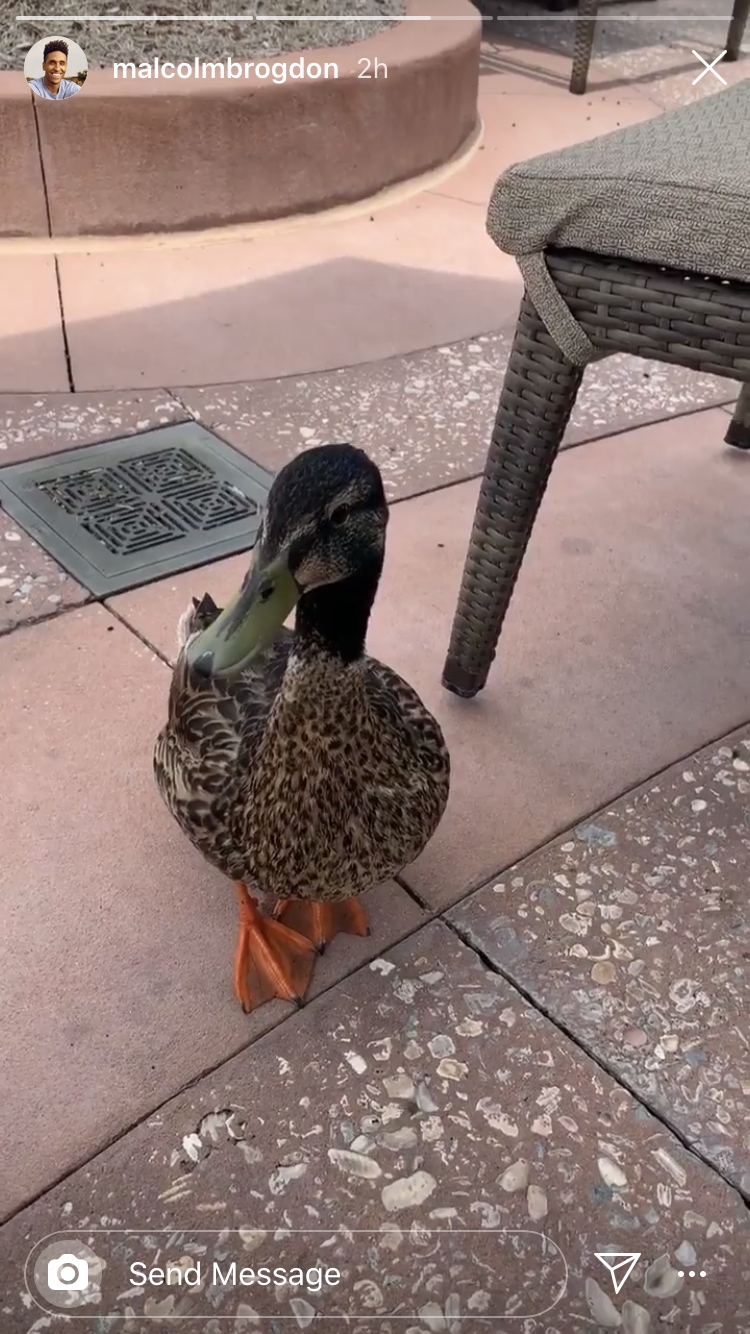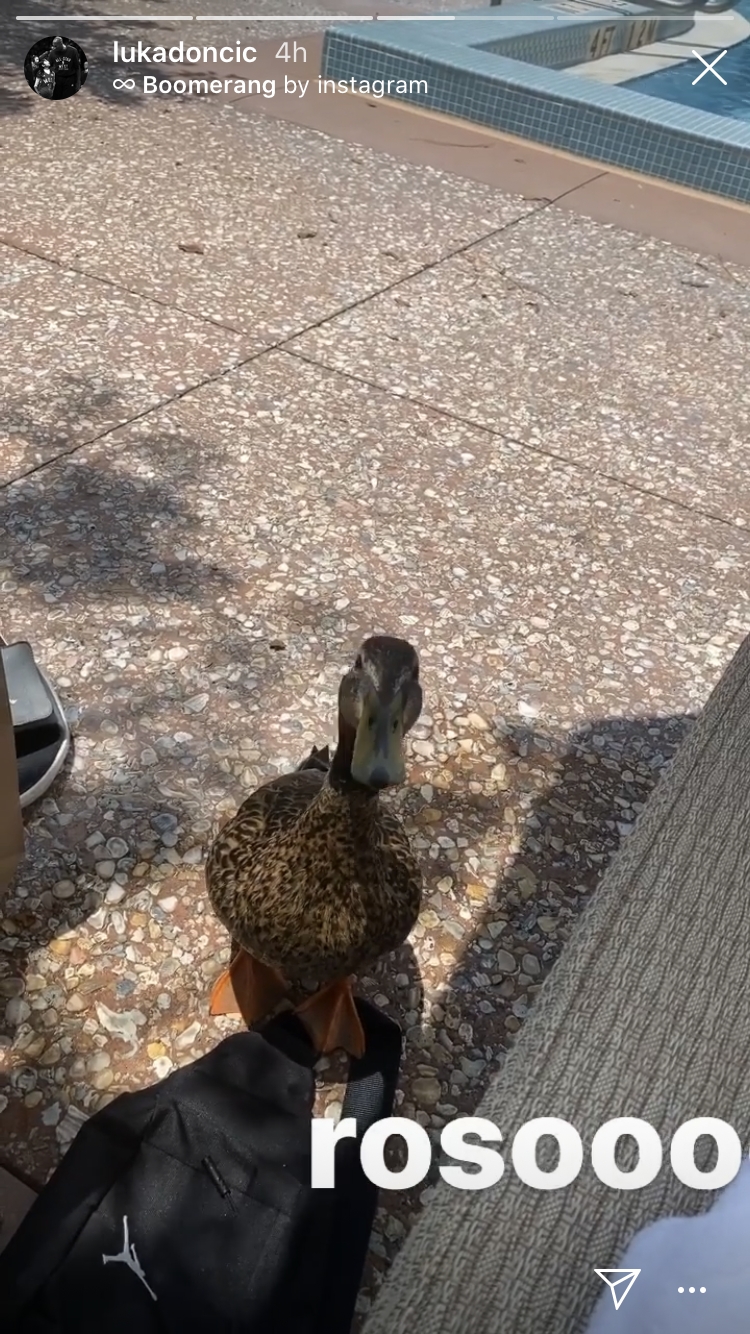 This duck has been popping up in a lot of places, and Luka Doncic has grown pretty fond of it, so I decided to dig a little deeper to get the facts. It turns out the duck in question, a female mallard, has only been popping up at the Grand Floridian, where both Luka Doncic and Malcolm Brogdon are staying. Is "Roso," what Doncic calls the friendly mallard here, Slovenian slang for duck? You'll be happy to know that by watching the Slovenian intro to the hit Disney show, Ducktales, I've deduced it isn't. Anyway the most conclusive findings are that this is a pretty cute and fearless duck and I'm glad the Nuggets aren't staying at her hotel so she won't see Troy Daniels' chicken sandals and get scared.