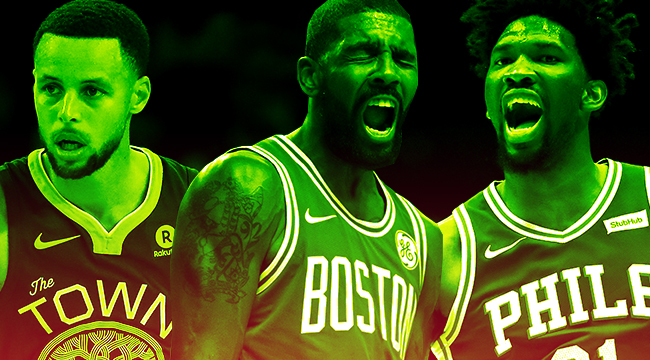 The NBA revealed its first portion of the 2018-19 schedule on Wednesday afternoon, as the nationally televised games for opening week, Christmas Day, and Martin Luther King Jr. Day became public. It's always a fun day on the calendar, as it gives hoops fans the opportunity to start looking ahead to the marquee matchups we'll see this season.
While the opening week and MLK Day slates are fun, all eyes go right to Christmas Day, as the NBA has established that as the premier day on its calendar. The league has spent years trying to own Christmas in the same way that the NFL owns Thanksgiving, and while that might be a lofty goal, the NBA has certainly made its presence felt on Christmas every year.
Before the remainder of the 2018-19 drops on Friday, we wanted to rank the games on the Christmas Day slate. All of them should be a ton of fun, but we wanted to rank them from "open presents while this is on in the background" to "tell your family that while you love them, you can't miss this one."
5. Milwaukee Bucks vs. New York Knicks
This game has the potential to be fun because when these teams played a year ago, Giannis Antetokounmpo jumped over Tim Hardaway Jr. and it was extremely cool. Here, watch it again.
Pretty good! However, this year's Knicks team is a squad in transition, as new coach David Fizdale and a number of young players are working to build for the future, especially while Kristaps Porzingis is recovering from a torn ACL. The Bucks, meanwhile, should be a fun team — they have Giannis! — but they aren't a team you'd think of to kick off Christmas day. This game might be more fun if Porzingis comes back, but otherwise, it is the weakest point on the Christmas slate.

4. Portland Trail Blazers vs. Utah Jazz
This should be a perfectly solid basketball game. The Blazers and the Jazz are two squads that are trying to establish themselves atop the tier of teams in the Western Conference right below the Warriors and Rockets, and when it comes to the quality of the game at hand, this has a chance to be the best one. Watching Donovan Mitchell go up against Portland's high-scoring backcourt of Damian Lillard and C.J. McCollum on a national stage has the potential to be really, really special.
The issue with this game is it's hard to get too terribly excited right now about it anything other than a fun midseason game with two very solid basketball teams. Blazers-Jazz (and, for that matter, Knicks-Bucks) doesn't have any type of subplot that make it a must-watch game. It's a perfectly solid way to end the night, though, which I suppose is what matters the most.
3. Los Angeles Lakers vs. Golden State Warriors
Conversely, Lakers-Warriors has a whole bunch of compelling subplots. LeBron against the Warriors for the first time in his new digs! LeBron v. the Dubs for the fourth Christmas in a row! The new look Lakers against the defending champs! If you judged basketball games based on how much #NARRATIVE exists before they are played, this would be the clear-cut No. 1.
However, this might end up being the worst game of the bunch. No one knows what to expect out of this Lakers team, outside of the fact that they have LeBron James and he is very good at basketball. In fact, oddsmakers have released lines for every Christmas Day game already for some godforsaken reason, and the Warriors are easily the biggest favorites heading into the holiday as of right now.
The good news is this is basically this game's floor, and if the Lakers end up being a feisty bunch that sit in the top half of the Western Conference come Christmas, this game has the potential to be a whole lot of fun.

2. Philadelphia 76ers vs. Boston Celtics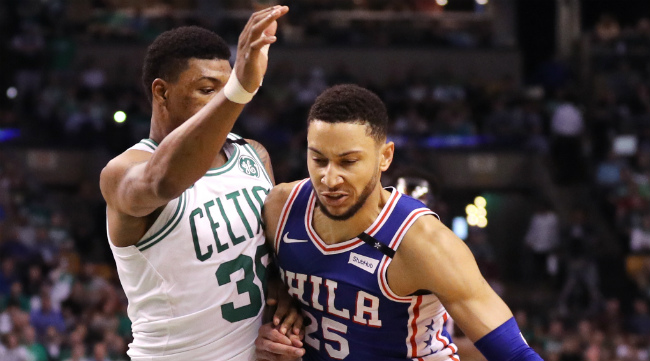 The one thing working against this is that this exact game is happening on opening night, too. Otherwise, this looks like it's going to be a certified banger. The Sixers and Celtics don't like each other at all, and depending on how highly you view Kawhi Leonard and the Toronto Raptors, this might be a preview of the Eastern Conference Finals.
We saw in the postseason last year that the Celtics are the better basketball team — especially now that Gordon Hayward and Kyrie Irving should take the floor on Christmas barring something insane happening. This game will basically be an indicator of how much more development Joel Embiid and Ben Simmons (and, depending on where he's at in his return to the floor, Markelle Fultz) need, or how much help they need around them, to compete with the Celtics.
Or maybe they'll win the game and add even more anticipation to a potential postseason series with a Finals spot on the line. Who knows? This game is going to rule.
1. Oklahoma City Thunder vs. Houston Rockets
This game will be fun because it's the Carmelo Anthony revenge game, sure, but stylistically, watching a Thunder team that will have Andre Roberson back and will try to turn this game into a rock fight against a Rockets team that wants to score is going to be fascinating.
Additionally, this probably won't have the same stakes that Sixers-Celtics could have in the postseason, but this might be a matchup of the two teams most well-equipped to challenge Golden State when the playoffs roll around. The Thunder, especially now that Roberson is back and Paul George is here long-term, have the perimeter defenders capable of possibly slowing down the Dubs, plus as you might know, Russell Westbrook really dislikes Golden State. The Rockets, meanwhile, pushed the Warriors to seven games last summer and might have won had Chris Paul not gotten hurt.
This is going to be a fun game with high stakes that (unless Friday's full schedule drop says otherwise) will be the first time we see a pair of elite teams squaring off. That's all you can really ask for on Christmas Day.