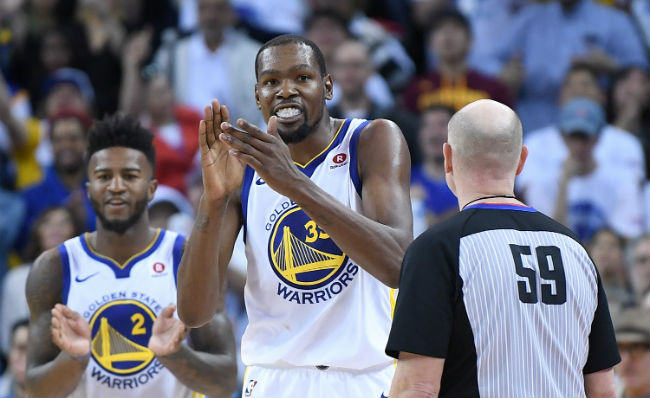 The NBA had another big Christmas Day on Monday, with a close game between LeBron James's Cleveland Cavaliers and the world champion Golden State Warriors highlighting an exciting day for the league. And the ratings for those games proved to be as strong as the league hoped.
Bloomberg reports that the NBA saw a nice boost to its Christmas Day ratings, while the NFL continued to see struggles for its ratings. Both NFL games were up against the day-long NBA onslaught, and the Monday proved to be a big one for the NBA.
To be fair, this is far from a fair fight. The Christmas Day football games had little meaning, games between one team with little to play for and another that already had a playoff spot locked up. The Steelers/Texans game did have a remarkable moment, but the game itself meant little. Meanwhile, the NBA loads its Christmas Day schedule with intrigue, including the now-annual meeting between the Warriors and Cavaliers and a rivalry game between the Celtics and Wizards.

Predicting that those Christmas Day games will have sizzle is a lot easier for the NBA than the NFL, which is always hit or miss with the late-season scheduling. In a league where teams fluctuate from season to season, one seemingly-marquee matchup in August is pointless in late December. For the NBA, though, the numbers continue to be good.
The league's five games Monday, spread across ESPN, ABC and TNT, averaged a 3.35 overnight rating, up about 20 percent from last year's Christmas games.

The early evening game on ABC — Oklahoma City 112, Houston 107 — drew a 4.1 overnight rating, the league's highest for a prime-time Christmas game since 2003. In a rematch of last season's championship, earlier in the day and also on ABC, the Golden State Warriors beat the Cleveland Cavaliers 99-92. The game drew a 5.5 overnight rating, making it the fifth-best Christmas game on the network.
That's a pretty huge bump for the NBA, which continues to see its numbers go up this year. For the NFL, meanwhile the numbers don't lie.
The prime-time NFL game on ESPN, a showdown between the Philadelphia Eagles and Oakland Raiders, drew a 6.7 overnight rating, down about 9 percent compared with the average Monday Night Football game this year.
That's not great news for the league but, again, there are a lot of factors at play. What's clear that the NBA is having itself a big ratings year, despite the fact that things seem pretty chalk as far as the league itself thus far.