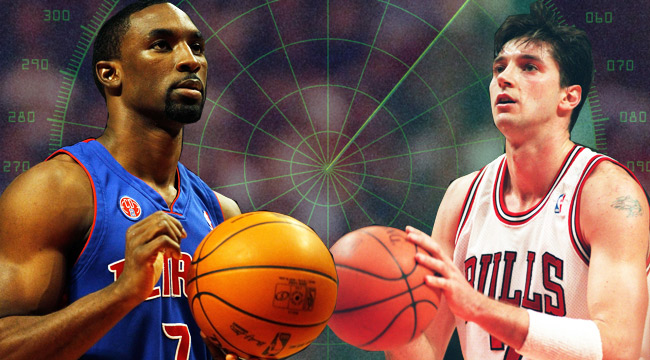 The Clutch Gene is a real NBA thing, whether there are quantitative reports based on debunking this mythological thread or not. Some have the gene, some do not, and the distinction between those two is really a lot different and more novel than the usual metrics of talent that separate superstars from everyone else in the league.
Inexplicably, many of the very best late-game performers are not the most talented overall, not by a long shot, but still manage to consistently invade and dominate the dreamiest, most romantic moments of the game. With the ball in these role players' hands, epic sports cliches come true. Here are some of the NBA's very best clutch guys who you wouldn't build a team around.
10. Danny Green
Once at the fringe of the league after being cut from multiple rosters, Danny Green eventually found a starting spot with the stolid San Antonio Spurs with reliable defense, ball movement, and shooting. When he came alive in 2013, though, breaking records for three-point performance in the Finals against the Miami Heat, Green proved his comfort in unusually fraught moments.
9. Nate Robinson
Little Nate is mostly known for his often unwieldy attitude, which can produce equal amounts of fun and frustration all at once on the court. With the Chicago Bulls in particular, though, Robinson repeatedly proved his worth as a clutch-time assassin. His most memorable game with Tom Thibodeau's overachieving 2012-13 squad saw him score 34 points in the fourth quarter and extra time during a playoff win against the Brooklyn Nets, who the injured Bulls would go on to beat in seven games. It was outstanding when Nate did this, unless of course you happen to hate human joy.
8. Sean Elliott
Sean Elliott was a reliable peripheral scoring threat throughout his life as a Spur, but one Memorial Day game in particular is the cause for his enduring postseason glow. Known as the "Memorial Day Miracle," Elliott's performance included six three-pointers in a big comeback over the Portland Trail Blazers in the Western Conference Finals. His final three was a dazzling, falling-over type of shot that won the game for San Antonio. Also, the Spurs' court had a lot of teal and salmon back then.
7. Toni Kukoc
Bulls center Luc Longley was rarely visible during important fourth quarters in Chicago's second of two '90s three-peats, from 1996 to 1998. When victory was within reach, the Bulls' often ran out a photo small-ball unit, with Toni Kukoc and Dennis Rodman essentially playing center and causing crazy matchup issues to complement Michael Jordan. Kukoc was sure-handed in these moments, but one iconic, game-winning shot against the New York Knicks in the 1994 playoffs stands out:
Most forget about it because that was when Scottie Pippen — sans a baseball-playing Michael Jordan — insecurely decided he wasn't going to check back into the game during Kukoc's game-winner. He was that livid Phil Jackson hadn't designed a play for him. Oh well, Toni still hit the shot, even if the Bulls would go on to lose the series.
6. Vinnie Johnson
The man they called "The Microwave" was often the Detroit Pistons' go-to scoring option during their classic Bad Boys iteration. Less tasked with game management than general Isiah Thomas, Johnson could freelance in the name of blazing fourth-quarter scoring streaks, beginning with a 22-point quarter against the Boston Celtics in the 1985 playoffs, and culminating in a number of last-second shots as the Pistons became first perennial contenders then back-to-back champions.
5. Derek Fisher
One of the only teammates Kobe Bryant ever seemed to fully trust and respect didn't get to that status doing nothing. Along with his generally non-threatening, unimposing, doesn't-need-the-ball generic point guard presence, Fisher became an admirable conduit for Bryant's steely clutch will in many moments, with no shot more memorable than his ridiculous game-winning playoff shot against the Spurs in 2004 with just 0.4 seconds remaining:
4. Steve Kerr
Before coaching the Golden State Warriors to historic marks and sitting as general manger for the Phoenix Suns and even before he called games with Marv Albert on TNT, Steve Kerr was one of the NBA's most valuable role players. His most famous clutch moment is hitting a game-winner to clinch a fifth Bulls championship against the Jazz in 1997, but Kerr also lit it up after that with the Spurs for some time.
Often he would hibernate all season as a a veteran, and then emerge for team-killing stretches like this one in the 2003 Western Conference Finals:
3. Rex Chapman
If Rex Chapman were alive 150 years ago, he would've been the rando who killed Billy the Kid or something like that. The usually ho-hum guard had an uncanny knack for big moments, and he was as fearsome as anyone else in the fourth quarter. An almost singular feel for big moments and hot streaks had him making shots like this one, which he made with the Phoenix Suns while playing the Seattle SuperSonics in 1997, and which will make you scream:
2. Ben Gordon
The author admits hometown and still-lingering pubescent bias on this one. Gordon might not deserve a spot quite this high on the list, and surely most fans will remember him poorly for his terrible stint with the Detroit Pistons and subsequent fall from a rotation in the Association. But he was Sixth Man of the Year as a rookie because he took over games and won them over and over, displaying a confidence too volatile not to often morph into straight hubris. It gave us glorious moments like this one:
1. Robert Horry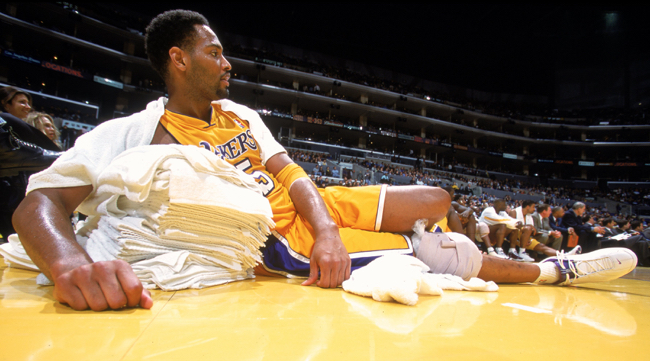 Many of you probably shouted this man's name when you saw the headline. With the Houston Rockets, Spurs, and Lakers all, he destroyed many, many championship hopes for a decade. There is no better non-superstar closer in the history of the game than "Big Shot Bob." Read the receipts and you will probably weep, at least once. Robert Horry lives in many fans' nightmares: