It didn't take the NBA long to start firing coaches this year. Fred Hoiberg is the latest victim after he was fired by the Bulls a mere 24 games into the season. That seems early, but he wasn't even the first coach to be let go this year. That honor belongs to Tyronn Lue and the Cavaliers after he was fired just six games into the season.
Teams no longer wait to remove a coach if they feel it's necessary. Even if the move isn't going to do anything to change the season as a whole it can show fans of a team that an attempt at change or progress is being made. Not all firings, however, are created equal. Some coaches are fired even when they've been successful due to internal drama or not being able to take their team to the next level. Expectations vary across the NBA and sometimes a front office just wants change.
Nobody is safe. Hoiberg and Lue were proof of that. The only question now is who might be next? Here are a few potential places to look for our next NBA coaching change.
Dave Joerger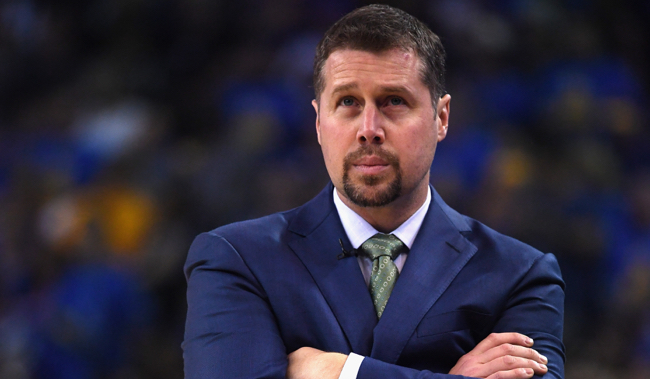 It's mind boggling that this is even a discussion right now, but that's the situation the Kings have put themselves in. Despite a surprising 11-11 start and being one of the more fun teams in the league, Joerger is reportedly having issues with the front office.Those growing problems could eventually lead to someone getting fired, but which direction the Kings choose to go in remains to be seen.
Joerger isn't a perfect coach. He was originally fired from the Grizzlies job despite succeeding there due to do differences he had with that front office. So it's not like he isn't known for butting heads, but the Kings were expected to be one of the NBA's worst teams this season. Sitting at .500 entering December is a major accomplishment for them. This is an extremely fun team to watch. They're No. 1 in pace and the roster is full of athletic young guys. The last thing the Kings should do is rock the boat on this and potentially ruin the success they've had.
Of course, this is the Kings and nothing is ever simple with them. The front office always has final say over how a team is operated and if differences can't be mended with Joerger then a mid-season firing could potentially happen. It would be the wrong decision, but making a wrong decision has never stopped NBA teams in the past. It won't stop them now. If the Kings really do have to fire him for some reason then it would be far better to at least wait until the offseason to do it. Don't make the same mistake as last time and fire Mike Malone mid-season only to hire George Karl. That disaster doesn't need a sequel.

Tom Thibodeau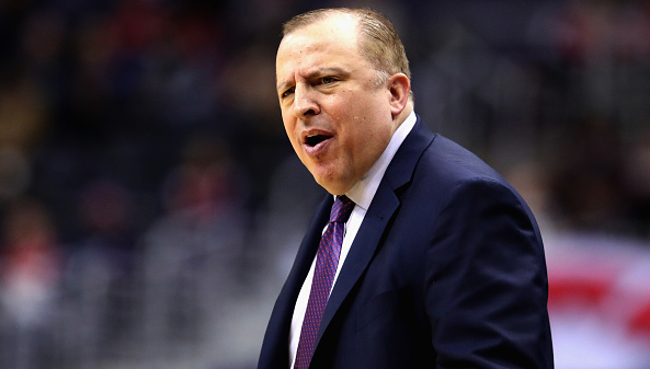 Nobody hurt their own credibility quite like Tom Thibodeau did over the last few months. During the Jimmy Butler saga it became clear very quickly that the Wolves were going to stick with Karl-Anthony Towns. Butler never made it clear that it was a him or Towns situation, but that was a relationship that could never be repaired. As not only the coach, but President of Basketball Operations, Thibodeau needed to ship out Butler quickly and not let him drag the entire team down in a dramatic mess.
So, of course, Thibodeau allowed Butler to crash practice, curse out the entire team, and then return to the team as if nothing ever happened. Unsurprisingly the Timberwolves had a horrible start to the season and Thibodeau was forced to finally trade Butler for a package of Robert Covington and Dario Saric.
In the end, it's worked out. Sort of. Covington has revived the Wolves defense and been an incredible piece for them. That Thibodeau let it get to that point without ever taking control, however, is damning. Being a coach is more than having good schemes, and even some of that has passed him by at this point. He has to ego manage and it seems that he's failed to do that in Minnesota. The Wolves are winning again, but if things spin enough out of control he could find himself on a warm seat in a hurry.
Scott Brooks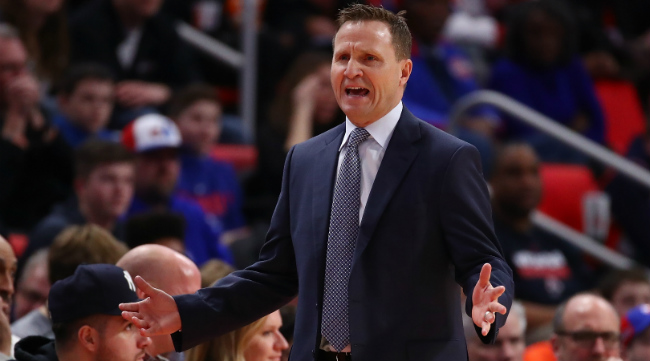 The Wizards always manage to find a way to not meet even the lowest of expectations. This season is no exception. This doesn't feel entirely fair to Brooks, because he hasn't been around long enough to really be blamed for this mess. Washington just seems to hate each other. The players haven't gotten along for years and it's beginning to impact the Wizards on the court, but Brooks also has earned no respect from these same players. Stars yell and curse at coaches all the time, but John Wall yelling "f*** you" at Brooks in a practice at the peak of the drama felt like a turning point.
The Wizards need more than a coaching change. They need an entire overhaul. If Washington is a good organization, which remains to be seen, it will do everything it can to replace pieces. Bradley Beal is already reportedly on the trading block, and with Wall's albatross of a contract still on the roster he won't be easy to move. Brooks might be removed as collateral damage.
Brooks getting dismissed feels like more of an if rather than a when. He might have his job saved by the Wizards' long history of taking way too long to make decisions, but the coach can't save the sinking ship in Washington. He's one of the members on board.

Luke Walton
It's good to remember that Walton was not hired by Magic Johnson and Jeanie Buss. He is a product of previous management and, as a result, there is always a chance he won't last in Los Angeles. Add in the possibility of LeBron James growing uninterested in him and Walton could have his job end at a moment's notice. James is already not listening to plays from him (not a huge deal), and he's apparently been shouted at by Magic Johnson after a slow start to the season (that is a problem.)
Walton, to his credit, currently has the Lakers playing well. They're 14-9 and have won 10 of their last 14 games. There have been trip ups here and there against teams like the Magic, but considering the roster that was put together for him he's done a good job. Some of that also has to do with James finally agreeing to take control of the offense. Walton has always had good defenses. The Lakers are currently top 10 in that category and that should help make up for what has been a very spotty offense so far this season.
Walton should be fine but, again, his job status is completely in relation to how the front office and James feel about him. If the Lakers have a big offseason where they sign more stars and then decide they want a different coach then they will go get a different coach. The most Walton can do is try to coach up what he's been given. So far he's succeeding, but you're never sure with this kind of situation.
Billy Donovan and Terry Stotts
These two are paired together because their situations are exactly the same. Neither of these coaches are going to be fired in the middle of the season. They're successful. They win a lot. There isn't any reason to fire them right now. That said, these are two situations where the front office could have a desire for a change if goals aren't met in the playoffs. The Thunder have put a lot of stock into the Paul George, Russell Westbrook and Steven Adams core. Donovan currently has them playing as the top defense in the NBA, but another early playoff exit and his seat could start to feel warm.
Stotts is also a very interesting case. He takes Trail Blazers rosters that really aren't that great and makes them play above their level, but he hasn't seen too much playoff success with these same rosters. The farthest Portland has gotten is the second round under his tenure and last season saw an embarrassing sweep at the hands of the Pelicans in the first round. Portland has improved every year under Stotts, but at some point, that front office is going to want more consistent playoff success. Stotts already had rumors that his job was on the line following last season's early exit. The Blazers could actually follow through this time if it happens again. It's also worth noting that the Blazers have currently lost seven of their last 10. The team is regressing from their hot start.
These coaches should be fine for the regular season, but it's worth keeping an ear out for their job status. Playoff success has gotten good coaches fired before. There's no reason to believe it couldn't happen again with both of these organizations.