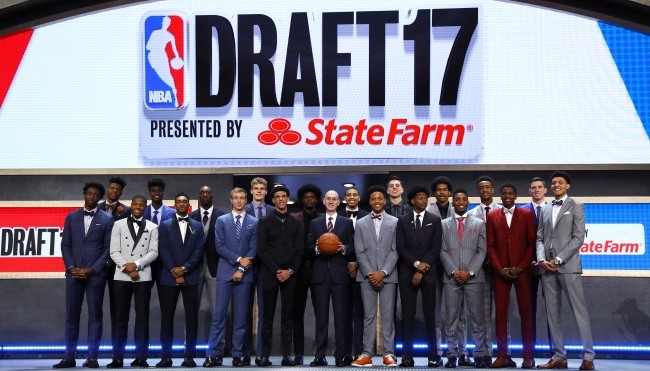 It's time for one of the silliest nights of the year. Tonight, 60 young basketball players will earn the opportunity to play for an NBA team via the 2017 NBA Draft. The lead up to tonight has been hectic — trade rumors involving already-established stars have been circulating for days, and we've even seen the top selection in the draft go from Boston to Philadelphia.
On that note, every sign shows that Philadelphia is going to select ultra-talented Washington guard Markelle Fultz with the No. 1 pick. From there, well, who knows? To get in on the fun, we've decided to grade every pick, from 1-60, in this year's draft. All first-round picks will receive a grade and an explanation, while all second round picks will just receive a grade. Let's dive in. (NOTE: The post will be updated throughout the night as players are selected and, possibly, as picks are traded)
First Round
1. Philadelphia (From Boston via Brooklyn) — Markelle Fultz, A+
Philadelphia needed a point guard and someone who could score on the perimeter. They got both of those with Fultz. He should immediately make an impact with the Sixers and has the potential to be one of the best scoring guards in the NBA.
2. Los Angeles Lakers — Lonzo Ball, A
A Los Angeles native with superstar potential, the ability to get buckets, and the court vision/feel for the game that we haven't seen out of a college player in years? Yes, please. His ability to defend quicker guards is a concern, but this is the right pick for the Lakers, especially in light of the D'Angelo Russell trade.
3. Boston (from Philadelphia via Sacramento) — Jayson Tatum, B
Boston desperately needed someone who could create their own shot on the perimeter and give the offense a shot in the arm. The only reason this grade isn't higher is because Josh Jackson was on the board and his ceiling is higher. Still, this was a safe pick by Danny Ainge.

4. Phoenix — Josh Jackson, B+
Jackson is a potentially transcendent defender and a really great playmaker on offense. There are questions about his ability to shoot — he hit only 56.6 percent of his free throws in college — but outside of that, the dude can ball. Put him next to Devin Booker and the Suns suddenly have one of the best young 1-2 punches on the wing in the league.
5. Sacramento (from Philadelphia) — De'Aaron Fox, A-
The Kings get the guy they've wanted throughout the process. There are questions about Fox's jump shot but he is a blur on both ends of the floor that profiles as a high-end starter. Sacramento needs a running mate for Buddy Hield and, in Fox, they arguably get the best player available to boot.
6. Orlando — Jonathan Issac, B
The fit with Isaac and Aaron Gordon is potentially perilous in that the 6'11 forward from Florida State might end up functioning best at power forward. With that said, Isaac's defensive potential is tantalizing and he already has a workable jump shot that will aid in Orlando's spacing. Dennis Smith would have been a higher upside play from an offensive standpoint but Isaac brings a strong combination of safety and ceiling.
7. Chicago (From Minnesota) — Lauri Markkanen, D-
It's not your fault, Lauri Markkanen. The former Arizona big man is a worthy lottery pick but shouldn't be selected ahead of Dennis Smith and others. The acquisition of Kris Dunn as part of the Jimmy Butler deal might explain a movement away from the point guard spot but this is a reach for a player that has real downside. On the bright side, he might help to fix their spacing, but it will come at a cost.

8. New York — Frank Ntilikina, B-
The lottery's mystery man is headed to a team in a serious state of turmoil. Ntilikina is 6'5 with a reported 7'1(!) wingspan and hit threes at a 39.1 percent clip last year. Formerly of SIG Strasbourg in France's top league, Ntilikina gives the Knicks a potential point guard of the future. The big question with this pick: Was taking him the smart move when Dennis Smith Jr. was on the board?
9. Dallas — Dennis Smith Jr., A+
If Smith went in the top-five, it would have been reasonable. The former NC State point guard possesses upside that rivals any prospect in this class and this is immense value as a result. Dallas benefits from teams like Chicago and New York reaching for players that don't present nearly the raw ability of Smith and the (slight) risk of concerns with his deportment won't overshadow what is a home run pick.
10. Portland (From Sacramento via New Orleans) — Zach Collins, B
The one of the two one-and-dones from this year's Final Four, Collins was really good in limited action for Gonzaga. He's a skilled offensive player who showed the ability to rebound and block shots at an impressive clip during his one year in Spokane. With Jusuf Nurkic, Festus Ezili, Ed Davis, and Noah Vonleh all facing free agency next year, Portland needed to shore up its frontcourt, and it looks like they did that with Collins.
11. Charlotte — Malik Monk, B+
Monk's slide out of the top-10 ends thanks to Michael Jordan's Hornets. Monk is the kind of guy whose ability to score makes him a tantalizing prospect, and his athleticism makes him more than just a shooter. He needs to shore up his defense some more — something that should happen under Steve Clifford — and use his athleticism to attack the basket, but Monk and Kemba Walker is going to be a really, really fun backcourt.
12. Detroit — Luke Kennard, B-
The Pistons pick up the best shooter in the draft on a team with a starving need for floor-spacers. Kennard might not be the pure "best player available" here given his ceiling concerns but the former Duke guard can play on the ball as a high-end decision-maker and passer. The defense is certainly a concern but pairing him with Kentavious Caldwell-Pope could alleviate that.

13. Utah (From Denver) — Donovan Mitchell, B
The Jazz paid full value to move from No. 24 to No. 13 by including Trey Lyles. With that said, Utah takes advantage by picking arguably the best player on the board and Mitchell's defensive upside fits beautifully under Quin Snyder. If the Jazz re-sign George Hill, Mitchell can play on the ball and complement the veteran beautifully. If Hill walks, Mitchell and Dante Exum could form a tantalizing defensive backcourt for the foreseeable future.
14. Miami — Bam Adebayo, C-
In terms of pure value, Adebayo is perfectly fine at No. 14 but fit concerns exist. Can he play power forward full-time? That is an open question and it would require some projection from the former Kentucky big man as a floor-spacer and pick-and-roll. If Adebayo can transition to that spot more often than not, it makes sense. If not, the overlap with Hassan Whiteside looms over everything.
15. Sacramento (From Portland) — Justin Jackson, B
If you're judging a pick by upside, Jackson doesn't give the Kings too much. But he projects to be a very solid scorer whose ability to put the ball in the rim in a number of ways should keep him in the league for a while. He is a safe, low-risk pick for Sacramento, and should benefit from the open looks that De'Aaron Fox will get him due to the No. 5 pick's ability to blow by defenders. Someone get him a cheeseburger, though, because Jackson is rather thin at 6'8 and 201 pounds.
16. Minnesota (From Chicago) — Justin Patton, D+
This is clearly a "best player available" decision from the Wolves but it doesn't make much sense. Patton is an offense-first pure center on a team that already employs both Karl-Anthony Towns and Gorgui Dieng. Minnesota might have grand plans in the future but, as currently constructed, there is a struggle to find logic with this selection.
17. Milwaukee — D.J. Wilson, C
Wilson fits Milwaukee's overall style of long, athletic players. With that said, he's a reach. The former Michigan forward has significant skills as a potential rim protector that can also space the floor as a shooter. The downside is that he doesn't rebound and will need some seasoning before becoming a consideration for the rotation.

18. Indiana — T.J. Leaf, B-
Leaf is a skilled offensive big man with decent athleticism and the ability to hit threes. He's not the strongest player in the world, but Indiana's front court could use someone else who can score in a few different ways other than Myles Turner. A smart, active player, Leaf has the potential to be a very solid NBA big man.
19. Atlanta — John Collins, B
Collins is a really fun player, and getting him at 19 is a solid value for a Hawks team that will need some bodies in the front court after trading Dwight Howard. This will especially be the case if Paul Millsap leaves in free agency. Collins is a good athlete and rebounder whose ability to score took a big step forward from freshman (7.3 points per game) to sophomore (19.2 ppg) year. Developing a jumper would be big, and he really needs to work harder on the defensive end.
20. Sacramento (From Portland via Memphis, Denver and Cleveland) — Harry Giles, A
Someone had to take a flyer on Giles, and with three first round picks, it makes sense that Sacramento would do this. His checkered injury history knocked him way down, but if he's healthy, Giles is going to be a superstar. This is a low risk pick for the Kings, as they selected someone whose game received comparisons to Kevin Garnett and Chris Webber in high school. He just has to stay healthy.
21. Oklahoma City — Terrance Ferguson, B-
Ferguson is among the most intriguing prospects in this draft. Instead of going to college, he decided to go to Australia and play professionally for a year. A potential 3-and-D guy, Ferguson is a good athlete with the potential to be a sharpshooter on the perimeter and a tenacious attitude on defense. At 6'7, Ferguson gives the Thunder a project on the wing.
22. Brooklyn (From Washington) — Jarrett Allen, A-
No more Brook Lopez? No problem. Allen is one hell of a rebounder, using his 6'10 frame and insane 7'5 wingspan to his advantage on the boards. A talented scorer around the rim, Allen played out of position a fair amount at Texas — he has the size of a center but oftentimes lines up at power forward. He showed flashes offensively, but needs to round out his game on that end. A solid athlete, he gives the Nets some solid value this late in the first round.

23. Toronto (From LA Clippers via Milwaukee) — OG Anunoby, B
The Raptors just selected arguably the biggest boom or bust player in this draft. Anunoby is an excellent defender, whose athleticism and 7'3 wingspan in a 6'8 frame gives him an NBA-ready frame right now. He's coming off of a season-ending knee injury, which is a concern, as is the fact that his offensive game is very much a work in progress. Anunoby really needs to improve at basically every aspect of scoring, especially with regards to his jumper. If he does, he's going to be a star. If not, well, he's sticking around for a long time due to his defensive ability.
24. Denver (From Utah) — Tyler Lydon, C
The bad news for Denver is Lydon's not the biggest dude on earth (6'8, 215 pounds). There are also serious concerns about his ability on the defensive end. But as an offensive big man, he may be really, really good. He can shoot the rock, rebound, and is sneaky athletic, but there's going to be a transition period for Lydon. With Danilo Gallinari and Mason Plumlee hitting free agency, though, Lydon may need to be able to contribute sooner rather than later.
25. Philadelphia (From Orlando via Toronto) — Anžejs Pasečņiks, C-
Could this be a draft-and-stash? Philadelphia traded up to acquire Pasečņiks, a 7'1 Latvian center. He tall, athletic, and talented, giving Philly's frontcourt a solid young option behind Joel Embiid. If he comes over soon, this grade is goes up to a C or a C+.
26. Portland (From Cleveland) — Caleb Swanigan, B+
Swanigan gives the Trail Blazers another talented young big man. While he isn't an explosive athlete, Swanigan is the kind of player who is just really good at basketball. He can score all over the court, is a tremendous rebounder, and is a really smart basketball player. The not great athleticism hurts him on defense, even though he's still a savvy player on that end. Still, he's just a guy you want to root for at the end of the day, and should make for a good frontcourt stable in Portland.
27. Los Angeles Lakers (From Brooklyn via Boston) — Kyle Kuzma, B
When Kuzma is locked in, he can really play. A versatile player on both ends of the floor, Kuzma is one of the draft's more uniquely talented players. He can do a little bit of everything — defend, rebound, dribble, and pass. His jumper needs some work, and he can go through cold stretches on both ends of the floor, but if he works those issues out, he may be one of the best values of the first round.
28. Utah (From Los Angeles Lakers, Via Houston) — Tony Bradley, C
Bradley may be the best offensive rebounder in the draft. A tough player with a nose for the ball on the offensive glass, Bradley is going to be a beast of a rebounder in the NBA. Beyond that, he needs some work. He only played 14.6 minutes per game for the national champs, and his offensive game is largely predicated on what he can do around the rim. The Jazz got something of a ball of clay with Bradley, though, and teams are going to hate going up against a frontcourt duo of Bradley and Rudy Gobert on the boards.
29. San Antonio — Derrick White, B
A former Division II prospect, White burst onto the scene during his senior year with Colorado. He only played one year for the Buffaloes, but in that year, he was wildly productive — 18.1 points, 4.4 assists, 4.1 rebounds, 1.4 blocks, and 1.2 rebounds per game. White is just a solid basketball player, even if he'll need to bulk up and doesn't have too terribly much upside. This is a classic Spurs pick.
30. Los Angeles Lakers (From Utah Via Golden State) — Josh Hart, B
The Lakers just got a little tougher. Hart isn't fantastic at any one thing, but his ability to do essentially anything on the court well makes him a safe, smart pick. The biggest thing he brings, though, is a tenacity that may be unparalleled among players in this draft. Hart is a fighter, and he's going to endear himself to Lakers fans with his hard-nosed play, especially on the defensive end.
Second Round
31. New Orleans (From Charlotte via Atlanta and Brooklyn) — Frank Jackson, B+
32. Phoenix — Davon Reed, C
33. Orlando (From Los Angeles Lakers) — Wesley Iwundu, C-
34. Sacramento (From Philadelphia via New Orleans) — Frank Mason, B+
35. Memphis (From Orlando) — Ivan Rabb, B+
36. Philadelphia (From New York via Utah and Toronto) — Jonah Bolden, C
37. Boston (From Minnesota via Phoenix) — Semi Ojeleye, A
38. Golden State (From Chicago via Sacramento and Cleveland) — Jordan Bell, A+
39. Los Angeles Clippers (From Philadelphia via Dallas) — Jawun Evans A
40. Charlotte (From New Orleans) — Dwayne Bacon, B-
41. Atlanta (from Charlotte) — Tyler Dorsey, B+
42. Los Angeles Lakers (From Utah via Detroit) — Thomas Bryant, C+
43. Houston (From Denver) — Isaiah Hartenstein, B
44. New York (From Chicago) — Damyean Dotson, B-
45. Memphis (From Houston via Portland) — Dillon Brooks, B+
46. Milwaukee (From Philadelphia via Miami and Atlanta) — Sterling Brown, B
47. Indiana — Ike Anigbogu, B+
48. Los Angeles Clippers (From Milwaukee) — Sindarius Thornwell, A-
49. Denver (From Memphis via Oklahoma City) — Vlatko Cancar, C
50. Philadelphia (From Atlanta) — Mathias Lessort, C-
51. Denver (From Oklahoma City) — Monte Morris, B+
52. Indiana (From New Orleans via Washington) — Edmond Sumner, B
53. Boston (From Cleveland) — Kadeem Allen, C-
54. Phoenix (From Toronto) — Alec Peters, B-
55. Utah — Nigel Williams-Goss, B
56. Boston (From LA Clippers) — Jabari Bird, C+
57. Brooklyn (From Boston) — Alexander Vezenkov, C
58. New York (From Houston) — Ognjen Jaramaz, C
59. San Antonio — Jaron Blossomgame, B-
60. Atlanta (From Golden State via Philadelphia and Utah) — Alpha Kaba, C+