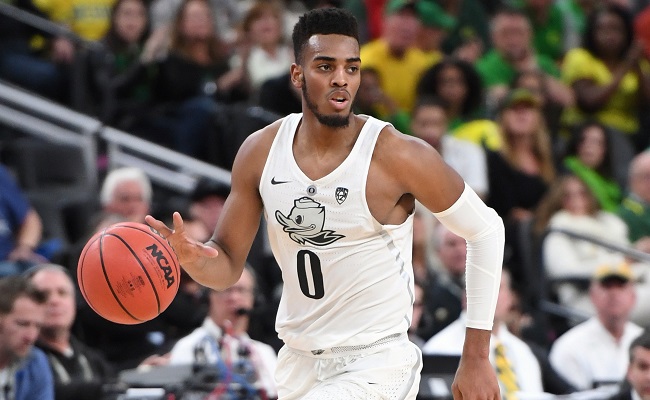 With any NBA Draft, the vast majority of the attention is on the top picks, which makes sense. Most of the league's star power can be found in the lottery and, in tandem, the most recognizable faces from the college basketball world are often the players that end up landing at or near the top of the draft board.
The rest of the draft does provide an opportunity for value, though, and the 2018 Draft is especially deep when it comes to potential role players that would be quality additions to many teams around the league. Given that depth and the simple financials associated with hitting a "home run" on a late first round pick, teams are always looking for diamonds in the rough. In this space, we will unearth the best non-lottery prospects available in this particular draft.
Guards
Donte DiVincenzo (SG, Villanova): After a breakout showing in the NCAA Tournament, DiVincenzo is a recognizable name and his game lives up to the billing. He may not be in the mix for a top-15 pick but no one would be surprised if he came flying off the board in the top-20. DiVincenzo pairs a strong shooting stroke with real athleticism and he can even play on the ball when asked to do so. His defense remains something of a question but, physically, there is no reason to think he can't hold up and teams have to love what he can bring.
Aaron Holiday (PG, UCLA): The Holiday family keeps producing impressive NBA Draft prospects and Aaron is certainly that. He is a knock-down shooter of the highest order at the point guard spot and, with a 6'8 wingspan, there is reason to believe he can defend multiple positions when prompted to do so. Holiday may not have star upside but he profiles as a low-end starter or a high-end backup and that provides real value in the 20's.

De'Anthony Melton (SG/PG, USC): If Melton's rumored improvements as a shooter prove to be true, he will almost certainly be a steal in this draft. Right now, that is the only looming question with his game, as Melton has a fantastic defensive profile while bringing the ability to attack off the dribble and make those around him better. He might just be a pure defensive stopper in the mold of Marcus Smart (albeit with less heft) but that isn't a bad projection.
Elie Okobo (PG, France): Okobo is a late riser in this class, in part because he has been tremendous down the stretch of the season in Europe. As a pick-and-roll creator and offensive initiator, his skills are unmatched in this class outside of the lottery and Okobo has good length (6'8 wingspan) to provide some flexibility. Defensive concerns are real and are why he'll likely slip to the late teens (at least), but Okobo is a modern offensive point guard to monitor.

Wings and Forwards
Troy Brown (SF, Oregon): It wouldn't be crazy to see a team become smitten with Brown enough to snatch him at the end of the lottery. He was a five-star high school prospect for a reason and Brown is a very talented player in a number of ways. The swing skill is his jump shot but, even if that only becomes a slightly below-average offering, Brown's passing, size, length (6'11 wingspan) and basketball IQ are enough to secure an NBA future.
Melvin Frazier (SF, Tulane): Most people don't follow Tulane basketball closely (with apologies to the Green Wave) but Frazier provided plenty of incentive last season. He is a physical marvel at 6'6 with a 7'2 wingspan and it is easy to see a high-end defensive player when combining his length and athleticism. Offensively, Frazier made enough shots last year to secure a first-round placement but, in the end, his 3-and-D ability will come down to whether he knocks down enough threes.

Kevin Huerter (SG/SF, Maryland): In contrast to Frazier, Huerter is one of the best shooters in the class and he is rumored to have a first round "promise" as a result. He wasn't always assertive at Maryland but his shooting has been compared to Klay Thompson and Kyle Korver for a reason — it's a potentially elite skill. Defensively, he'll never be Thompson but Huerter has underrated length and there is reason to believe he'll be passable on that end of the floor. That's all he needs to be.
Zhaire Smith (SG/SF, Texas Tech): Smith is perhaps the best pure athlete in the draft and it wouldn't be stunning if he ended up in the lottery as a result. There is some concern about his height (6'4 in shoes) but a 6'10 wingspan helps to mitigate that and, again, he's a nuclear athlete. It takes projection to assume he'll become anything approaching a plus offensive player but Smith's package of traits should lead to quality defense and that always helps.

Bigs
Chimezie Metu (C, USC): Unlike the guard and wing spots, this is not a draft rich with big men outside of the top-10. With that in mind, Metu is a likely second round pick and he still lands here. He is very skilled with the ball in his hands and a good athlete. That's enough to work with for a projection as a quality backup.
Mitchell Robinson (C, High School): Robinson may be the ultimate boom-or-bust player in this class. On the high end, he's a lottery talent that was a consensus top-10 player in a high school class that featured Deandre Ayton, Marvin Bagley, Michael Porter and others. On the downside, whispers about his make-up are a bit alarming and Robinson just went an entire year without playing competitive basketball after a strange journey through Western Kentucky. Somebody will take the gamble, though, and they could look brilliant at the end.

Moritz Wagner (C, Michigan): Like Metu, Wagner is not projected as a first round pick but there is at least some buzz that he could land in the 25-30 range on draft night. He is perhaps the most skilled offensive big man outside of the top-10 and his shooting and playmaking at center size are appealing. Wagner's issue is the defensive end and, even with real improvement last season, he projects as a sub-par NBA player on that side of the ball.
Robert Williams (C, Texas A&M): Williams may be the closest thing to a lottery pick on the entire list and a team like the Clippers (at No. 12 or No. 13) make sense. If he slips as projected, a team might unearth a steal, as Williams looks the part of a top-10 pick as a rebounder, rim-runner and rim protector when he's engaged. His effort hasn't always been steady but, if it unlocks at the next level, watch out.