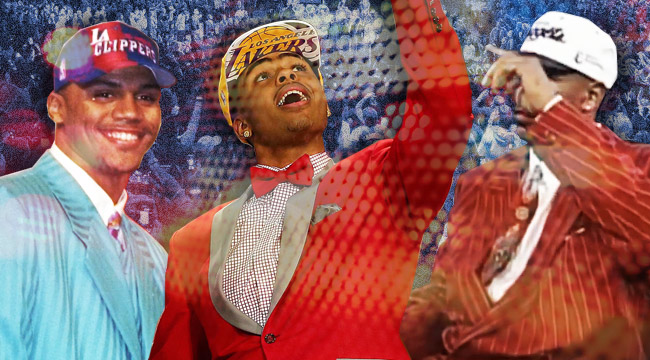 Beyond the actual players, and the impact they may one day make on woefully desperate franchises, the NBA Draft has always been about fashion. People care more today about what Amar'e Stoudemire wore when the Phoenix Suns picked him 9th overall in 2002 than they do about him being the first high schooler to win Rookie of the Year. But that's not necessarily a bad thing, because look at what he was wearing:
Sorry, that's not from the '02 draft. I meant this image. The one where he looks like someone stretched out his torso in Photoshop. That image has found a home on countless "Worst of" NBA Draft fashion rankings, but it also comes from a long-gone era of poor, sloppy fashion decisions, undoubtedly made by style icons and trendsetters trying to make names for themselves. But while we will never ever (never ever ever ever) remember Erick Dampier's stylist or designer for his 1996 draft suit (below), things are changing.
Inspired by the NBA Draft, many websites, including the most fashion-forward, still pump out the annual "Worst Dressed" features or "All-Time Worst" slideshows. Some fashion writers even believe no progress has been made since the Draft became a televised spectacle in the early '80s, and today's rising stars and would-be icons are in desperate need of a makeover. But the critics are dead wrong, and those who are wise enough to see the evolution of style embrace just how much has changed over the span of four decades.
The Bargain Basement '80s
Taken with the second pick in the 1981 draft, Isiah Thomas was a trendsetter. He looked like he was heading to the office to do serious work, and you could call that a metaphor for his career. At least until he became a GM and coach. Other '80s draft picks, though, took the draft way more seriously, as if it was a red tie affair. Or, in Hakeem Olajuwon's case, a red-tie affair, as he looked like he was hosting the Miss America pageant.
That moment was so iconic, of course, that NBA commissioner Adam Silver brought Olajuwon out in a new red bow tie to pay tribute to David Stern for what would be the final time fans would boo him. (Fun fact: Olajuwon was the first player drafted under Stern's term as commissioner, so what a nice moment!) When the Indiana Pacers selected Chuck Person with the 4th pick in the 1986 draft, it was even a pink tie affair.
But not everyone shared their philosophies of looking good in their biggest moments. Karl Malone's tie choice for the 1985 draft looked like it came from the boys' department. Fat Lever kicked back with a cool leisure suit when he went 11th overall in 1982, but he looked like the best-dressed man of the year compared to Terry Cummings, who went second in that draft and wore a polo. Some guys just like to keep it casual.
Then there's "Worst Dressed" first ballot Hall-of-Famer Vlade Divac, whose 1989 draft outfit speaks for itself.
Dude looks like he had to borrow one item of clothing from everyone else to put his suit together. But there's charm in that! We're still talking about it 27-years later.
The Dick Tracy Villain '90s
Just as '80s NBA Draft fashion might be defined by the iconic images of Olajuwon and Divac, the '90s will always be remembered best for three athletes. The most memorable was Jalen Rose and what he refers to as his "Welcome to the NBA" moment (above). Last year, Rose stopped by Jimmy Kimmel Live to discuss the Fab Five 30 for 30, and the host brought up Rose's draft night attire and particularly that loud tie. Turns out Rose expected to be drafted by the Clippers with the 7th pick, hence the red and white suit, but instead he dropped to the Nuggets at 13. Embarrassing, maybe, but we'll never stop talking about that suit.
Only two other draft suits rival its unforgettable uniqueness. First, Samaki Walker's 1996 draft attire:
Only Louisville diehards and random know-it-all fans of the six NBA franchises Walker played for even remember his days on the court, but as soon as you see that hat, it's like the Mavericks are picking him all over again. In 1997, Tim Thomas forgot his Tommy gun at home, but fortunately Upper Deck immortalized his suit with arguably the most valuable card in the nickel commons box.
The '90s had plenty of other great suits to remember – not mentioning Maurice Taylor's aqua pinstripe suit would be a felony – but we only have so much time for nostalgia in one feature.
It's Prom Night in the '00s
For the most part, NBA draft picks went with a cleaner look in the '00s, settling for solid colors. There were also a lot of khaki-colored suits in this decade's drafts, which is fine if you're boring or a Communist. But everyone mostly looked nice, like they were about to hop into the stretch Hummer and head out to awkwardly slow dance with their girlfriends for three hours. Naturally, the most memorable suit of the '00s was worn by the No. 1 pick of the 2003 draft, LeBron James, as he went with the white-on-white look, complete with a shiny dress shirt.
Even Stern loved the suit.
For some reason, Carmelo Anthony gets a lot of heat for his six-button jacket, secured at the second button, but it wasn't nearly as bad as Drew Gooden's Dr. Evil tribute.
If we were nailing down the worst draft day suit of all-time, we'd probably make a huge case for Gooden's awful jacket, but instead let's focus on the greater triumphs and the moment that draft fashion changed for the better.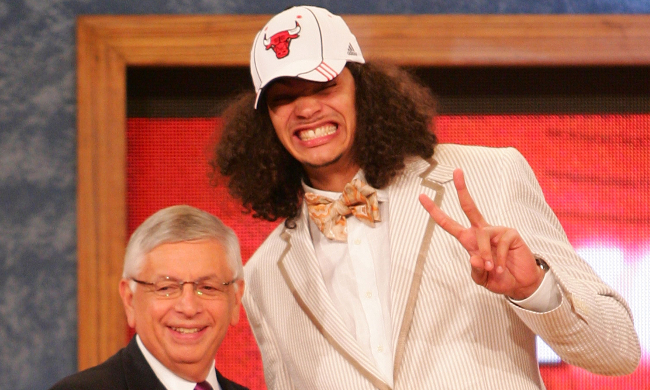 This photo should be framed and hung in the homes of every NBA fan in the world. It's perfect in both humor and style, like the complete opposite of Adam Morrison's awkward, even sort of depressing draft style. As the decade ended, however, new stars-to-be like Derrick Rose, Stephen Curry, and Blake Griffin chose sharp, form-fitting suits and looked more like the Brooks Brothers, the Brothers Brooks. That set the table for today's baller fashion.
Now They Just Look Good
John Wall and co. looked like more like they were filming a Men's Wearhouse ad than waiting to be drafted in 2010, and that has basically been the theme and tone of the last six years. More and more, the athletes are incorporating personal touches into their suits – many now with the help of incredibly talented designers — and maybe some of them will be laughably bad 20 years from now, too. Who knows?
For example, people have made fun of Wesley Johnson's 2010 outfit: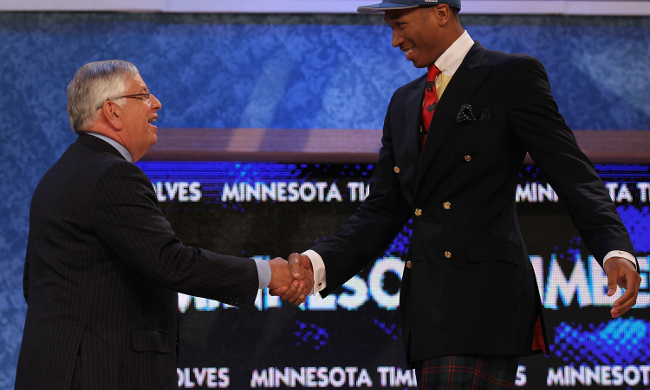 So what if he looks like the trumpet player in a Caddyshack-themes ska band? The look works. Same goes for Kawhi Leonard's 2011 tux jacket.
Are you going to tell him that looks stupid? No. You also won't tell Victor Oladipo that his 2013 draft day suit looks stupid, because you'd be lying. And then he'd sing to your girl and you'd take the bus home alone.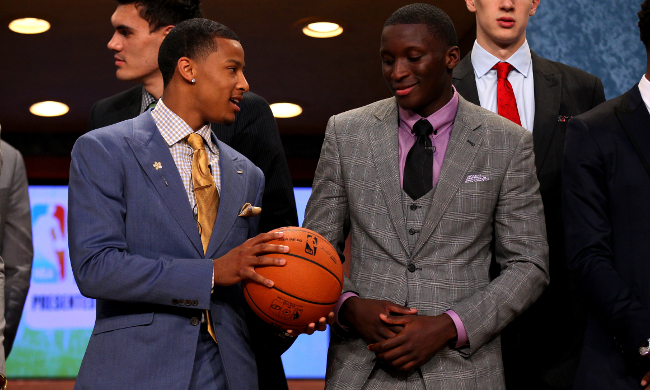 Adreian Payne's NBA career may not be going as well as we'd hoped (he's a great human being and deserves to be extremely successful), but his 2014 draft look was about as baller as it gets.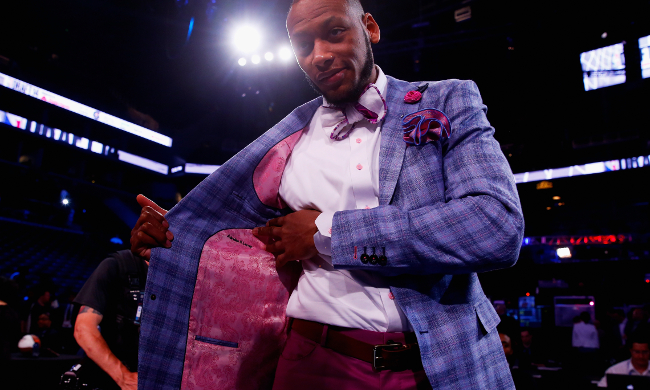 Going back to that snooty New York Times takedown of the 2015 draft class's fashion, D'Angelo Russell's red jacket was one of several targets that drew this scorching criticism: "… they were dressed like refugees from a Broadway show ("Jersey Boys" anyone?)." Damn, you've been ethered, D'Angelo.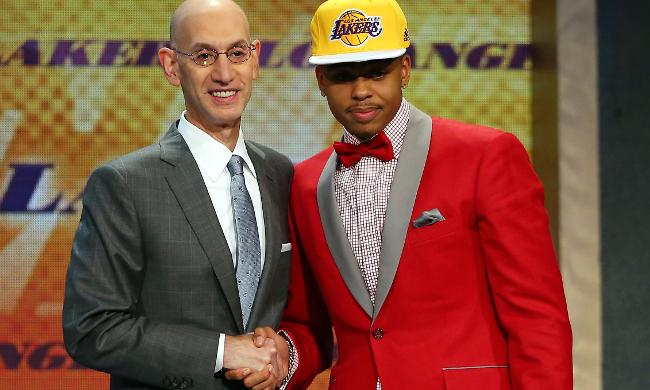 These would-be stars were actually criticized for wearing bright colors and "crazier" looks because they result in "the more memorable the moment." Gosh, can you imagine that? Young guys on the biggest night of their lives wanting people to remember them and talk about them for years to come? What a ridiculous idea!
It's a good thing no one told Skal Labissiere to tone it down for this year's draft, because then he wouldn't have gifted us with this unforgettable look. Which team drafted him? Off the top of my head, I can't even recall, but I remember the suit. The only thing that needs a makeover before next year's NBA Draft is the attitude that it's about anyone but the athletes.