The NBA Draft is over. Despite the fact that we had a bunch of picks traded and an All-NBA caliber talent switch teams, the selections themselves were kind of, well, not especially shocking. Outside of the No. 7 pick, which moved in the aforementioned deal that sent Jimmy Butler to Minnesota, things played out more or less according to plan.
But now that we're one day after the draft, all anyone cares about is how every team did. To answer, we gave draft grades to all 30 teams, 28 of whom had selections on Thursday night. One team got an A+, a bunch of teams got an A, and for the most part, teams were smart with their decisions. Well, except for the Bulls.
Let's get to our grades.
Atlanta Hawks: B-
John Collins (19), Tyler Dorsey (41), Alpha Kaba (60)
There aren't many big men who can score like Collins. His game is limited to what he can near the rim, but he's great down there, partly because he's a tremendous rebounder. Collins needs to extend his jumper and start buying in on defense, but Hawks fans should love him. The same thing is true for Dorsey, a gamer who can come off the bench and provide the team with instant scoring, even if his game is limited to mostly that. Kaba is a 20-year-old French big man who plays in Serbia and may not exactly be the next Paul Millsap.
Boston Celtics: B
Jayson Tatum (3), Semi Ojeleye (37), Kadeem Allen (53), Jabari Bird (56)
Tatum may be Boston's best wing scorer from the day he signs his contract. His ability to shoot threes hasn't quite developed, but other than that, he can really fill it up. The question with him may be if he ever plays for the Celtics, or if he's shipped to Indiana or New York in a deal for Paul George or Kristaps Porzingis. Beyond him, Ojeleye could end up being a steal as an inside-out scorer who creates matchup nightmares. Allen is a tenacious defender, even if he's a bit old at 24 years old, while Bird is another older player (23) who can play a little.
Brooklyn Nets: C+
Jarrett Allen (22), Aleksandar Vezenkov (57)
Allen is going to mess people up on the glass. He has a way to go other than that, but at the very least, his ability to rebound is going to give people problems. Vezenkov is likely a draft-and-stash guy.
Charlotte Hornets: B
Malik Monk (11), Dwayne Bacon (40)
Monk is something of a strange fit next to Kemba Walker due to size concerns (he's 6'3, 197 pounds), but when he gets hot, he can score in bunches. Unlike most undersized scoring guards, though, Monk is also a really good athlete. He doesn't always use that to his advantage, though, which is true on both sides of the ball. Bacon is a physical and aggressive scorer who shows flashes of being a really good defender. His shooting and overall effort level, especially on defense, will be things to watch.
Chicago Bulls: F
Lauri Markkanen (7)
Poor Markkanen. He's a good player, but no team had a worse night than Chicago. They traded Jimmy Butler and the No. 16 pick for the No. 7, Zach LaVine (who is coming off of an ACL tear), and Kris Dunn (whose ability to score has a long way to go). It was a bad day for the franchise, much to the chagrin of Markkanen, who could turn up into a solid stretch-5.
Cleveland Cavaliers: N/A
Cleveland did not have any picks during the 2017 Draft.

Dallas Mavericks: B+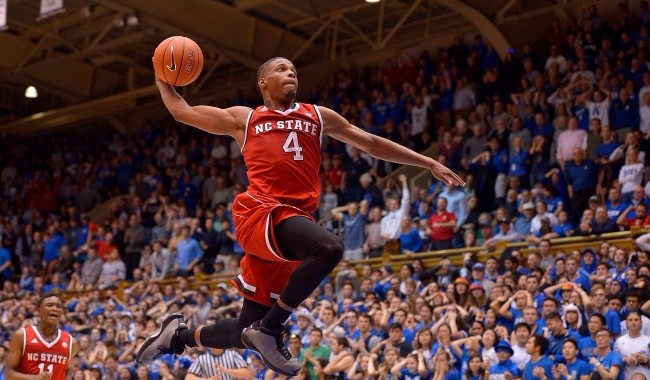 Dennis Smith Jr. (9)
Dallas had to go out and find a point guard. It's kind of cliched at this point, but Smith has the talent to end up as the best player in this draft. He's a dynamic guard who can take over games, and with some polishing, his upside is limitless.
Denver Nuggets: D
Tyler Lydon (24), Vlatko Cancar (49), Monte Morris (51)
Lydon is going to be a very nice stretch four/five who can win some battles on the glass despite his kinda small frame. He needs to fill out while showing he can keep the athletic ability that makes him interesting, plus like everyone who comes from Syracuse, there are concerns about him not playing in a 2-3 zone. Cancar was a draft-and-stash guy, while Morris is a note great athlete whose basketball IQ is off the charts. He can be a coach on the floor and shoot the rock, making him the kind of backup guard who can stick around for a while.
Detroit Pistons: C-
Luke Kennard (12)
Detroit filled its biggest need by going out and getting maybe the best pure shooter in the draft. There were better players on the board than Kennard, and the Pistons stayed put after him, so their grade is a bit low. But this was still a solid pick.
Golden State Warriors: B+
Jordan Bell (38)
Golden State spent $3.5 million to get Bell, who is a spectacular defender and should fit in to what the Warriors do defensively without any issues. There are some injury concerns that led to his fall, and his offensive game isn't great, but if he's healthy, this was a steal. Well, a steal that cost $3.5 million.

Houston Rockets: C+
Isaiah Hartenstein (43)
ESPN's Fran Fraschilla was adamant that Hartenstein could have been a lottery pick if he waited to declare for the draft. But still, Hartenstein — who plays in Lithuania — may end up being really good. He's a talented lefty big man who stands at 7'1 and has barely scratched his potential. Only 19 years old, it may be a little before Hartenstein comes to the United States, which could be the best thing for his development.
Indiana Pacers: C
T.J. Leaf (18), Ike Anigbogu (47), Edmond Sumner (52)
If you took Leaf's basketball IQ and ability to score in a variety of ways and mixed it with Anigbogu's defensive and physicality, you'd have a top-5 pick. Instead, Leaf's defense and physicality leave something to be desired, while Anigbogu isn't much of an offensive player right now. Sumner, meanwhile, is a stellar athlete and a tough dude, there are just serious questions about his ability to shoot.
Los Angeles Clippers: B
Jawun Evans (39), Sindarius Thornwell (48)
The Clippers are in win-now mode, so they went out and got two players who can help them win now. Evans is a fantastic but undersized point guard who can fill it up and set up his teammates with ease. Learning under Chris Paul — should he return — is a perfect situation. Thornwell, meanwhile, is tough as nails and can do a little bit of everything on the court. He should fit into the team's wing rotation immediately.
Los Angeles Lakers: A
Lonzo Ball (2), Kyle Kuzma (27), Josh Hart (30), Thomas Bryant (42)
What a smart draft by Los Angeles. Acquiring Ball, who has superstar potential, was a no-brainer. Kuzma has some wrinkles that need to be ironed out, especially with his jumper, but he could end up being the best late-first round guy in this draft. Hart is a pitbull who is going to defend like crazy and do whatever the team needs on offense, while Bryant is a talented big man with long arms whose offensive and defensive games still have a way to go.

Memphis Grizzlies: B-
Ivan Rabb (35), Dillon Brooks (45)
Rabb is a cautionary tale for athletes who want to go back to school, as he went from a potential lottery pick in 2016 to a second rounder in 2017. As long as he's happy with his decision, that's all that matters, but it's still a rough fall for Rabb. He's a mobile athlete and a great rebounder, but his offensive game in general has a long way to go. Brooks is your classic dude who is just good at basketball. He's a strong, physical wing who is skilled with the ball and can score. Athletic upside and defensive consistency are big issues, though.
Miami Heat: D+
Bam Adebayo (14)
Adebayo is a nice player, and Miami could have probably traded down and still gotten him. He's a big, physical guy with plus athleticism and has a bit of a mean streak, so this is the exact kind of center you'd think Pat Riley and Erik Spoelstra would like. This wasn't a great pick, and Adebayo still has a lot to learn, but he's basically a ball of clay at this point. There ain't many people better at molding balls of clay than Riley and Spoelstra, though.
Milwaukee Bucks: C
D.J. Wilson (17), Sterling Brown (46)
When Wilson is on his game, he's a difference maker on offense. Tall, long, and skilled, there was no coincidence that Michigan played at its best when he was locked in. He was a late bloomer, although his agility at 6'10 with a 7'3 wingspan seems to be exactly what the Bucks want, even if he may need sometime to get used to the NBA. Brown is going to be a great shooter for a long time — he hit 45.1 percent of his attempts from downtown at SMU, and while it wasn't on a ton of attempts, it's hard to argue with the results.
Minnesota Timberwolves: A
Justin Patton (16)
Sure, Patton wasn't a stellar pick – he's an offense-minded center on a team that has a few of those already — but he's still talented. More than anything, the Timberwolves get praise for going out and getting a legitimate star in Butler for only LaVine and Dunn. The Wolves' core of Butler, Andrew Wiggins, and Karl-Anthony Towns is kind of terrifying.

New Orleans Pelicans: C+
Frank Jackson (31)
Jackson has the talent to be a first round pick, but foot surgery and an inability to carve out a role for Duke hurt his stock. If he's healthy and able to get into a groove with the Pelicans, then New Orleans may have found a very solid point guard.
New York Knicks: B-
Frank Ntilikina (8), Damyean Dotson (44), Ognjen Jaramaz (58)
The Knicks really needed a point guard, and Ntilikina is going to be tasked with running the triangle. At 6'5 with a seven-foot wingspan and the ability to hit threes, there are reasons for optimism that the Knicks found their point guard of the future with the French import. Dotson is a dead-eye shooter, going 108-for-245 (44.1 percent) as a senior. Jaramaz is a great athlete, but it may be a while before we see him in New York. (You know, assuming he comes over.
Oklahoma City Thunder: C
Terrance Ferguson (21)
Ferguson is either going to be a perfect partner for Russell Westbrook in three years, or he's going to be out of the league. He has the jumper and defensive intensity to be a 3-and-D guy, but how will the transition from pro ball in Australia to the NBA? And if his jumper isn't falling, can he contribute in other ways offensively?
Orlando Magic: B-
Jonathan Isaac (6), Wesley Iwundu (33)
On one hand, Orlando's defense is going to be insane, as both Isaac and Iwundu are plus defenders. On the other, can the team score? That's not really Iwundu's game, and while Isaac could be a good offensive player down the line, he still needs some refinement. This grade would have been higher if the Magic managed to get a guard who could fill it up.

Philadelphia 76ers: A
Markelle Fultz (1), Anžejs Pasečņiks (25), Jonah Bolden (36), Mathias Lessort (50)
There's no word on whether Pasečņiks or Lessort will come to the U.S. any time soon, while Bolden is going to reportedly try and come over immediately. The A grade is for Fultz, who is the exact player Philadelphia needed in this draft. Through some pretty painless maneuvering thanks to the Celtics, the Sixers got their point guard of the future.
Phoenix Suns: B+
Josh Jackson (4), Davon Reed (32), Alec Peters (54)
Reed is a really good shooter who had a very solid career at Miami, while Peters was insanely productive at Valparaiso. But the standout here is Jackson, who is arguably the best player in this draft. Should his jumper come around, he has the potential to be one of the elite two-way players in the NBA. If not, he does everything else well, especially defend. Seriously, tune into the Suns' first game of the year and just watch him play defense. It's spellbinding.
Portland Trail Blazers: B
Zach Collins (10), Caleb Swanigan (26)
Portland's frontcourt situation is a bit hairy going forward — the team has $texas tied up next year, and Jusuf Nurkic, Festus Ezeli, Ed Davis, and Noah Vonleh are all free agents after this season. Getting a potential stud in Collins and the ultra-skilled Swanigan are about as good of moves as they could have made.
Sacramento Kings: A+
De'Aaron Fox (5), Justin Jackson (15), Harry Giles (20), Frank Mason (34)
The Sacramento Kings won the NBA Draft because 2017 is the weirdest year. Fox is a tremendous defender and can blow by just about anyone on offense — if he ever develops a jumper, he has All-Star potential. Jackson is a crafty and versatile scorer. Giles' injury concerns are real, but his ceiling is non-existent. Mason is the reigning Naismith Player of the Year and is going to be a leader on the roster from the day he steps into the locker room. Sacramento still needs, well, a lot, but this is one hell of a start.

San Antonio Spurs: C
Derrick White (29), Jaron Blossomgame (59)
White was a fantastic story — he played Division II ball after having one offer out of high school, and during his one year in Division I, he did everything for Colorado. Blossomgame is a tough rebounder and defender whose shot needs a ton of work. Because they were selected by the Spurs, they will combine to make seven All-Star Games, probably.
Toronto Raptors: C
OG Anunoby (23)
Defensively, Anunoby is exactly what you want out of someone on the wing. Offensively, well, not so much. He's shown flashes of offensive ability, and if the Raptors are patient, this is going to pay off. At the very least, he's going to be a special defender and the kind of guy whose effort on that side of the ball gets his teammates to buy in to defending.
Utah Jazz: D+
Donovan Mitchell (13), Tony Bradley (28), Nigel Williams-Goss (55)
Mitchell's length is terrifying, as he's 6'2 with a 6'10 wingspan. Mix that with his fantastic athleticism and tenacity on defense and he's the perfect player to defend point guards in the NBA. He's still learning how to play point guard, though, and his offensive game in general just isn't there yet. Bradley is a tremendous rebounder who needs to prove he can be more than just the rotation player he was at North Carolina, while Williams-Goss is a solid, steady point guard who isn't a great athlete or scorer but can run an offense in a pinch.
Washington Wizards: N/A
Like Cleveland, Washington didn't have any picks in the draft this year.