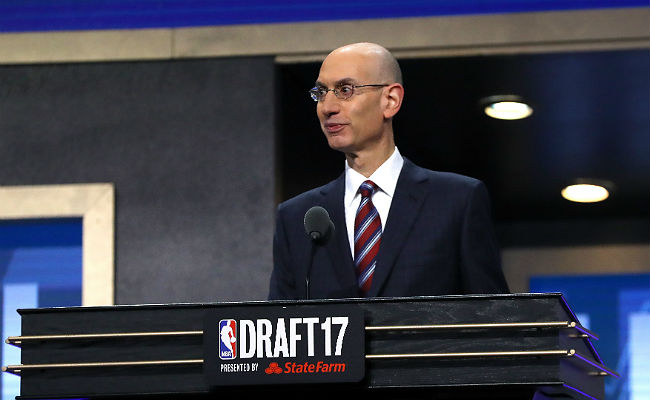 The 2018 NBA Draft Lottery will set the official draft order for the top 14 spots in June's draft and allow us to finally get into full draft speculation mode. Until now, we've been forced to deliver mock drafts with guesses on who is picking where based off odds, but after Tuesday, we'll be able to look more intensely at what prospects figure to be available to what teams.
We know the odds and where every team can find themselves, with the Suns occupying the top lottery spot and a guarantee to pick in the top-4. Every team in the lottery has a shot at a top-3 pick, and that means there's plenty of chances for things to get wild. It's been a few years since we got a legitimate draft stunner, so maybe Tuesday night will deliver some fireworks.
There are literally millions of scenarios that could play out on Tuesday in Chicago and many of them would raise eyebrows. Any of the teams from the Bulls down swiping the top pick would be a pretty big stunner, and there will be storylines aplenty no matter which of them made that leap. However, we know that the Nuggets (which have the worst odds of the top spot) landing No. 1 wouldn't move the needle as much as, say, the Knicks.
So we decided look at the lottery scenarios that would send NBA Twitter into a frenzy on Tuesday night, ranging from "interesting" to "everyone puts on their tin foil hats to claim the NBA is rigged." If you want to play around with lottery sims, may I suggest a stop by Tankathon.com to see how the lotto could play out.

5. The New York Knicks jump into the Top-3
The Knicks currently own the ninth-best odds in the lottery, which means there's a 1.7 percent chance of them landing No. 1 overall and a 6.1 percent chance of them being in the lottery. New York could desperately use another star alongside Kristaps Porzingis and landing in the top-3 would certainly provide that opportunity, with Luka Doncic making the most sense as their target should they vault up the draft order. This would create plenty of chatter among Knicks fans and others, but not set the NBA world completely on fire.
4. The Lakers land the No. 1 overall pick, sending it to the Sixers
The Sixers getting another top pick?! One would have to assume they'd take Doncic and add him to the Simmons and Embiid duo to provide more wing help and an extra ball-handler on the floor. This would certainly be interesting and a bigger surprise than the Knicks jumping up as L.A. holds the 11th-best odds in the lotto (1.1 percent at No. 1). You may be asking, Robby, why not say top-3 like with the Knicks? Well, that leads us to No. 3.
3. The Lakers land the No. 2 or No. 3 overall pick, sending it to the Sixers who send it to the Celtics
Now we are cooking with gas! Imagine Boston getting a third-straight top-3 pick when they already have Kyrie Irving and Gordon Hayward coming back next season. There would be some significant tin foil hat adjusting happening on the interwebs, and the Markelle Fultz trade would suddenly look even worse. It also would give them tons of ammunition to make a trade this summer, should they want to try and pry, say, Kawhi Leonard out of San Antonio.

2. Brooklyn gets the No. 1 pick, sending it to the Cavs
Nothing would infuriate NBA fans more than the Cavs landing the top pick. It would create an unreal amount of chaos on Twitter, with people claiming the league is rigged for LeBron. It also would create so many trade rumors, as we've already heard chatter LeBron wants the Cavs to deal the Brooklyn pick for some immediate help if he's going to stay. Suddenly they would have to decide on pleasing LeBron (with a crazy good asset) or taking a possible franchise cornerstone for whenever James leaves in Deandre Ayton (who would also fill a need inside).
1. The Lakers jump to No. 2 or No. 3, sending it to the Celtics, and Brooklyn also gets into the top-3, sending it to the Cavs
This is just a combination of two and three has a ridiculously small chance of happening, but it would cause a pretty incredible meltdown (you could even throw New York into the mix for maximum chaos). Right before Cavs-Celtics Game 2, you get both of them earning a top-3 pick and setting them up to continue the rivalry in the East for years to come (pending LeBron staying). Both teams would have incentive to trade the pick to add help to their roster right now, but also could talk themselves into one of these top players.
People would get mad because all of these scenarios just involve the rich getting richer, but that's kind of the point. The only way for the lottery to truly stun us and create controversy is to give better teams better picks and leave those that banked on the draft to turn things around searching for answers later on. The Hawks jumping up to land No. 1 is huge news in Atlanta (and Phoenix), but not a massive surprise.
After discussing all of this, I look forward to a Suns-Mavs-Magic top-3 that would be great for all of those teams, but probably not spark too much controversy or conversation among the masses.