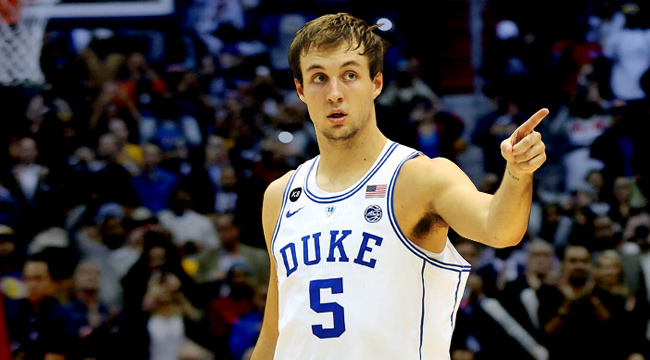 Before the 2016-2017 season began, Luke Kennard was seen by many as an obvious "odd man out" for the Duke Blue Devils. Coach K and company assembled a phenomenal recruiting class to go along with arguably the top returning player in the country in Grayson Allen. Even after a very nice sophomore season, the left-handed guard profiled as a supporting piece of the puzzle rather than a lead dog of sorts.
Fast-forward to early February and one thing is abundantly clear. Luke Kennard is the best player for Duke. And it isn't particularly close.
It should be noted that Kennard (still) isn't the top NBA Draft prospect for the Blue Devils, with Jayson Tatum solidly ahead of him on any credible 'big board' and Harry Giles still living on the reputation of a once-elite prospect. Still, Duke's offense functions at its peak level when it revolves around Kennard above and beyond everyone else and his offensive talent is both significant and overly apparent.
Through 23 games, the 6'5 off-guard is averaging 19.8 points and 5.2 rebounds per game, but more impressively, Kennard is assembling that scoring production while shooting 53 percent from the floor and a lights-out 46 percent from beyond the three-point arc. At the next level, it is entirely possible that Kennard will transform into something of a shooting specialist, and that is easily the biggest reason that he is ascending rapidly on draft boards everywhere.
In the same breath, he has flashed strong court vision and high-end passing ability, with more than enough off-dribble game to get to the rim when needed.
Make no mistake, Luke Kennard probably won't become a top-10 draft pick, simply because he is somewhat limited athletically and, as a result, his defensive upside is lacking. There is no reason to think that he can't become passable on that end of the floor, though, and if he can simply achieve that level of respectability, there is no reason Kennard can't be a long-time NBA contributor that fits perfectly in the modern professional game.
Just how high can Kennard climb in this edition of NBA Draft watch? Let's find out.
The Lottery
1) Markelle Fultz (Freshman, PG, Washington)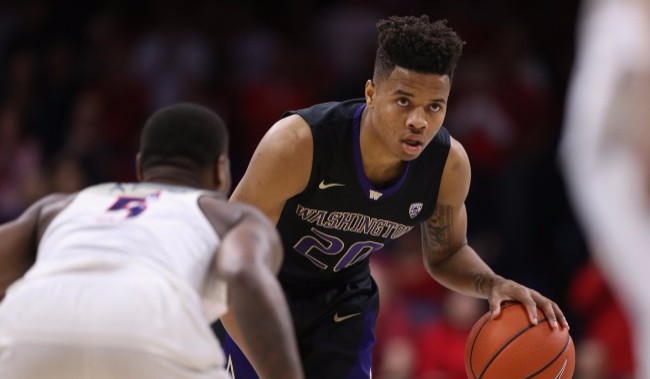 The Washington Huskies are, in a word, bad. That fact – coupled with simple geography – will stop most of the country from fully appreciating how good Fultz is, but there is no zero debate as to who the No. 1 player in this class is right now. Fultz is averaging 23 points, six rebounds, and six assists per game with crazy efficiency (27.9 PER), and given that Washington's supporting cast is sub-optimal, he has been tremendous.
2) Josh Jackson (Freshman, SF, Kansas) – Jackson needs to become the big-time defender that he can be in order to justify this ranking, and that is my biggest concern. The performance on that end doesn't always match up with what it should at the college level, but he's a freshman and that happens. Otherwise, he's a long, hyper-athletic player that can pass and play within the confines of a system. Is he an elite shooter? No, but Jackson's jumper can (and I think will) come around to make this ranking look reasonable.
3) Lonzo Ball (Freshman, PG/SG, UCLA) – Every time I waver on Ball as a prospect, he does something on a basketball court that no one in this class can do. I'm a sucker for high-end passing, and Ball is the best among the entire group in that area. I'm also a sucker for ugly shooting form that goes in and, well, Ball is shooting 54 percent from the floor and 43 percent from three-point range. Is his ceiling as immense as Jackson, Smith, and Isaac can reach? Probably not, but his safety is tantalizing in its own right.
4) Dennis Smith (Freshman, PG, NC State)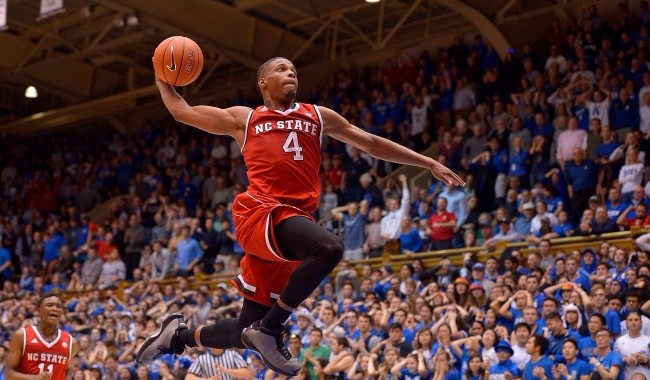 Smith's coming-out party came in a 32-point explosion against Duke that was punctuated harshly with a showtime dunk at the final buzzer. While he encounters a similar issue to Fultz in that NC State has struggled from a team perspective, Smith is at least being noticed by simply playing in the ACC. He's also a phenomenal athlete. Defensively, his upside is very real if he can simply coax regular effort out of himself and, provided that occurs, this might be too low. He's that good.
5) Jonathan Isaac (Freshman, PF, Florida State) – Isaac is a terrifying prospect in a number of ways. He is a legitimate 6'11 while being able to play both forward spots and he is a splendid athlete as well. For my money, he's a power forward at the NBA level, but being able to switch effectively on defense is huge in today's NBA, and Isaac has flashed an improve jumper (36 percent from three this season) as well. He's still raw, but Isaac has come a long way and might have the highest upside this side of Fultz.

6) De'Aaron Fox (Freshman, PG, Kentucky) – Just one month ago, I opined that Fox was the superior NBA prospect in Kentucky's uber-talented backcourt, and I stand by it. Malik Monk is (far) more famous and more accomplished statistically at the college level, but Fox's defense at the point guard position is far more projectable in my view. His jumper remains a real concern, but it isn't fully broken in my estimation and Fox needs only to become passable in that area to be a stud.


7) Jayson Tatum (Freshman, SF, Duke)
I'm probably lower on Tatum than just about anyone, to the point where this even seems high to me. He is putting up big numbers (15.8 points, 6.9 rebounds, 1.5 steals, 1.4 blocks per game) at Duke and that is fine. But as noted above, the Blue Devils are (much) better when Luke Kennard is the centerpiece and Tatum often looks as if he should be playing the 4 at the college level. He is the type of isolation scorer that many NBA teams (and fans) crave, but it's not my thing.

8) Frank Ntilikina (18-year-old, PG/SG, France) – With every film session, Ntilikina becomes more impressive. To that end, there is no reason to think he would not have been the No. 3 pick in the 2016 NBA Draft, and while his timing is not impeccable in that regard, the talented French guard is easily a top-10 talent. He's the least famous person in the top 10 by a wide margin, but that doesn't indicate anything beyond name recognition. He belongs here.

9) Malik Monk (Freshman, SG, Kentucky) – Monk might be the most explosive scorer in college basketball – and that matters. For NBA purposes, though, it remains to be seen if Monk can find the right situation. He probably needs to defend point guards in the NBA while simultaneously playing off the ball on offense. With that, there is a looming concern in my mind that he could be best in a third-guard role. That likely comes with the "hater" tag compared to what many evaluators feel about Monk, but I'm prepared for it.


10) Lauri Markkanen (Freshman, PF/C, Arizona)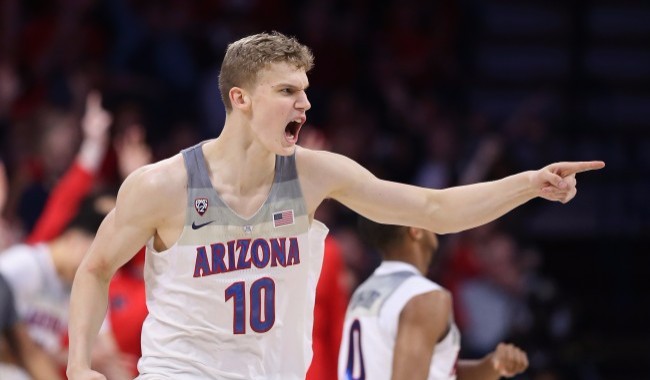 Markkanen is quickly shooting up draft boards everywhere, just as Arizona is doing the same in the college basketball polls. While his team's success isn't the only reason, it definitely helps, but Markkanen should have received more attention (including in this space) initially. The seven-footer is shooting a remarkable 49 percent on 4.7 three-point attempts per game, and he isn't a perimeter-only prospect either. With another strong month of performance, Markkanen could legitimately continue his climb here.

11) Terrance Ferguson (18-year-old, SG/SF, Australia) – We don't know as much about Ferguson as we do about any other prospect in front of him on this list (Ntilikina included) but his traits are enough to justify this position. The former Arizona commit is a stupendous athlete with big-time shooting range and, in a league that needs more wings, Ferguson is someone I enjoy quite a bit.

12) Harry Giles (Freshman, PF, Duke) – Giles continues to drop like an anchor and it isn't difficult to see why. If this ranking was based purely on the performance from his freshman season, Giles might not even crack the top 30. With that said, Giles was once considered the top player in this class for a reason and the raw talent is tantalizing enough where I just can't slip him out of the lottery … yet.
13) Miles Bridges (Freshman, SF/PF, Michigan State)
If his freshman-year shooting is real, this is probably too low for Bridges. I just don't think it is. The 6'7 forward is shooting 41.3 percent from three through 16 games, and that was a surprise given his track record at the high school level. Moreover, that is likely to level out and we're left with a player that isn't big enough to play power forward full-time and isn't quite good enough on the perimeter to function as a full-time wing. He's a tremendous athlete, and that helps, but there are questions.
14) Ivan Rabb (Sophomore, PF/C, California) – I will ride for Ivan Rabb. He's one of the safest picks in the draft averaging after coming back for a second college season, and Rabb is producing (15.2 points, 10.9 rebounds per game) in a big way. His upside might be as an excellent third big in the NBA and that won't excite many people, but Rabb feels like the guy who slips too far and I won't make that mistake.

The Rest
15) Bam Adebayo (Freshman, PF/C, Kentucky)
16) Luke Kennard (Sophomore, SG, Duke)
17) Robert Williams (Freshman, C, Texas A&M)
18) OG Anunoby (Sophomore, SG/SF, Indiana)
19) Justin Patton (Freshman, C, Creighton)
20) Isaiah Hartenstein (18-year-old, PF, Lithuania)
21) Jarrett Allen (Freshman, C, Texas)
22) Josh Hart (Senior, SG, Villanova)
23) T.J. Leaf (Freshman, PF, UCLA)
24) Rodions Kurucs (18-year-old, SF, Latvia)
25) Justin Jackson (Junior, SF, North Carolina)
26) Tyler Lydon (Sophomore, PF, Syracuse)
27) John Collins (Sophomore, PF/C, Wake Forest)
28) Tony Bradley (Freshman, PF/C, North Carolina)
29) Jawun Evans (Sophomore, PG, Oklahoma State)
30) Thomas Bryant (Sophomore, PF/C, Indiana)