DIME's own Jack Winter opined that Saturday's NBA Dunk Contest was the best ever. Between Aaron Gordon and eventual winner Zach LaVine, the final round was certainly one for the ages. Though we tend to be creatures of the moment—and social media reactions heighten feelings of hyperbole—there's no debate that Saturday's jam-off will go down as one of the most memorable of all-time.
Really, this is the type of dunk that people will still be talking about in 20 years: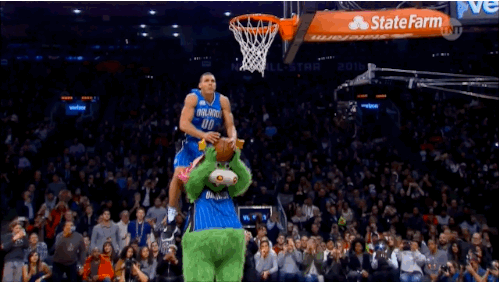 The list of NBA Dunk Contests that can be categorized as such is a small one. The 1988 contest between Michael Jordan and Dominique Wilkins is the one most likely to be compared to this one. That's the bar by which all other Dunk Contests are measured – and thanks to the NBA, now we can directly compare it to Saturday night's instant classic with the video below.
Unless LaVine and Gordon up the ante and next year's contest surpasses this one, chances are '16 and '88 will jockey for position as the greatest of all-time. It's appropriate, then, that the league would create a video of those two side-by-side.
Whichever event you prefer – and it is totally acceptable to say this '16 takes the crowd without succumbing to hyperbole, by the way – the important thing to know is that the basketball world witnessed dunking history in Toronto this weekend.