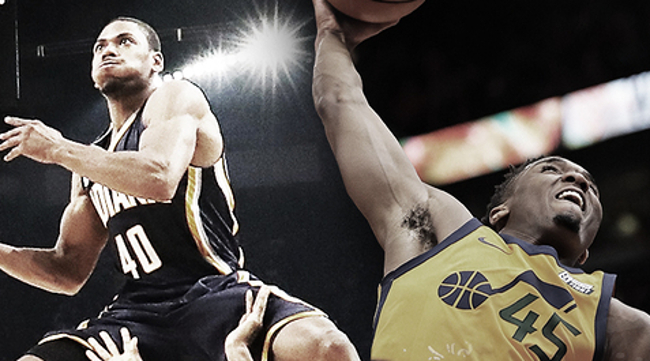 NBA All-Star Weekend is just around the corner. With a new format for picking the teams, along with a sensational rookie class that'll make it must-watch television, the Sprite Slam Dunk Competition should not and will not be an afterthought. Last year, Glenn Robinson III took home the crown, while high-flying Derrick Jones Jr. and Aaron Gordon missed some costly first attempts. Ultimately, it led to some general disappointment despite the high-degree of difficulty in dunks compared to other years.
This year, however, could be even better. With a ton of talented, high-flying rookies who are willing to put themselves out there, the sky is the limit in terms of what could happen in Los Angeles for arguably the weekend's most hyped event.
In order to be great at a dunk competition, you obviously need skill, but you also need charisma and confidence to electrify the crowd and atmosphere. We decided to choose five players who could be real possibilities for the 2018 Dunk Competition.

Donovan Mitchell – Utah Jazz
Mitchell is 6'3 and has been impressive in his rookie campaign with the Jazz. His dunks, however, have been on another level. He has this "scissor kick" which makes his dunks look much more emphatic, and at his size, it looks like he gets an extra few seconds of hang time. While some may say his dunks are not out of the ordinary, it's hard to judge what a player can and can't do in a dunk contest setting.
In high school, Mitchell took part in a dunk competition and wowed the people, so who's to say that won't translate to the NBA Dunk Contest? He's even said he's open to the idea, telling Eric Woodyard of the Deseret News "It would be great (to compete), but I haven't paid any attention to that whatsoever." The one thing we do know for sure is that Mitchell makes it look fun.
Derrick Jones Jr. – Phoenix Suns
I don't care if Jones Jr. plays a single-second for the Miami Heat. Hell, if he were out of the league, I'd still invite him to the competition (if I had that power). We want to see him in the dunk competition again. This kid can fly and has a number of dunks in his tool belt to throw out, which makes for a good competition. Last year, he missed his first and second attempts when trying some dunks that had never been attempted, which really hurt his scores. However, his ceiling as a dunker is higher than almost anyone in the league. His highlight reels are incredible and unforgettable; I'm pretty sure there's no one in the league like him (as a dunker).
Jordan Bell – Golden State Warriors
To spite all the Bulls fans in the world, Jordan Bell participating in the dunk contest would be fun to see. Bell has been a standout rookie for the Golden State Warriors and has performed some phenomenal in-game dunks, including the one that made Rick Carlisle mad. If you make an opposing coach mad, have LeBron James chime in, and your teammates shocked with a dunk, you should automatically get in. Aside from just that dunk, Bell has had too many incredible dunks this season and in past to be overlooked.
"I'm all able and willing. It's just if my name gets called for it," Bell said on SiriusXM NBA Radio in early November. "I've got some stuff. I got some dunks."

Glenn Robinson III – Indiana Pacers
Robinson won the competition last year and had some incredibly well-executed dunks. This season, he's been out with an ankle injury and has yet to return to the court. Right now, his time-table seems to be unknown, but he is out of a walking boot and appeared to be getting up shots at Pacers practices recently. He's got just over a month to get right, but if he can swing it, it would be great to see him return. Many players who win wind up not returning for fear of making an embarrassment of themselves or under-performing. However, Robinson's dunk coach Chuck Millan left the door wide open when we spoke to him last year, saying "Nothing's for sure, but I'd be surprised if he didn't try to defend his title. And if he does, everyone is in real big trouble."
Dennis Smith Jr. – Dallas Mavericks
Smith Jr. has some incredible in-game dunks and can fly with relative ease. He's got a dunk contest highlight reel and recorded a record-tying 48-inch vertical leap during a pre-draft workout with the L.A. Lakers. Another exceptional talent in this crazy group of 2017 draftees, Smith Jr. provides that "it" factor and has all the tools to become a Dunk Contest Champion.
Honorable Mentions – Jaylen Brown, Andrew Wiggins, Tyler Johnson, Larry Nance Jr., and Norman Powell