The NBA season has been underway for two weeks, and as such we are only six games into an 82 game season for most teams. It is certainly a small sample size and as such it is impossible to say we know much of anything definitive about how teams will finish the year.
Even so, there are plenty of takeaways from the first couple weeks of the season that have stood out and sparked conversation in NBA circles. Rather than making bombastic claims about this being the way it is, we decided to try and simply project out whether the early season performances we've seen are something worth buying into as legit or are worth remaining skeptical about, given that teams have more than 90 percent of the season remaining.
There are teams and players that have impressed, and those that have disappointed, so we wanted to try and sift through what seems to be real and what may be a 2017-18 Grizzlies-esque flash in the pan. Let's get into it:
The Sixers Are The Best Team In The NBA
The Sixers are really, really good, sitting at 5-0 and holding the distinction of being the final undefeated squad in the league. They're fifth in the Eastern Conference in both scoring offense and defense, their starting five might be the best in the league, and they won their toughest game of the year so far — a trip to Portland to start a four-game road trip — without Joel Embiid.
Seeing as how the Sixers were 8-10 without Embiid last season, being able to win tough games while he's out is a gigantic boost. Al Horford gives them the kind of safeguard against Embiid picking up a knock or, as was the case this week, getting suspended that they just haven't had in the past. When Embiid plays, the Sixers are obviously better, but one thing that gets magnified is how Philly's size is a nightmare for opposing squads — their offensive and defensive rebounding percentages are both tops in the league. They also have Matisse Thybulle able to come off the bench and play defense. This is mostly in here as a reminder to myself to write something about him, because he is hilariously good at defense as a rookie.
Shooting is a concern, which isn't much of a surprise to anyone that looked at the roster. The good news is that Philly has a couple traditionally solid shooters who, theoretically, should improve from deep as the season wears on. Tobias Harris, at 36 percent from three, is right around his career average, while a pair of career 36.8 percent shooters from deep, Horford and Josh Richardson, are at 27.3 and 21.7 percent from three, respectively. Still, relying on guys like Shake Milton, Mike Scott, and Furkan Korkmaz — all of whom have shot well from deep — as your primary shotmakers is a bit of a concern.
Perhaps Philly will look for some shooting help once trade season rolls around, as it is a legitimate weakness, but between their size and stout defense, the Sixers are the real deal when it comes to being a legitimate NBA title contender (aka, the best team in the NBA). – BD
The Phoenix Suns Will Be A Playoff Team
The Suns are pretty good! Particularly when grading them on the curve of [gestures at the last decade of Suns basketball], but even just generally, they're a pretty good basketball team. As much as I have been pleasantly surprised by this team's start and think they will hang around, however, I am still not taking them to make the playoffs.
There is clear improvement in Phoenix. I think we all underestimated the leap they would take simply by inserting real live, helpful NBA veterans into their rotation in Ricky Rubio, Dario Saric, and Aron Baynes. Devin Booker seems to have happily accepted a lesser ball-handling role when Rubio is out there with him, and the result is one of the league's most pass-happy offenses, which has been incredible to see. Monty Williams is laying a real foundation in Phoenix, but I do believe this year will be just that: a foundation to build upon.
The Warriors falling out of the playoff race (more on them in a bit) is helpful to the Suns chances, but I still think they're the ninth or 10th best team in the conference, with teams like Portland, Dallas, Minnesota, and Houston all being better than them in the long run to round out the top 8. I do think Phoenix will be lurking in the mid 30s in wins this year, though, which, again, given where this team has been and how good the West is, would be a massive leap forward, just not enough of one to get to the postseason.
You no longer just show up and likely get a win against this team, though, which we learned when the Clippers visited Phoenix earlier this year. They'll trip up some big teams and put together a nice year in the desert, there's just still another step to take before they're a true playoff team. – RK
The Heat And Celtics Can Get Homecourt Advantage In The First Round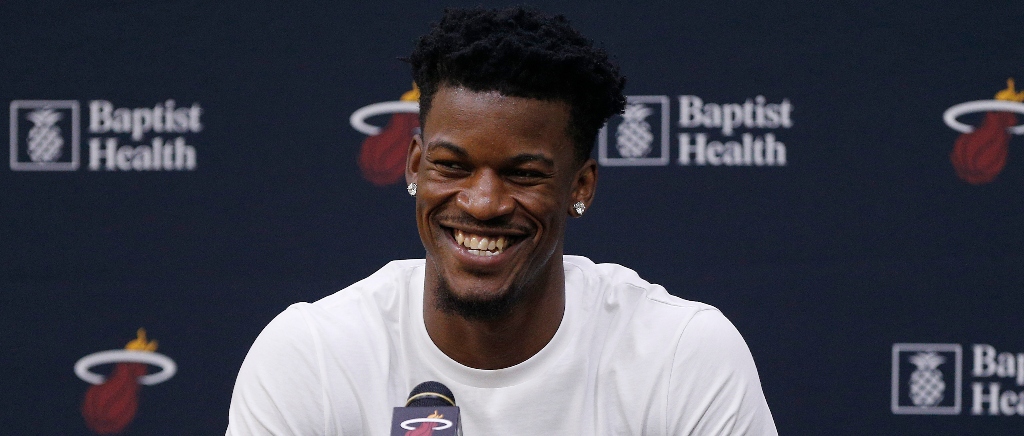 The biggest question in the Eastern Conference coming into this season was whether there was a team (or teams) that could break up the perceived top-2 of Milwaukee and Philadelphia. Would Kyrie Irving and the Brooklyn Nets make some noise? What about the defending champion Toronto Raptors?
As it turns out, two other teams have put forth admirable starts to the season and thrown their names in the ring as teams that belong on that list — while the Nets seem to be off of it. The Boston Celtics lost to the Sixers on opening night and haven't lost again since, ripping off four wins in a row. Kemba Walker looks as good as everyone thought he would when surrounded by a talented roster and is playing like one of the best players in basketball. Jayson Tatum, Jaylen Brown, and Gordon Hayward are all providing scoring and rebounding help, and only the Orlando Magic are allowing fewer points per game than Boston.
Also fighting atop the East are the Miami Heat which, surprisingly, have been led by a pair of youngsters this year. Rookies Kendrick Nunn and Tyler Herro have shouldered much of the scoring load this fall, while veteran guard Goran Dragic has looked revitalized coming off the bench. All of this has happened while Jimmy Butler hasn't quite gotten up to speed in his new surroundings — the All-Star wing is averaging a pedestrian 13 points, seven rebounds, and 6.5 assists in his two games played so far. They're shooting the hell out of the ball from three, and even if Nunn and Hero hit walls, it stands to reason that Butler will find his scoring touch as the year goes on.
Both of these teams certainly have what it takes to stay in the top-4 in the East this year. The conference is not particularly great outside of a handful of teams, sure, but both of these teams are led by star guards, possess deep squads, and have coaches who have proven to be pretty good at navigating a regular season. Boston is probably in a slightly better position — even if they have serious questions about who plays the 5 — due to their top-end talent, but do not sleep on this Miami squad, especially if it decides to get aggressive on the trade market and go star hunting. The biggest questions for both are more about whether they can match up with Philly or Milwaukee in a playoff series, but I don't see either of these teams fading away in the regular season. – BD
LeBron James And Anthony Davis Are The Clear Best Duo In The NBA

These two, understandably, looked a touch out of sync in the opening night loss against the Clippers. There was a lot of "your turn, my turn" action on offense, which doesn't maximize what those two can be together given LeBron's playmaking and Davis' freakish combo of size and athleticism. In the five games since, however, we've seen them show signs of that connection Lakers fans had been dreaming about long before Davis was actually on the roster.
Davis has been able to take the burden off of James to produce everything, and maybe most importantly, James respects Davis' game enough to willingly cede some of that responsibility — a key distinction within LeBron's relationship with star/near-star level teammates. As such, LeBron has looked more active and engaged on the defensive end than we've seen in years, combining with Davis to help form one of the league's best defenses over the first two week. The argument in the Great Dynamic Duo Debate this summer against these two was that defensively, they wouldn't be able to match the terrorizing presence of their in-arena counterparts in L.A.
We haven't seen Kawhi Leonard and Paul George play together yet and might not know what the full potential of both of these pairings are until the calendar flips to 2020, but I'm buying the Davis-LeBron duo as the league's top tandem. The defense in the regular season from LeBron likely won't be at this level for the entirety of the schedule (this feels like "tone-setting" from James early), but I believe this is legitimately what they'll bring come playoff time, when it counts. The offensive partnership still has a ways to go before it hits its possible ceiling, and while I believe highly in Kawhi and PG, I think Davis-LeBron is indeed better. The question in L.A., for me, is much less about that and much more about whether the Lakers supporting cast can sustain their play around them. For that, I'm reserving judgement for significantly longer. – RK
Karl-Anthony Towns Can Win The MVP Award
Towns is off to a scorching start to the year, averaging 27.3 points, 11.5 boards, and 4.0 assists per game. He's hitting more than 52 percent of his threes on insane volume, and has introduced new moves on the perimeter that could make him a legitimately terrifying scorer from out there as far more than just a catch-and-shoot player. I (and we as a site) buy in on Towns, the superstar. I do not, however, buy him as an MVP winner this year.
To win the MVP award, your team almost always has to be really good. Russell Westbrook is the rare example of a player on a team that wasn't a title contender to win it in recent years, as OKC was the 6-seed in 2017, but he was the first player from a team that wasn't on a top-2 seed in his conference to win the MVP since Michael Jordan in 1988 (when the Bulls were third). What I'm saying is, unless you think Karl-Anthony Towns is going to make legitimate NBA history, like Russ did with the triple-double season, or the Wolves will be a top 2-3 seed in the West (which, would only be possible with a legendary Towns year), then it's just not happening.
I think Towns will be great. His three-point shooting won't be this good all year, but I believe that the things he's showed to start the season are real. I also think the Timberwolves could sneak into the playoffs, not as a top seed, but could swipe the 8-seed with the Warriors falling out of the race and a bit of a mess in that 8-10 range. If Minnesota makes the playoffs, he'll garner some third place votes, but the award is far more likely to end up in the hands of one of the stars in L.A. or with Embiid or Giannis in the East. – RK
The Warriors Are Doomed

Woof. Replacing a superstar who leaves is hard. Having to replace invaluable role players who leave is hard. Dealing with injuries is hard. Put all of these together and you get the Golden State Warriors… and that's before we get to the fact that Steph Curry and Draymond Green are both injured, the former with a broken hand that will keep him out for a few months, the latter with a ligament injury in one of his fingers. D'Angelo Russell, meanwhile, did not play on Saturday night with a bum ankle.
The team currently sits at 1-5 on the season. This is tied for the worst record in the league. They possess the NBA's worst defensive rating, and the only squads with worse net ratings are Memphis and Sacramento. Add in that their offense has the potential to crater with everyone out and it's not hard to envision a scenario where rock bottom is still on the horizon for Golden State.
Basically, their hopes of making the playoffs this season are almost certainly toast. It would take Herculean efforts from Green and Russell once they're healthy — not impossible, but tough — along with a whole lot of young dudes and guys who are projects taking gigantic steps forward, which might not be something that is in them right now. They'll fight hard every game, and Steve Kerr is an excellent coach, but making the playoffs would take something of a miracle. Their hopes of winning the Western Conference for the sixth year in a row may be totally out the window, and their hopes of making the playoffs are dwindling with each passing day.
The silver lining is that this is a chance to develop some dudes and, if all goes right, turn them into a nice bench once next season rolls around. Perhaps these minutes will be helpful for youngsters like Eric Paschsall and Jordan Poole to grow as players, which would be a gigantic boost for a franchise that will still have depth issues when next Curry, Green, Russell, and Klay Thompson are all at 100 percent. Develop them, get all these dudes healthy over the coming days, weeks, and months, and use the final month or two of the year to push for the postseason or, more likely, build chemistry with an eye on 2020-21. With money tied up for years to come, they desperately need to find some guys off this squad that can be rotation pieces. This season may be over already, but there's still some possible hope on the horizon. – BD