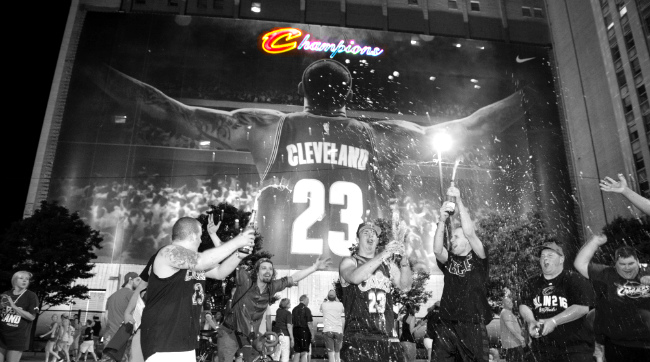 CLEVELAND – The crowd at Quicken Loans Arena on Sunday night just witnessed something the city hadn't seen in 52 years, and they didn't know exactly how to react. Plenty cheered, and kept cheering. Others hugged, or high-fived, or cried. Some just yelled, as if all the tension and anxiety and decades worth of being told they weren't good enough was going to travel through the scream out into the air and dissipate forever.
Then there was the man in Section 221 who sat motionless and didn't make a sound. Maybe it was shock. Maybe he didn't know which emotion to go with, so he went with none. Or maybe he simply didn't know what to do at all. People in Cleveland have been waiting so long for a title, preparing for the worst at every turn, expecting the bottom to drop out, that even this couldn't be real, could it?
LeBron was holding the Larry O'Brien trophy above his head on the screens hanging above center court. Even Usher was on stage in a Cleveland Cavaliers 2016 NBA Champions hat. It was as real as it was going to get. But this could still all be one big joke. This is Cleveland, after all.
And the man, who could have been any fan at any time, at any age, from Parma or Brecksville or Canton or Hudson or Lakewood or Shaker Heights or Akron, wasn't letting himself feel it. Not yet.
There's a phrase that gets thrown around all the time in sports – "Act like you've been there before." For Clevelanders under a certain age, well, they simply haven't. So how would Cleveland react now that all those years of being subjected to pain and agony the likes of which not even the little droog Alex from A Clockwork Orange had seen were simply whisked away and replaced with this?
Everyone kept repeating the same thing at random intervals: "We did it." Even days after, when the parade had been announced and the Cavs had made it back home, friends texted other friends.
"We actually did it."
Nobody in Cleveland is claiming the victory for themselves, as if they think they're part of the team. It's not the stan-like situation where "we" is thrown out. The we in this instance is the entire city. And the action isn't going out on the court and helping the team win, it's surviving the drought, persevering through all the jokes, and the montages, and the constant belittling and snark from analysts who go after the easy target.
People who hate Cleveland will still hate Cleveland and let everyone know about it as often as possible – but Cleveland won't care anymore. Nobody – or nothing – can take away the feeling everyone in that arena, everyone across Northeast Ohio, everyone who sat through it all semi-masochistically for years, had at that moment.
Even if the city goes another 50 years without winning a title, it was all worth it.
Which is why it was so funny seeing LeBron James repeatedly wearing his Kermit meme dad hat. Folks will say what they want to say, and they'll keep prodding Cleveland fans because they get their own satisfaction out of it. Some will continue to react, but for the vast majority of the city, title in hand and banner set to be hung – that's none of their business.
The crowd finally decided to leave and make its way to the exits, and the cheering continued. High five lines at least 200 people long formed organically. Strangers hugged random strangers. And when everyone got outside, they joined those who had stood there watching the game on screens because they couldn't imagine themselves being anywhere but downtown just in case the unthinkable – the Cavs becoming the first team to ever come back from a 3-1 deficit to win an NBA title – happened.
A couple blocks away, the banner of LeBron with his arms outstretched had been upgraded. Above his head it now read "Champions." People stopped and stared at it almost in disbelief. And a crowd in front of it started chanting "MVP" as if expecting the LeBron in the banner to turn around and address them.
"This is just like that commercial," one older woman said to herself. "We're all here together."
It was impossible to know where everyone came from or how they got there, but they just kept coming. Dozens, and hundreds, and thousands at a time. Smiling, jumping in the air, stopping and falling to the ground with tears streaming down their face. The cops in the city, many of whom were more concerned with finding somewhere to watch the game when their shifts started, weren't worried about riots or destruction. They were hugging, and fist bumping, and smiling just as big as anyone else was.
The biggest irony of Cleveland going so long without titles and not knowing how to act was that when it finally all happened, not only did they act like they'd been there, but they acted exactly how you'd hope any city would act. The Cleveland police later reported there had been five total arrests made that night, most of which were drunk and disorderly conduct, which seems low for even a random night.
People merely wandered the streets sharing moments with others they'd never seen before, and would never see again, and shared an experience all of them would remember for the rest of their lives. Some held banners they took from the arena. Some picked up shards of confetti that had been fired  off the ground after the game had ended. One guy even carried around an orange barrel he had nabbed near the arena and clutched it as close to his chest as he would an infant child.
"This barrel is going home with me," the barrel guy (his name is Jaret) said.
And then the cars started rolling in.
Music turned all the way up, packed with seven or eight people at a time, hanging out the windows and often sitting on top of the car themselves, they made their own pilgrimage downtown to join the party. Random twerking commenced in the street, and girls left their friends to dance for a few moments before sprinting back to their group. One white Mustang parked sideways in an intersection while the driver smoked, well, something. His two passengers lay on the roof staring at the moon.
Bars started running out of beer, and it didn't matter. The vast majority of people, drunk or not, weren't drinking anymore. The energy on the streets was intoxicating enough. Nobody wanted the night to end just in case they'd go to sleep, wake up, and it'd all be gone.
It's no dream even though it was improbable enough to be a Hollywood script. Cleveland is the city where the waiting was finally over.
"There is no next year," a man on Euclid yelled. "It's now."