The 2015 NBA Finals can be summed up by one sequence nearly as depressing as it is mesmerizing from the fourth quarter of the Golden State Warriors' crowning Game 6 victory over the Cleveland Cavaliers.
With his team holding an 11-point lead but allowing easy baskets on three of four possessions, Stephen Curry dribbled around a high ball-screen from Draymond Green. Drawing two defenders some 35 feet from the basket like so many times before in this series, he stretched the Cavaliers even farther by heading toward the sideline and quickly reversing field. Curry saw a teammate wide open in the far corner, immediately flinging a pin-point overhead throw in that direction as an opponent jumped to deny an easy pass back to Green at the top of the key.
All-NBA Third Team honoree Klay Thompson caught it in rhythm and let fly. Golden State's advantage was now 89-75 with 6:47 remaining.
LeBron James then took the in-bounds pass from Tristan Thompson and jogged up the floor. He received a screen from J.R. Smith at the left wing and saw a rare opportunity to free himself from Andre Iguodala. The 6-foot-8, 250-pounder took one quick, long left-handed dribble between Smith and Shaun Livingston, splitting the defense and going airborne as the Warriors frantically rotated in front of him. James whipped a perfect sidewinding pass to the far corner with an open shooter awaiting.
Thirty-four-year-old journeyman James Jones released with ease as a defender made an inconsequential close-out. But Cleveland still trailed by 14 as his shot caromed off the rim.
James has been Goliath his entire basketball life, and Curry's journey from under-recruited prep star to today makes him a popular David. But individual perception is where similarities to the famous biblical tale ended for both superstars when it came to the Finals. James Cavaliers' were an easy underdog and Curry's Warriors the clear favorite – anyone saying differently simply wasn't paying attention.
After Golden State's overtime victory in Game 1, its supreme edge in talent and depth had been cemented to a nationwide audience. Not only had Iguodala come off the bench for a 15-point night that began his run to Finals MVP, and James taken an uncharacteristic 38 field goal attempts en route to 44 points, but Kyrie Irving was lost for the series once his fragile left knee finally succumbed to so much wear and tear.
Remember the talk of whether James' performance in the opener lived up to his gaudy box-score numbers? If shouldering such an incredibly heavy offensive load was his team's most realistic means for an upset? That's ancient history almost two weeks later, as James proved worthy of that unprecedented burden and his overmatched teammates ultimately contributed nothing much more or less than anticipated.
That's no knock on Thompson, Timofey Mozgov and company. The Cavaliers' starting big men were excellent on occasion and solid overall against Golden State, but still stretched obviously thin as shot-makers and defenders in space. Iman Shumpert and Matthew Dellavedova were game defensively from the opening tip on June 4. There's a reason, though, that neither player was asked to create offense during the regular season: They simply can't do it with anything close to consistency. Jones helped stretch the floor and gave all he possibly could on the other end. Smith never quite found the range, yet deserves credit for continuing to let fly regardless. Even Mike Miller made a fleeting impact here and there.
James' supporting cast wasn't good enough for Cleveland to win a championship, but that doesn't mean it played poorly. Basketball is about players filling specific roles. Forced to play far bigger parts than to which they're not only accustomed but limited abilities deem close to ideal, Dellavedova and the rest did as well as expected – perhaps even better. Anything short of greatness, though, was never going to beat the Warriors.
"We ran out of talent," James said after Game 6. "We ran out of talent tonight. We gave everything we had. The guys played as hard as they could as long as we could."
Golden State, of course, is arguably the most gifted team in the NBA. How many coaches could bench an all-world defender like Andrew Bogut, then confidently insert a backup center in his stead during a Finals elimination game? Steve Kerr has that luxury, and Festus Ezeli rewarded his coach's confidence with 10 points and four rebounds on Tuesday night. His impact wasn't much different than Leandro Barbosa's in Game 5 or David Lee's in Game 3.
The Warriors have more quality depth than any team in basketball and the upper-echelon talent befitting the vast majority of title-winners. It's a rare combination, one that even a full-strength Cavaliers squad – with Irving, Kevin Love and Anderson Varejao – perhaps couldn't quite match.
The champs are a juggernaut, though, because they found so many different ways to maximize that unique talent on both sides of the ball. When Kerr made the decision to start Iguodala in place of Bogut for Game 4 and fully embrace small-ball, no one blinked. The Warriors spent an entire season preparing for that scenario by employing  the same vaunted super-small lineups in a pinch; why wouldn't they work to the same effect on the game's biggest stage?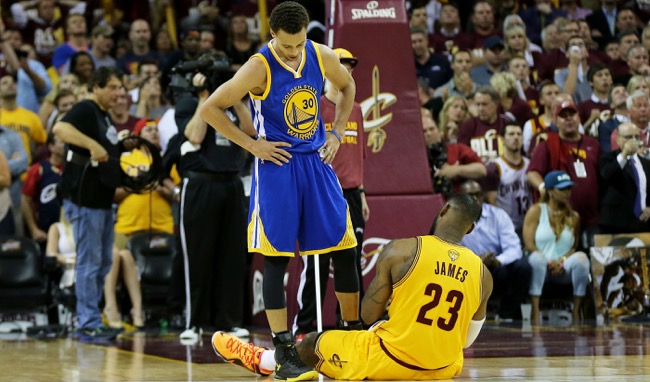 The assumed answer, of course, was that Cleveland would pound them into submission on the glass. And here's the thing – that happened. David Blatt's team grabbed 27.1 percent of its own misses in the Finals, a number that would have been fourth in the league during the regular season. But Kerr and his staff understood the give and take of their adjusted rotation, and counted on units featuring five playmakers to increase the tempo, find open shots, and do a good enough job with primary defense to render so many second-chance opportunities nothing more than that.
The move was a gamble, but only because it abandoned the status quo. Golden State had a season's and playoffs' worth of evidence to believe the gambit would work, and that's why no one was shocked when it did.
The Cavaliers had no such options. Every lineup and player Blatt utilized presented obvious disadvantages. Mozgov and Thompson owned the paint, but couldn't keep up defensively and cramped the floor for James. Downsizing created space, but mitigated Cleveland's edge on the boards and left the rim unprotected. Dellavedova could bother Curry and do nothing else. Smith presented an offensive threat and couldn't keep up on the other side. And Shumpert stuck with the Splash Brothers and was debilitatingly timid with the ball in his hands.
James was the only one wearing wine and gold in this series who provided net positive answers on all areas of the floor. Golden State, meanwhile, was littered with players who represented the same sum. That's the byproduct of a perfect blend of talent and continuity: a player's ability to feed off his teammates' strengths while limiting their weaknesses, and vice-versa.
The Warriors did it from top to bottom, and only a single Cavalier managed the feat at all. From that perspective, it's remarkable these Finals were remotely compelling and competitive, let alone the classic they nearly proved to be.