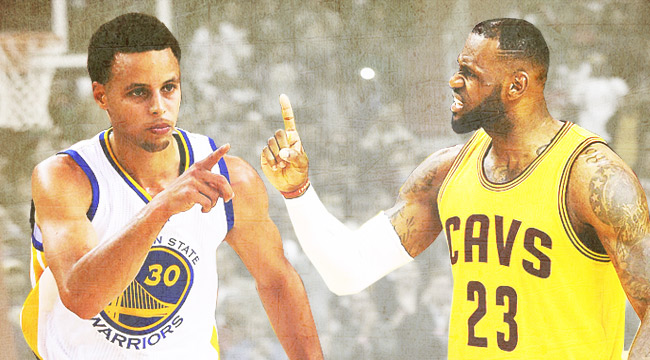 Finally, after a break that took approximately 11 and a half months, it's time for the NBA Finals. It's a series that everyone knew was going to happen, a third straight Finals matchup between two teams that don't like each other at all. Golden State got a ring by beating a hobbled Cleveland team in 2015.
A year later, the Cavaliers got their revenge in dramatic fashion over the greatest regular season squad in NBA history. This year, who knows?
We're a few hours away from the start of the series that will act as the rubber match. Well, unless these teams meet up again in the Finals next year, but we'll cross that bridge in 365 days. For now, our staff came together to give its predictions on what's going to happen in Cavs-Dubs III, along with who we think will be named the Finals MVP.

Martin Rickman: Cavaliers in 6
It doesn't matter what I type here because Warriors Twitter is going to screenshot it and tweet it out and tell me how stupid I am so I am just going to fill this space with words in order to make it look like I made a full, nuanced prediction where I talk about bench play and stars and narratives and future Hall of Famers and redemption and chips on collective shoulders and Steph Curry's health and baby bottle emojis and 3-1 lead jokes and the Hamptons Five and Death Lineups and this being a man's league and LeBron James and LeBron James and LeBron James.
MVP: LeBron James
He should've won Finals MVP in 2015, even in a series loss. He won it in 2016. And he's playing better than he was in either of those years in 2017. There's something about this stage that brings out the best in LeBron James, and he knows what this means to his ultimate legacy and the city he returned home to. I learned a long time ago never to bet against The King. I'm not about about do it now.

Brad Rowland: Warriors in 7
The Warriors are the better team. The Warriors are the better team. The Warriors are the better team.
Yes, that is me talking myself into taking the favorite. LeBron James plays for the underdog in this case and, well, it is terrifying to pick against the best player on the planet at the peak of his powers. With that said, the Warriors deploy four of the top 25 players in the NBA, including two of the top eight, and that means quite a bit.
Concerns over Golden State's (lack of) depth are virtually gone at this point and, while Cleveland's offense is tremendous, the Warriors are far and away the better defensive basketball team. I'll take solace in that while simultaneously lending credence to the fact that this Warriors core has been stewing over blowing a 3-1 lead for nearly 12 months. They'll be ready and picking the better team with homecourt advantage usually (not always) works out in the end.
MVP: Stephen Curry
It is very, very difficult to pick an MVP from the Warriors but, given that I believe LeBron James will be defending Kevin Durant for long stretches, Curry is the pick. The two-time MVP's failings in the NBA Finals are vastly overstated (though he was dreadful in Game 7 a year ago) and Curry is somewhat quietly playing his best basketball of the year at the perfect time. There is no "wrong" answer between Curry, Durant and even Draymond Green, but Steph has the easiest matchup to work with and he's the choice.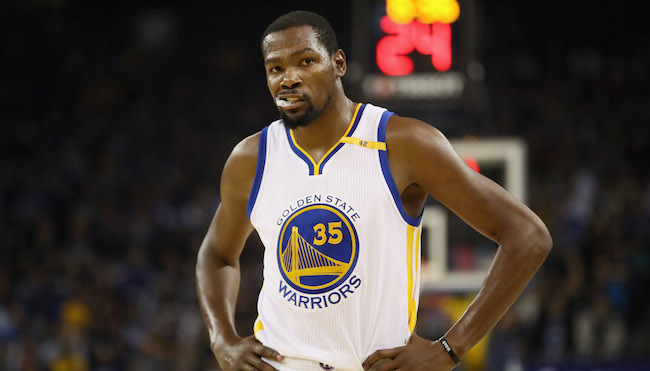 Ananth Pandian: Cavaliers in 6
It seems unfathomable that the Cleveland Cavaliers can actually beat the mighty Warriors, especially since Golden State is star-laden with players like Kevin Durant and Stephen Curry. Plus the Warriors have not lost at all this postseason and are playing their best basketball of the season right now. Yet last year the same reasoning existed and the Cavs overcame seemingly insurmountable odds to win the championship.
Now could lightning strike twice? Perhaps not. But the Cavs came back from a 3-1 deficit last year in large part because of LeBron James. And James is still playing at an elite level and may be able to bring his game to an even higher echelon in the Finals. Also the Cavs have Kyrie Irving and Kevin Love, two players that have been playing exceptionally well in the playoffs. Love especially looks like he finally found his role in Cleveland and is thriving. The Cavs have also been awaiting this matchup all season and since they have James, you just can't count them out.
MVP: LeBron James
The Finals will be yet another opportunity for LeBron James to showcase the undeniable truth that he is the best basketball player in the world. The stage is set perfectly too as the Cavs enter as the underdogs against the Warriors and James takes great delight in being counted out. This Finals matchup also gives James the opportunity to further expand his legacy and continue his chase of Michael Jordan's greatness.

Jamie Cooper: Warriors in 6
There is apparently an actual contingent of positively insane people who think the Warriors might actually sweep the Cavs and complete the greatest postseason run of all-time. While it's pretty to think so, that's just not gonna happen. LeBron and the Cavs simply have too much firepower. But at the same time, they also don't have nearly enough to actually win this series.
This Warriors team might be the best assemblage of talent we've ever seen. There's just no good answer for how to guard them, and the Cavs' lackluster defense of late certainly doesn't inspire confidence. But I'm also perfectly content with LeBron James making me eat my words. Crazier things have happened, like overcoming a 3-1 deficit in the Finals.
MVP: Kevin Durant
Durant has been Golden State's best player all season, and he's on a quest for vindication after all the heat he's taken for jumping ship and taking his talents to the Bay Area. He's not only been Golden State's most prolific scorer, he's also been their de facto rim protector, and his overall defense has improved tremendously the past two years. His combined ability to knock down shots from the perimeter and get into the lane is going to wreak havoc on Cleveland.


Robby Kalland: Warriors in 6
The Cavs have to play five near perfect games to win this series and I just don't think they will have it in them. The two offenses are a near wash, but the Warriors' defense will be the difference in this series – they've been five points better per 100 possessions on defense this postseason than the Cavs on defense, despite improvements from Cleveland on that end. I hate picking against LeBron James, but I just think the Warriors' defense will be enough of a difference to lead them to a series win. I don't think any of the games are significant blowouts, but the Warriors will simply have just enough of the defensive edge to win four games.
MVP: Draymond Green
I think this goes the way of 2015 and someone outside of the usual suspects takes home the MVP award because people find it difficult to separate Curry and Durant so they look to the defensive side of the ball. If that's the case, I think you have to look for Green to be the guy. Everyone points to his absence in Game 5 as the turning point in last year's series and if the Warriors hold on this time (and he doesn't get another suspension) some will point to him as the reason – I also think he'll have a defining moment on the defensive end in the clinching Game 6.

Oliver Maroney: Warriors in 5
The Cavs are playing with a margin of error that is much smaller than the Warriors. I'm convinced that if this series drags on to six or seven games, it plays into LeBron's favor. This postseason, both of these teams have been as flawless as you can possibly be but Golden State seems like they can have a "bad game" and still come out on top. The difference in talent isn't as much as people make it out to be. But, with Durant, the Warriors are virtually impossible to guard at all five positions. When they're hitting shots, which they usually are, there's no way they're losing. Add that to the fact that they're great when facing adversity and overcoming the hate, and it seems like an impossible task for the Cavs to win this series. However, on the other side of this, there's a man by the name of LeBron James.
I find it hard to believe that the Warriors, with the talent they possess, could find a way to lose more than one game. But, if they're to do so, it'll be solely because of LeBron James. Not necessarily on the offensive side of the ball either. More importantly, in order to beat this Warriors team, you need to hold them below their scoring average and the only way the Cavs will be able to accomplish that is with the best player in the league leading the way.
We all know that Draymond Green, the cog in the Warriors dynamic, star-studded wheel, is what really differentiates them from good to great. In fact, Green is averaging the highest assist percentage of any player in the playoffs, and without Draymond, the Curry, Iguodala, Thompson, Durant, and McGee lineup had a net rating of negative 14.5. LeBron is sure to be tasked with stopping the vocal and statistical anomaly. So while many are talking about the picture perfect Irving and Curry matchup, the series may very well be predicated on the more physical, testy matchup of LeBron and Dray.
MVP: Kevin Durant
Kevin Durant has an insurmountable amount of pressure on him to win. It seems likes if he doesn't come out on top, he'll receive unfair treatment for the foreseeable future based on a decision about where he decided to play hoops. As far as him being MVP is concerned, this is one of those picks that I don't feel great about because of the stakes and what it means for his career. Quite frankly, I'm hoping more than predicting on this one.
I think it will all come down to how he plays in game one and more specifically his first few shots. I understand how outrageous that may sound. But, if he doesn't make his first few shots and makes a few careless mistakes, it'll continue to build-up and fester over the series. This will make it increasingly more difficult for Durant to brush off the negative effects.
However, I feel as though Durant will indeed come out with energetic and confident play. This, to the point where we could see the best iteration of Kevin Durant. Not just as a Warrior, but that we've ever seen. His ability to exploit mismatches and play alongside virtually anyone makes him harder to gameplan for than any other Warrior. His size coupled with his scoring capabilities and sneaky, under-the-radar athleticism, will make him the focal point in this series. And with the idea that James will be focusing his attention on the enforcer, Draymond Green, it'll be up to Durant to carry a bulk of the offense and stay consistent on both ends of the floor.


Ryan Nagelhout: Cavaliers in 7
It's difficult to think of Golden State losing in this postseason given that everything's gone their way thus far. They're on the ropes against the Spurs in Game 1 and Kawhi Leonard goes down, ending that series. Even with Klay Thompson not his usual self, they've been able to cruise.
But barring another Leonard-like injury like that to one of Cleveland's biggest weapons, Golden State will actually see a challenge here. And don't get me wrong: The Cavaliers have to play perfect to win. Maybe they can't. But honestly, they have played perfect at times this postseason. And that's the kind of performance I'm hoping we'll see because that means we're finally get to consume some truly exciting basketball. To see a lackluster Finals after all the lackluster basketball we've seen the last few months would be a huge bummer.
MVP: LeBron James
Even with Kyrie Irving having himself a great Eastern Conference Finals, this will be LeBron's MVP to lose. He's had an incredible postseason thus far and it will take another seven outstanding performances to put Cleveland over the top. The pieces around him are enough to make the Cavaliers repeat champions, but this is LeBron's show, win or lose. If they win, he gets two trophies.

Bill DiFilippo: Warriors in 5
Part of me wants to pick the Warriors to sweep, but out of respect to LeBron James, I just can't convince myself to do that. Hell, out of respect to LeBron James, I really want to pick Cleveland to win this series – for my money he's the best player ever, and beating this Warriors team would be a legacy-defining moment the likes of which no other NBA player has ever had.
Still, Golden State is the best collection of talent that we've ever seen on one NBA team. They just seem like they're on a mission to get a ring, partly because they're fueled by a desire to get revenge on the Cavs for how last year ended, partly because it would justify Kevin Durant's decision to join the team this offseason. The Warriors know that the only way this season is a success for them is if they win a ring, and throughout the playoffs, they have played like they're aware of this.
Both of these offenses are going to score a ton of points – Cleveland has been on fire lately, while Golden State has scored fewer than 110 points twice this postseason, both of those instances came against a stingy Jazz defense. This series is coming down to which team can get stops when they need to. I trust the Warriors to do that more than I trust the Cavaliers to do that. Every game is going to be close, but Golden State comes out on top.
MVP: Kevin Durant
It cannot be said enough that the Warriors won 73 games then replaced Harrison Barnes with Kevin Durant. Sure, Golden State didn't win 73 games this year, but the team has operated all year with the Finals in mind. Should they get a ring, he's going to be viewed as the guy who pushed them over the top. This Finals just means more to him than anyone else suiting up, and it will show in how he plays.
He's also, you know, the second-best player in the world and someone who is going to score a lot of points. The list of guys who can slow him down is really short, and while LeBron is on said list, it'd be surprising if the Warriors didn't do everything they could to make sure he's not guarding Durant. We saw Cleveland do this last year – they'd put LeBron in pick-and-rolls to get him isolated on Curry, a far more favorable matchup than Draymond Green or Andre Iguodala. This year, Golden State tries to do this with Durant and [someone other than LeBron], and it will pay off for Durant in the form of his first ring and first Finals MVP.