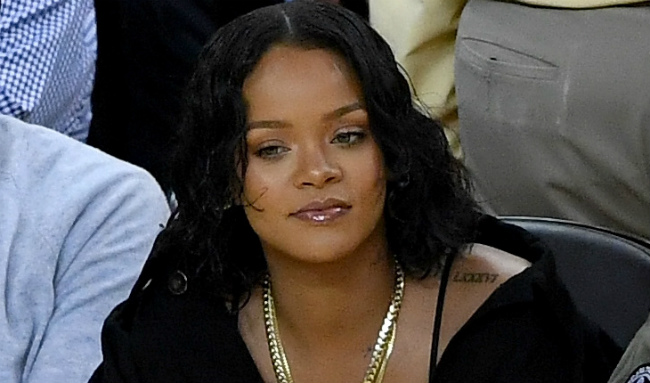 The first quarter of the NBA Finals featured some serious fire. Most notably, there was a sequence that spanned a minute or so which featured Kevin Durant and LeBron James making one another look kind of silly via a pair of thunderous jams. LeBron's dunk was especially jaw-dropping, but one person at Oracle Arena missed it: ESPN's Jeff Van Gundy.
Don't be fooled – Van Gundy was sitting in his usual spot next to Mike Breen and Mark Jackson. The problem was more that Van Gundy wasn't paying attention, because right as LeBron rose up to put JaVale McGee on a poster, Rihanna walked in front of him and distracted him.
One of two things happened here. The not so funny explanation is that Rihanna just got up at an awkward time and got in Van Gundy's way, which probably happens somewhat frequently considering NBA analysts sit courtside and there are constantly fans walking to get concessions or use the bathroom or something. The much better explanation is that Van Gundy is a huge Rihanna fan who was so starstruck by the fact that she was walking past him that he couldn't stop staring.
Van Gundy deserves credit for straight up admitting that he missed this one, but man, he temporarily derailed the broadcast crew while taking the L here. It's all good, though – there was a long layoff between the conference finals and the Finals, everyone's a bit rusty.

Rihanna, meanwhile, got meme'd by the internet due to her courtside cameo.
The best Rihanna tweet of the night was this gem.
She also dabbed while the play was happening on the end of the floor where she was sitting, which, sure.
Really, the only unfortunate thing here is that Rihanna didn't get a more entertaining game – Golden State blew out Cleveland, 113-91.