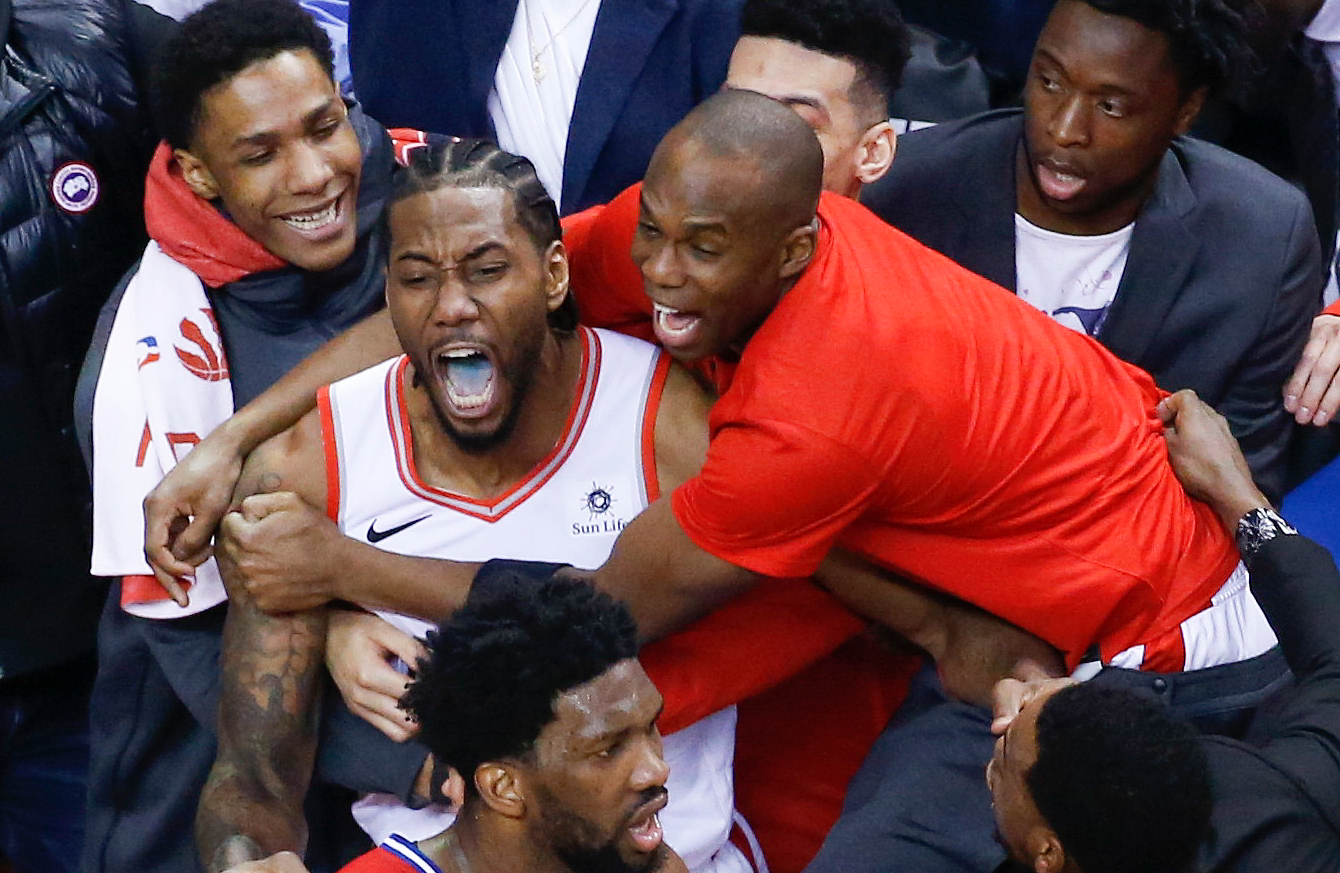 With almost a full week between the end of the Eastern Conference Finals and the start of the NBA Finals, the NBA world is relatively quiet. There are newsworthy items, particularly stemming from the ongoing saga that is the Los Angeles Lakers, but the extended break also provides a bit of time for big-picture thinking, including some look-ahead potential for the 2019 free agent class.
Through that lens, the folks at BetOnline.ag released updated odds on where some of the big names might play the first game of the 2019-20 season (and, yes, that is the way the bets are listed) and some interesting takeaways emerge. It is always worth noting that listings of this nature are designed to induce bets (and discussion) but, for players like Kevin Durant and Kawhi Leonard, any information can and will be seen as potentially predictive.
Durant, as often, headlines the list and, in this setting, the New York Knicks (6/5) are seen as the favorites to land his services. This comes as no surprise to anyone following the proceedings in recent weeks but it is the LA Clippers (and not the Golden State Warriors) that arrive in runner-up position. The Clippers have received some KD-driven buzz but it is somewhat jarring to see them listed as more likely than a return trip from Durant to Oakland, even if there is some guessing involved.
As for Leonard, there is a potential shift in conventional wisdom, as the Toronto Raptors are now listed as favorites to retain the All-NBA forward. Since he arrived in Canada, most have assumed Leonard would finish the season before relocating but Toronto's recent success and some positive rumblings in their direction may change the story, pending the result of the team's match-up against Golden State. The two LA-based entities trail closely behind Toronto but that was virtually unthinkable even a few weeks ago, shedding light on just how far things may have shifted — although it should be noted other oddsmakers still see the Clippers as favorites.
Elsewhere, there are few surprises, with incumbent teams seen as favorites to retain Klay Thompson, Jimmy Butler, Kemba Walker, D'Angelo Russell, Tobias Harris and Khris Middleton. For amusement purposes, Anthony Davis is also listed here (with a hat-tip to the betting language referenced above concerning where a player starts the season) and, as always, there is potential madness on the horizon. Still, these odds either provide entertainment or betting opportunity, depending on where you choose to make your residence.
Here is the full list, beginning with Durant and Leonard.
Kevin Durant
New York Knicks 6/5
Los Angeles Clippers 17/10
Golden State Warriors 2/1
Los Angeles Lakers 6/1
Brooklyn Nets 8/1
Oklahoma City Thunder 40/1
Kawhi Leonard
Toronto Raptors 2/3
Los Angeles Clippers 3/2
Los Angeles Lakers 4/1
Brooklyn Nets 6/1
New York Knicks 10/1

Anthony Davis
Los Angeles Lakers 1/1
Boston Celtics 2/1
New Orleans Pelicans 2/1
New York Knicks 4/1
Klay Thompson
Golden State Warriors 1/4
Los Angeles Lakers 11/4
Los Angeles Clippers 10/1
New York Knicks 10/1
Brooklyn Nets 12/1
Dallas Mavericks 25/1
Jimmy Butler
Philadelphia 76ers 1/2
New York Knicks 6/1
Brooklyn Nets 8/1
Los Angeles Clippers 8/1
Los Angeles Lakers 8/1
Houston Rockets 9/1
Chicago Bulls 10/1
Miami Heat 12/1

Kemba Walker
Charlotte Hornets 1/1
Los Angeles Lakers 3/2
Dallas Mavericks 4/1
New York Knicks 4/1
Los Angeles Clippers 10/1
Chicago Bulls 14/1
D'Angelo Russell
Brooklyn Nets 1/4
Dallas Mavericks 3/1
New York Knicks 4/1
Chicago Bulls 10/1
Los Angeles Clippers 12/1
Khris Middleton
Milwaukee Bucks 1/5
Dallas Mavericks 4/1
Tobias Harris
Philadelphia 76ers 2/3
Brooklyn Nets 3/1
Dallas Mavericks 6/1
Los Angeles Lakers 6/1
Sacramento Kings 8/1
Utah Jazz 10/1
Indiana Pacers 12/1
Memphis Grizzlies 14/1
Atlanta Hawks 16/1