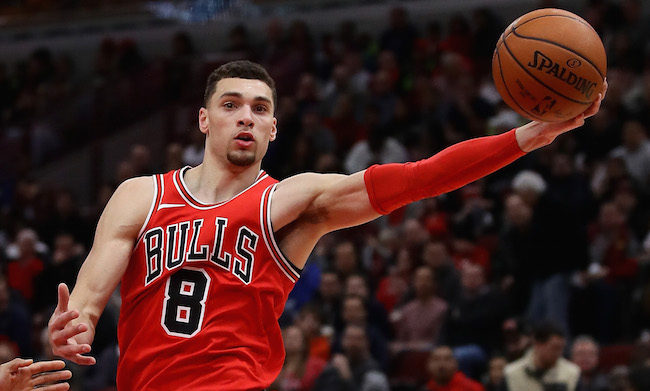 It was a Wednesday packed with action in the NBA with 11 games going on. Not even the craziest basketball fan can follow that many games at once. It's just impossible. Luckily, this should be a good crash course for anybody that went to bed at a reasonable time and missed out on some of the injuries, superstar play, and general insanity that is the NBA.
Injuries really were the story of the night, unfortunately, with multiple big name players going down including James Harden and Devin Booker it wasn't a healthy night. On the plus side, none of the injuries looked severe, but you never want to see key players leaving games early. We want the best players playing every night start to finish. Besides that though, it was a pretty entertaining night filled with plenty of stories to dive into.
Steph Curry Might Want Himself A Third MVP Award
When Kevin Durant joined the Warriors, most everyone wrote off the idea that Steph Curry would ever pick up another MVP award for however long Durant was in the Bay. Durant takes away usage and, at best, the two would split votes if both were healthy, but after a year in which he had his most efficient shooting season but no one noticed because he was injured for part of it, Curry seems hellbent early this season to make sure you all remember he's, as Stephen A. Smith would say, a baaaaaaaadddd man out there.
Through four games this season, Curry has 33 three-pointers, more than four teams in the NBA this season. On Wednesday night against the Wizards, he had 11 en route to a 51-point performance and he didn't even play the fourth quarter.
He's doing Jordan shrugs now to go along with his shimmies. A night after Blake Griffin set the season's high-scoring performance with 50, he nonchalantly put up 51. His shooting splits, currently, are 55/52.4/90.9 and the terrifying thing is, he might not regress to the mean all that much.
There are two questions about Curry when it comes to the MVP race this year. One is whether his numbers across the board are able to match up to the video game type stuff Anthony Davis and Giannis Antetokounmpo are putting up. The scoring numbers might be there, the shooting percentages almost assuredly will, but if Davis and Giannis have insane rebounding and assist numbers, as they do currently, it might not matter. The other is whether he'll play enough to get those numbers, not due to injury, but because like on Wednesday, there are nights he's just sitting through entire quarters of play. Still, there's a chance he puts up such an historic shooting season voters will have to consider him, and he's off to that kind of start so far.

Zach Lavine And Cam Payne (?!) Save The Bulls
The Bulls were underdogs at home against the Hornets, but they fought for most of the game and found themselves in a close one in the fourth. The Hornets for the most part executed far better than Chicago, but the Bulls had two factors Charlotte couldn't account for. One was Cameron Payne tying the franchise record for 3-pointers in a half, which literally no one saw coming.
The other was Zach LaVine dropping his fourth straight 30-point game to open the season. LaVine was a force down the stretch hitting every shot imaginable as 10 of his 32 points came in the fourth, including the game-winning free throws with under a second to play after drawing a foul on a late drive.
LaVine was that big. He was also historic.
Maybe it's just a coincidence that LaVine became the 23rd player in NBA history to start a season with four 30+ point games, but it's a pretty great coincidence that he did so while wearing a Bulls jersey. Maybe him and Michael Jordan have more in common. No? Okay probably not, but it's the thought that counts. LaVine scores in bunches and the Bulls have a good one in him.
Should We Be Concerned About The Rockets?
Let's start off by saying it's only four games into the season, which is an important caveat to literally every discussion in the league right now. With that out of the way, there is something wrong with Houston right now. Everybody knew it was going to be a problem when the Rockets let basically all of their best defenders leave in free agency, but they let Donovan Mitchell do unspeakable things to them Wednesday.
He finished with 38 points, seven assists, and five rebounds in a 100-89 win in Houston to get back to 2-2 on the season and drop Houston to 1-3. The Jazz are an incredible team in their own right, but this one has the reigning MVP. An MVP that just had to leave early due to a hamstring injury. Are the Rockets okay enough to survive without him?
They will be getting Chris Paul back from suspension so that's good, but it just doesn't feel good right now watching Houston play without any of its stars. The expectation is the Rockets will be fine by the end of the season and this is just a rough patch at the start of the season. It happens, but that doesn't make it any less comforting. Especially when Mitchell dropped 38 on them. This just isn't the same team from last year, it's not and they shouldn't get that benefit of the doubt.

The Bucks Are Absolutely Terrifying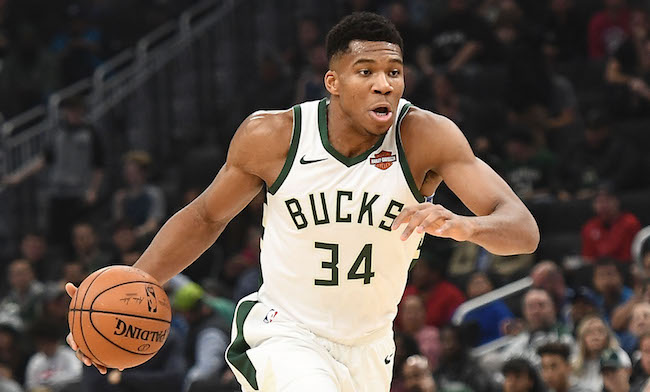 So, it's time to talk about the Bucks. We all assumed adding Mike Budenholzer as head coach would be an improvement over recent years, but I don't think anyone saw this kind of total buy-in and dramatic change coming from the entire team. The Bucks are tied for the league lead in three-pointers made per game, they're third in three-point attempts per game, and 10th in three-point percentage (which on that volume is incredible). A year ago, they were 22nd in percentage, 25th in attempts per game, and 27th in makes per game.
It's a stunning change for a team to make in one offseason and it is working spectacularly. The pace and space at which the offense is running has made Giannis Antetokounmpo even more terrifying, as he's averaging 28.5 points, 16.5 rebounds (!!!), and 6.8 assists per night — and he's shooting 6.7 percent from three, which is unfathomably bad but doesn't even matter. Eric Bledsoe looks like a valuable NBA point guard again, which is a dramatic turnaround from a year ago, as he's been efficient both as a shooter and a ball-handler, with 6.8 assists per game to just 1.5 turnovers early this year, and has that burst back off the bounce.
No one, however, has benefitted more from Bud's arrival than Khris Middleton, who has taken steady steps forward as a player in recent years but has made another massive leap this year. Middleton is hoisting 7.8 threes per game and hitting them at a 58.1 percent clip, which will assuredly come down, but he's capable of keeping that in the mid-40s and is averaging 24.9 points, 6.0 rebounds, and 3.5 assists per game. Throw in Brook Lopez as the perfect stretch big for this team, launching 7.3 threes per game and hitting at a 37 percent rate, and suddenly Antetokounmpo has acres of space to operate inside, like on this play, when everyone's afraid of leaving their man and Giannis just feasts in a one-on-one situation where Simmons arrives late with the help.
Milwaukee beat Philly on the second night of a road back-to-back, so its always hard to take too much away from a game like this, but there's no doubt that this Milwaukee team is more dangerous than a year ago and will only get more comfortable with what Bud wants them to do as the season wears on.
Is Karl-Anthony Towns Alright?
The Timberwolves lost a closer than expected game to the Raptors and it was very apparent that they were missing Andrew Wiggins for most of it. Honestly, besides that, there shouldn't be much to take away from this game besides the Raptors being a really good team and the Wolves being feisty. But with the Jimmy Butler trade drama cloud always hanging over Minnesota it's hard to look at any Wolves game as normal. Especially when Karl-Anthony Towns airballs a 3-pointer, looks generally disengaged, and then asks out of the game himself.
He returned late in the game and, uh, pretty much did the same thing, albeit in a desperation situation where they had to get a shot quickly but probably not that shot.
Towns was awful. He finished with 14 points on 17 shots and eight rebounds. He just hasn't looked himself most of this season and it's very apparent that the drama off the court is impacting his play on it. He doesn't get along with Butler and as long as the two play together Towns just doesn't look like he's going to be happy. This guy is supposed to be the future of the Wolves franchise (and being paid like it with his new five-year extension) and Minnesota is throwing him under the bus every day by continuing to allow Butler to be on the roster with him. It's a problem and it hasn't been fixed yet.

Hey, The Lakers Have A Win Now!
Cease all concern over the Lakers all is well in Laker Nation! In a dominant display, the Lakers easily handled the Suns to gain their first win of the season. This was a laugher before the fourth quarter even started. Lance Stephenson and JaVale McGee led all scorers while LeBron James hooked up with Kyle Kuzma for highlights before getting to rest in the fourth. It was really just a Lakers scrimmage with the Suns acting as practice mannequins. Oh, and then they put salt in the wound at the end.
This doesn't fix any of the Lakers more longterm issues, but at least now Kobe Bryant doesn't have to come out of retirement to save everything from destruction. This also marks James first win in a Lakers uniform and that has to feel good for him. The true test comes tomorrow night when they have to face the red-hot Nuggets and Nikola Jokic in L.A. with *gestures in the general direction of the Lakers frontcourt* those guys trying to guard him.
Fox Flies And The Kings Are Fun
De'Aaron Fox and the Kings got their second win of the season on Wednesday, which is faster than most figured that would happen. It had the unfortunate side note of Marc Gasol leaving early with an injury, but it did feature Fox flying through the sky with a monstrous slam dunk. This is also a nice reminder that the Kings, yes your Sacramento Kings, are actually going to be fun to watch this season.
Last season the Kings played slow it down dinosaur basketball. So far in this season, they're kicking up the pace and lighting up the scoreboard in some extremely entertaining basketball. Need a late night game to throw on when everybody else has finished up? Put on the Kings. You won't be disappointed. Seriously.
Rookies Look Like Rookies, More At 11
Luka Doncic and Trae Young faced off on ESPN on Wednesday night in a matchup of two top 5 picks traded for each other in June's draft. It was a highly anticipated matchup, as the two will be forever linked and compared to one another throughout their careers, with the one's success being the bar for the other. On Wednesday in the newly renovated State Farm Arena, both looked very much like rookies in a sloppy game that saw Atlanta erase a 26-point first half deficit to pick up their second win of the season.
Doncic's best play came early during the Mavs incredible 42-point first quarter, 12 of which came from their rookie star.
However, he cooled off and started pressing and making mistakes and taking bad shots. You know, those things rookies often do. On the flip side, Young started the game off doing all those rookie things, opening the game 1-of-9 from the field and being relegated to the bench due to foul trouble. He returned in the fourth quarter, though, to give the Hawks a lift and take some pressure off Kent Bazemore and Taurean Prince, who had done the heavy lifting for much of the comeback, with some dazzling ball-handling, strong finishes at the rim, and sinking important free throws.
Both players showed why they were picked where they were, but also showed why rookie point guards don't often have great seasons. It's so difficult to be consistently good with the ball in your hands that much when you're still learning the NBA game. They've each already had spectacular games, and these struggles come with those performances.
A Rough Night On The Injury Report
As noted in the Rockets section, James Harden left Houston's loss to Utah with hamstring tightness and will be evaluated tomorrow to determine how long, if at all, he'll be out, but unfortunately he wasn't alone in big names picking up injuries around the league.
Devin Booker also left Wednesday night's action with a hamstring strain, and will be evaluated further. He told reporters after the game he doesn't think it'll be too bad.
Marc Gasol left late in the Grizzlies loss to the Kings with an apparent left shoulder injury, and is not a player Memphis can afford to lose for any extended period of time.
Bobby Portis left the Bulls win against Charlotte with a late injury to his right knee, and according to K.C. Johnson of the Chicago Tribune, there are concerns he may miss significant time as Chicago's injury report keeps piling up names.