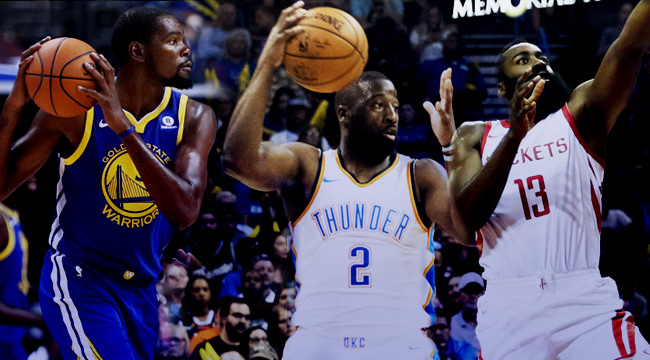 Imagine it's a random Wednesday night. You get home from work, eat dinner, and just want to watch some basketball. Fortunately for you, every single team is on at the same time, but a problem arises: How the hell are you supposed to know which game to watch?
We're here to help with a set of NBA League Pass rankings as we enter the 2017-18 season. Unlike ESPN's Zach Lowe, who measures a ton of different factors, we want to know which teams will be the most fun to watch on a night in and night out basis. You should, of course, watch as much hoops as possible, but if you have to prioritize one team over the rest, make sure your viewing guide looks like this.
30. Chicago Bulls
29. Orlando Magic
28. Indiana Pacers
All of these teams have some kind of bright spot — for example, three of the best dunkers in the league (Zach LaVine, Aaron Gordon, and Victor Oladipo) are capable of doing something insane on any given night. But each of them are in some stage of a re-build, so even though they all have some amount of intriguing young talent, none of them are the kind of squad you'll want to watch with any kind of consistency. There's still plenty of potential that someone like Nikola Mirotic or Evan Fournier or Myles Turner has a monster night you'll want to check out, though.
27. Charlotte Hornets
26. Atlanta Hawks
Both of these teams have a point guard that's fun as hell. When Kemba Walker or Dennis Schroder are going up against slower guards that can't check them, you're going to watch for them. But beyond that, Atlanta has a ton of young (but potentially fun!) question marks like Taurean Prince and John Collins. Charlotte, meanwhile, has a whole bunch of established guys who are very solid but uninspiring like Dwight Howard, Nic Batum, Marvin Williams, and a whole bunch of other names. I do guarantee that both teams will play extremely hard, and that Malik Monk will have at least one must-watch game for the Hornets.
25. Brooklyn Nets
24. New York Knicks
Ey, I'm rebuilding here. It feels weird putting Kristaps Porzingis down here, but the Knicks have so much that they need to figure out that it's going to be hard to justify consistently watching them. Still, Porzingis is magic, so the Knicks are worth checking out with some level of frequency. As for the Nets, they have a few guys who are either fun (Jeremy Lin), capable of being fun (D'Angelo Russell, Caris LeVert, Allen Crabbe), or will play SUPER hard every night (DeMarre Carroll, Trevor Booker).
23. Utah Jazz
22. Sacramento Kings
21. Phoenix Suns
Three teams out west that are all entertaining in their own ways, even if none are especially entertaining night in and night out. Utah's defense and the quiet brilliance of Rudy Gobert are stellar, as is the fact that Joe Ingles is everyone who has ever played pickup basketball at the YMCA. They enjoy playing a style that isn't always fun to watch, which is the downside.
Sacramento has one of the league's most exciting young cores — De'Aaron Fox! Buddy Hield! Skal Labissiere! Willie Cauley-Stein! Harry Giles, perhaps! — and a delightful veteran 1-2 punch in Vince Carter and Zach Randolph. The downside here is that leaning too heavily on a young group of guys means you'll have some stinkers every now and then, plus whenever they play the Lakers, Lonzo Ball won't take the floor, which is unfortunate.
And then there's Phoenix, which has Devin Booker, who once scored 70 in a game and the team hilariously tried to get him as many points as possible, but no one can seem to agree on how good he is. Eric Bledsoe is a pitbull, and while Marquese Chriss, Dragan Bender, and Josh Jackson are all really raw, they all possess a ton of talent.
None of these teams will be worth watching consistently, but there will be a night every week where at least one of them do something crazy phone that you should watch.
20. Toronto Raptors
19. Dallas Mavericks
Toronto has been the same team for the last four seasons: Behind a great backcourt of Kyle Lowry and DeMar DeRozan, they're going to win a bunch of games, play super hard, and end the regular season as one of the best squads in the Eastern Conference. We kind of take for granted how much fun they can be, especially with some of the young, athletic players they're going to try and develop this year (OG Anunoby, Bruno Cabocolo, KJ McDaniels, Norman Powell, Delon Wright).
Dallas is low because it's weird trying to figure out what they'll be this year. How much freedom will Dennis Smith Jr. have to be the potential tour de force he can be? How much better can Harrison Barnes, Nerlens Noel, and Wesley Matthews get? How much will Dirk Nowitzki play? (Please be a lot.) They'll be fun, but it may take them a few weeks to get things figured out, especially once Seth Curry comes back from injury.
18. Detroit Pistons
17. Memphis Grizzlies
Here we have a pair of teams that have a solid big man/point guard combo — Memphis is higher because Marc Gasol/Mike Conley is a better pairing than Andre Drummond/Reggie Jackson — but have questions elsewhere. Neither squad will play an especially entertaining brand of basketball or anything, and it's possible that both miss the playoffs. But if you wanna watch two teams that will just ruin people with the pick-and-roll all year, throw the Pistons and Grizzlies on.
16. Los Angeles Lakers
THE GOOD: They have Lonzo Ball to throw some of the most insane passes in the league, one of Kyle Kuzma/Brandon Ingram/Julius Randle is going to be a monster this year, and Luke Walton's Warriors pedigree means that the team might just randomly chuck up a zillion threes and try to play at the speed of sound.
THE BAD: Just about everything else. The Lakers' future is bright, but their now is kind of rough, especially in a loaded Western Conference. But for real, that Ball-Kuzma-Ingram-Randle core is going to be fantastic and worth watching with some level of frequency.
15. New Orleans Pelicans
14. Miami Heat
Both of these teams are going to play extremely hard. Miami will be, as always, awesome to watch, because Erik Spoelstra is a fantastic coach who is really good at gameplanning to the strengths of his team — this year, it's Hassan Whiteside's defense and rebounding, Goran Dragic's unconventional but wickedly fun way of playing point guard, and Dion Waiters being Dion Waiters. Even if it's not a playoff team, they're going to fight like hell to make it.
New Orleans is, uh, weird. DeMarcus Cousins and Anthony Davis as your starting frontcourt is hilarious. Rajon Rondo and Tony Allen as your starting guards is also hilarious. No one is going to enjoy playing this team, and if Boogie and Davis get hot, they're going to maul opponents. The issue is the lack of any kind of scoring beyond those two is a problem, plus does anyone trust that Cousins is going to end the year here? If everything works out, they're going to fly up this list. And on that note…

13. Philadelphia 76ers
…let's discuss the Sixers. If everything works out — which is a fun way of saying if everyone stays healthy — they're going to rule. They have the potential to be a top-5 League Pass team. They also have the potential to plod their way to another missed postseason if Joel Embiid gets hurt, Markelle Fultz can't fix his shot, and Ben Simmons struggles as a rookie. My guess is the former happens, but it's basically a coin flip between that and the latter. Still, they have Embiid, and Simmons has looked like a monster at times during the preseason. Let's give them the highest ceiling of any team outside of the top four (or so) squads.
12. Washington Wizards
11. Portland Trail Blazers
The backcourts here are going to be tremendous, as always. John Wall and Bradley Beal get more joy out of flipping their middle fingers to anyone who doubts them than anyone in the league, while Damian Lillard and C.J. McCollum are a pair of flamethrowers who are unstoppable once they get hot. We'll slot the Blazers higher, though, because watching Jusuf Nurkic grind opponents into dust is consistently more fun than watching Otto Porter's wonderful 3-and-D game.
10. San Antonio Spurs
9. Milwaukee Bucks
8. Minnesota Timberwolves
7. Denver Nuggets
6. Boston Celtics
All of these teams get group together because they're all in the "consistently really fun, occasionally must-watch" group. The Spurs are the Spurs — they will move the ball and Kawhi Leonard will ruin people and they'll hit threes. As always, they will be fun, even if their sustained success is boring to some people. Milwaukee will also wisely follow a tried-and-true formula: Giannis Antetokounmpo is great, we're going to let him do whatever he wants. They can also go to another level if Jabari Parker comes back healthy and Thon Maker becomes the mixtape superstar he was in high school.
But the other three teams are trying something new. Minnesota's core of Jimmy Butler, Karl-Anthony Towns, Andrew Wiggins, and Jeff Teague is going to be a nightmare to go up against, especially if Tom Thibodeau gets Butler and Wiggins into an elite defensive 1-2 punch and Towns continues to be perhaps the brightest young big man in the league.
Denver went out and tried to become the smartest team in the league by pairing Nikola Jokic with Paul Millsap. Watching their big men pass is going to be a treat, especially if Gary Harris, Jamal Murray, and Emmanuel Mudiay can take steps forward and either become consistent shooters or slashers.
And the Celtics, in all of their glory, are going to roll with, essentially. two teams: A potentially elite offensive foursome of Kyrie Irving, Gordon Hayward, Al Horford, and Jayson Tatum, and a bunch of defensive pitbulls in Marcus Smart, Terry Rozier, Marcus Morris, and Jaylen Brown. Add in the fact that Brad Stevens is one of the most creative coaches in the NBA and it'd be wise to watch the Celtics as much as possible.
5. Los Angeles Clippers
Are the Clippers a little higher than they should be? Probably, but I 100 percent put them here due to my unreasonable excitement over Milos Teodosic throwing lobs to Blake Griffin and DeAndre Jordan. If everything Chris Paul did in Los Angeles was a smart, calculated move, just imagine how much fun Lob City can be if Teodosic is given the green light to run free and hoist up lobs based on when he's ready to let them rip.
Plus Danilo Gallinari is here to take a bunch of open threes, while Austin Rivers/Lou Williams will make up a delightfully brave shooting guard rotation and Patrick Beverley will do all of the annoying Patrick Beverley stuff he's made a career out of. Their floor might be low — if they decide to play a slower, more calculated version of basketball, they're going to fall down these rankings — but Lob City might still be around even though Paul left.
4. Cleveland Cavaliers
Nothing needs to be said about all the guys who have been here for some amount of time (LeBron James, Kevin Love, J.R. Smith, Tristan Thompson, Kyle Korver), but watching Cleveland fold in its new players is going to be fun as hell. LeBron and Jae Crowder will get to take turns defending the other team's best player. Derrick Rose might be back, but also, no one knows. Dwyane Wade is Dwyane Wade and seems to be perfectly content doing whatever he needs to do in Cleveland. And Isaiah Thomas is looming large, ready to bring a scoring punch to the team's backcourt.
Everything revolves around LeBron, of course, since he's the best basketball player in the world. But there's a ton of talent around him this year — arguably more (at least from a depth perspective) than he's had at any time in his career — and watching them night in and night out will be unreal. Especially if, you know, this is LeBron's last season in Cleveland.

3. Oklahoma City Thunder
Is Russell Westbrook still here? He is? Ok cool, they're in the top-3.
Last year, watching Westbrook try to do everything was so much fun. This year, the burden of doing all of that is gone, as he now has a pair of running mates in Paul George and Carmelo Anthony to do things on nights where he doesn't have it. Their depth beyond that is suspect — they essentially go seven-deep with those three, Steven Adams, Andre Roberson, Raymond Felton, and Patrick Patterson — but that trio is going to be a joy to watch. Especially Westbrook, who perpetually has a chip on his shoulder and will probably want to prove that last year's MVP award was no fluke. It wasn't, but he's Russell Westbrook, and he is really good at the whole "I need to prove something" thing.
2. Houston Rockets
Mike D'Antoni has never finished outside of the top-2 of any League Pass Ranking, largely because he rejects the notion of playing slow. Houston's entire schtick is "let's push the ball and either get a three or a shot at the rim," which is fantastic. This is what their shot chart looked like last year, via StatMuse:
This is art. Look at the general disregard for midrange jumpers! Since they're a D'Antoni team, they're going to play like this again during the 2017-18 campaign, and now they have Chris Paul to push the offense and free up James Harden to get buckets whenever he wants. This is going to be worth watching whenever they're on.
1. Golden State Warriors
I mean, does anyone else even come close? The biggest knock against the Warriors is that they'll casually run a team off the floor and win a game by 30 points like it was the easiest thing in the world, but watching them execute at such a high level is thrilling. They do whatever they want offensively, and on defense, they're perpetually locked in. Watching Kevin Durant, Steph Curry, or Klay Thompson hoist up threes is just as much fun as watching Draymond Green guard all five positions on one possession, get a rebound, and initiate the team's fast break. The Warriors may be the NBA's version of death and destruction, but at least it's fun when they do it.