The 2017 NBA Finals fittingly begin on June 1 and the month is known for both that important event and the annual NBA Draft. With the calendar flipping over from May to June, draft season is heating up in conjunction with the much-ballyhooed battle between the Golden State Warriors and the Cleveland Cavaliers. To that end, it is time to unveil our second mock draft of the season.
If you missed it, the inaugural edition can be found here and you will likely find some similarities. Still, we now know what the draft pool actually looks like (farewell, Hamidou Diallo) and that sharpens the point of view that any pundit can take. Without further ado, let's get to the mock with full knowledge that, yes, Markelle Fultz still reigns supreme.

1. Boston Celtics – Markelle Fultz (PG, Washington)
There are reasons to think that the Celtics might want to go in another direction, especially considering the presence of Isaiah Thomas. For me, though, Fultz is a clear-cut No. 1 player in this class and it would be a massive mistake to select another player in his stead. A trade remains possible but, if not, it should be Fultz.
2. Los Angeles Lakers – Lonzo Ball (PG/SG, UCLA)
Given that he won't work out for the Celtics, it is common knowledge that Ball wants to land at No. 2 (or lower) so this is a "best case scenario" for his camp. This is not the type of rigid projection for me that it is for others but, until there is more fire to suggest Ball sliding past the Lakers, he'll stay in this spot.
3. Philadelphia 76ers – Dennis Smith (PG, NC State)

Josh Jackson would be the "best player available" choice in this spot, at least in my opinion. With that said, the Sixers do have a glaring need in the backcourt and Jackson's shooting questions are real. There is a debate raging between Smith and De'Aaron Fox for the next slot among point guards but, for Philly, Smith just makes more sense with his jump shot and presumptive fit with Ben Simmons. Let's just say it won't be a surprise if the No. 3 spot changes a few times between now and draft day.
4. Phoenix Suns – Josh Jackson (SF, Kansas)
I think Phoenix will be (or at least should be) openly rooting for the Sixers to pass on Jackson. The shooting concerns are less important when pairing Jackson with Devin Booker, and his length and defensive upside would be a snug fit in that regard. Anytime you can pair the best available player with a great situation, it makes for an easy choice.
5. Sacramento Kings – De'Aaron Fox (PG, Kentucky)

This is a repeat pick from our first mock and that is because it makes so much sense. Buddy Hield, for better or worse, is the shooting guard of the future in Sacramento and his trademark is shooting. Fox's jumper may never come around in an ideal way but it is already better than some want to give him credit for at this stage. Beyond that, Fox seems to actually want to go to the Kings and he is a competitor with the ability to transform things at the point of attack defensively.

6. Orlando Magic – Jayson Tatum (SF, Duke)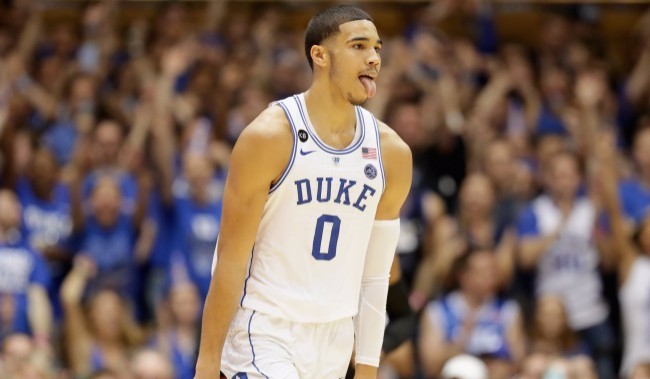 Candidly, I'm not sure about this fit. Tatum might be the best player available, and the Magic definitely need a scorer. However, Tatum's shooting range is an open question and there is at least some level of uncertainty about a long-term forward tandem of Tatum and Aaron Gordon. With that said, Tatum is still a better fit than either Jonathan Isaac or Malik Monk, which makes it an easier projection.
7. Minnesota Timberwolves – Jonathan Isaac (PF, Florida State)
If you told me that Isaac was a top-three player in this class, I wouldn't argue. That is how impressive I believe that he is as a prospect. In this scenario (and many others), the Wolves land their ideal piece for the future but it would not be a surprise if he was unavailable by the time Minnesota makes their pick.
8. New York Knicks – Frank Ntilikina (PG/SG, France)

There is one upper-tier point guard prospect left available and the Knicks need one. Malik Monk would be intriguing as well but Phil Jackson's decision to double down on the triangle brings Ntilikina into play. Is he actually a "pure" point guard? The jury is out. With that said, that concern is mitigated considerably if New York is going to run even parts of the triangle and there is buzz that the Knicks are interested.
9. Dallas Mavericks – Malik Monk (SG, Kentucky)
Seth Curry was a revelation for the Mavs last season and that might make Dallas think twice. I don't necessarily think that Curry's presence makes this pick prohibitive, though, and it could easily be argued that Monk is the best player available. This is the worst possible spot for the Mavs in my view, with the top eight shaping up as it did here.
10. Sacramento Kings – Lauri Markkanen (C, Arizona)
The Kings have a glut of young big men and that makes this pick difficult. In the end, Markkanen is the best player available and a much better fit than someone like Zach Collins. Can you see a scenario in which Sacramento rolls forward with Markkanen and Skal Labissiere as a frontcourt pairing? I can and it would work if both players progressed.

11. Charlotte Hornets – Terrance Ferguson (SG/SF, Australia)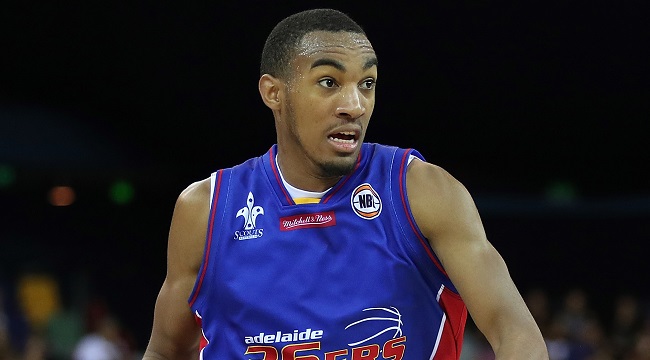 In all honestly, this should probably be Zach Collins but it seems insane to project a pure center to a team with Cody Zeller and Miles Plumlee on long-term deals. Some people have seemingly soured on Ferguson as a prospect, but Charlotte needs both shooting and upside and he brings both. It might feel like a reach but I'm doubling down.
12. Detroit Pistons – Donovan Mitchell (SG, Louisville)

Mitchell is (very) tough to project but it helps that the NBA is going to a position-less brand of basketball in many ways. Is he a point guard? No, but Mitchell might be able to act as a primary ball-handler in some ways and the Reggie Jackson experience did not go well in 2016-2017. If Kentavious Caldwell-Pope returns (and he is a restricted free agent), Mitchell could fit in nicely as a third guard in the short term with real upside if he can put things together offensively.
13. Denver Nuggets – OG Anunoby (SF/PF, Indiana)
Unless the medicals betray Anunoby in a big way, he might stay here for the long haul. Drafting for fit is always perilous but, when you have Nikola Jokic at center, it takes a special kind of player next to him to make things work defensively. His offense is a complete mess right now, but there are tools there and Anunoby's defensive upside is at a level where he could become a top-five player in the league on that end.
14. Miami Heat – Zach Collins (C, Gonzaga)

The fit with Hassan Whiteside is, well, not a good one. However, Collins is comfortably the best prospect available in my opinion and some believe he could be able to play power forward long-term. I'm not in that camp but, at worst, Collins would provide a high-upside backup center and insurance policy should things sour with Whiteside in the future.
15. Portland Trail Blazers – Jarrett Allen (C, Texas)
Portland's stockpile of picks (three in the first round) will allow them some flexibility to go after high-ceiling players. There isn't an "obvious" pick on the board here and, even with Jusuf Nurkic ascending, the Blazers can afford to take a big swing on a potentially tremendous (and defensive-minded) big man.
16. Chicago Bulls – Luke Kennard (SG, Duke)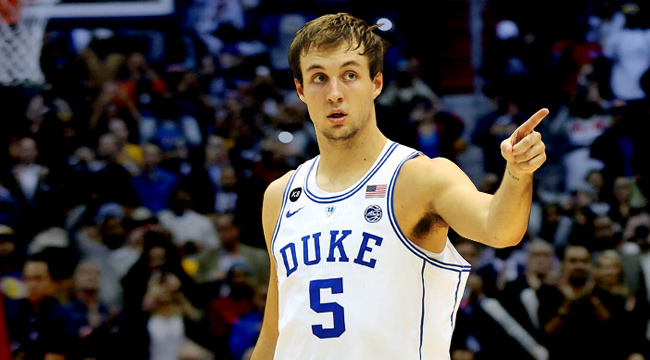 The Bulls invested in a low-upside college wing last season in the draft with Denzel Valentine, but Chicago still has a spacing issue. Picking up Kennard here won't fix it right away because, well, nothing can help with spacing on a team that could have a Dwyane Wade-Rajon Rondo backcourt again. Still, I think Kennard is a lottery talent in this class and he also feels like a pick Chicago would make.
17. Milwaukee Bucks – Harry Giles (PF/C, Duke)

This is a repeat pick from our first mock draft and it (still) makes sense. Milwaukee could almost certainly use a spacing upgrade but there isn't too much of that available and the Bucks have a penchant for high-upside players. Hamidou Diallo, who famously is headed back to Kentucky, also could have been in real consideration but very few (if any) prospects in this class can match Giles' tantalizing potential.
18. Indiana Pacers – Justin Jackson (SF, North Carolina)

Jackson doesn't really fit the mold of "Paul George insurance" since he projects as more of a role player. The Pacers need shooting, though, and Jackson can certainly provide that while giving the new-look front office an option that could be ready to contribute sooner rather than later.
19. Atlanta Hawks – John Collins (PF/C, Wake Forest)
Collins is a bad defensive player right now. Full stop. The Hawks have a reputation for being able to coax reasonable effort and production from fringe players on that end (Tim Hardaway, Mike Scott, etc.) and his offense and rebounding are impressive. Atlanta's future direction is up for debate but Collins is a relatively safe pick and that could bring some ceiling if the defense becomes even passable.
20. Portland Trail Blazers – Isaiah Hartenstein (PF, Germany)

I can't fathom a scenario in which the Blazers use all three of their first round picks on players that they would be forced to roster immediately, and there are whispers they'll deal one of them anyway. That brings Hartenstein firmly into view here, as many see him as a top-20 prospect that could be stashed for a year (or more) overseas. Adding yet another big man probably isn't ideal but, if looking for a draft-and-stash, he's probably the best overall prospect.

21. Oklahoma City Thunder – Jawun Evans (PG, Oklahoma State)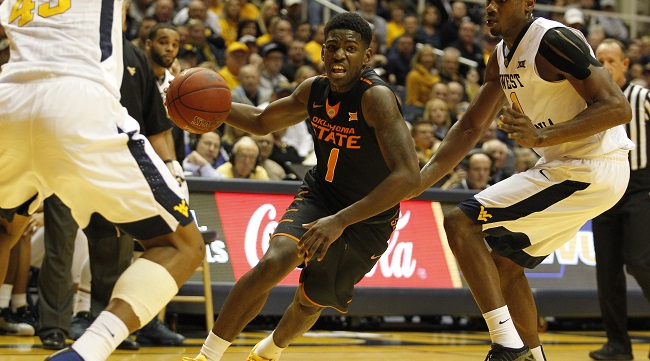 The Thunder have a real need for spacing and, if a prospect like Kennard or Jackson were to fall, this would be a soft landing spot. At this point, though, any other spacing-focused player would be a reach in my mind and Oklahoma City still needs a backup point guard. This also has a "best available player" feel and, even if Evans' ceiling is lower than some of the available talent, he looks to be a value pick here.
22. Brooklyn Nets – T.J. Leaf (PF, UCLA)
I'm not a huge Leaf fan when compared to others but he looks to be a very nice fit with Kenny Atkinson's system. Defensive concerns persist but his offensive skill would be a nice asset in Brooklyn and he might also be the best player available.
23. Toronto Raptors – D.J. Wilson (PF, Michigan)
The Raptors have been a popular landing spot for Leaf (including in our last mock) but, obviously, that isn't an option here. Toronto could have a dearth of power forward options, though, and Wilson is a fast-rising prospect. His ultimate ceiling is up for debate but Wilson is athletic and skilled.
24. Utah Jazz – Rodions Kurucs (SF, Latvia)

The Jazz don't have a ton of holes on their roster if everyone returns and Kurucs could be stashed away. If Gordon Hayward leaves in free agency, Kurucs could also profile as a long-term "replacement" (albeit at a lower scale) and Utah can afford to shoot for the stars with this pick.
25. Orlando Magic – Frank Jackson (PG/SG, Duke)
Monte Morris (coming shortly) is a better player than Jackson at this stage but the Magic could use the upside, especially if they remain committed to Elfrid Payton. Beyond that, Jackson is versatile enough where he could play off the ball in the future and the addition of Tatum with Orlando's first pick opens up the possibility of a backcourt addition. This isn't a pick I'm in love with, but it could be sold quite easily.

26. Portland Trail Blazers – Monte Morris (PG, Iowa State)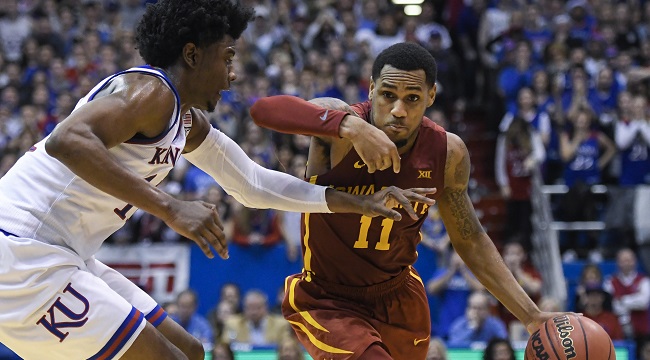 Portland has added two big men, including a draft-and-stash option, in this mock draft and that opens the door for something of a luxury selection. Not everyone believes that Morris is a first round pick but he would be the best point guard available in my view. The Blazers could use an upgrade on Shabazz Napier and he fills that role nicely.
27. Brooklyn Nets – Justin Patton (C, Creighton)

Based on the information available, it seems pretty unlikely that Patton lasts this long but it would be a gift for the Nets. It isn't as if the former Creighton center is "safe" by any stretch, but Patton's upside is considerable and he happens to be the best prospect available for a team that needs talent. Picking up Leaf earlier in the draft might make it (slightly) more difficult to take Patton based on fit but Brook Lopez won't be a centerpiece of the next great Brooklyn Nets team. Furthermore, Kenny Atkinson comes from the "Hawks University" school of development and Patton would be a nice project under his tutelage.
28. Los Angeles Lakers – Jordan Bell (PF, Oregon)
With Lonzo Ball arriving earlier in the draft and no knowledge of a D'Angelo Russell deal in the works, the Lakers could use some size and defense. Bell and Julius Randle wouldn't be a perfect fit but I'm a huge fan of the defensive aptitude that Bell brings. Is he going to be a star? Probably not, but you can't really go wrong with one of the three best defensive players in this class.
29. San Antonio Spurs – Semi Ojeleye (SF, SMU)
This would be such a Spurs pick. Ojeleye is just a very solid basketball player that can make shots with high efficiency. There are some minor basketball IQ concerns and he is something of a tweener, which explains the drop. In the end, this would be a fantastic landing spot for him and San Antonio would benefit.
30. Utah Jazz – Jonathan Jeanne (C, France)

Utah going with two upside picks from abroad might not be terribly realistic but I love it. Jeanne would be a great understudy for Rudy Gobert and the two even share an agent. No one is saying (at least I'm not) that Jeanne could transform into Gobert and they are very different players. At this point, however, snatching a quality role player for the future is all you can reasonably ask for and Jeanne appears to be that with upside.