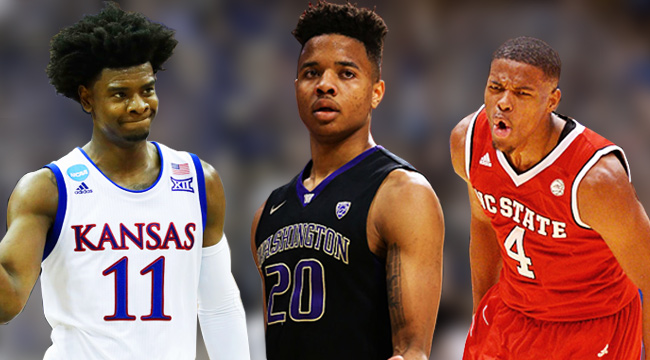 The 2017 NBA is less than one month away and it seems to rapidly approaching. This class features a one-man tier at the (very) top of the draft but, aside from that, there is plenty of uncertainty with how the lottery will play out and that makes for interesting discussion over the next four-plus weeks.
It is still (quite) early but, in this space, we will attempt to peg the 30-player first round beginning with the Boston Celtics and ending with the Utah Jazz, who will pick at No. 30 overall.
Markelle Fultz can begin packing for Massachusetts, and the rest of the mock begins now.
1. Boston Celtics – Markelle Fultz (PG, Washington)
There is a lot going on here, including the fact that the Celtics have a looming decision to make with Isaiah Thomas after the 2017-2018 season. However, the choice is easy. Fultz is the best player in this class and, if Boston keeps the pick, he's the only player that should be in this spot.
2. Los Angeles Lakers – Lonzo Ball (PG/SG, UCLA)

I do not think that Lonzo Ball is the No. 2 player in this class. With that said, there is a reason that everyone projects this to happen. It isn't a mortal lock but it does make sense for Ball to land here and, until we hear otherwise, it's the move.
3. Philadelphia 76ers – Josh Jackson (SF, Kansas)

Philly needs a backcourt player in the worst way and that has led to many projections of Malik Monk or even Dennis Smith. For me, the gap between Jackson and Monk is wide enough where I can't justify that selection and, in Smith's case, the fit with Ben Simmons is too scary. Take the best player available, improve your defense and add a highly competitive, two-way player.
4. Phoenix Suns – Jayson Tatum (SF, Duke)
The Suns don't need a point guard unless they plan to flip Eric Bledsoe, and Phoenix invested two picks in power forwards last season. That eliminates players like Fox, Smith, and Jonathan Isaac, leaving Tatum as the best option. He is absolutely going to get buckets at the NBA level and, even if I don't love the profile, Tatum's floor is high.
5. Sacramento Kings – De'Aaron Fox (PG, Kentucky)

The Kings appear to enjoy Fox and he, for some reason, reciprocates that feeling. More than anything, though, Sacramento needs a point guard and I think Fox is the best combination of fit and high-end talent. He would make an interesting backcourt partner with Buddy Hield.

6. Orlando Magic – Dennis Smith (PG, NC State)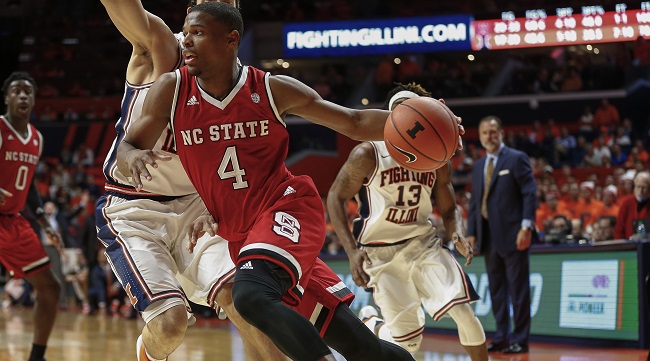 Orlando should be thrilled with this in my opinion. Smith might not be better than Fox but he's certainly a better fit with the Magic given his upside as an offensive creator. The Elfrid Payton era rolls along but, at some point, this team needs a primary option and Smith could be that.
7. Minnesota Timberwolves – Jonathan Isaac (PF, Florida State)
This is the dream for the Wolves. Isaac profiles as a stretchy, athletic, defensively capable player to pair with Karl-Anthony Towns and he is currently No. 4 overall on my board. Minnesota's decision to pay Gorgui Dieng remains baffling but having a three-man frontcourt of Dieng, Towns, and Isaac long-term could ease that considerably.
8. New York Knicks – Malik Monk (SG, Kentucky)

The Knicks have been linked to point guards at various points in the process and, well, Monk is not a point guard in my view. With that said, he will be a professional bucket-getter at the NBA level and, at some point, the Knicks need to move away from the triangle. Choosing Ntilikina would not facilitate that and I can't, in good conscience, buy into the notion that New York should be picking for that system.
9. Dallas Mavericks – Frank Ntilikina (PG/SG, France)

With all due respect to Yogi Ferrell, the point guard of the future isn't currently on the roster for the Mavs. Ntilikina might be more of a hybrid that needs a secondary creator next to him, but he'd be a fun fit with Seth Curry in the short term and Rick Carlisle might be able to maximize his considerable talent.
10. Sacramento Kings – Lauri Markannen (C, Arizona)
The Kings have a glut in the frontcourt and I realize that. Unfortunately, the top nine picks flow in probably the worst order possible for Sacramento in that Markannen is the final member of what I would classify as a tier. It isn't a perfect fit but Markannen might work next to Willie Cauley-Stein (or even Skal Labissiere) and his floor-spacing could provide a nice wrinkle. Consider this a "best player available" pick.

11. Charlotte Hornets – Terrance Ferguson (SG/SF, Australia)
The temptation to project Zach Collins is real, simply because the Hornets have an affinity for prospects … of his ilk. We'll hold off for now, though, and give Charlotte a 3-and-D player with real upside. I'm higher on Ferguson than most, but the Hornets could use more spacing and athleticism. Ferguson has both.
12. Detroit Pistons – Luke Kennard (SG, Duke)

The Pistons don't have a ton of glaring roster weaknesses from a positional standpoint, even if the team played poorly this season. A player in the Donovan Mitchell mold might be interesting but, for me, Kennard is safer and provides the spacing that Detroit needs offensively. This might feel high for a role player, but I'm on record as being a big fan.
13. Denver Nuggets – OG Anunoby (SF/PF, Indiana)
When you have Nikola Jokic as your center, you need defensive versatility elsewhere. That will spur on the Paul Millsap rumors throughout the summer but, before free agency, adding Anunoby feels like a great fit. There are injury concerns for the former Indiana forward, but if he's 100 percent, Anunoby is the best defensive prospect in this class.
14. Miami Heat – Donovan Mitchell (SG, Louisville)

Dion Waiters may walk in the offseason and, if he does, Donovan Mitchell profiles as a player that the Heat could mold into a dynamic piece. There are questions about his best role at the NBA level but Mitchell is a big-time talent and pairing him with Goran Dragic could also be fun.
15. Portland Trail Blazers – Zach Collins (C, Gonzaga)
This is probably "too low" for Collins and the Blazers pick up a value as a result. Obviously, Portland has their center with Jusuf Nurkic but this is a team with three picks and no gaping holes. Take the best player, plug him in behind Nurkic as a role player, and prosper.
16. Chicago Bulls – Justin Jackson (SF, North Carolina)
The Bulls absolutely love college veterans and the front office is probably fawning over Justin Jackson. Jackson has grown on me as a prospect given his shooting and defensive acumen. Even if this is kind of strange after the Denzel Valentine pick a year ago, it would be extremely Bulls to go in this direction.
17. Milwaukee Bucks – Harry Giles (PF/C, Duke)

Yes, the Bucks have Thon Maker. Beyond that, though, there isn't a ton of (quality) depth in the frontcourt with Greg Monroe potentially out the door and, for whatever reason, Jason Kidd seems to have soured on John Henson. Throw in the fact that Milwaukee has a track record of pulling the trigger on high-upside projects and say hello to the former No. 1 overall player in this class landing in Wisconsin.
18. Indiana Pacers – Hamidou Diallo (SG, Kentucky)

Diallo would be interesting for the Bucks as well, given that he fills the mold of a super-athletic, high-ceiling guy. That doesn't necessarily go along with what the Pacers have done in the recent past but this is a new front office with Larry Bird out the door and Diallo's upside is wild. He might not even stay in the draft – the deadline is late at night on May 24 – but no one has his athletic tools at this position in the 2017 draft.
19. Atlanta Hawks – Jarrett Allen (C, Texas)
The Hawks need upside in the worst way. At this moment, Atlanta's best assets are Taurean Prince and Dennis Schröder, neither of whom profile as anything approaching a star-level player. To that end, the Hawks also have uncertainty in the front office but there is little doubt that the team's next starting center isn't currently employed by Atlanta and it's time for a big swing. Allen is a boom-or-bust type but that's okay at No. 19 overall.
20. Portland Trail Blazers – Rodions Kurucs (SF, Latvia)

As noted above, the Blazers have three first-round picks and probably need to stash a player in Europe for at least one year. Kurucs is an intriguing fit in Portland and, along with Isaiah Hartenstein, is the best option for stashes. That explains that.

21. Oklahoma City Thunder – Jawun Evans (PG, Oklahoma State)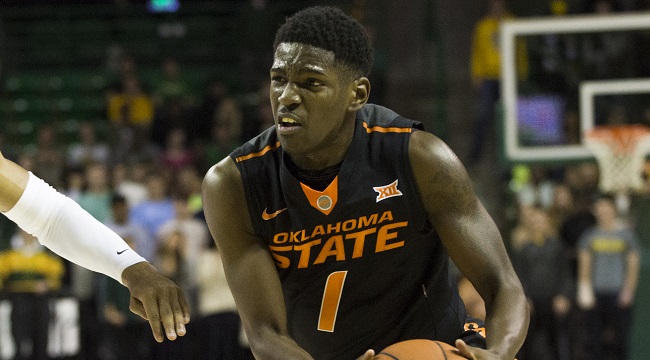 The Thunder need a floor-spacer in the worst way but one quick look at the draft board indicates that there isn't a great option in that mold. As such, OKC can add an upgrade at backup point guard in Jawun Evans. He would immediately improve that situation while also bringing some upside to the table for the future.
22. Brooklyn Nets – Justin Patton (C, Creighton)
Brooklyn just needs talent and it feels like we have been saying that for a long time. Patton might flame out, but his ceiling is tremendous and Brook Lopez probably won't be the centerpiece of the next playoff-bound Nets team. This isn't a tough call.
23. Toronto Raptors – T.J. Leaf (PF, UCLA)

The Raptors are in a tremendously strange spot. Reports indicate that Serge Ibaka is likely to return and, with that, Toronto likely needs to shed some salary in order to retain Kyle Lowry. Some of those cuts could come from Patrick Patterson and/or P.J. Tucker and, if that happens, the Raps need help at power forward. I'm not a huge fan of Leaf's game but he'd be a solid fit with Ibaka and might be the best player available.
24. Utah Jazz – Jonathan Jeanne (C, France)

The Jazz already have one long, defensive-minded French center and, now, they would have two. Jeanne impressed everyone at the NBA Draft Combine in Chicago and he would be a nice project for a team with success in developing Rudy Gobert.
25. Orlando Magic – Isaiah Hartenstein (PF, Germany)
Hartenstein looks to be a potential scorer and the Magic need a lot of that. He might be a stashable piece if Orlando chose to do that with Dennis Smith already on board in this scenario but, as an upside play, I like the fit.

26. Portland Trail Blazers – Monte Morris (PG, Iowa State)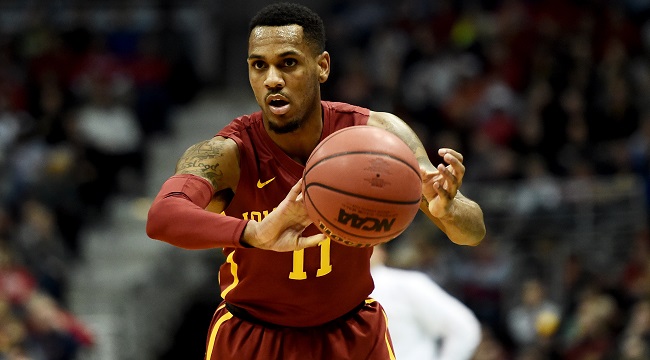 Shabazz Napier was functional in a backup point guard role for the Blazers this year but Morris will likely be a better player in short order. Again, Portland's situation is very strange with three first-rounders but, if they keep them all, they can address a need here.
27. Brooklyn Nets – Semi Ojeleye (SF, SMU)

With Patton as the previous pick for the Nets, this is a "best available non-big" selection. Ojeleye's ceiling is up for debate given his positional uncertainty but he can really play and Brooklyn needs help almost everywhere. This would be a great value.
28. Los Angeles Lakers – John Collins (PF, Wake Forest)
Collins is a player that some believe is solidly in the top 20. I do not subscribe to that line of thinking. Still, he is a very high floor player given his offensive aptitude and efficiency. The defensive concerns that Collins brings would not be ideal with the Lakers, but he should be a first round pick and L.A. could do worse.
29. San Antonio Spurs – Bam Adebayo (C, Kentucky)

Adebayo is a divisive prospect, especially given some of his shortcomings in college. The Spurs need youth and athleticism in the frontcourt, though, especially with Dewayne Dedmon facing free agency. Adebayo's wingspan (nearly 7'3) helps in projecting him as a center and Pop could work wonders in this spot.
30. Utah Jazz – Frank Jackson (PG/SG, Duke)

Jackson is the (exceedingly) rare prospect that is actually from Utah. As noted above, the Jazz picked up a defensive-minded big man with their earlier pick and that opens up the board considerably here. There are spots of greater need than point guard, but question marks surround Dante Exum and George Hill is a free agent. Throw in the fact that Jackson and Exum could conceivably play together given their size and athleticism, and this could be a snug fit.