There are no perfect prospects in the 2018 draft class but, with less than three weeks to go until draft night, Arizona big man Deandre Ayton seems to be the safest bet to land in the top two. If anything, that has been the case for a while, with Ayton checking every old-school box for a wildly productive college big man and pairing that with an incredible physical frame and athleticism that would be appealing to the modern NBA.
Offensively, there are very few questions about Ayton, who averaged 20.1 points per game at Arizona on 61 percent shooting and even flashed the semblance of what could be an intriguing jump shot at the next level. He is a freak-ish athlete with a chiseled physique that plays against virtually any kind of defender, and that should allow him to have very little trouble adjusting to the NBA game with efficiency and potential dominance.
On the other end of the floor, there is also reason to believe Ayton could be an impressive force. After all, he is a tremendous athlete with the foot speed to be able to defend in space and the length to deter others at the rim. However, Ayton was anything but a finished product defensively at the college level and his ability to translate his defensive game to the NBA is, by far, his biggest question.
Some of Ayton's defensive issues at Arizona can be traced back to head coach Sean Miller's decision to deploy him regularly alongside another traditional center. That is a decision that most NBA types find inexplicable and, as a result, Ayton was often put in unfavorable positions. With that said, there has been some level of buzz that Ayton views himself as more of an all-court player than as a true center, which could prove to be a challenge when he arrives in the NBA.
If you believe in his ability to "turn it on" defensively, it is very easy to see Ayton as the no-doubt No. 1 pick in this class. Because, of course, he has the physical tools, it is easy to talk one's self into his projection on that end. Still, Ayton's mindset and basketball IQ will be equally important defensively and, as we've seen during the 2018 NBA Playoffs, it is sometimes quite difficult to deploy a center that isn't capable of staying on the floor defensively against small ball lineups.
Other prospects have questions, ranging from Luka Doncic's lack of elite-level athleticism to Marvin Bagley's (similar) defensive uncertainty, but Deandre Ayton still may have the fewest. Evaluating him is tricky but, with that in mind, here is our latest 2018 NBA mock draft with a familiar face in the No. 1 spot.

1. Phoenix Suns – Deandre Ayton (C, Arizona)
All signs point to Ayton landing in Phoenix at this point. It has to be noted that the Suns could go in a different direction with Luka Doncic but, until something indicates that as a more likely outcome, the safe bet is projecting the Arizona product to stay close to home as the No. 1 overall pick.
2. Sacramento Kings – Marvin Bagley III (C/PF, Duke)
This is a weird spot. There is mixed information circulating with regard to how Sacramento feels about Luka Doncic and that is important to note. On my personal board, Doncic would be the no-doubt choice here but buzz about potential slippage is enough to project Bagley to Sacramento. The Duke standout is a worthy top-two pick in most drafts as a tremendous athlete with a great motor and the Kings could certainly use the infusion of talent in the frontcourt.
3. Atlanta Hawks – Luka Doncic (SF/SG, Slovenia)
The Hawks may not be in love with Luka Doncic. We just don't know (yet). With that said, few teams need a No. 1 offensive engine more than this Atlanta squad and this would be a heist from a value perspective. Jaren Jackson Jr. would be a great potential fit with John Collins but Doncic would give Atlanta a new face.
4. Memphis Grizzlies – Jaren Jackson Jr. (C/PF, Michigan State)
This isn't a perfect fit by any means. Jackson Jr. is (very) likely a full-time center at the next level and, well, the Grizzlies still have Marc Gasol. However, the Michigan State big man represents the last player of the top tier, at least in my view, and Gasol would be a fantastic short-term mentor for Jackson Jr., especially on the defensive end of the floor.
5. Dallas Mavericks – Mo Bamba (C, Texas)
The Mavericks may choose to go the free agent route in order to find their next center but there is a reason this is a (very) popular mock draft pairing. Bamba is arguably the best player available and, with the Nerlens Noel experiment failing miserably, Dallas could use the infusion of talent and defensive upside.


6. Orlando Magic – Wendell Carter (C, Duke)
Carter and Bamba are closer together on my board than some, mostly because of Carter's obscenely high floor. This wouldn't be the sexiest pick for the Magic, especially with their current salary cap slog in the frontcourt, but Carter pairing with Jonathan Isaac would be a ton of fun. Orlando could certainly fall in love with Trae Young but, if they don't, Carter would be the "best player available" choice.
7. Chicago Bulls – Mikal Bridges (SF, Villanova)
There is some reason to believe the Bulls may be ready to take a big swing and that would mean tabbing Michael Porter Jr. in this spot. With that said, Bridges is a lot safer to project, especially without injury concerns, and he fits the profile of Chicago's front office and its drafting record.
8. Cleveland Cavaliers (via Brooklyn) – Trae Young (PG, Oklahoma)
It is impossible to nail down Cleveland's decision-making process right now since everything runs through LeBron James. Still, Young potentially checks both boxes of a player that could entice James and someone that could allow the franchise to move forward if the best player in the universe leaves this summer. There is definitely "bust" potential with Young but, if everything goes well, there is also incredible upside on the offensive end.
9. New York Knicks – Michael Porter Jr. (PF/SF, Missouri)
Porter Jr. is still incredibly tough to peg, if only because he can control the release of his medicals in order to direct himself to a particular spot in the draft. It is hard to believe that the Knicks couldn't gain full access, though, and a theoretical pairing of Kristaps Porzingis with a healthy Michael Porter Jr. would be a lot of fun to consider.
10. Philadelphia 76ers (via LA Lakers) – Miles Bridges (SF/PF, Michigan State)
There is nothing sexy about drafting Miles Bridges in the top 10 but the Sixers are a franchise that doesn't need to do anything sexy with this pick. The Michigan State product does a lot of things well, takes very little off the table and fills a need for Philadelphia without being a reach. That's a pretty strong recipe.

11. Charlotte Hornets – Shai Gilgeous-Alexander (PG/SG, Kentucky)
Gilgeous-Alexander's game is very intriguing, if only because scouts are split about what kind of role he needs in the NBA. In Charlotte, he would be paired with Kemba Walker (at least for a while), which would allow him to flourish both on and off the ball. That might be a great landing spot and, for the Hornets, Gilgeous-Alexander brings intriguing upside that they would have trouble finding elsewhere.
12. Los Angeles Clippers (via Detroit) – Collin Sexton (PG, Alabama)
A lot of people rank Sexton ahead of Gilgeous-Alexander but, in this hypothetical, Sexton slips a bit based on his lack of versatility. In some ways, it could be a good thing, though, as Sexton is a high-level competitor with a high floor as a result. Questions about his ceiling (and shooting) exist for a reason but he would be a nice building block in Los Angeles.
13. Los Angeles Clippers – Robert Williams (C/PF, Texas A&M)
Motor concerns are real with Williams but this is a draft weak on big men outside of the top ten picks. He is the best of the bunch remaining and, given where Los Angeles is with DeAndre Jordan's contract situation, this could be a combination of "best player available" with a tiny bit of need.
14. Denver Nuggets – Kevin Knox (SF/PF, Kentucky)
The Nuggets have been heavily rumored to be marketing this pick in an effort to save on luxury tax. If they keep it, though, Knox makes a ton of sense, as Denver desperately needs another potential option at the small forward spot.
15. Washington Wizards – Lonnie Walker (SG, Miami)
From a roster standpoint, this pick makes little sense and I'll grant that off the bat. The Wizards are committed (to an obscene financial degree) to their current backcourt and Walker is superfluous in that way. However, he's the final player in a tier and drafting the best player available is usually a good idea. Oh, and Washington could be active in trade discussions, even if we can't project that here.


16. Phoenix Suns (via Miami) – Troy Brown (SG/SF, Oregon)
Phoenix needs a point guard but that position doesn't provide much value at No. 16 overall. Brown has point guard skills in a small forward's body and, if nothing else, he would be a strong third wing to complement Devin Booker and Josh Jackson in the future.
17. Milwaukee Bucks – Zhaire Smith (SG/SF, Texas Tech)
It's admittedly difficult to find a place for Smith, even if virtually everyone believes he'll eventually land in the top 20 somewhere. Milwaukee has a history in drafting super-athletic players and Smith is certainly that. He was probably hurt by his lack of measurables at the combine but there is a ton of ceiling here if everything comes together.
18. San Antonio Spurs – Kevin Huerter (SG/SF, Maryland)
This feels obscenely high to me but the buzz surrounding Huerter is very real. Because he stayed in the draft, the feeling is that he's been "promised" a soft landing spot and, even if it wasn't by San Antonio, the Spurs could use an infusion of offensive talent, particularly in the form of a shooter on Huerter's level.
19. Atlanta Hawks (via Minnesota) – Mitchell Robinson (C, High School)
In this scenario, Atlanta adds its much-needed wing creator in the lottery, freeing up the potential to shoot for the moon with Robinson. There is a scenario in which Robinson falls further than this but his talent is undeniable and Doncic's safety allows for a riskier selection here, especially with the Hawks choosing again at No. 30 and No. 34.
20. Minnesota Timberwolves (via Oklahoma City) – Keita Bates-Diop (PF/SF, Ohio State)
There isn't much projection here but Bates-Diop feels like a Tom Thibodeau player. He is multi-talented, has a high defensive floor and also fills a role for a Minnesota team that doesn't have much depth at the forward spots. It all clicks.

21. Utah Jazz – Elie Okobo (PG/SG, France)
This pick makes very little sense if the Jazz elect to bring back Dante Exum. If they don't, however, another guard with Okobo's profile could be a nice fit, especially with Ricky Rubio's contract nearing its end and Donovan Mitchell occupying something of a hybrid role.
22. Chicago Bulls (via New Orleans) – Chandler Hutchison (SF, Boise State)
Going with two veteran college wings would be on-brand, even if this doesn't feel especially likely. Hutchison, perhaps even more than Bridges before him, is a well-chronicled Bulls target and his nose for the basket is intriguing.
23. Indiana Pacers – Aaron Holiday (PG, UCLA)
Holiday is just a good basketball player. He might fall too far in this class based on lack of projected upside but the Pacers aren't exactly set long-term at point guard. Holiday is athletic, long, efficient and talented. He would be a very nice addition.
24. Portland Trail Blazers – Dzanan Musa (SF, Bosnia-Herzegovina)
It seems odd to discuss the Blazers as a team that needs floor-spacing, given their tantalizing backcourt duo of Damian Lillard and CJ McCollum. However, the Blazers… need floor-spacing. Musa may not do anything else at the NBA level, but he does provide it and, if Portland wants to stash him to save on their luxury tax bill this season, they probably can.
25. Los Angeles Lakers (via Cleveland) – Donte DiVincenzo (SG/PG, Villanova)
This might even be too low for DiVincenzo based on the way his stock seems to be rising after the combine. He isn't a point guard (in my opinion) but the Villanova standout has ball-handling ability to go with high-end athleticism and, most importantly, a highly functional jump shot. That type of player would be just what the doctor ordered for the Lakers, even if they don't hit the grand slam in free agency.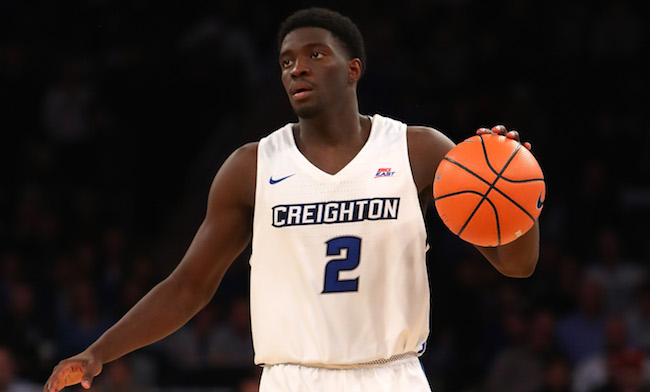 26. Philadelphia 76ers – Khyri Thomas (SG, Creighton)
Thomas is a high-end defender with a 6'10 wingspan that also made 40 percent of his threes at the college level. It feels safe to project him as a pure role player but Philadelphia could certainly use his exact skill set, even if Markelle Fultz returns to uber-prospect status.
27. Boston Celtics – De'Anthony Melton (PG/SG, USC)
This is a huge value for Boston, as Melton is a top-20 overall player on my board. It might seem silly for the Celtics to add another combo guard but the general consensus seems to be that one (or both) of the Marcus Smart-Terry Rozier tandem will be moving on shortly and Melton's defense is enticing.
28. Golden State Warriors – Jacob Evans (SG/SF, Cincinnati)
If Patrick McCaw sneaks away, the Warriors will be in need of a young wing. Even if McCaw sticks around, recent history has shown that high-level teams can never have too many wings and Evans is the type of high-IQ, high-motor player that would fit snugly in Oakland.
29. Brooklyn Nets (via Toronto) – Anfernee Simons (SG, High School)
The Nets take a swing. It's as simple as that. Simons could be confined to the G League for a while but no other player in this range brings his long-term offensive upside to the table.
30. Atlanta Hawks (via Houston) – Josh Okogie (SG, Georgia Tech)
It might make more sense, at least on paper, for the Hawks to go after a point guard in this slot. However, it is important to note that Atlanta has another pick at No. 34 overall and Okogie brings the kind of defensive potential that would be tantalizing next to Doncic in this scenario. It always helps to peg a local product to stay "home" but Okogie is more than worthy of a first round selection.