While many predicted the Duke Blue Devils would put together a run to the 2018 Final Four, that won't be the case. Mike Krzyzewski's team fell short in a battle against fellow No. 1 seed Kansas in the Elite Eight and, as a result, the (brief) college careers of freshmen Marvin Bagley III and Wendell Carter are almost certainly over. Despite the loss, nothing that transpired in that somewhat surprising defeat (depending on who you ask) should impact either player when it comes to the 2018 NBA Draft.
That is especially true for Bagley, a 6'11, 234-pound big man who wasn't even "supposed" to be in college this season but elected to reclassify in order to eventually become eligible for the 2018 draft. That decision looks to be the right one, as Bagley cruised to season-long averages north of 20 points and 10 rebounds per game while operating incredible efficiency and explosiveness. As a result of that production and his unquestionable athletic burst, many have pointed to Bagley as a legitimate candidate for the No. 1 overall pick and, even if that projection might be a bit ambitious, his name will be in the discussion.
In truth, Bagley profiles as a tremendous NBA player. He boasts an incredibly impressive "second jump ability," leaping off the floor multiple times with regularity and, as a result, dominating on the glass. That should translate well to the next level and, on a nightly basis, Bagley has flashed high-end scoring ability and touch around the rim. From an athletic standpoint, Bagley might be the most explosive player in the class and, if that entire package of traits manifests in the best possible way, there is no limit for what he can become as a professional.
With that said, there are some questions about the likely one-and-done big man. Bagley is probably a center at the next level but, during his time at Duke, he played almost exclusively with another traditional big man. Given his relatively limited wingspan, rim protection could be an issue. In fact, the defensive end in general brings question marks in that Duke ran a zone for most of the season and there were moments in which Bagley seemed lost.
Offensively, there are fewer concerns, especially given the potential for the development of a passable three-point jump shot. There wasn't a ton of volume generated from the perimeter but, if that jumper becomes a weapon in conjunction with real defensive development, there is no reason to believe Bagley can't be an NBA All-Star. On the year, Bagley went 23-for-58 (39.7 percent) from downtown.
His teammate, the aforementioned Carter, may be "safer" in projecting an NBA rotation player and fellow stud freshman Deandre Ayton is seen by many as a superior overall prospect. Still, Bagley did a fantastic job during his freshman season and it can't be overstated just how good he will be if everything comes together.
Where should he land in an NBA mock draft prior to the Final Four? Well, let's find out.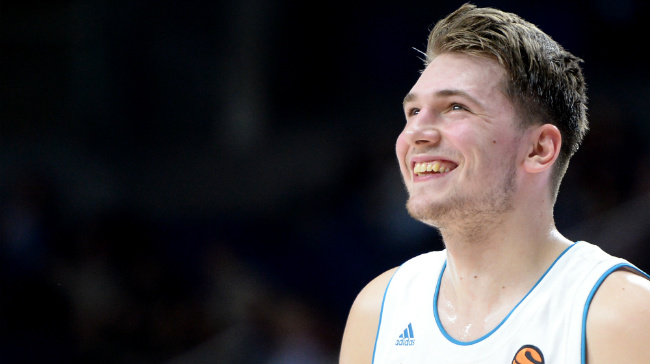 1. Memphis Grizzlies – Deandre Ayton (C, Arizona)
Arizona's early exit was laid at Ayton's feet by some but, well, that is silly. From a consensus standpoint, the talented big man is seen as the likely No. 1 pick for a reason and he displays the complete package of skills that any modern big man would want. There are some defensive question marks to address but, provided he can grow out of them, he'll be an All-NBA big man.
2. Phoenix Suns – Marvin Bagley III (C/PF, Duke)
Luka Doncic remains in a tier with Ayton at the top of my board but the Suns, with Devin Booker, Josh Jackson and TJ Warren, would have a tough time justifying picking him over Bagley. Beyond that, the Duke big man has a lot of fans in the scouting world, to the point where some believe he should be ahead of Ayton in the pecking order. I'm not there yet but he is an explosive athlete who is highly productive and has plenty of room to get better.
3. Atlanta Hawks – Luka Doncic (PG/SG/SF, Slovenia)
If the Hawks were to fall out of the top two, this would qualify as the dream scenario. The Suns are virtually the only team in the lottery that wouldn't be in play for Doncic but Atlanta benefits with arguably their best overall fit. This is a team in desperate need of a primary offensive option from the perimeter and Doncic, even with some mild concerns about his ability to separate from top-shelf defensive length, is as skilled of an offensive player as you'll find at his age.
4. Orlando Magic – Jaren Jackson Jr. (C/PF, Michigan State)
Orlando could certainly move in the direction of Mo Bamba, Michael Porter Jr. or even one of the point guards. For me, though, Jackson makes a ton of sense. He brings immense defensive upside to the table and has a varied, impressive offensive ceiling should he continue to develop. Somebody probably should have alerted Tom Izzo during the NCAA Tournament but Jackson is a special prospect.
5. Dallas Mavericks – Mo Bamba (C, Texas)
Bamba's defensive tools are ridiculous and everybody knows it. If anything, he remains underrated at this juncture as a result of playing on an underwhelming Texas team. Playing in Dallas could give him the chance to unlock some of his offensive potential as well. There is some risk here but nothing that the Mavs couldn't rationalize.


6. Sacramento Kings – Michael Porter Jr. (PF/SF, Missouri)
Porter did himself no favors with his brief college stint but, fortunately, there is plenty of tape on him from the AAU and high school circuits to counteract his rusty performance. With that said, there is increasing buzz about his make-up and, if the medicals aren't perfect, a fall could be in order. Sacramento would be swinging for the fences with this pick but Porter is the player with the most talent available.
7. Cleveland Cavaliers (via Brooklyn) – Shai Gilgeous-Alexander (PG/SG, Kentucky)
This is probably a slight reach but Gilgeous-Alexander is a much better fit alongside LeBron James than either of the other two point guards (Collin Sexton and Trae Young) and his recent play has been at a top-10 level. If nothing else, Gilgeous-Alexander provides size, defensive acumen and floor-spacing at the next level and, given the way he played before Kentucky's loss to Kansas State, it is easy to see a high ceiling as well.
8. Chicago Bulls – Mikal Bridges (SF, Villanova)
Nothing would be more typical of the Bulls than taking an established, multi-year college player from a major program. In fairness to Chicago, Bridges is a tremendous prospect with a 3-and-D floor and upside beyond that but it would still make a lot of people laugh when they landed him.
9. New York Knicks – Trae Young (PG, Oklahoma)
More and more, it just makes sense to project Young to the Knicks. The presence of Frank Ntilikina would help to mask the (very real) defensive concerns with Young and New York gets a big-ticket player to create buzz and provide scoring punch. The thought of Young and Tim Hardaway Jr. firing away in the same backcourt is fun, if not defensively terrifying.
10. Charlotte Hornets – Miles Bridges (PF/SF, Michigan State)
Bridges did himself no favors with a sleepy performance during Michigan State's tourney ouster but his body of work is strong enough to justify a lottery position. Moreover, he is a recognizable name with a varied skill set, which plays into the hands of Michael Jordan. Charlotte needs upside and, even if it may be somewhat unlikely that he reaches it, Bridges displays the skill set and athleticism needed to provide optimism.


11. Philadelphia 76ers (via LA Lakers) – Kevin Knox (SF/PF, Kentucky)
Philly, probably more than any team in this range, needs supporting pieces and Knox projects as one. He has good size, the ability to shoot and the potential to defend multiple positions without taking much off the table. Ideally, a player like Mikal Bridges would fall to the Sixers but, if he doesn't, Knox (or Miles Bridges) would be nice consolation prizes.
12. Los Angeles Clippers (via Detroit) – Collin Sexton (PG, Alabama)
There isn't a long-term plan at point guard for the Clippers and Sexton slides in perfectly. He could easily be the first point guard off the board if a team is convinced by his jump shot but, even if that doesn't happen, his competitiveness and explosive athleticism should be more than enough to justify this pick.
13. Los Angeles Clippers – Wendell Carter (C, Duke)
Carter falling this far would actually be a surprise but the Clippers would benefit. In fact, adding Carter and Sexton would be a dream scenario in Los Angeles, with two NBA-ready players that could help a team that doesn't appear interested in a lengthy rebuilding effort.
14. Denver Nuggets – Chandler Hutchison (SF/SG, Boise State)
The Nuggets badly need help at small forward for the future and Hutchison remains an underrated prospect nationally. He has good length and versatility defensively (which is needed on this particular roster) and, even with 3-point shooting questions, Hutchison would be a good fit.
15. Phoenix Suns (via Milwaukee) – Robert Williams (C/PF, Texas A&M)
Williams and Bagley, who landed in Phoenix earlier, aren't the best fit but this is a value proposition. Phoenix is "set" at most positions and, while point guard is a huge question mark, there isn't a guy available worth a mid-first round investment. Williams should profile as a rotation-quality player with off the charts athleticism.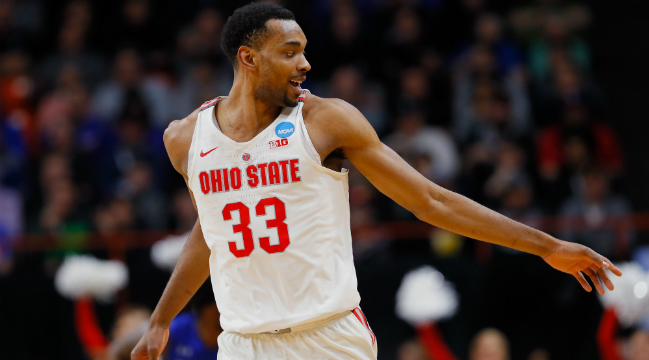 16. Phoenix Suns (via Miami) – Lonnie Walker (SG, Miami)
Phoenix isn't on the short list of teams that make sense for Lonnie Walker but, with two bigs already on board, he is the best player available. In truth, the Suns could still pass on him given the presence of Devin Booker but the value is too good to avoid in this mock scenario.
17. Utah Jazz – Troy Brown (SG/SF, Oregon)
Brown is super young and, if he could shoot, he'd be a lottery pick. On the bright side, the freshman's shooting stroke isn't broken and he is a tremendous athlete that should be able to defend multiple positions and return value in a number of ways.
18. Washington Wizards – Daniel Gafford (C, Arkansas)
It wouldn't be a surprise if a team in (or at least near) the lottery fell in love with Gafford. He is a big-time athlete with enough offensive skill to present as a lob option and the Wizards absolutely need a young, springy big man for the future.
19. Indiana Pacers – Keita Bates-Diop (PF/SF, Ohio State)
This is a common mock position for Bates-Diop because it makes a ton of sense. The Pacers need a player with his impressive, varied skill set and, frankly, the Ohio State veteran isn't a prospect with a super high ceiling. There is nothing wrong with a solid role player in the mid-to-late first round, though, and this pairing checks a lot of boxes.
20. Chicago Bulls (via New Orleans) – Mitchell Robinson (C, High School)
I'm ready for Robinson to skyrocket with a few impressive workouts. He's an utterly terrifying athlete with a ton of upside that will play well in an empty gym. Still, this pick materializes because the Bulls need a long-term running mate for Lauri Markkanen and Robinson is the best available fit to that end.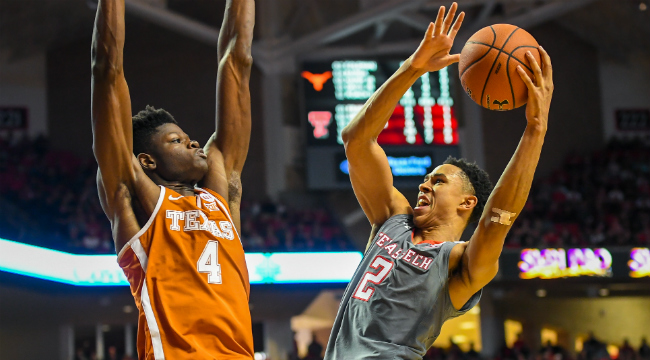 21. Philadelphia 76ers – Dzanan Musa (SF, Bosnia-Herzegovina)
The Sixers need spacing and Musa might be the best remaining shooter in the class outside of Grayson Allen. Philly's dynamics, especially surrounding Markelle Fultz, and spacing issues are odd but the best-case scenario for Musa would work swimmingly.
22. Atlanta Hawks (via Minnesota) – Zhaire Smith (SG/SF, Texas Tech)
Travis Schlenk and company hit a home run with Luka Doncic earlier in the draft and they'll try for another one with Smith. Doncic's appeal, at least to some degree, is in safety but Smith is a pure upside play. He may not even be in the draft until 2019 but his athleticism and defensive ceiling are staggering and the Hawks have three picks, providing cover for some risk.
23. San Antonio Spurs – Shake Milton (SG, SMU)
SMU wasn't especially good this season and that probably kept a lot of people from appreciating Milton's work. He's a career 43 percent three-point shooter over three seasons and Milton also brings a stout, 6'6 frame with ball-handling ability and the potential to impact a game defensively. It is easy to see how he would help a lot of NBA teams.
24. Minnesota Timberwolves (via Oklahoma City) – Melvin Frazier (SF, Tulane)
The Wolves have a few areas they could target but Frazier adds a 3-and-D option off the bench. Minnesota doesn't need more shot creation but, with Frazier, you get a pure role player prospect that should transition well (and potentially quickly) to the NBA game.
25. Los Angeles Lakers (via Cleveland) – Jontay Porter (C, Missouri)
The Lakers have a lot of young talent and Porter would bring them a pure center to grow with the rest of the bunch. The *other* Porter brother isn't a super athlete and he wasn't always dominant at Missouri. If you saw him in February and March, though, he looked like a top-20 guy and he is the last remaining first round big man in my view.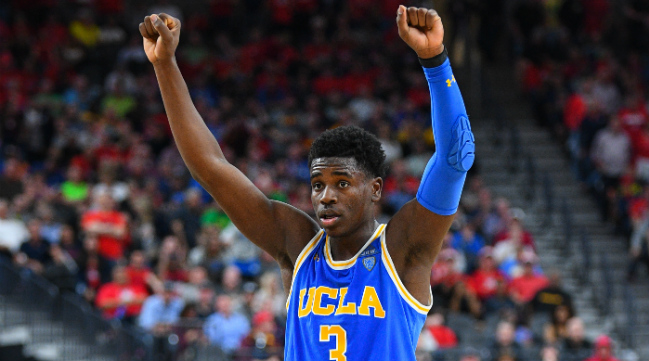 26. Portland Trail Blazers – Khyri Thomas (SG, Creighton)
Thomas is a defense-first guard on a team that probably needs one in support of two star-level offensive players. The statistical translations aren't especially kind to Thomas, largely because of his offensive question marks, but his tools are outstanding and his defensive ability brings a relatively high floor, even if it comes as a bench option.
27. Boston Celtics – De'Anthony Melton (PG/SG, USC)
The Celtics don't have a ton of theoretical holes but, if Marcus Smart walks in free agency, a defensive-minded, versatile backcourt player would help immensely. Melton isn't the only guy in this range that fits that bill (in fact, three straight players off the board here would do just that) but his offensive creativity would also fit well in Boston.
28. Golden State Warriors – Bruce Brown (SG/PG, Miami)
Brown was banged up at the end of the season and, as a result, he is almost operating in obscurity. It would be unwise to forget him, though, because the multi-faceted guard brings defensive acumen and basketball IQ to the table. It helps him profile as a third guard in the league, and seeing as how the Warriors already have two pretty good guards, this is a great fit.
29. Brooklyn Nets (via Toronto) – Anfernee Simons (SG, High School)
Simons is going to be in the draft and it would be at least a mild surprise if he didn't land in round one. Make no mistake, he's quite raw and needs a ton of physical development. With that said, the Nets need to shoot for upside at some point and he brings it with athleticism and offensive potential.
30. Atlanta Hawks (via Houston) – Aaron Holiday (PG, UCLA)
There are a few point guard options here, including West Virginia's Jevon Carter, Kansas's Devonte Graham and Villanova's Jalen Brunson, but Holiday has the most upside of anyone in that group. The Hawks could also go the draft-and-stash route given how many young guys could be on this roster (and the presence of another top-35 pick with the team's own second-round selection) but Holiday projects as a strong NBA backup, which is worthy of late first-round investment.