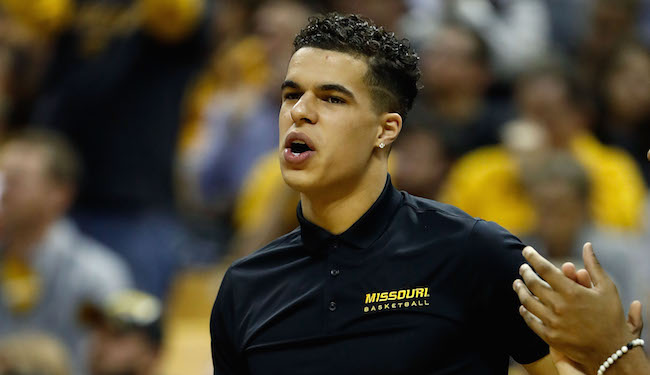 Before arriving at Missouri, Michael Porter Jr. may not have been the consensus No. 1 overall pick in the 2018 NBA Draft, but the 6'10 forward was on the very short list of options. Unfortunately, the talented freshman saw his season cut short by back surgery and, while there is still the possibility of a return this season, NBA teams may be forced to evaluate Porter Jr. for draft purposes without seeing him for meaningful minutes on a college basketball court.
That, of course, does not prohibit NBA teams from taking a player like Porter Jr., especially given the amount of exposure he had prior to college. Some top-tier prospects need college to showcase themselves on a national stage but, for Porter Jr., there was plenty of opportunity for that as a high school player and his consensus top-five prospect rating emerged from a considerable amount of evaluation.
Even so, Porter Jr.'s back injury could pose evaluation questions in that his medical reports will be crucial to teams as they look at where to put him on their big board. At 6'10 with the ability to function as a legitimate wing threat, Porter Jr. is the rare combination of a player with the ability to create for himself and others offensively while posing real length and athleticism to operate as a deterrent defensively. His health, though, could keep NBA teams away, especially given the fact that the 2018 class boasts strong depth at the top, including a battle for No. 1 overall status between Luka Doncic, DeAndre Ayton, Marvin Bagley III and others.
Porter Jr. may have clean medicals by the time the draft process arrives and, if that happens and teams are pleased with what they can evaluate, his absence from the college ranks fades into oblivion in favor of his immense talent. If that does not happen flawlessly, though, there is a risk that Porter Jr. could fall a bit on draft boards and, even if he checks out in full, the potential of recurrence for back injuries isn't terribly inviting.
It is very difficult to project Michael Porter Jr. in a mock draft setting right now but, alas, we are forced to do just that. Where does he fall in this edition of our Dime Mock Draft? Let's find out.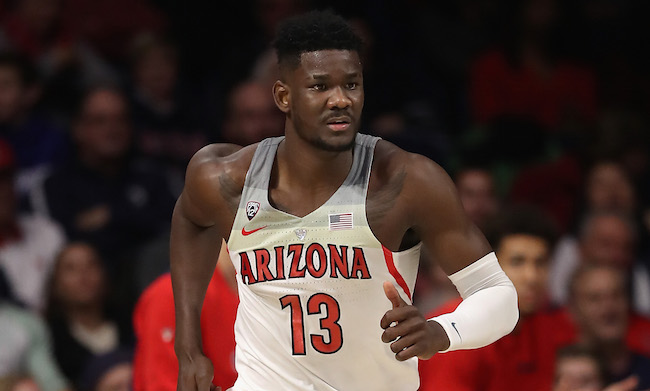 1. Phoenix Suns – DeAndre Ayton (C, Arizona)
At the moment, Ayton is not No. 1 on my draft board but it would be a tough sell for the Suns to avoid him. For starters, he is operating in Arizona for his college career and, beyond that, Phoenix's best young assets are on the wing with Devin Booker and Josh Jackson. Ayton is a worthy No. 1 pick in any draft, though, and he boasts the highest upside in the entire class.
2. Sacramento Kings – Luka Doncic (PG/SG/SF, Slovenia)
Doncic falls in Sacramento's lap and they should be thrilled, even if fans of the Slovenian wunderkind may be terrified to see him land with the Kings. It isn't a perfect fit in that the organization is heavily invested in De'Aaron Fox and, to a lesser extent, Buddy Hield and others on the wing, but Doncic is far and away the best player available and it would be madness if Sacramento passed in this spot.
3. Memphis Grizzlies – Marvin Bagley III (C/PF, Duke)
Bagley III is a weird prospect, even before considering his current knee issue. He is insanely productive and will likely be so at the NBA level, simply because his motor runs hot, he is skilled around the rim and is a fantastic athlete. Still, he's probably best as a center and, on the defensive end, things have been a mess this year. Place him with Marc Gasol as a tutor and things could work beautifully, but this is far from a comfortable No. 3 pick after the way the top two went.
4. Atlanta Hawks – Jaren Jackson Jr. (C/PF, Michigan State)
Jackson Jr. has skyrocketed on draft boards and it is very easy to see why. He is, by far, the most polished defensive prospect in this draft and his block rate is, frankly, preposterous. There are questions about the freshman big man's offensive upside but Jackson Jr. can already shoot from the perimeter and he fits the perfect mold as an elite (and highly valuable) role player.
5. Cleveland Cavaliers (via Brooklyn) – Trae Young (PG, Oklahoma)
While he still may be the frontrunner for National Player of the Year in college, Young's performance has cooled in recent days. He is not a lock for the top five but, with Cleveland on the board here, the fit makes sense for a team that doesn't have a long-term piece at the point guard position. It would be hard to see Young falling outside of the top seven or eight picks but there are real questions, particularly on the defensive end and with his athletic frame.

6. Chicago Bulls – Michael Porter Jr. (PF/SF, Missouri)
As noted above, Porter Jr. is a strange pivot point in this draft. If his back checks out, he is probably No. 3 on my board. If there are lingering questions, he could fall out of the top eight entirely. We'll split the difference and send him to a Chicago team that is going to need help at the forward spots and is in a position to take a chance on upside.
7. Orlando Magic – Collin Sexton (PG, Alabama)
Magic fans are all-in on Trae Young but they "settle" for a player that actually has a higher floor. Sexton's offensive upside can't touch Young's but he is a big-time competitor that will defend and bring playmaking to a situation that desperately needs it. He isn't a terribly sexy pick but Orlando has to find a point guard this summer after trading Elfrid Payton away and this fits.
8. Dallas Mavericks – Mo Bamba (C, Texas)
It seems wild that Bamba would fall this far and, in truth, he probably won't. Still, Dallas would be a strong beneficiary, pairing Dennis Smith Jr. (who also fell too far!) with a high-end rim protector and finisher in the modern game. With a strong close to his college season, Bamba could be in the top-three mix. He's that much of a talent.
9. New York Knicks – Miles Bridges (PF/SF, Michigan State)
Bridges has faded into the background with the emergence of the freshmen but the best sophomore in the country lands in the top 10 anyway. At some point, Kristaps Porzingis needs to play center and, even if not on a full-time basis, Bridges is a strong partner in that he can play both forward spots and provide a well-rounded skill set.
10. Philadelphia 76ers (via LA Lakers) – Mikal Bridges (SF, Villanova)
The Sixers already have Robert Covington but Bridges is the best wing available and, in today's NBA, teams simply can't have too many quality 3-and-D options. Philadelphia doesn't need on-ball talent with Joel Embiid, Ben Simmons and Markelle Fultz so they snatch a high-end role player type that fits beautifully from day one.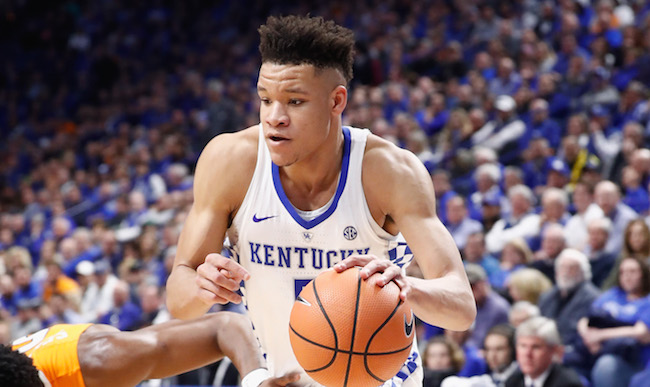 11. Charlotte Hornets – Kevin Knox (PF/SF, Kentucky)
Michael Jordan loves players from major programs and, even if Knox fits a one-and-done profile that the Hornets don't typically target, he makes sense. Mikal Bridges has been a popular mock target here but, with him off the board, Knox brings the ability to play both forward positions and he has flashed considerable upside at times this season in Lexington.
12. Phoenix Suns (via Miami) – Shai Gilgeous-Alexander (PG/SG, Kentucky)
This is a brutal spot for the Suns. Gilgeous-Alexander probably shouldn't be going in the lottery but, with Ayton on board at center, there isn't a definitive position of "need" outside of the point guard spot. Beyond that, Collin Sexton isn't available in this theoretical and, after that, the point guard spot is rather brutal for a while. With Gilgeous-Alexander, Phoenix adds a versatile contributor but it would be nicer if this pick came in the 17-19 range.
13. Los Angeles Clippers – Wendell Carter (C, Duke)
DeAndre Jordan may return but, even if he does, the Clippers need their next guy at the center spot relatively soon and Carter is the best player left on the board, regardless of position. He isn't at all flashy but Carter has drawn Al Horford comparisons for his well-rounded, solid game and he profiles as a long-term starter with some upside above that. That is a snug fit at the end of the lottery and with Bagley out recently he's had a chance to shine in Durham.
14. Los Angeles Clippers (via Detroit) – Troy Brown (SF, Oregon)
Neither Brown, nor Carter brings any level of "sexiness" to the proceedings but both are worthy selections. Most people seem to have Lonnie Walker ahead of Brown but, for the Clippers, adding another offense-first combo guard would be tricky given investments in Lou Williams and Austin Rivers. Brown is a defense-first prospect with real length (6'11 wingspan) and, if he can knock down threes in the future, the sky is the limit.
15. Chicago Bulls (via New Orleans) – Lonnie Walker (SG, Miami)
If I'm being honest, I still like Bruce Brown better among Miami's backcourt duo but Brown is older, has been banged up and has a lower ceiling. Walker has (finally) come on down the stretch of the college season and his talent is real, with a 6'10 wingspan, shot creation aptitude and the ability to catch and shoot.

16. Portland Trail Blazers – Daniel Gafford (C, Arkansas)
It would be weird for Portland to invest in another center after taking Zach Collins in the 2017 lottery but Gafford is my highest-rated prospect remaining and, somehow, this is still a position of need if Jusuf Nurkic flees. Collins hasn't been great as a rookie and Gafford is a much different player. In addition, the Blazers have so much money invested on the perimeter (and even in combo forwards) that there aren't many places to go with this pick.
17. Utah Jazz – Chandler Hutchison (SG/SF, Boise State)
Utah's player development is tremendous and, if the franchise can turn Hutchison into a shooter, he becomes terrifying. Even if that doesn't fully happen, there is plenty of skill to turn this into a value selection in the middle portion of the first round and the Jazz could certainly use another versatile, talented wing.
18. Denver Nuggets – Keita Bates-Diop (SF/PF, Ohio State)
This feels high for Bates-Diop but he has played extremely well this season and has justified solid entry into the first round. Denver has so much money invested in the frontcourt (without even considering Nikola Jokic's pending financials) that going there seems unwise and the backcourt remains quite crowded. The Nuggets do need help at the small forward spot, though, and Bates-Diop has shown the aptitude to defend, rebound and shoot. He's a role player in the NBA but Denver needs one.
19. Indiana Pacers – Dzanan Musa (SF, Bosnia-Herzegovina)
Musa is the consensus No. 2 international prospect but, as you can see, he is nowhere near Doncic's level. Still, there is plenty to be excited about and the Pacers add a wing threat that can really put the ball in the basket. He isn't my top player remaining but, with Indiana having a few young options at center already, Musa makes sense.
20. Milwaukee Bucks – Robert Williams (C/PF, Texas A&M)
Unlike Miles Bridges, it doesn't appear that Williams' decision to come back for a sophomore season will include a lottery landing spot at the end of the process. Still, this is too low for the bouncy center and Milwaukee (somehow) still doesn't have a locked-in plan for this particular position.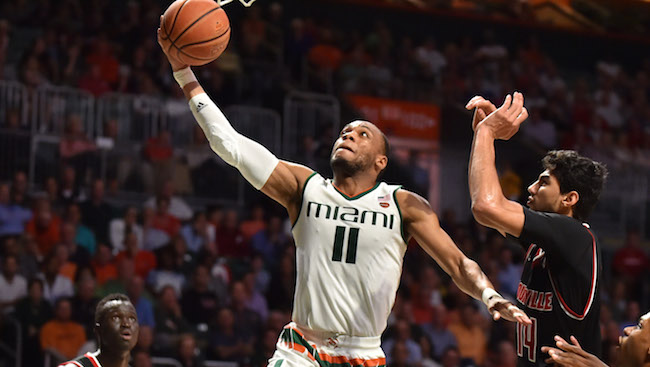 21. Philadelphia 76ers – Bruce Brown (SG, Miami)
Brown isn't a perfect fit in Philly because of his shooting concerns but his jumper isn't broken. More than that, he defends, slashes and doesn't need the ball to be successful. He's also my best player available here.
22. Washington Wizards – Mitchell Robinson (C, High School)
Center isn't the biggest need for Washington yet but Marcin Gortat is only under contract for one more season and Ian Mahinmi is, well, Ian Mahinmi. Robinson has the highest upside remaining on the board and, even if there are a ton of questions, taking a gamble at this stage in the draft isn't the worst idea. For safety, the Wizards could tab any number of guards to add to their rotation.
23. Minnesota Timberwolves (via Oklahoma City) – Khyri Thomas (SG, Creighton)
The Wolves are (very) weird to consider in a draft sense and that is due to the strange roster Tom Thibodeau has constructed. In the end, we land on Thomas, who would appeal to Thibs because of his defensive tools. He is 6'3 with a 6'10 wingspan and would be a nice addition defensively alongside the available perimeter options already in Minnesota. It isn't a perfect fit but it would be easy to see Thibs getting worked up about his profile.
24. Atlanta Hawks (via Minnesota) – Shake Milton (SG/PG, SMU)
Milton would seemingly be a snug fit in Atlanta, especially with Jaren Jackson Jr. as the team's first pick in this scenario. He has great size at 6'6 and can adequately play both backcourt spots with the ability to stretch the floor as a shooter. Everything could change in Atlanta's backcourt but the beauty of Milton is his versatility.
25. San Antonio Spurs – De'Anthony Melton (PG/SG, USC)
Melton is officially in the draft after withdrawing from USC and he is a very Spurs-y prospect. There isn't much flash to him as a prospect but versatile backcourt pieces make sense in San Antonio and he could form a strong future pairing with Dejounte Murray and/or Derrick White.

26. Los Angeles Lakers (via Cleveland) – Anfernee Simons (PG/SG, High School)
This is a pure speculation play but, based on what we know about Simons, he would be a strong theoretical fit with Lonzo Ball. It will take quite a bit of time to reach that kind of oasis but the Lakers can utilize the G League in this case and, if he declares, there is a consensus building that Simons will land somewhere in the first round.
27. Boston Celtics – Trevon Duval (PG, Duke)
Duval isn't a perfect fit in Boston given the presence of Kyrie Irving and even Terry Rozier but, if and when Marcus Smart leaves, the Celtics will need another guard. More than anything, this is a value play on a freshman that has seen his stock tumble but I just can't imagine Duval falling out of the first round.
28. Brooklyn Nets (via Toronto) – Melvin Frazier (SF/SG, Tulane)
The Nets keep adding solid, unspectacular pieces at the end of the first round and this is another one. Frazier is a big-time prospect as a 3-and-D option and he continues to fly under the radar given that Tulane is where he currently plays.
29. Atlanta Hawks (via Houston) – Landry Shamet (PG/SG, Wichita State)
Shamet and Shake Milton (who landed with ATL earlier) would be a fun pairing and this absolutely feels like a Hawks pick. He can really shoot and pass, with enough ball-handling to operate an offense as the primary facilitator when needed.
30. Golden State Warriors – Jontay Porter (C, Missouri)
Porter is (far) less famous than his older brother, Michael, but he has been tremendous in a lead role for Missouri this season. There are concerns about his ultimate upside but, as an offensive prospect, there is a lot to like and the Warriors have the benefit of simply taking the best player available. It's nice to be the best team in the league.