A recent thread on r/nba suggested that JaVale McGee could be a sleeper for the NBA's Most Improved Player award, quipping that the Golden State Warriors' newest big man can come off the bench and average 12 points, 12 rebounds and three assists. Rubbish. McGee played spot minutes with the Mavericks for a reason last year, even losing out on playing time to rookie Salah Mejri. If basketball's favorite space cadet does indeed make the final roster with Golden State, he'll likely serve as a situational big man and an insurance policy should the Warriors suffer any injuries up front. Considering the juggernaut general manager Bob Myers put together this summer, it's incredibly unlikely that McGee will have the opportunity to contribute in ways that show clear improvement.
There are a few guys, however, who have a real shot at the award. Below are three young players who are coming off generally good seasons, but are primed to follow them up with huge improvements because of increased roles, changes in team culture, better injury luck, or an increased reliance on their skill set to contribute to wins. C.J. McCollum won the award in 2015-16 after being inserted into Portland's starting lineup and exploding box scores all season long. If we had to guess, one of these three players will follow McCollum's footsteps and become a star for his respective team — and earn some much-deserved hardware in the process.
Devin Booker (13.8 PPG 2.5 RPG 2.6 APG 34.3 3PT%)
Only five players in NBA history had reached the 1,000-point mark as a teenager until the end of the 2015-16 season, when Devin Booker joined Kobe Bryant, Dwight Howard, Carmelo Anthony, LeBron James and Kevin Durant at 19 years old. Booker recorded six 30-plus point games last season even after struggling to find his way on the floor until January. And while he wasn't exactly an efficient scorer in his rookie season, the Kentucky product — who shot a scorching 54.1 percent from three-point range before the New Year and just 31.3 percent afterward — still found a way to get buckets in his rookie season via a much more diverse offensive game than pre-draft reports suggested.
Booker's strength comes from his prowess stopping on a dime and shooting off the dribble. His ability to handle the ball and freeze defenders allows him to get to the rim at will, and his strength allows him to finish through contact. This season, Booker will start the year as the Suns' full-time starter at shooting guard. With more reps, those shooting numbers should see significant jumps, and his per game numbers should look closer to his per-36 minute numbers from last season: 17.9 points, 3.2 rebounds, and 3.4 assists. Booker has all of the tools to become one of the NBA's better young off-guards, and save for any sophomore slump, is in prime position to capture the NBA's Most Improved Player award.

D'Angelo Russell (13.2 PPG 3.4 RPG 3.3 APG 35.1 3PT%)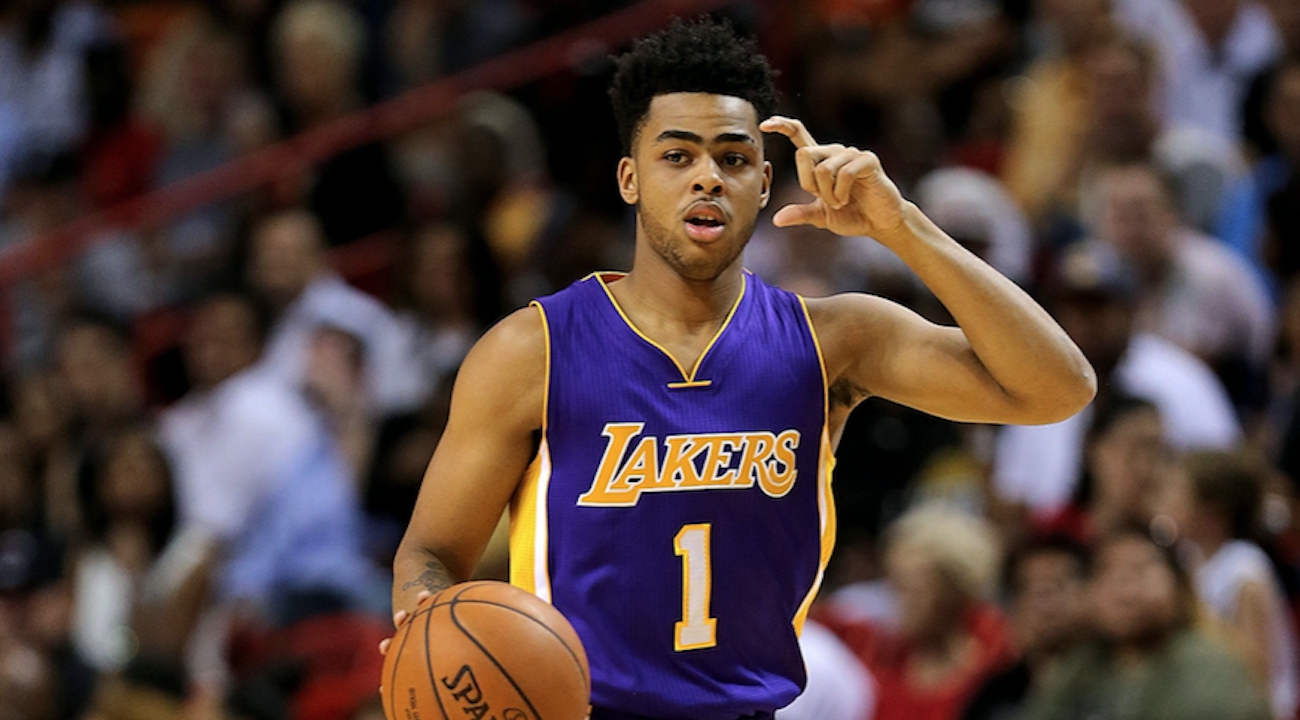 What a strange rookie season for D'Angelo Russell. The young point guard wasn't just caught in the middle of a strange cultural tug-of-war between the past and the present, he was the rope itself and almost torn apart because the Lakers couldn't quite figure out how to manage the fabric of time. Even with an all-time great like Kobe Bryant literally playing on his last leg, tomorrow is always more important than yesterday when building an NBA team. Nostalgia doesn't help much in the win column, but head coach Byron Scott opted to give the city one last season to reminisce, which sent Russell to the bench for 32 games.
Despite the Nick Young fiasco and underlying tension with Scott, Russell began maturing over the last 20 games of the season into a point guard leading a team instead of a point guard being led by cultural expectations. This summer, without the deadweight of Scott or Bryant, Russell had a phenomenal showing at the Las Vegas Summer League averaging 22 points, six rebounds and four assists per game while shooting 40 percent from three. With Luke Walton walking the sidelines for the Lakers this year, Russell will have more freedom to explore the floor to create offense for himself and the other four guys on the floor. The Lakers are going to lose a ton of games this year, but Russell will make those losses as fun to watch as they can be for his team's legion of fans across the globe.
Rudy Gobert (9.1 PPG, 11.0 RPG, 1.5 APG, 2.2 BPG)
Utah's identity this season will have as much to do with Rudy Golbert as it does with Gordon Hayward. For everything leading many to believe that the Jazz will make a huge jump this year — and there is quite a bit — Gobert's existence should lead and finish all of those conversations. Hayward is the team's unquestioned leader, Derrick Favors continues to improve as a leader and basketball player, while Quin Snyder has a wealth of depth at his disposal on both the perimeter and interior. But it's Gobert who has the most potential to make this team great.
Preventing buckets is more important than producing them, and Gobert may be the best defender in the NBA. Kawhi Leonard deserved both of his Defensive Player of the Year awards, but that hardware should be Gobert's to lose for the next half decade. Everything Utah does on that end is designed to funnel the ball toward Gobert. He's excellent at staying in front of guards when placed in pick-and-roll situations and even better at recovering back to his man after the ball moves. Gobert is a professional cleaner of messes, and Utah doesn't make a lot of them while the 7-foot-2 Frenchman is on the floor. He still has a ways to go offensively, but even a minor jump on that end could see him in every conversation about the league's most improved players given his peerless defensive influence.