We won't waste a lot of digital ink charting out the Byzantine complexity involved in trying to quantify a given player's value to his team, or revisiting the old familiar arguments about which major factors should weigh more heavily than others when it comes to awarding the league's most prestigious individual accolade, i.e. the NBA MVP trophy. It's well-trodden territory. Suffice it to say that a number of criteria come into play, such as available statistical data (both basic and advanced), team success, recent play, strength of schedule, that rather nebulous quality we like to call "leadership," clutch play, defense, hustle, overall basketball IQ, championship contender status, toughness, entertainment factor/GIFability, a healthy amount of subjectivity and/or confirmation bias on our part, "what have you done for me lately," and much, much more.
So, here are our top three MVP candidates through Dec. 20. We've whittled the list to three instead of five so that we're only discussing the very cream of the crop and because this is a bi-monthly column, so that we can focus more narrowly on what's happened in just the past two weeks. We'll still briefly discuss a handful of other players who just missed the cut, but deserve a shout-out nonetheless.
1. Steph Curry
So, the Warriors finally saw their historic win streak come to an end against the Milwaukee Bucks. But that loss came on the second night of a back-to-back, of which the previous game was a grueling double-overtime win over the Celtics. They had a couple of days off after that, so how did they respond? By absolutely trouncing the Phoenix Suns 128-103 last Wednesday. Then, they proceeded to exact revenge on the Bucks the very next game (although Milwaukee once again gave them everything they could handle).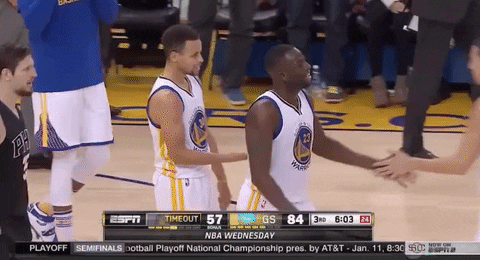 Steph Curry, the catalyst for the Golden State juggernaut, leads the league in scoring at 31.8 points per game, ranks third in steals, has the highest offensive rating (117.6) of anyone in the league, the second highest net rating behind only teammate Draymond Green, and the highest Player Impact Estimate (20.8). He's No. 1 in true shooting percentage (68.9) and fourth in effective field goal percentage (64.1), which is arguably the most impressive stat given that the rest of the top five players in that category are all centers who get the lion's share of their shots around the rim, whereas Curry probably takes the most shots farthest away from the rim. He also leads the league in points off of pull-up shots with 9.9 per game.
Curry and the Warriors' next big test will come on Christmas day when they host…