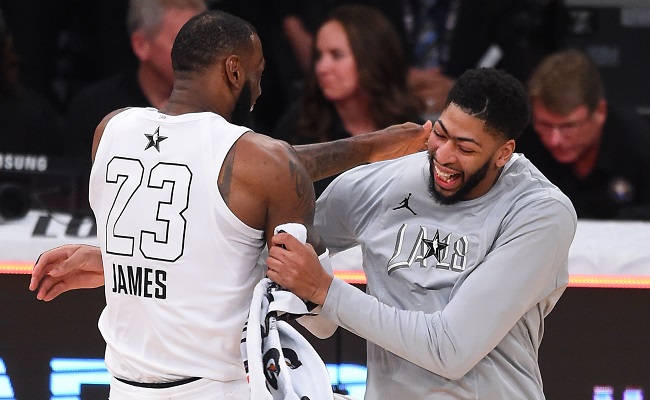 The Golden State Warriors are the betting favorites to claim the 2019 NBA Championship and that isn't a surprise to anyone. While there is a major challenge in winning four titles in five years, nearly everyone agrees that Golden State has the best roster in the league and the addition of DeMarcus Cousins can only bolster their already ridiculous assortment of stars.
However, neither Kevin Durant nor Stephen Curry were really involved in the NBA MVP discussion a season ago and, according to early betting odds released by Bovada.lv this week, the former MVPs aren't expected to lead the way for the 2018-19 campaign, either. In fact, LeBron James is seen as the overall favorite (10-3 odds) to claim the league's top individual award, with Anthony Davis (4-1), Giannis Antetokounmpo (9-2) and James Harden (11-2) rounding out the top four.
Last season was the year of Harden, as the Rockets rolled to the NBA's best record and his individual performance was rewarded with MVP honors. It isn't a "slap in the face" to see the reigning champion in the No. 4 position early on, particularly due to potential voter fatigue, but Harden is substantially ahead of Durant (9-1), Kawhi Leonard (11-1), Russell Westbrook (14-1) and Curry (15-1) in the second tier from an odds perspective.

In many ways, it is obvious to see why James would be at the top of the heap, simply because he is the best player in the world. There will almost certainly be challenges in his new situation with the Lakers but, with that said, James will be credited if Los Angeles enjoys big-time success in his first season and, given that he played 82 games a season ago in Cleveland, availability may not be an issue.
Davis and Antetokounmpo have already been popular picks in some NBA circles, with both players possessing out-of-this-world upside and prime opportunities. New Orleans will go as Davis goes and, if the former No. 1 overall pick can play the lion's share of 82 games, his statistical profile will be MVP-worthy if the Pelicans can produce in the neighborhood of 50 victories. As for Antetokounmpo, the Bucks have high expectations with the arrival of head coach Mike Budenholzer and there is no question as to who the centerpiece of that operation is at this juncture.
In terms of long-shots, Leonard is highly intriguing, as he was a consensus top-five player in the league before missing the vast majority of last season with injury. There is no certainty with regard to his health but, if Leonard is back to his old form, there should be plenty of opportunity to snatch attention while leading one of the best teams in the league, even if that occurs north of the border.
Finally, the Boston Celtics are seen by many as the Eastern Conference favorites and the best MVP odds on that particular squad sit with Kyrie Irving. It would be surprising if any member of this (very) deep squad rose to the level of legitimate MVP consideration but, if such a player exists, it is probably Irving with his offensive wizardry and high-profile persona.

The full odds for the award (per Bovada.lv) can be found below and, as always, these are "for entertainment purposes only" unless, well, you're allowed to fire on them.
LeBron James 10/3
Anthony Davis 4/1
Giannis Antetokounmpo 9/2
James Harden 11/2
Kevin Durant 9/1
Kawhi Leonard 11/1
Russell Westbrook 14/1
Stephen Curry 15/1
Joel Embiid 16/1
Kyrie Irving 16/1
Ben Simmons 35/1
Damian Lillard 45/1
Karl-Anthony Towns 50/1
DeMar DeRozan 80/1
John Wall 80/1
Donovan Mitchell 85/1
Jimmy Butler 100/1
Nikola Jokic 100/1
Victor Oladipo 100/1
Chris Paul 100/1
LaMarcus Aldridge 125/1
Paul George 125/1
DeMarcus Cousins 150/1
Gordon Hayward 150/1
Jayson Tatum 175/1
Blake Griffin 225/1
Devin Booker 275/1
Kristaps Porzingis 275/1
Kyle Lowry 325/1
Lonzo Ball 450/1