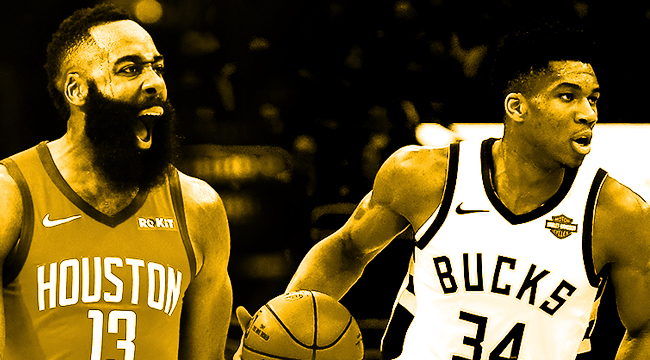 As we approach the midway mark of the regular season, it's time to take inventory of the players who have wowed and amazed us, and in the process put their teams in position to contend for a championship (at least theoretically speaking, in some cases).
Yes, it's time for our MVP Watch now that we have a reasonable sample size for the top players in the league this season. You'll see some of the usual suspects here, but there are also some newcomers in the mix who have taken their game to next echelon and/or led their team to surprising success.
With the All-Star break and trade deadline fast approaching, the NBA is at its wildest and most unpredictable. In other words, it's insanely fun right now, and these are the performers who have transfixed us with their preternatural talents, who have distinguished themselves among the league elite, and who we quite simply cannot tear our eyes from.

6. Nikola Jokic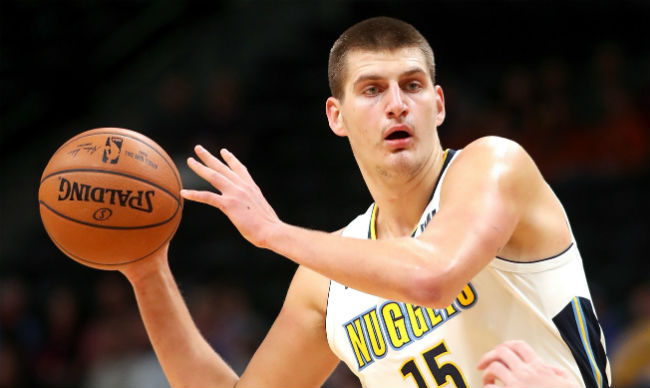 Stats: 19.7 points, 10.1 rebounds, 7.5 assists, 50.6 FG%, 32.2 3PT%
It certainly feels like the Joker should be higher on this list, given the Nuggets' surprising reign atop the Western Conference standings during the first half of the season. For everything Denver does, Jokic is the catalyst. His superb court vision allows them to run their offense through him, and he's versatile enough to grind it out in the post and just proficient enough to keep defenders honest out beyond the three-point line.
The real test for Denver will come after the All-Star break in the season's stretch run, when teams like the Warriors and Thunder turn on the jets and start vying for home court advantage in the playoffs. It's an enviable position for a relative upstart like the Nuggets, and Jokic will have to keep up his MVP-like play for them to get there.
5. Paul George
Stats: 26.6 points, 8.1 rebounds, 3.9 assists, 44.2 FG%, 38.4 3PT%
The Oklahoma City Thunder have been quietly going about their business this season, racking up wins and in the process removing any lingering doubt that Paul George and Russell Westbrook can not only coexist, but thrive. Credit Russ for taking a step back and allowing PG to shine, but we're also probably witnessing George at the absolutely apex of his career.
Never has he seemed more relaxed, more in control, more confident than he has through the first half of this season as he's posting career highs across the board. He's second in the league in steals behind only Russ, as together with Steven Adams they've anchored the league's best defense. They'll be chasing the No. 2 seed in the West in the second half of the season, and it'll be George who leads them there if they do, which is a strange statement indeed for a team that also features Westbrook.
4. Steph Curry
Stats: 29.5 points, 5.2 rebounds, 5.5 assists, 49.1 FG%, 45.6 3PT%
It's become alarmingly easy to take Steph Curry for granted the past few seasons since Kevin Durant joined the mix. We sometimes briefly forget that, for all practical purposes, he makes everything the Warriors do possible. Fortunately, he likes to remind us of that fact from time to time and put on one of his signature scoring displays that has earned him the title of greatest shooter of all-time.
Golden State has a notorious reputation for succumbing to regular-season malaise, but they've come alive in recent weeks with a five-game win streak (and seven of their last 10), which included a 48-point outburst from Curry against the Mavs during which he made 11 three-pointers. He followed that up by draining eight threes in the win over Denver on Tuesday that vaulted them into the top seed in the West, and another nine threes against the Pelicans on Wednesday.

3. Kawhi Leonard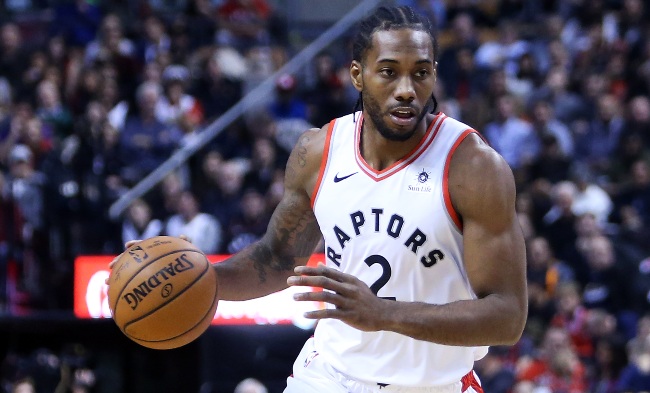 Stats: 27.5 points, 8 rebounds, 3.2 assists, 50.3 FG%, 37.3 3PT%
From the start, Kawhi quelled the absurd notions that he was little more than a product of San Antonio's system, or that the somewhat mysterious injury that cost him most of last season might hamper his play. Instead, he's been outstanding, and the Raptors have been at or near the top of the East all season.
At his apex, Kawhi is arguably the best two-way player in the league, and his arrival in Toronto instantly transformed an already very good team into a legitimate championship contender. If they stay in that position, he'll garner plenty of MVP consideration.
2. Giannis Antetokounmpo
Stats: 26.7 points, 12.6 rebounds, 5.9 assists, 57.9 FG%, 17.2 3PT%
Giannis is already pretty much impossible to guard. With his length, his strength, his ability to cover so much territory and get to the basket at will, he's an enigma for his opponents. And yes, all this without a reliable jump shot in his repertoire. The Bucks have won eight of their last 10 and are just a game and a half out of the top spot in the East, a position they've held intermittently all season. If Giannis can help Milwaukee secure the No. 1 seed by the end of the season, it'd be hard to give the award to anyone else, deserving as they may be.

1. James Harden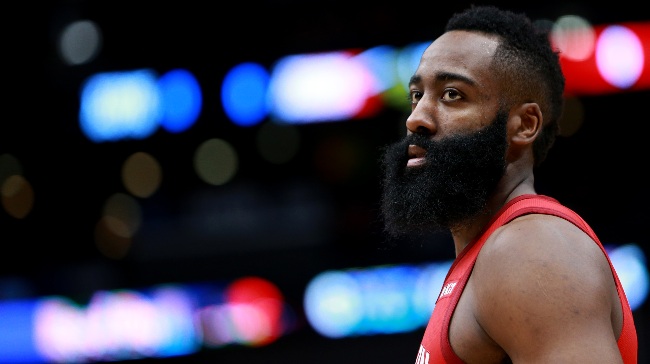 Stats: 34.8 points, 6.3 rebounds, 8.6 assists, 43.7 FG%, 37.9 3PT%
Harden has been steamrolling everything in his path for more than a month now, and it's not hyperbole to say that he's almost single-handedly saved the Rockets' season. He's scored 30 or more points in 18 straight games, including back-to-back games with 57 and 58 points against the Grizzlies and the Nets. Weirdly enough, that was preceded by a game in which he went 1-of-17 from three yet still almost managed a triple-double with 38 points, 12 assists, and nine rebounds in a loss to the Magic last weekend.
The road ahead is dotted with obstacles for Harden and the Rockets. With Chris Paul and Eric Gordon set to return, they'll have to figure out a way to re-integrate their other top perimeter scorers into the mix with Harden playing the way he has been, while losing Clint Capela for 4-6 weeks with a thumb injury. Much of Harden's candidacy will hinge on whether Houston can maintain their momentum in the second half of the season and finish with one of the top seeds in the loaded West.
Honorable Mentions: LeBron James, Joel Embiid, Anthony Davis, Kevin Durant, Damian Lillard.