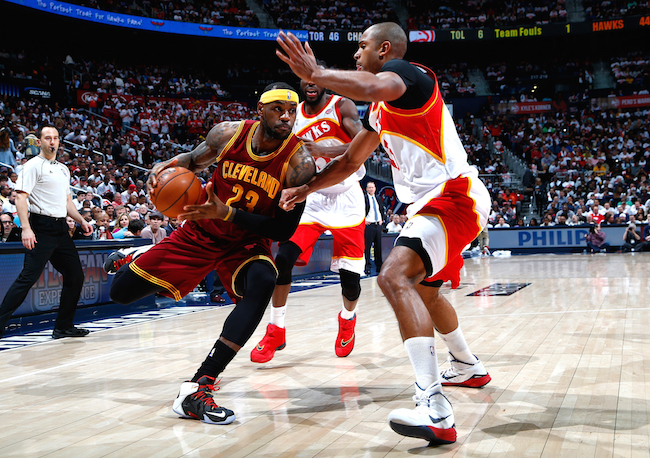 The doldrums of March and early April have passed, and the playoffs are merely five days away. Despite over five months and 80 games of competition, though, the field is far from set – and championship implications loom as a result of the regular season's last three days.
Here's every postseason berth and seeding scenario you need to know before the fun finally begins on Saturday.
EASTERN CONFERENCE
1. Atlanta Hawks (60-20): Drama surrounding the East's top seed should be nonexistent – they clinched home court advantage until the NBA Finals late last month. But the season-ending injury suffered by Thabo Sefolosha during his suspicious arrest complicates matters for the Hawks, especially in potential matchups against the Cleveland Cavaliers and Chicago Bulls. Can Kent Bazemore step up as the team's bench stopper?
*Remaining Games: versus New York Knicks, at Chicago Bulls
2. Cleveland Cavaliers (51-29): Remember early January? When LeBron James was resting nagging knee and back pain and the Cavaliers were in the midst of losing nine of their last 10 games? Us neither. Last Wednesday's win over the Milwaukee Bucks gave Cleveland the Central Division crown and 2-seed in the East. Fully healthy and resting players, the only question now is how this newly constructed team will react to intensity of the postseason. With James in tow, we're thinking they'll be just fine.
*Remaining Games: versus Detroit Pistons, versus Washington Wizards
3-5. Toronto Raptors (48-32), Chicago Bulls (48-32), Washington Wizards (46-34): This is where things become mildly interesting in the East, mostly for reasons concerning Toronto and Chicago: Will either team tank its last two games to avoid playing Cleveland in the second round? We're not sure how prudent a strategy that is in the first place considering Atlanta's excellence.
The Raptors already have home court in the first round clinched, and the Bulls can do so with a win in one of their last two games. The Wizards have to win out and hope for a Chicago loss to gain home court, a possibility that seems unlikely given the remaining competition of each squad.
*Toronto Remaining Games:at Boston Celtics, at Charlotte Hornets; Chicago Remaining Games: at Brooklyn Nets, at Atlanta Hawks; Washington Remaining Games: at Indiana Pacers, at Cleveland Cavaliers
6. Milwaukee Bucks (40-40): Once considered a sexy pick to upset a higher seed in the first round, the Bucks' post All-Star slump has reduced them to an afterthought similar to those of the teams battling for position below them. Why? Jason Kidd's team has slumped defensively and struggled to adjust on the other end since replacing Brandon Knight with Michael Carter-Williams. A potential matchup with Toronto is intriguing, though, and could give Milwaukee a chance to live up to its early season success.
*Remaining Games: at Philadelphia 76ers, versus Boston Celtics
7, 8. Boston Celtics (38-42), Brooklyn Nets (37-43), Indiana Pacers (37-43), Miami Heat (35-45): Go ahead and count the Heat out here. Two games back with two to play, they need to win out and watch the Nets and Pacers go 0-4 to make the playoffs. Sorry, South Beach – next year, health permitting.
By strength of two consecutive victories over Cleveland – one against David Blatt's "B" team – the Celtics need just a single win to clinch a playoff berth. Their reward for another victory and advancing to the postseason: A date with Cleveland! Enjoy that, Brad Stevens.
The 8-seed basically comes down to the Nets and Pacers, and the former seems most likely to grab it. Not only does Brooklyn hold a one-game lead over Indy, but possesses the tie-breaker, too. Unless Paul George and company win their last two contests and the Nets lose theirs, his comeback will be restricted to the regular season only.
*Boston Remaining Games: versus Toronto Raptors, at Milwaukee Bucks; Brooklyn Remaining Games: versus Chicago Bulls, versus Orlando Magic; Indiana Remaining Games: versus Washington Wizards, at Memphis Grizzlies; Miami Remaining Games: versus Orlando Magic, at Philadelphia 76ers
WESTERN CONFERENCE
1. Golden State Warriors (65-15): There's not much left to say about the Warriors' historically dominant regular season. They'll have home court advantage throughout the playoffs and could receive multiple individual awards for their efforts. But since we're here, a couple questions: Can Klay Thompson find his pre All-Star form? Will Steve Kerr decide on a permanent bench rotation or continue inserting players on a game-by-game basis? If Golden State isn't the championship favorite, it's certainly the second-most likely team to hoist the Larry O'Brien Trophy.
*Remaining Games: versus Memphis Grizzlies, versus Denver Nuggets
2-6. San Antonio Spurs (55-26), Los Angeles Clippers (54-26), Portland Trail Blazers (51-29), Memphis Grizzlies (54-26), Houston Rockets (54-26): And herein lies the real consequences surrounding the regular season's last three nights. First thing's first: Portland is locked into the 4-seed by virtue of winning the Northwest Division, but won't have home court advantage in the first round because its record will be worse than the 5-seed's.
Who emerges as the Blazers' opponent is still very much up in the air. The Southwest champion – decided among San Antonio, Memphis, and Houston – is guaranteed a top-3 seed, and the Spurs hold the tie-breaker should each club emerge with the same win-loss record. That holds true for the Clippers, too, because they failed to win the Pacific division.
Frankly, there are too many moving parts here for us to confidently grasp – Matt Moore of CBS Sports has laid out every scenario in as simple a means as possible, and it's still wrecking our brain. Just know that nothing is decided from 2-6 in the West save for Portland being the 4-seed without home court advantage. Each one of the other teams' last games matters and will prove hugely influential to the championship picture.
A few quick and easy schedule notes to remember, though: the Spurs have just one game left; the Grizzlies' finale comes against the Pacers, who will be fighting for their playoff lives; and the Clippers and Rockets face two lottery-bound teams.
Advantage? Definitely not the Grizzlies, especially considering their other contest comes in Oakland versus the Warriors tonight.
*San Antonio Remaining Games: at New Orleans Pelicans; Clippers Remaining Games: versus Denver Nuggets, at Phoenix Suns; Memphis Remaining Games: at Golden State Warriors, versus Indiana Pacers; Houston Remaining Games: at Charlotte Hornets, versus Utah Jazz; Portland Remaining Games: at Oklahoma City Thunder, at Dallas Mavericks
7. Dallas Mavericks (49-31): Ah, clarity! Unfortunately for the Mavericks, though, we're almost as sure that they'll lose to the 2-seed as we are that they're locked into seventh-place. This team just doesn't have the offensive punch it did before dealing for Rajon Rondo, and the consequential defensive improvements haven't been stark enough to make a huge difference. Questions of health and bench viability abound, too. It'd be foolish to count Dallas out entirely, though – Rick Carlisle is a master of matchups in the postseason. He'll just have to work even more magic than usual for his team to pull-off a first round upset. Dirk's improved shooting is a good sign they won't go quietly in the first round.
*Remaining Games: at Utah Jazz, versus Portland Trail Blazers
8. New Orleans Pelicans (43-37), Oklahoma City Thunder (43-37): It's much simpler here. New Orleans controls its own destiny because it won the season series against Oklahoma City. For all those who say regular season games don't matter, remember this wild Anthony Davis game-winner against the Thunder from February? If not for those heroics, Scott Brooks' team would hold the upper-hand instead of Monty Williams' with two games left to play. Basketball is always about makes and misses, folks.
But things aren't as bleak for Russell Westbrook and company as they appear. Schedules favor OKC over NOP, mostly because the latter's finale comes against the Spurs – who will be playing for seeding or home court. Oklahoma City, by contrast, meets the fourth-seeded Blazers tonight.
And considering the teams' other game is against the lowly Minnesota Timberwolves, it's safe to say the Thunder will go 2-0. Will the Pelicans? Stay tuned.
*New Orleans Remaining Games: at Minnesota Timberwolves, versus San Antonio Spurs; Oklahoma City Remaining Games: versus Portland Trail Blazers, at Minnesota Timberwolves