More than five weeks have passed since DeMarcus Cousins suffered an injury that abruptly ended his season, and when that injury occurred, the New Orleans Pelicans looked to be in deep trouble. New Orleans did amass a 27-21 record before the ailment, putting the team in strong playoff position, but in the absence of Cousins, there wasn't much in the way of optimism surrounding the Pelicans and a potential run to the postseason.
Since then, though, the team is 10-5, and at the moment, New Orleans owns an active eight-game winning streak that has thrust the team into the national consciousness. In some ways, the Pelicans probably haven't been quite as good as that 10-5 record would indicate, as evidenced by a modest plus-0.8 net rating. However, that jumps to plus-7.4 over the past eight games, and as you may expect, Davis' individual brilliance has been key to the rising tide.
Davis is averaging 32.6 points, 13.3 rebounds, 2.4 steals and 2.4 blocks per game since Cousins' injury, and during the team's winning streak, that jumps to an absurd 37.3 points, 14.8 rebounds, 2.9 steals and 2.8 blocks per game. Quite clearly, those are video game-worthy numbers from one of the best players in the NBA, but for all the doubt concerning a lack of top-end talent on this particular roster, it simply hasn't mattered given the work that Davis has done.
Of course, this is only a (very) small sample by which to judge the Pelicans, and in short, it does feel like a team that is playing over its collective head. Still, New Orleans now owns the fourth-best winning percentage in the Western Conference, and just a short time ago, that seemed almost unthinkable.
Where do the Pelicans land when compared to the rest of the NBA this week? Well, let's find out in our latest Dime Power Rankings.

1. Golden State Warriors (49-14, Last week — 1st)
Golden State's schedule this week (Knicks, Wizards, Hawks) didn't leave too much opportunity for them to impress, but at this point, the Warriors don't need to convince anyone of their absurdity. They won three road games. That's enough.
2. Houston Rockets (49-13, Last week — 2nd)

The Rockets just don't lose anymore, and there is temptation to send them to the No. 1 spot at some point. Houston's 15-game winning streak is wildly impressive, but of course, the Warriors have rattled off five straight in their own right, and the stars just haven't aligned… yet.
3. Toronto Raptors (45-17, Last week — 3rd)

Beating the Pistons, Magic and Hornets won't do much for the Raptors, but a road win in Washington felt important in some ways. It's also worth mentioning that Toronto continues to be head-and-shoulders better than the rest of the East from a standpoint of peripherals.
4. Boston Celtics (45-20, Last week — 4th)

The Celtics have won five of six, and the team's one loss came by three points on the road in Houston. That's not a bad run for a team with lofty aspirations.
5. New Orleans Pelicans (36-26, Last week — 7th)
I know this is too high. You know this is too high. Let's just agree to enjoy this one, and well, the rest of the contenders didn't do much to help themselves this week.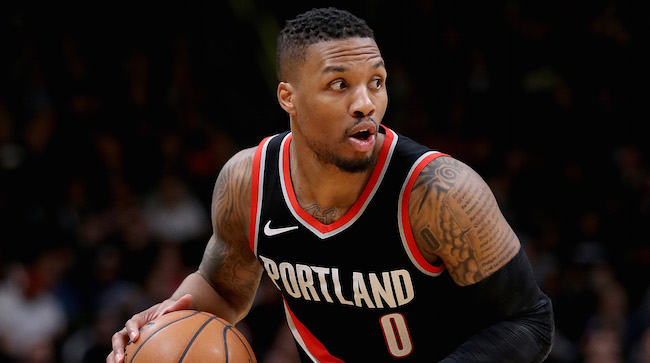 6. Portland Trail Blazers (38-26, Last week — 10th)

If not for the Rockets and Pelicans, the Blazers would be the positive story of the NBA right now. Damian Lillard led Portland to a close win in Los Angeles on Monday, and with that victory on the ledger, the Blazers have claimed seven straight wins. It seems odd that New Orleans is the No. 4 seed, but what if I told you that Portland was the No. 3 seed? The Western Conference playoff race is super weird right now.
7. Cleveland Cavaliers (37-26, Last week — 5th)
It isn't all sunshine and rainbows in Cleveland right now, as the team just went 2-3 over a five-game homestand. Wednesday's road game in Denver will be a nice test, but until then, the Cavs can take solace in Larry Nance Jr.'s explosion on Monday.
8. Indiana Pacers (37-27, Last week — 15th)

The Pacers just fired off three straight wins over playoff teams, including two over the Bucks. As of today, it is Indiana (not Washington, Milwaukee or Philly) that is No. 4 in the East, and that is just wild to consider.
9. Denver Nuggets (35-28, Last week — 14th)

We're giving Denver big-time credit for a road win in Cleveland, but more than anything, we're projecting a bit of an uptick from what we've seen from the Nuggets lately. They are scary good when things are cooking.
10. Utah Jazz (34-30, Last week — 11th)
Utah doesn't have the league's longest winning streak (or even close to it), but the Jazz have won 15 of 17 games. If they had been more impressive against the Kings and Magic this week, this would be even loftier.

11. Oklahoma City Thunder (37-28, Last week — 12th)

It hasn't always been pretty for the Thunder, but the team's last three losses have come to the Cavs, Warriors and Blazers. Oklahoma City has quietly taken care of business against the rest, and that's what matters for now.
12. San Antonio Spurs (37-27, Last week — 9th)

If anything, this ranking is kind to San Antonio and a team that was within a few minutes of a severe drop had things gone south against the Grizzlies on Monday. Frankly, the Spurs are now playing like their available roster indicates they should be playing, but that won't give Gregg Popovich any solace.
13. Minnesota Timberwolves (38-28, Last week — 6th)
We all knew that the Wolves wouldn't be the same without Jimmy Butler, and they don't look like it. With that said, Minnesota losing to the Blazers and Jazz doesn't tell the NBA world all that much, especially given that both games took place away from the Twin Cities.
14. Los Angeles Clippers (34-28, Last week — 17th)

Doc Rivers and company are making headway against a soft part of the schedule, but wins are currency right now, and they are picking them up on a regular basis.
15. Philadelphia 76ers (34-28, Last week — 13th)

The Sixers aren't scorching hot anymore, but the road win in Cleveland on Thursday made quite a point. Nobody in the East wants to see Philly in round one. That's for sure.
16. Washington Wizards (36-28, Last week — 8th)
Three straight home losses aren't great, even when they come to the Warriors, Raptors and Pacers. Throw in the weirdness without John Wall, and your guess is as good as mine when it comes to the Wizards.
17. Los Angeles Lakers (28-35, Last week — 19th)

Dame Lillard made sure the Lakers didn't extend their winning streak to six, but Los Angeles is still playing pretty well. The absence of Brandon Ingram (albeit for only a short time) isn't ideal for a team building positive mojo, but the Lakers are rounding into form.
18. Milwaukee Bucks (34-30, Last week — 16th)

Milwaukee has five losses in its last six games, but while that feels ugly, the one victory came over the Sixers in impressive fashion. It would, of course, be nice if the consistent results followed, but the Bucks have more upside than most in this range.
19. Miami Heat (34-30, Last week — 20th)
It's hard to buy the Heat sometimes, but in the same breath, they've won four of five games to provide stability. Just a few days ago, the playoffs didn't appear safe. Now? They really do.
20. Charlotte Hornets (28-36, Last week — 18th)

The Hornets have cooled off with three straight losses, though none of them were of the "bad" variety. In fact, Charlotte was supposed to fall short in all three, and there is every reason to believe that this is a better basketball team than the Pistons right now.

21. Detroit Pistons (29-35, Last week — 21st)

Detroit feels a lot closer to the bottom tier of the league than to teams bound for the playoffs. That may not be the case, but in losing six of seven games, hope for the immediate future clearly waned a bit.
22. Orlando Magic (20-43, Last week — 26th)
The Magic have beaten the Pistons and Grizzlies in recent days. The Kings have beaten the Knicks and Nets. Tiebreakers are weird this time of year.
23. Sacramento Kings (20-44, Last week — 25th)

We've reached March, and the Kings still have the second-worst net rating in the league. It's something to have overachieved and be sitting with a 20-44 record. Sacramento has pulled off that feat.
24. New York Knicks (24-40, Last week — 24th)

New York is obviously starting from a higher place than many teams in the bottom tier, but that also means that the Knicks have more room to fall. Losing 12 out of 13 games will do that, and at the moment, they might be even worse than this distinction.
25. Brooklyn Nets (20-44, Last week — 23rd)
Brooklyn's last victory came over Chicago, and the team's last three losses came by single-digits in highly competitive fashion. We're trying to be nice.

26. Chicago Bulls (21-42, Last week — 27th)

The Bulls scored 29 points in the first half on Monday evening. It's amazing they aren't in the bottom four, but as you'll see momentarily, there are reasons for that.
27. Dallas Mavericks (19-45, Last week — 22nd)
Every week, it seems impossible that the Mavs are this bad but here they land once more. Dallas has lost seven of eight to "earn" this distinction, and as noted above, the loss to Chicago really hurts.
28. Atlanta Hawks (20-44, Last week — 28th)
Atlanta's win over Phoenix on Sunday gives them the tiebreaker here, even if it came by one point at home. The Hawks did compete for 48 minutes against the Warriors, though, which should count for something.
29. Phoenix Suns (19-47, Last week — 30th)

The Suns own the second-worst winning percentage in the league, and they've certainly earned it. Phoenix even lost to a Kent Bazemore-less Hawks team on Sunday, and that was inexplicable in and of itself. If you're looking for a bright side, they do have some intriguing young talent, and not every team on this list can make that claim.
30. Memphis Grizzlies (18-45, Last week — 29th)

Don't look now but the Grizzlies are in the driver's seat when it comes to the lottery race. Memphis has dropped 14 games in a row, and despite some competitiveness against the Spurs on Monday evening, we simply can't ignore that level of ineptitude at this juncture.