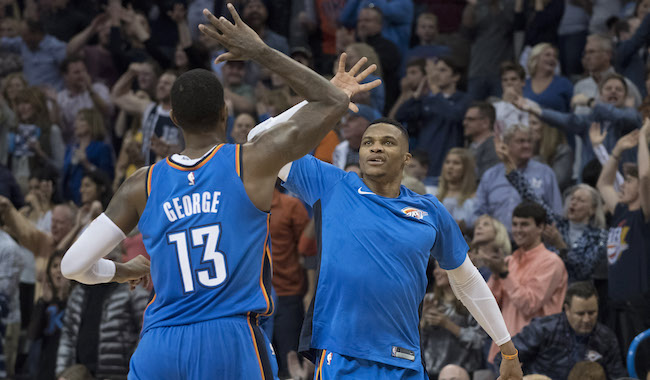 When the calendar flipped to December, the Oklahoma City Thunder were in peril. The team opened with a dismal 8-12 record that featured several excruciating, late-game losses and, while growing pains (of a reasonable nature) were expected for what amounted to a "brand new" team, the sky was falling in the minds of many around the NBA. From there, though, something happened along the way that made all the sense in the world.
The real Thunder arrived.
Since Dec. 1, Oklahoma City owns an 18-8 record that coincides with a +4.8 net rating and, when drilling down further, the net rating zooms to +8.2 in January as the team continues to round into form. Some of the uptick simply stems from the performance of Russell Westbrook, who suddenly resembles the MVP from a year ago, but it should also be noted that the team's upper-tier players all seem to be turning the corner in unison and, yes, that includes the play of rock-solid big man Steven Adams as the fourth member.
Are the Thunder going to realistically challenge the Warriors (or even the healthy Rockets) for a berth in the NBA Finals? Well, probably not. This is still a team with real depth issues that likely can't be solved without moves that would sap the team's future assets in a way that is less than desirable. Still, Oklahoma City now looks the part of the top-four team in the West that everyone expected and, in short, it took them a month or so to get started along the path they were always destined for in 2018.
How high have the Thunder already climbed in this week's Dime Power Rankings? Let's go to the tape.


1. Golden State Warriors (37-10, Last week — 1st)
For a fleeting moment, I considered knocking the Warriors out of the top spot on account of the loss to the Rockets. Then, I took a step back, reevaluated things and decided that, no, that wasn't enough.
2. Houston Rockets (33-12, Last week — 4th)

The Rockets have won three straight and six of seven, but the only game that "matters" is the win over Golden State. Houston is terrifying and, in a non-Warriors world, this would be the title favorite.
3. Toronto Raptors (31-14, Last week — 5th)

Toronto's most recent result was a close-fought road loss in Minnesota and, well, there is nothing wrong with that. Weirdly, though, the Raptors are now sitting in Atlanta for two full days and the team got to sit back, relax and watch the NBA world burn as a result.
4. Boston Celtics (34-13, Last week — 2nd)
A bit of trouble in Boston? We can't overreact based on the impressive nature of the season-wide results but the Celtics have dropped three in a row and each loss came at home against an inferior team. If this continues, there will be a more significant slide coming for them in this space.
5. Minnesota Timberwolves (31-18, Last week — 3rd)

Taking a loss to Orlando isn't ideal but the Wolves responded to adversity with impressive wins over the Raptors and Clippers. There is some weirdness with Jimmy Butler's knee but, provided he is healthy and ready to go in the near future, Minnesota is in great shape.

6. Oklahoma City Thunder (26-20, Last week — 9th)

With the weirdness surrounding Kawhi Leonard, the door is now open for the Thunder to chase down the Spurs (or even the Wolves) for a top-four seed. That would be quite significant if they could earn themselves home court in the first round.
7. San Antonio Spurs (30-18, Last week — 7th)
As noted above, the Kawhi situation is bizarre and that is looming over the season right now. In the same breath, the Spurs simply don't bottom out and, until they do, they'll be hanging around here.
8. New Orleans Pelicans (25-21, Last week — 13th)

It would be easy to punish New Orleans for a weird loss to the Hawks last week but, when that's the only blemish over a six-game sample, it is (much) more forgivable. The Pelicans are playing high-level basketball and Boogie Cousins' performance on Monday evening was a memorable one. They deserve a bit more love and with every win ahead of the deadline the Boogie trade rumors grow quieter.
9. Miami Heat (27-20, Last week — 8th)

Miami's wild winning streak seems to be over as the team's most recent result was a loss. Still, that defeat came on the road in Houston and that isn't one to get worked up over at this stage. Even if this is a .500 team moving forward, that hot streak was likely enough to propel them to a solid seed in the East.
10. Indiana Pacers (25-22, Last week — 12th)
The Pacers just continue to be solid. A road win in San Antonio is the latest example and, with every passing day, it doesn't feel like a fluke in the slightest that Indiana is a playoff contender.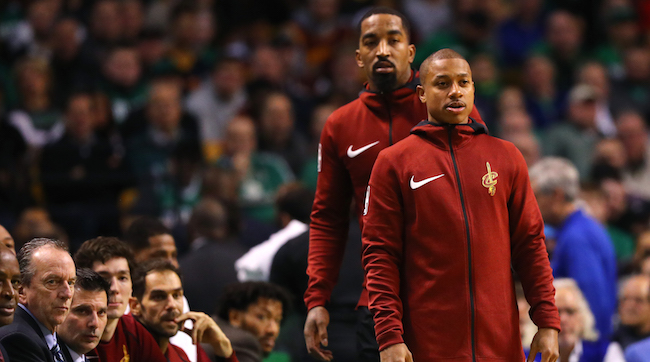 11. Cleveland Cavaliers (27-18, Last week — 10th)

What an absolute mess. The latest buzz surrounding Kevin Love is the weirdest story yet and, more importantly, the Cavs have lost five of six. There is a floor somewhere for a team that features LeBron but nothing is going well in Cleveland right now.
12. Milwaukee Bucks (24-22, Last week — 14th)

Jason Kidd is gone and Giannis isn't happy. From an outsider's perspective, though, the Bucks might be better off, as the team's inexplicable defensive issues can be attributed to their now-departed head coach. If that gets cleaned up, look out.
13. Washington Wizards (26-21, Last week — 11th)
The Wizards won by 10 in Detroit. Then, the Wizards went to Dallas and lost by 23. Your guess is as good as mine with this bunch.
14. Philadelphia 76ers (22-21, Last week — 15th)

Philly's been playing great for a while now and a close-fought road loss in Memphis doesn't change that. When Embiid is playing and they are healthy, no one wants to see the Sixers on the other bench.
15. Portland Trail Blazers (25-22, Last week — 18th)

Damian Lillard may not be fully happy with the Blazers' roster and that wouldn't be ideal. On the floor, though, this is basically what the Blazers are "supposed" to be as currently constructed and it's tough to fight them on it.
16. Denver Nuggets (24-23, Last week — 19th)
The Jamal Murray experience hit a crescendo late on Monday evening, as the young guard exploded for 38 points in a win. If that continues, the Nuggets are suddenly terrifying. Until then, we can probably go back to wondering why Nikola Jokic is playing so much power forward.
17. Los Angeles Clippers (23-23, Last week — 6th)

After reeling off six straight wins, order has been restored for the Clippers. That isn't to say that the team is suddenly playing poorly but we're back to this feeling like a .500 team.
18. Charlotte Hornets (19-26, Last week — 20th)

Kemba Walker might be available but, on cue, the Hornets are playing much better basketball. Who knows with this bunch.
19. Chicago Bulls (18-29, Last week — 16th)
Fred Hoiberg's team was destined to cool off after their wild bounce-back and that is happening now. What remains to be seen is where the baseline actually is for this bizarre unit.
20. New York Knicks (21-26, Last week — 21st)

The Knicks probably aren't going to the playoffs and, even if most people knew that all along, the fall hasn't been a ton of fun. New York's latest hiccup was a defensive disaster against the Lakers, though, and that one is tough to swallow in a lot of ways.


21. Memphis Grizzlies (17-29, Last week — 23rd)

The Lakers (we'll get there) and Grizzlies seem to be moving in unison and it's kind of weird. At any rate, Memphis is playing its best basketball of the season by a wide margin and the utter despair of a few weeks ago seems to be firmly in the past.
22. Los Angeles Lakers (17-29, Last week — 24th)
Look out for the Lakers! Well, maybe that's overstating it but Los Angeles has won six of eight and both losses came on the road. Most of the uptick can be attributed to defense and it is amazing what happens when passable effort is deployed on that end of the floor.
23. Brooklyn Nets (18-29, Last week — 26th)

The Nets just knocked off the Pistons and Heat in back-to-back games and they continue to be (much) better than the roster talent would suggest. Brooklyn is fun.
24. Dallas Mavericks (16-31, Last week — 22nd)

Dallas fell back to Earth a bit this week but the Mavs did throttle the Wizards at home in its last game. Most of that result can be traced to Washington's strange incompetence but it's a positive result for Dallas nonetheless.
25. Detroit Pistons (22-23, Last week — 17th)
Obviously, the Pistons aren't actually this bad but home losses to the Hornets and Nets over the course of a five-game losing streak will sink any team. Detroit's performance has been up and down throughout the campaign and this is a low point.

26. Utah Jazz (19-28, Last week — 25th)

Rudy Gobert and company have had some positive moments lately but there has to be some sort of punishment for getting blasted by the Hawks. Utah trailed by 26 points in the second half against Atlanta and let's just say that shouldn't happen.
27. Phoenix Suns (17-30, Last week — 27th)

Phoenix's net rating continues to be unsightly even as the team picked up wins over the Thunder and Nuggets over the past few weeks. Those are the only victories that the Suns can claim, though, which limits the upward mobility in a big way.
28. Atlanta Hawks (14-32, Last week — 28th)
The Hawks are displaying bizarre competence and the latest installment was a drubbing of the Jazz. Granted, Atlanta's success is almost all at Philips Arena during what is a strangely lengthy homestand, but this is a team that is outplaying its record and its roster right now.
29. Orlando Magic (14-32, Last week — 30th)

I have no idea how but the Magic have toppled the Wolves and Celtics in recent days. That won't erase everything that transpired before those contests but it helps from a perception standpoint.
30. Sacramento Kings (13-33, Last week — 29th)

In addition to their hideous peripherals, the Kings now own the league's worst record. That combination is a sure-fire way to land in the No. 30 position.