Step into a world in which you know nothing about the Toronto Raptors and the team's previous performance in the postseason. I know it's difficult but bear with me.
If not for those playoff issues, the Raptors would look and feel a lot like an NBA title contender. Yes, the Golden State Warriors and Houston Rockets have been the two best teams in the sport and, given recent history, the Warriors still feel like prohibitive favorites to capture the Larry O'Brien Trophy once again. However, Toronto stands head and shoulders above the rest of the Eastern Conference when evaluating 2017-2018 performance.
Since a pedestrian 11-7 start, the Raptors are 38-10 and, over that time since Nov. 25, Toronto holds the league's best net rating at +9.5 points per 100 possessions. Dwane Casey's team also displays the best defensive rating in the NBA (102.3) during that that span and, even from a season-long perspective, Canada's squad is far closer to to Houston and Golden State in net rating (+8.5) than they are to any Eastern Conference foe.
Of course, life is not conducted in a vacuum and that is especially true of the NBA Playoffs. Toronto has developed a significant reputation for futility in postseason settings and, while at least some of that may be unfair for a franchise that has claimed playoff series victories in back-to-back seasons, it is also earned to some degree. The team's star backcourt of DeMar DeRozan and Kyle Lowry has fallen flat in the playoffs, with DeRozan posting a hideous 49.4 percent true shooting mark in 41 career playoff games and Lowry faring only slightly better (51.4 percent TS) in 52 playoff appearances.
The Raptors did manage to reach the Eastern Conference Finals two seasons ago and, in 2016-2017, the team won a playoff series despite wholly underwhelming numbers on both sides of the ball. With that said, the Raptors are indeed playing (at least slightly) different basketball this season, with strategy that less favors isolation opportunity with an increased emphasis on ball movement. Beyond that, Toronto sports two (yes, two) of the best five-man lineups in the NBA this season, with its starting unit (headlined by DeRozan and Lowry) outscoring opponents by 12.1 points per 100 possessions and its full second unit (including CJ Miles, Jakob Poeltl, Pascal Siakam, Fred VanVleet and Delon Wright) absolutely eviscerating opponents to the tune of a +24.9 net rating.
When the postseason arrives, the strength of a full bench unit will likely evaporate, simply because benches shorten and not even the Raptors are likely to deploy extended lineups without either star guard on the court. With that said, there is every statistical reason to expect that Toronto is different this time around and, don't look now, but the Raptors are far closer to challenging for homecourt advantage throughout the playoffs than they are from dropping out of the No. 1 spot in the East.
Nothing "matters" for this Raptors team until the NBA's "second season" arrives and that is fully understandable. Still, providing this particular team with the benefit of the doubt wouldn't be out of line and, from a regular season standpoint, what Toronto has done has been incredibly impressive.
Where does Toronto rank when compared to the rest of the league in this week's Dime Power Rankings? Full speed ahead.
1. Houston Rockets (53-14, Last week — 2nd)
It finally happened. Granted, the Rockets "needed" an injury to Steph Curry to ascend here but, as we've been saying weekly, this Houston team would be worthy of the No. 1 spot in any normal season. They are incredibly good and delivered another reminder of that on Monday against the Spurs.
2. Golden State Warriors (51-16, Last week — 1st)

Golden State losing back-to-back games, even without the aforementioned Curry, is highly noteworthy. It should be noted that I would still pick the Warriors to claim the title provided Curry is available but Houston is good enough to put some level of uncertainty in the mix.
3. Toronto Raptors (49-17, Last week — 3rd)

The Raptors have won eight in a row and, as noted above, there is really no debate about the No. 3 spot in the league right now.
4. Portland Trail Blazers (41-26, Last week — 6th)
The team with the longest active winning streak in the NBA is… the Blazers! Portland just fired off 10 straight victories (including two over the Warriors) and, with that in mind, it is impossible to keep them out of the top five this week. Save the "is this sustainable?" talk for later.
5. Utah Jazz (37-30, Last week — 10th)

Utah continues to be absurd. The Jazz have won 18 of 20 games and, hilariously, that is only enough for them to (finally) sneak into the No. 8 spot in the West. Anyone paying attention knows that Rudy Gobert and company are playing incredibly well but, because of the overall record, they are flying under the radar.

6. Boston Celtics (46-21, Last week — 4th)

Injuries are mounting for the Celtics and, simply put, Boston isn't all that scary right now. Respect has to be given for how the team has played over the full body of work but there is reason to be a bit worried about the Celtics for April and May.
7. Oklahoma City Thunder (40-29, Last week — 11th)
The Thunder don't feel as dangerous as they should but, at the moment, they are playing better basketball. Three straight wins (and six of eight) propel Oklahoma City into this spot and they face off with the Hawks on Tuesday with an opportunity to build on that success.
8. Indiana Pacers (39-28, Last week — 8th)

Indiana just won't fade. Nate McMillan's bunch has won five of six (including four wins over playoff-bound teams) and the lone loss came to the streaking Jazz. There is little rhyme or reason for how the Pacers have amassed this record with their talent but kudos should be given.
9. Denver Nuggets (37-30, Last week — 9th)

If the season ended today, the Nuggets would be out of the playoffs. That is a cruel reality for a team that is playing better than most but that is, apparently, life in the Western Conference.
10. Los Angeles Clippers (36-29, Last week — 14th)
The Clips picked a nice time to have six home games and added four wins to their ledger in the process. Only the Pelicans have a worse net rating among West playoff teams and this still doesn't feel real… but it is.

11. New Orleans Pelicans (38-28, Last week — 5th)

New Orleans finally lost a basketball game and then they lost another. Obviously, the team's performance was unsustainable in previous days but now comes the tricky part. Can the Pelicans hold their line until mid-April with an eye toward the postseason?
12. Cleveland Cavaliers (38-28, Last week — 7th)
Amazingly, we're back here with the Cavs. Cleveland's lost four of six games and, over that time period, alarm bells have been firing in many ways. Having a playoff discussion is different but, if anything, this feels high in terms of current, regular season power rankings.
13. Philadelphia 76ers (36-29, Last week — 15th)
Philly has recent losses to the Heat and Bucks and, if those went the other way, it would be easier to have them in the top 10. As things currently stand, though, the Sixers still have the third-best net rating in the East and, in my mind, a higher ceiling than the Gordon Hayward-less Celtics.
14. Minnesota Timberwolves (39-29, Last week — 13th)

It isn't often that a team stops the bleeding of a losing streak with a win over the Warriors but Minnesota did just that. The Jimmy Butler-less Wolves aren't playing all that well but they are still in reasonable shape and, when he returns, this will feel low.
15. Washington Wizards (38-29, Last week — 16th)

A stretch with four losses in six games isn't great for Washington but the defeats did come to a collection of playoff contenders. At some point, the Wizards have to actually win some of those but they are… fine.
16. San Antonio Spurs (37-30, Last week — 12th)
Since the beginning of February, the Spurs are 3-11. It is odd to even type that sentence but, in plain terms, San Antonio is bad right now. They are out of the playoffs and, even with the optimism of Kawhi Leonard's pending return, there is reason for legitimate worry that the league's longest playoff streak will come to an end.
17. Los Angeles Lakers (30-36, Last week — 17th)

The Lakers have been legitimately good for a while and they just throttled the Cavs on national television. Let's just try to enjoy it.
18. Milwaukee Bucks (36-31, Last week — 18th)

It is hard to assign credit to the Bucks for beating the Knicks and Grizzlies because, well, everyone beats the Knicks and Grizzlies. Winning is better than losing, though, so take solace in that.
19. Miami Heat (36-32, Last week — 19th)
The Heat haven't won a road game since Jan. 29. I understand that can be misleading due to home-heavy scheduling and the break but there is just something about this Miami team that greatly underwhelms me.
20. Detroit Pistons (30-36, Last week — 21st)

Stan Van Gundy might be in some trouble and the Pistons are genuinely uninspiring at the moment. Seven losses in nine games will do that and Detroit probably just wants the end to arrive. Sadly, it won't be for a while.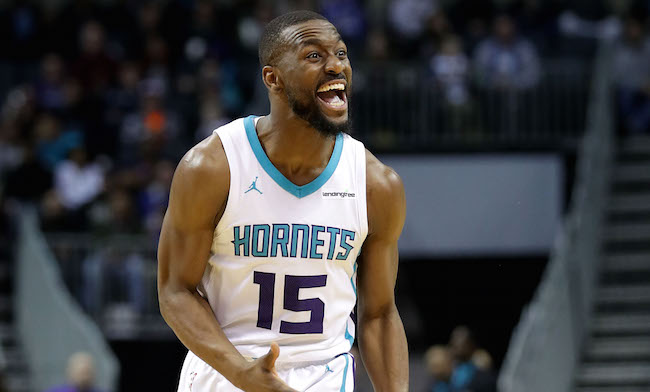 21. Charlotte Hornets (29-38, Last week — 20th)
It's been a weird year for the Hornets, who just lost five straight games before mercifully snapping that skid with a home win over Phoenix. Charlotte isn't in the tanking race or the playoff race. That's a tough spot to be in for the month of March.
22. Chicago Bulls (23-43, Last week — 26th)
The Bulls have won three of five and that is noteworthy in itself. Granted, Chicago's victories came over Atlanta, Memphis and Dallas but, at the end of the day, somebody has to win these games between tanking teams. Right now, it is the Bulls.
23. Dallas Mavericks (21-46, Last week — 27th)

Dallas was housed at home by Houston in its last game and there is no real shame in that. Prior to that drubbing, though, the Mavs picked up back-to-back wins and that is enough to catapult in these particular rankings.
24. Sacramento Kings (21-47, Last week — 23rd)

The last five wins for the Kings have come against other tanking opponents. That dates back quite a long way and, well, the Kings having more young talent than some of their competitors can only take them so far.
25. Brooklyn Nets (21-46, Last week — 25th)
The Nets are trying harder than most of the teams in this range. They really are. I promise.

26. Orlando Magic (20-47, Last week — 22nd)

The Magic lost seven in a row. Then, the Magic won back-to-back games. Now? The Magic have lost four in a row again. Making matters worse, though, is that Orlando just feels like a run-of-the-mill bad team and that is even less intriguing than the full-blown tankers.
27. Atlanta Hawks (20-47, Last week — 28th)

The Hawks allowed 129 points to the Chicago Bulls on Sunday… in a home game. Taurean Prince had the best game of his young career in that spot for Atlanta but it was probably the last time this season in which the Hawks will be favored in Las Vegas and that says quite a bit. And for good measure, Atlanta's best player this season (Kent Bazemore) is now gone for the duration with a knee injury.
28. New York Knicks (24-43, Last week — 24th)
New York is 1-11 since Kristaps Porzingis went down and, with every passing week, that particular stat gets bleaker. In fact, it would be easy to argue that the Knicks are playing worse than any team in the league that does not reside in Tennessee.
29. Phoenix Suns (19-49, Last week — 29th)

The Suns remain bad and five consecutive losses help to drive that point across at this juncture. Granted, four of the defeats came on the road and there is talent here but, in the end, it all comes full circle with a gross overall performance.
30. Memphis Grizzlies (18-49, Last week — 30th)

Memphis has lost 18 straight games. At some point in each Grizzlies game, a casual fan wouldn't be able to name a single player on the roster. It's all bad. Let's just agree on that.