The Philadelphia 76ers aren't yet a full-blown NBA title contender and, for some, that is an indictment of "The Process" and all that comes with it. Yes, it has seemingly taken forever for Sam Hinkie's plan to come to fruition (under the leadership of a different regime) but, at the outset of the 2017-2018 season, it is quite clear that the revolution has arrived in Philly.
Joel Embiid is, well, an absolute delight and he happens to be fantastic at basketball. The young big man is averaging 20.5 points and 10.1 rebounds per game while operating for much of the year on a minutes restriction and all of the signs of progress from a year ago are coming back with a vengeance. It isn't only Embiid, though, that provides optimism for the future. Rookie "point guard" Ben Simmons is the early leader for ROY after an explosive start. The former No. 1 overall pick is stuffing the stat sheet to the tune of nearly a triple-double without the benefit of a functional NBA jump shot.
It has to be noted that the Sixers aren't perfect just yet, with Markelle Fultz experiencing a weird and unfortunate injury situation and a few spots in the rotation being occupied by less than ideal options. Still, the investment in J.J. Redick (and even Amir Johnson) has paid immediate dividends and Philly even rattled off a winning streak this week to vault past the .500 mark. Everything within a ten-game sample has to be taken with a grain of salt and this performance from the (very) youthful Sixers falls into that category. With that said, there is immense talent here and the team's 6-4 record includes losses to only the Wizards, Celtics, Raptors and Rockets.
Translation? This might be a Sixers team that beats the teams it is supposed to beat and, if that happens along with reasonable health, a playoff spot appears quite likely in the East. Now, let's find out where Philly is in the pecking order this week when it comes to power rankings.


1. Golden State Warriors (8-3, Last week — 1st)
Steve Kerr's team finished a 3-0 week that included blowout wins on the road in San Antonio and Denver. That is not the answer to the question of "How does Golden State fall from the top spot?" and I think we all know that.
2. Houston Rockets (8-3, Last week — 4th)

James Harden is freakishly good at basketball. Houston has been without Chris Paul for a while now but, when Harden hangs 56 (!) on a quality Jazz defense, folks take notice. This may be a spot the Rockets occupy for quite some time.
3. Boston Celtics (9-2, Last week — 3rd)

The Celtics needed all 48 minutes to dispatch of the Hawks on Monday and that isn't necessarily great. It was, though, the second night of a back-to-back and Boston has won nine straight. Maybe things are okay after all.
4. Minnesota Timberwolves (7-3, Last week — 15th)
The Wolves are battling net rating issues but that is basically tied to back-to-back blowout losses without Jimmy Butler earlier in the year. As of this week, Minnesota is playing strong basketball after winning five straight and, even with defensive concerns, we can probably assume they are good.
5. Toronto Raptors (6-4, Last week — 2nd)
Much like the Blazers, the Raptors are buoyed (at least a little bit) by the fact they don't have any bad losses. Oh, and road wins over Utah and Portland certainly help. Continuity is a very nice thing.

6. Portland Trail Blazers (6-5, Last week — 12th)

It is weird to evaluate Portland right now. On one hand, they have a 48-point win over the hapless Suns and that clouds things in a positive light. On the other, Portland's losses all come against playoff-level teams and they now have a strong win over Oklahoma City. Let's lean in the direction of optimism this time around, even if potentially fraught.
7. Detroit Pistons (7-3, Last week — 13th)

Losing by 20 in Los Angeles is pretty bad but the Pistons have won five of six and continue to look the part of a playoff team. In some ways, it is easy to justify keeping your guard up against a team that was so maddening a year ago but Detroit just might be real this year.
8. San Antonio Spurs (7-4, Last week — 6th)

It is (very) weird when the Spurs lose four straight games, even in a world without Kawhi Leonard. San Antonio was able to pick up some wins to get off the mat but this remains more of a predictive ranking than anything else. Frankly, it's impressive they've been able to stay afloat without their centerpiece.
9. Oklahoma City Thunder (4-6, Last week — 9th)

I don't really care about the Thunder's overall record but OKC fell a couple of spots on the back of a brutal loss to the Kings on Tuesday. All of the peripherals remain encouraging (which is why the Thunder are here) but they do have to win some games consistently at some point.
10. Memphis Grizzlies (7-4, Last week — 8th)

Some of the positive mojo from the early run has evaporated. That comes with the territory when losing to the Lakers (albeit on the road) after back-to-back home losses. Memphis is probably what we thought they were as a fringe playoff team in the loaded West. By the way, that's perfectly fine.

11. Philadelphia 76ers (6-4, Last week — 19th)

This might be too low for the Sixers. This might be too high for the Sixers. We'll find out soon enough, but what we do know is that they're a very fun team, if nothing else.
12. Washington Wizards (5-5, Last week — 5th)
There is no way to evaluate the Wizards this week without reference to LeBron James doing whatever he wanted to do on Friday night. It's just tough to un-see that for a while and Washington didn't do itself any favors in losing, at home, to the rudderless Mavs on Tuesday.
13. Los Angeles Clippers (5-5, Last week — 11th)
Don't look now but the Clips' hot streak at the outset is gone. We aren't piling on them too much after not getting too excited when Los Angeles came out of the gates in blazing fashion. Let's just split the difference and play the "wait and see" game with an unproven mix of talent.
14. Cleveland Cavaliers (5-6, Last week — 14th)

No one actually thinks the Cavs are bad. With that on the table, the Cavs look kind of bad. Cleveland's home loss to Atlanta on Sunday was just the latest in a series of comical defensive showings and not even the heroism of LeBron in D.C. on Friday can save them from this mark. Honestly, we're being kind here.
15. New Orleans Pelicans (6-5, Last week — 20th)

The Pels have won three straight, including an impressive road win in Indiana. The Pacers were able to score on New Orleans but it was weirdly encouraging to see Anthony Davis and company win a shootout and some of the early concerns about the wing depth have slipped to the background.
16. Denver Nuggets (6-5, Last week — 18th)
There are signs that the Nuggets might be turning things around a bit and this might be low as a result. Until we see it, though, it's tough to formally invest and some of the recent results (with a blinking Warriors caveat) weren't ideal.
17. Orlando Magic (6-4, Last week — 7th)
This is (way) too low based on what we've seen over a ten-game stretch. Still, Orlando dropped a home game to the Bulls by 22 points and that is a prime example of the regression stick hitting in a severe way. Now, we'll see how the Magic look over the next ten games.
18. Utah Jazz (5-6, Last week — 16th)

I'm here for the Ricky Rubio offensive renaissance but Utah's defense took it on the chin against James Harden and company earlier in the week. That hurts the perception of a defense-first squad but nothing actually changed when it comes to what the Jazz are. They're fine.
19. Milwaukee Bucks (4-6, Last week — 10th)

Giannis was brilliant (again) on Tuesday but the result was another loss. Some of that was Cleveland turning it on a bit but Milwaukee's future with Eric Bledsoe in the fold isn't yet reflected in this ranking. Check back in a week.
20. Charlotte Hornets (5-6, Last week — 17th)

When Nic Batum returns, we'll learn a lot more about what this Hornets team is. For now, it's a .500 team in the East despite heroics from Kemba Walker and a strong start from Dwight Howard.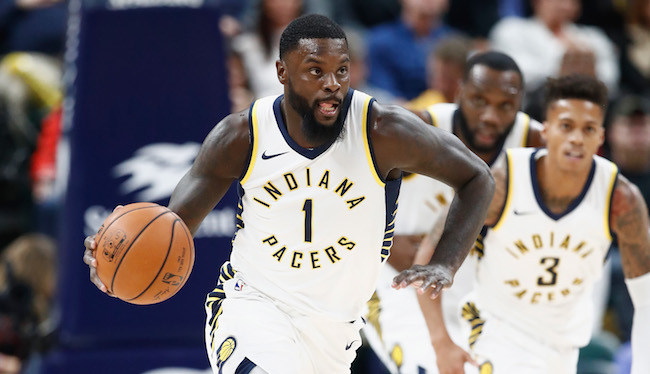 21. Indiana Pacers (5-6, Last week — 22nd)

The Pacers are settling in to what we expected. There have been flashes of impressive play but back-to-back losses to the Knicks and Sixers help to temper suddenly lofty expectations for a team without a ton of top-end talent.
22. Miami Heat (4-6, Last week — 21st)
There is, obviously, no great shame in losing on the road in Oakland and we aren't penalizing that showing from Monday. The Heat still haven't lived up to considerable expectations and that actually does come into play.
23. New York Knicks (6-4, Last week — 24th)

It is hard not to enjoy the Frank Ntilikina era, especially if you enjoy the defensive end of the floor. Throw in the beautiful absurdity that is Kristaps Porzingis and the Knicks aren't so brutal to watch right now. I'm not quite buying in on their run just yet, but if it continues New York won't be a team you can ignore.
24. Los Angeles Lakers (5-5, Last week — 25th)

Three wins in four outings will go a long way toward alleviating excess stress in Los Angeles. The lone loss came on the road by a small margin to Portland and, as we'll say repeatedly, it is at least nice to have intriguing young talent.
25. Brooklyn Nets (4-7, Last week — 23rd)
Kenny Atkinson's team broke up a lengthy losing streak with a win over Phoenix but went back to the wrong column by dropping Tuesday's game in Denver. The Nets remain fairly entertaining but it is more style than substance at the moment and we kind of knew that was coming.

26. Phoenix Suns (4-7, Last week — 26th)

Three straight losses take some of the shine off the renaissance under Jay Triano but the Suns do resemble a different team now than they did early in the season. That also doesn't mean they are good.
27. Atlanta Hawks (2-9, Last week — 27th)

Mike Budenholzer's team nearly toppled the Cavs and Celtics on consecutive days. In a vacuum, that would be an awesome sign. Then, you remember that Cleveland isn't very good (we'll be kind) right now and Boston was on fumes from a schedule perspective. Still, it might be fair to say that the 2-9 record isn't quite indicative of the level of competitiveness here.
28. Dallas Mavericks (2-10, Last week — 28th)

In retrospect, it probably should have been a warning sign when the Mavs lost to the Hawks, at home, on the first evening of the season. Since then, Dallas has displayed all kinds of troubling tendencies and not even a (weird) road win in D.C. on Tuesday mask everything we've already seen.
29. Chicago Bulls (2-7, Last week — 29th)
As noted above, the Bulls put together a stunningly competent performance against the Magic and followed it up with a strong comeback against Toronto. Those results are all that are standing between Chicago and its rightful destiny at the (very) bottom of this list. Don't worry, there's still time.
30. Sacramento Kings (2-8, Last week — 30th)

The Kings are bad but every team in the NBA now has two victories after Sacramento's stunning win over Oklahoma City. We can all agree that isn't necessarily a sign of things to come but it was a nice bump for Dave Joerger's team.