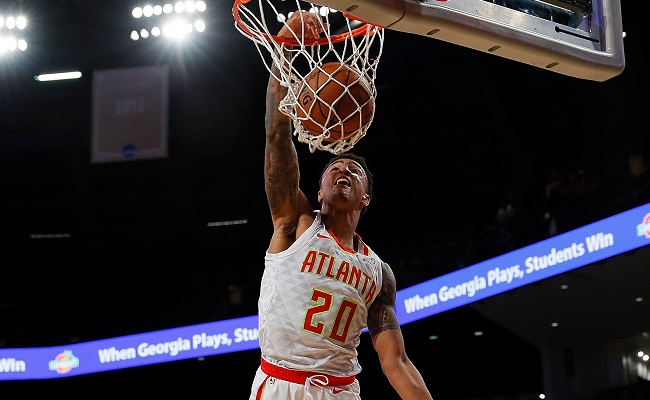 2017-18 Record: 24-58 (15th in East)
Players Added: Jaylen Adams (two-way), Justin Anderson (trade with PHI), Vince Carter (free agency), Daniel Hamilton (free agency), Kevin Huerter (draft), Alex Len (free agency), Jeremy Lin (trade with BKN), Alex Poythress (two-way), Omari Spellman (draft), Trae Young (draft)
Players Lost: Antonius Cleveland (waived), Damion Lee (free agency), Josh Magette (free agency), Jaylen Morris (waived), Mike Muscala (trade with PHI), Dennis Schröder (trade with OKC), Isaiah Taylor (waived)
Projected Team MVP: John Collins
For most teams, it is pretty clear-cut as to who the best player is, but that isn't the case for the Hawks. Atlanta struggled mightily on the floor last season but there were a few bright spots, including the two-way play of veteran wing Kent Bazemore and something of a breakout from Taurean Prince at the small forward spot. Bazemore was probably the best player for the Hawks last season but, given the team's rebuilding trajectory, the organization would almost certainly be disappointed if that was the case again and John Collins is in line for a bigger role and a potential second-year bump.
Collins appears to be locked in to full-time duty at the power forward spot, with Dewayne Dedmon and Alex Len on board at center and a lack of competition for minutes at the four. The former Wake Forest star was tremendous as a rookie in relative anonymity, averaging 10.5 points and 7.3 rebounds per game with impressive efficiency, and Collins looked to be one of the best players in Las Vegas during NBA Summer League.
The jury is out as to just how high Collins' ceiling actually is, particularly on the defensive end, but he has the profile of a highly productive, efficient big man that the Hawks can utilize as a building block for their rebuild. It wouldn't be wrong to project Bazemore or Prince as the team's most valuable player this season but Collins "wins" the battle by a narrow margin, based in part on his ability to effectively stick at the four.

Team X-Factor: Trae Young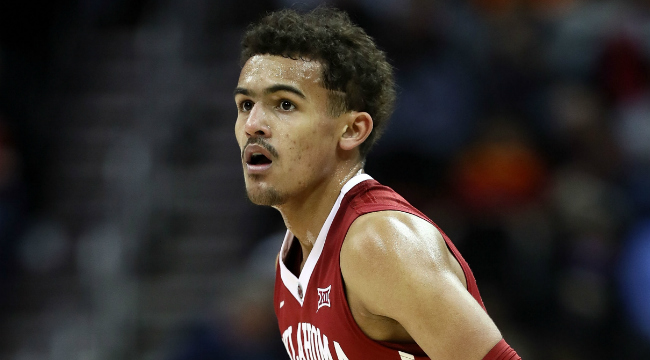 Easy cases could be made for Collins or Prince in this space, particularly when both are likely to be better on the floor than Young this season. Still, the Hawks made a significant bet on Young's future when pulling the trigger on a deal that sent Luka Doncic to Dallas, and Atlanta's future is much more important than its present.
In terms of 2018-19, Young's performance will be interesting, in part because point guard is a position in which it is difficult to survive ugly play. There will be moments of brilliance from Young, who combines long-distance shooting range with nice handle and elite-level passing vision, but the downside could be high as well, with all kinds of early-career warts magnified by a situation in which he should be turned loose. As we saw with point guards like De'Aaron Fox and Dennis Smith last season, even the most talented youngsters can really struggle as rookies and, if Young follows down that path with starter-level usage and deployment, the Hawks might be ghastly this season. If he's decent-to-good, though, Atlanta could outpace its preseason expectations rather easily.
Best Case Scenario:
A lot of NBA teams would be viewing a best case scenario through the prism of big-time winning but that isn't the 2018-19 Hawks. Atlanta is in the midst of a full-fledged rebuild and, even with a cupboard full of draft assets, the organization's own 2019 first round pick might be its best if things break the right way. As a result, wins in the short term aren't very important and there is even an argument that Atlanta should be tanking as hard as any team in the league.
The Hawks didn't fully lean into that proposition, at least in the offseason, as the team does employ some competent veterans in Bazemore, Dedmon, Jeremy Lin and others. Still, the big-picture focus of the season revolves around the youngsters. On the high side, Young showing that he is actually what the Hawks are banking on as an elite prospect would be significant, and Atlanta needs either (or both) of the Prince-Collins combination to emerge as no-doubt key pieces in the future. Growing pains are happening either way but the young guys hold the keys.
Worst Case Scenario:
Weirdly, the Hawks winning too many games might be the worst case scenario, especially if that success is buoyed by veterans instead of full-blown breakouts from Young, Collins and/or Prince. Atlanta's new coaching staff, headlined by Lloyd Pierce, likely arrives with a mandate to prioritize the future, though, which should help to prevent against a bizarre over-achievement that alters the course of the rebuild.
Otherwise, the worst case would be that Young really struggles, feeding the beast of the critics that lambasted the Hawks for passing on Doncic, even while acquiring a likely lottery pick from Dallas. Beyond that, Collins and Prince stagnating as only competent but inspiring role players would hurt, mostly due to the fact that only a handful of players on the current roster in Atlanta are likely to be a part of the next legitimately effective Hawks team.
This should be a fun team to watch, at least by tanking standards, but it's youth or bust.