2017-18 Record: 28-54
Players Added: Ed Davis (free agent), Shabazz Napier (free agent), Treveaon Graham (free agent), Kenneth Faried (trade), Jared Dudley (trade), Dzanan Musa (draft), Rodions Kurucs (draft), Joe Harris (re-signed),
Players Lost: Jeremy Lin (trade), Timofey Mozgov (trade), Isaiah Whitehead (trade), Quincy Acy (free agent), Dante Cunningham (free agent), Jahlil Okafor (free agent), Nik Stauskas (free agent), Milton Doyle (waived), James Webb (waived)
Projected Team MVP: Spencer Dinwiddie
Spencer Dinwiddie might not be a household name just yet, but he entered the NBA's collective consciousness last season with his solid play in Brooklyn, namely his penchant for late-game heroics, which positioned him among the league's most clutch players. However modestly it may been reflected in the box scores, Dinwiddie took a big step forward in the absence of Jeremy Lin and D'Angelo Russell.
As a result, he finished behind only breakout stars Victor Oladipo and Clint Capela in the voting for the league's Most Improved Player. The question now is whether he has another leap in him. An optimist would scream yes, but it remains to be seen. Dinwiddie has said that last season was the first time he's really felt like himself on the court since an injury prior to his rookie season caused him to plummet in the draft. The idea that he's only now coming into his own should offer plenty of excitement for Nets fans.
He will, however, need to improve his overall efficiency and be more aggressive as a scorer this season if he's to take the helm as the Nets' go-to guy moving forward. If not? Perhaps someone else will carve out that role in Brooklyn's backcourt, like…
Team X-Factor: D'Angelo Russell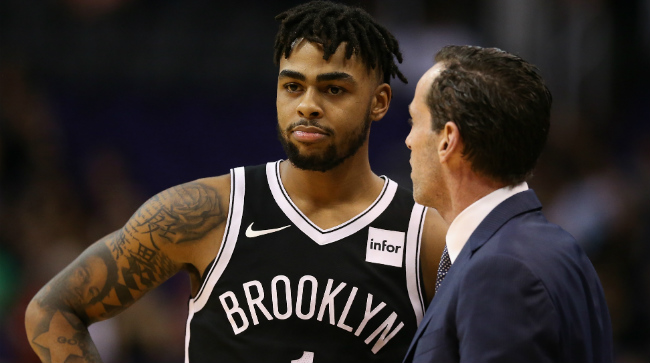 It was tempting to go with sophomore wing Caris LeVert here because of the flashes of potential he showed last season, but this designation has to go to D'Angelo Russell. The jury is still out on the fourth-year point guard, and it didn't help that he missed half of last season with an injury. Russell is a polarizing player, but the Nets are banking on him finally living up to that potential that made him the No. 2 pick in the 2015 draft.
Oh, and he has a major incentive to perform at the highest level, as he's slated to become a restricted free agent at the end of the season. If Russell plays up to his considerable talents, when free agency rolls around next summer, he's going to make himself a whole lot of money.
Best Case Scenario:
The Nets would obviously like to make the playoffs this season, but even in a weakened Eastern Conference, the chances are slim. The organization is still firmly in rebuild mode, and that includes putting their collection of talented young players in a position to thrive, and fail, and learn from that failure. Give head coach Kenny Atkinson credit for facilitating their growth last season amid a slew of injuries, because it'll make them a better basketball team this year.
The other good news is that general manager Sean Marks added a handful of savvy vets like Ed Davis, Kenneth Faried, and Shabazz Napier that should help spur that development. If things go as planned, they'll compete for a postseason spot, but in all likelihood, the best they can hope for is evidence that they've amassed a roster filled with talented young players who can get the Nets where they want to be in the near future.
Worst Case Scenario:
The worst-case scenario for Brooklyn is that Russell doesn't live up to his potential, and guys like Dinwiddie, LeVert, Jarrett Allen, and Rondae Hollis-Jefferson stagnate instead of continuing to improve. Missing the playoffs again won't be the end of the world, but doing so in a manner that doesn't give reason for optimism would be the bigger disappointment.