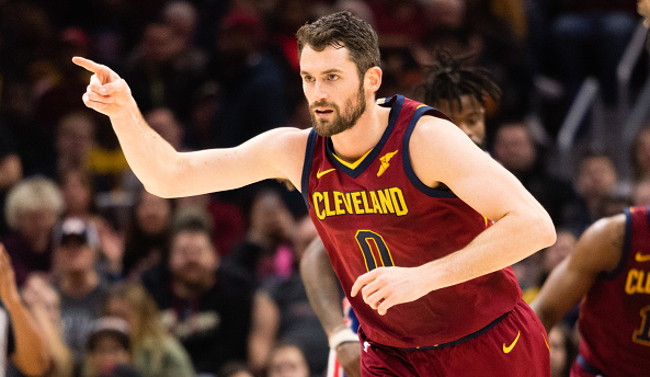 2017-18 Record: 50-32 (fourth in Eastern Conference)
Players Added: Colin Sexton (draft), Channing Frye (free agent), David Nwaba (free agent), Sam Dekker (trade), Billy Preston (two-way contract)
Players Lost: LeBron James (free agent), Jeff Green (free agent), Jose Calderon (free agent), Kendrick Perkins (waived), Okaro White (waived)
Projected Team MVP: Kevin Love
Kevin Love has often been the fall guy when things start going south for the Cavs. Now, he's expected to be Cleveland's superstar as it takes its first collective step toward an uncertain future. Love surprised many when he signed a four-year, $120 million extension this summer to remain in Cleveland when it appeared the organization might be ready to blow things up entirely.
Apparently, that was never the plan, as the front office claims they rejected offers for Love all season long with the express purpose of keeping him around long-term, regardless of what happened with LeBron. He likely won't return to the dominant player he once was in Minnesota, but he's still one of the best power forwards in the NBA and a pretty good consolation prize after the heartache of losing LeBron for the second time this decade.
Team X-Factor: Rodney Hood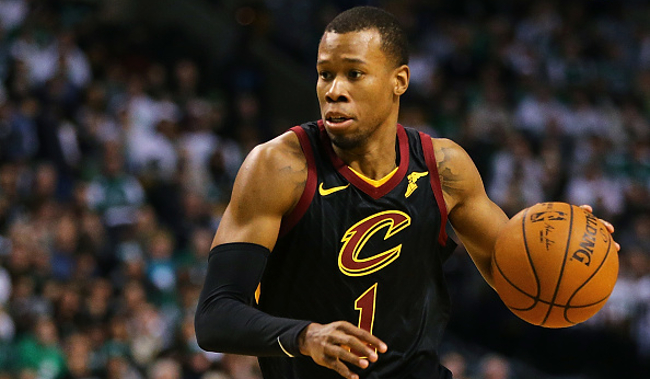 Hood had a brutal showing in the playoffs last spring, logging just over five points per game and shooting a dreadful 16.7 percent from behind the arc. He never quite looked comfortable last season upon arriving in northeast Ohio, so the question of whether he can figure out his role on the team this season will determine his future in Cleveland.
When the Jazz traded Hood to Cleveland (along with George Hill), he was averaging over 16 points per game and shooting 38 percent from three while making promising strides as a wing defender. At just 25, the organization saw him as a potential long-term replacement for J.R. Smith at the two-guard position.
After testing the market this summer, Hood signed a one-year qualifying offer to remain in Cleveland this season and hit the free agent market next summer. He's betting on himself and playing for his next contract, so it'll be fascinating to watch what happens.
Best Case Scenario:
Despite Tristan Thompson's optimism, the road to the Finals no longer goes through Cleveland. With the Cavs effectively relinquishing their crown amid LeBron's departure, there will be plenty of jockeying among up-and-coming teams like the Sixers, Raptors, and Celtics up top, along with second-tier teams like the Pacers, Heat, Bucks, and Wizards.
The Cavs should be right there on the postseason bubble. They've decided not to tank, so that's presumably the goal. The point, however, will be to find out just what they have with their current roster. Is Collin Sexton their point guard of the future? Will Jordan Clarkson and Larry Nance Jr. turn into valuable rotation players? Just how good can Kevin Love still be as a leading man? Is Cedi Osman the new LeBron James? (Ok, the answer to that last one is "probably not," but Osman still has the potential to be a good player.)
Worst Case Scenario:
The Cavs implode entirely and have to go through a full rebuild while being saddled with a bunch of guys past their prime and young players who haven't proven their value yet. Then, Love wakes up one morning and decides he's made a huge tiny mistake and wants to go compete for a championship elsewhere.
The reality is that they're in a much better position now than they were in 2010. Missing the playoffs won't be the end of the world. But if all of their midseason acquisitions from last year — Larry Nance, George Hill, Jordan Clarkson, and Rodney Hood — don't go from "role players who can afford off nights because LeBron is here" to "guys who need to help the team win on a nightly basis," that will not bode well for them.