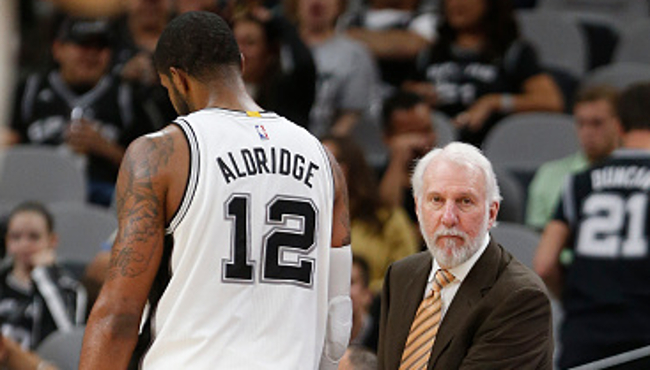 2017-18 Record: 47-35 (seventh in the Western Conference)
Players Added: DeMar DeRozan (trade), Lonnie Walker (draft), Chimezie Metu (draft), Marco Belinelli (free agent), Dante Cunningham (free agent), Jakob Poeltl (trade)
Players Lost: Kawhi Leonard (trade), Tony Parker (free agent), Manu Ginobili (retired), Danny Green (trade), Kyle Anderson (free agent), Joffrey Lauvergne (free agent)
Projected Team MVP: LaMarcus Aldridge
This more or less goes to Aldridge by default. He's always been something of a square peg in San Antonio, but he carried the torch admirably last season amid the Kawhi Leonard debacle, brushing up against his career high in scoring as he took on the bulk of the offensive load.
Rather than adapt his game to the Spurs' system, Gregg Popovich has worked to make Aldridge comfortable, so we can really only expect more of the same from him this season. That equates to roughly 23 points and eight rebounds per game, which are fine contributions from an old-school power forward who needs the offense to run through him out of the mid-post.
Because Pop is a genius, they've managed to make the most of an imperfect fit the past few years, in part because Kawhi and other perimeter-minded players were able to mitigate his effects. But they've since swapped that in for another player who doesn't quite fit the mold of how they like to play…
X-Factor: DeMar DeRozan
DeRozan was a pretty nice consolation prize for losing Kawhi this summer. Granted, his game is not without its warts. He can be a ball-stopper, he's not much of a threat from three-point territory, and he has a penchant for taking contested mid-range jumpers. But he's also a great one-on-one scorer who can create his own shot at any time, and he's a whiz at getting to the rim and drawing fouls. In fact, he is perennially among the best in the league in that category.
The obvious question is how he'll fit in San Antonio's system given his antithetical style. The equally obvious answer is that if anyone can find a way, it's Gregg Popovich.
Best Case Scenario:
The Spurs qualify for the playoffs for a mind-boggling 22nd season in a row. DeRozan adapts his game to San Antonio's system, willingly plays off the ball, and improves his efficiency from behind the arc. Meanwhile, rookies like Lonnie Walker and second-year players like Derrick White come back from injury and show flashes of potential that make them look like part of San Antonio's future core.
We know exactly what we're getting in veterans like Marco Belinelli, Patty Mills, Pau Gasol, and Rudy Gay, and they don't disappoint. They become a feel-good story as they land the seventh or eighth seed before promptly getting bounced by the Rockets or Warriors.
Worst Case Scenario:
The worst-case scenario is that DeRozan doesn't fit and grows more and more frustrated, Aldridge starts his inevitable decline, and the older players start looking, well, old. They just miss the playoffs but don't fall quite far enough to land a high lottery pick. Pop decides to call it quits, and the organization is left reeling. A team that hasn't had to undergo an actual rebuild in more than two decades is suddenly staring into that abyss.