---
The 2015 NCAA Tournament is set, and now we eagerly anticipate the basketball overload starting on Thursday. But what about the NBA heads dreading the upcoming 2-3 zones, preponderance of late-game foul shots, offensive sets that take forever to materialize, and the rest of the NCAA effluvia which forces us to watch NBA hoops over the subpar level on display in college.
We thought we'd preview each region so you know which players might be making a future appearance in the Grown Man League. This is based on their pre-Draft rankings right now, but some might fall out of the discussion altogether depending on how they perform this weekend.
The NCAA Tournament can make or break an NBA landing spot. While scouts still look at upside and throw the word potential around like it wasn't once applied to Darko Milicic, a Final Four dance goes a long way towards convincing those skeptical about a player excelling at the next level.
For today's West region, we look at five players with their eyes on a prize in June, rather than March.
1. D'Angelo Russell, G Ohio State, 6-5 180-pound Freshman
Russell won't be the top pick come June, but we certainly wouldn't be surprised if the brilliant freshman from Ohio State eventually emerges as the best pro from his class – and scouts and front offices seem to agree.
The 6-5 lefty is among the most dynamic all-around creators college basketball has seen in the past few years. Russell is a natural ballhandler with craft to spare, frequently utilizing feints of all kinds to go wherever he wants on the floor. But getting there is only half the battle, and the 19 year-old knows what to do once he's arrived as well. Russell is a gifted finisher despite lacking elite explosiveness, shoots 41.5 percent from three-point range on nearly seven attempts per game, and boasts the court sense and creative knack of a true point guard.
James Harden is a common comparison for Russell, and it's easy to see why – both players are lefty shooting guards who play roles more befitting a traditional floor general. But the Lexington (Ky.) product lacks The Beard's God-given strength and can't crease the paint quite so effortlessly. Our biggest concern with Russell, actually, is that he doesn't get to the line quite as much as you'd expect from an attacking guard.
But that's a minor quibble, one matched by his relatively underwhelming athleticism for a potential number one pick and occasional defensive disengagement. In a league where dominant pick-and-roll playmakers can almost single-handedly will a team to elite offense, Russell is an extremely valuable commodity.
Worst case? He's a secondary creator who knocks down catch-and-shoot jumpers. Best case? Russell is the second-coming of a Brandon Roy-type combo guard. Seems like a potential franchise player to us.
2. Stanley Johnson, SF Arizona, 6-7 245-pound Freshman
Johnson might be the youngest player in the NBA next season, but the University of Arizona freshman certainly won't look it. At 6-7 and blessed with a frame that would make most veterans blush, he's perhaps the most physically imposing prospect in this class – on paper. The question is if his playing style will translate well to a game in which he won't always be the biggest bully.
The most encouraging aspect of Johnson's season with the Wildcats has been his accuracy from beyond the arc. Billed as a non-shooter during the recruiting process, he's shooting a respectable 36.6 percent on three-pointers and connected on 7-of-16 tries from range during the Pac-12 Tournament. At the other end of the spectrum is that Johnson has been relatively underwhelming as an athlete – he's just not the hyper-explosive forward that prep highlight tapes suggest, a reality evidenced by his lackluster conversion rate at the rim.
Rather than starring for a good team, what seems a more likely scenario for Johnson's pro career is him settling into a niche as one of basketball's best reserves. He has the physical tools to be a plus defender of multiple positions, is a gifted rebounder, and could certainly be effective as a small-ball four on both ends in the proper system.
Is that worth a lottery pick? We think so. Not every great prospect can become an All-Star or even a starter, and Johnson has the physical attributes, mental makeup, and skill-set to be a bench cog for a great team. While that projection underwhelms compared to ones gleaned from his high school days, it would still make him a very solid NBA player.
3. Frank Kaminsky, C Wisconsin, 7-0 242-pound Senior
Kaminsky is one of most unique prospects the draft has seen in the past decade, which is why he's among its most divisive, too.
The seven-foot senior might be college basketball's best player, averaging 18.2 points, 8.0 rebounds, and 1.6 blocks per game on sterling efficiency. But Kaminsky isn't the throwback big man his size and numbers suggest; the Wisconsin superstar could prove a rare and valuable player at the next level.
Why? There just aren't any true centers in the NBA who shoot quite so effortlessly. Kaminsky has made 34 of his 86 tries from beyond the arc in 2014-2015, good for a mark just below 40 percent. His mechanics are solid and his release is quick, and he's the type of player who will have no qualms adjusting to a reduced offensive role at the next level. The question for Kaminsky offensively is not whether he'll be a true low-post presence, but if he can supplement floor-stretching with being an effective dive man after setting ball-screens.
Bigger concerns about the Lisle (Il.) product come on the other end of the floor. Kaminsky isn't a great rebounder, has relatively slow feet, and doesn't have the frame to consistently stymie back-to-basket behemoths. None of that would matter much if his solid shot-blocking ability would translate to the professional ranks, but we're dubious – he isn't quick off the ground and doesn't have great length.
Having said that, there's immense value in a player who could consistently knock down treys while even defending his position at an average level. That's the best case scenario for Kaminsky, and one we wouldn't be shocked that ultimately came to fruition.
4. Rondae Hollis-Jefferson, F Arizona, 6-7 220-pound Sophomore
Hollis-Jefferson won't ever be a star. He's too limited a shooter and doesn't boast the natural playmaking talent to become anything more than an ancillary player offensively. But there's two sides to the floor, and the other is where the Arizona sophomore could play a vital role in the NBA.
At 6-7, 220 pounds with a 7-1 wingspan, Hollis-Jefferson has ideal size for a small forward. He's an explosive leaper, swift runner, and quick slider, too, all attributes that could allow him to play nominal power forward for stretches if given the proper surrounding roster. But that jump-shot probably won't come around, a glaring deficiency that will almost certainly keep him from being selected in the lottery.
Otherwise, he has most every trait the present day hybrid forward needs: size, athleticism, defensive wherewithal, rebounding knack, and transition finishing ability. Hollis-Jefferson is also frequently lauded for his leadership, and even came off the bench early this season to accommodate Johnson's arrival in Tucson.
Coaches love him and teammates do, too. Scouts who are tasked with finding potential stars in the mid first round aren't as keen on him, and rightfully so. Any team that needs a dash of roster versatility and general energy could do far worse after the lottery than Hollis-Jefferson, though, a guy that seems destined to be a solid NBA contributor for many years to come.
5. Bobby Portis, Arkansas, PF Arkansas, 6-11 242-pound Sophomore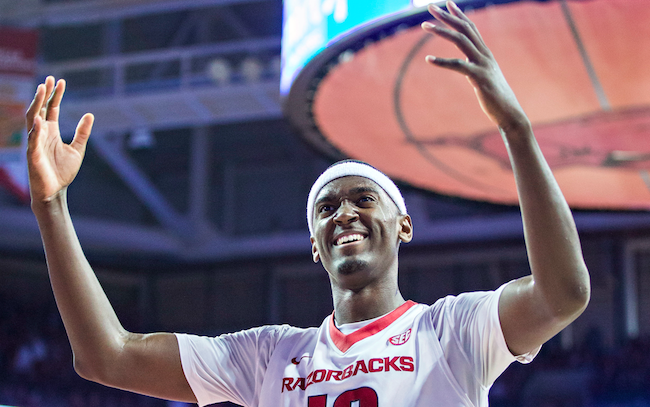 Portis isn't a normal early-entry candidate from a major conference. Instead of boasting the athleticism and potential normally reserved for post players who are considered first-round pick, the Arkansas product's game is one built on skill and nuance.
At 6-11 and 242 pounds with a 7-2 wingspan, Portis has great size for a power forward. He still has room to fill-out a bit further and tighten up his body, too. He should be extremely tough to move from the paint in time, an especially important factor considering his comfort as a post scorer. Portis has soft touch around the basket and finds angle for opens shots by utilizing patience and counter moves most often reserved for NBA vets. He also has easy range on his jumper to the college three-point arc – enough that it wouldn't shock to see him develop a somewhat reliable long-range shot in the pros.
What will make Portis a more valuable player than we're projecting is if his shot-blocking exploits directly translate to the NBA. He has a good sense of timing to go with long arms, and is generally in the right place defensively. Should a dose of rim-protection allow him to play center on occasion, Portis has the makings of a rare two-way big man.
The more realistic possibility is that Portis settles in as a reserve capable of playing either frontcourt spot adequately. That doesn't seem like a great outcome for a likely first-round pick, but people forget that a majority of players flame-out after several years in the league. Given Portis' combination of size, skill, and understanding, we project him as a viable NBA player for many seasons running.
HONORABLE MENTIONS: RJ Hunter, Georgia Southern; Sam Dekker, Wisconsin; Justin Jackson, UNC; Brice Johnson, UNC; Nigel Hayes, Wisconsin; JP Tokoto, UNC; Kaleb Tarczewski, Arizona