In the two weeks since we've last spoken about the Rookie of the Year race, Myles Turner has exploded onto the scene. When we discussed him in our breakdown of every lottery pick, he had shown some encouraging signs in some brief run but had just missed a large chunk of time with a hand injury. After a couple weeks getting back up to speed, the Pacers rookie has made himself indispensable in Frank Vogel's rotation.
The turnaround for Turner has been stark. After never attempting even ten field goals in a game before Jan. 17, Turner hasn't had fewer than 11 attempts in the six games since. He's gone from averaging about 15 minutes per game to 27 minutes, and has a sweet line of 19.7 points (on 62 percent shooting), 6.2 rebounds and 2.5 blocks per game in that time. He even got 31 points off the Golden State Warriors, demonstrating an excellent feel for cutting to the hoop and a great finishing ability:
But, of course, we're only talking a six-game sample here. Turner's only had three assists in this span, and he isn't much of a passer quite yet. He'll have to be, because if he wants to continue doing his work around the basket, eventually defenses will throw double teams his way to force the ball out of his hands. It'll be on Turner to make the adjustment and keep the ball moving. He's already shown more inside scoring skills than any rookie besides Jahlil Okafor, so keeping that up over the balance of the season will put him in the top five for sure.
5. Willie Cauley-Stein
Alright, he's officially too good to keep out of the top five. Being that we called out George Karl for not giving him enough run in our last rankings, Willie Trill has averaged 27 minutes per game; this is incontrovertible evidence that Karl reads DIME. Thanks for your support, George. Cauley-Stein and DeMarcus Cousins have looked like a match made in heaven thanks to the rook's unique combination of size, length and speed.
Cauley-Stein won't have the box score lines to make a real run at ROY, but the longer the Sacramento Kings stay in the playoff hunt with him in the starting lineup, the more positive attention he'll get. He's a real force.
4. Devin Booker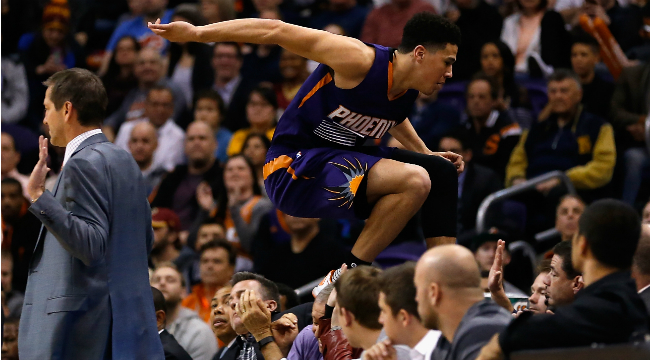 Since our last column, Booker has just kept on trucking, averaging 20 points over the past two weeks on 41 percent shooting from behind the arc. He's starting because Eric Bledsoe is still recovering, and though he's putting up the numbers, he's also proving that a backcourt tandem with him and Brandon Knight isn't viable defensively. Their two-man lineup has an abysmal defensive rating of 113.5.
Knight isn't making any All-Defense teams anytime soon, but the drop-off from a bulldog like Bledsoe to a rookie (and an undersized two, at that) is steep. Booker might even be behind other rookies on that end. Unless he makes huge strides in either awareness or strength, he may never defend well enough to start long-term. That's not to say he won't have value — shooting like that will always play. But if we had to guess, we'd say that Booker's future could be as an ace shooter off the bench, against reserve lineups that won't tax him on both ends. For now, though, his shooting is ahead of his age, and he deserves his spot here.
3. Jahlil Okafor
Okafor missed two games with an illness and came off the bench in the Sixers' shockingly close loss to the Golden State Warriors, but he was on a nice run in the few games before then, scoring at least 20 points in three-straight and working in a double-double for good measure. Rebounding in general has been a puzzling issue for Okafor so far — he's only averaging 5.7 boards over his last fifteen games after getting off to a great start in that area this year.
It's not quite worth worrying about yet; after all, his counterpart Nerlens Noel is averaging more than boards per game on the year. The future of Philadelphia's frontcourt will be debated well into next season, when maybe Joel Embiid or Dario Saric (or even Ben Simmons) could further crowd the paint. For now, Jah's still going to be over here getting buckets.
2. Kristaps Porzingis
For a rookie, Porzingis has been eerily consistent. Up until an illness kept him out of the Knicks' game against the Toronto Raptors on Thursday, Porzingis had scored in double figures in 13-straight games. It seems like every week, he shows us a new way he knows how to score, and his scoring consistency has freed Carmelo Anthony up to play a more complete game. But for a second, let's forget about how versatile KP is, and how every day gives Knicks fans more hope for the future — let's see another Porzingis Putback®!
As fun as it is to break down Three Six Latvia's game, let's not lose sight of the fact that he made Steven Adams and Serge Ibaka look like tiny little men.
1. Karl-Anthony Towns
Speaking of consistency, Towns hasn't shown the slightest hint of drop-off this season, either. In fact, over the last two weeks, he's put up numbers that would make Tim Duncan proud: 23 points, 12.5 rebounds, three assists and 2.2 blocks per game while shooting 63 percent — and that's not even on just dunks! That's a grown man's stat line, and Towns is doing it with style.
I mean, what else is there to say? He's playing like a borderline All-Star, and he's still running away with this award. KAT is a beast.