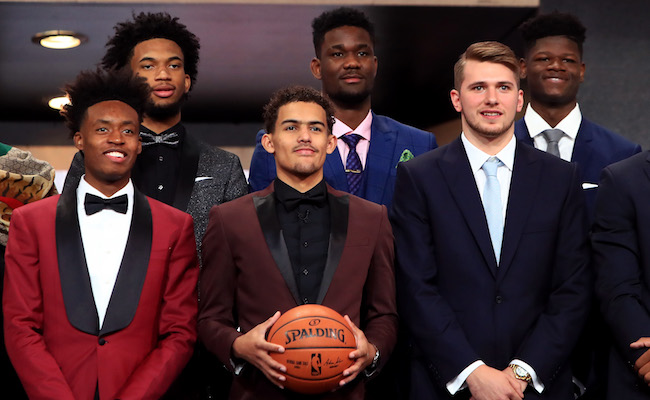 In the hours after the 2018 NBA Draft, a few online bookmakers scrambled to list betting odds for the league's 2018-19 Rookie of the Year. As the No. 1 overall pick, Suns big man Deandre Ayton drew quite a bit of attention as the favorite but, as of Monday, BetOnline.ag released its own version of the odds sheet and, in their eyes, Ayton doesn't sit atop the list. In fact, the No. 3 overall pick, Slovenian wunderkind Luka Doncic, is listed as the favorite despite the fact that he has not appeared at all in Las Vegas Summer League.
It comes as no huge surprise that Doncic (+300) would be seen in high regard, to the point where many have criticized the Atlanta Hawks for trading his draft rights in a package headlined by Trae Young. Beyond that, Doncic operated against a higher level of competition than any other player in this class and, as a result, there is reason to believe that his transition to the NBA might be a bit smoother than some of his contemporaries.
Still, Ayton is right on his heels (+450) according to the BetOnline.ag odds and Cavs point guard Collin Sexton (+700) made a strong push in jumping into the top five based on what appears to be a significant opportunity for playing time and usage in a post-LeBron world. In terms of long-shots, Young's shaky Summer League performance might provide some value (especially if the Hawks move on from Dennis Schröder) and Bulls big man Wendell Carter Jr. looks the part of a player that is ready to come in and make an impact for Chicago immediately.

It is never too early to search for value in the handicapping world and the full list can be found below.
Luka Doncic +300
Deandre Ayton +450
Marvin Bagley +600
Collin Sexton +700
Jaren Jackson Jr. +800
Michael Porter Jr. +1000
Trae Young +1000
Mo Bamba +1400
Kevin Knox +1600
Wendell Carter Jr. +2000
Donte DiVincenzo +2500
Mikal Bridges +2500
Miles Bridges +2500
Lonnie Walker +3300
Robert Williams +3300
Shai Gilgeous-Alexander +3300
Zhaire Smith +3300