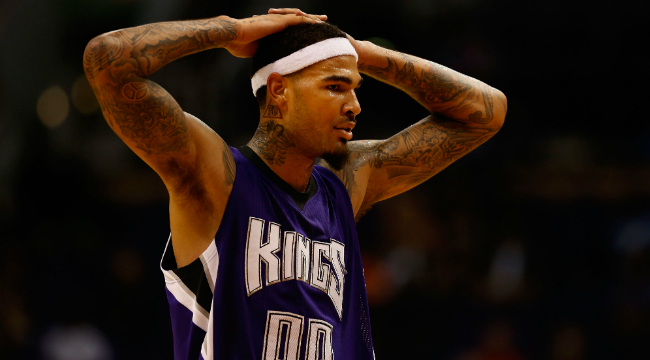 Much as we'd like one, we don't have a real ballot for the Rookie of the Year award, but when we put our rookie rankings together, we like to act like we do. That means we're not just picking favorites, or most exciting players, et cetera. For example, Myles Turner looks like he could really be something if he ever starts shooting those threes he took in college. But he hasn't, and what he has done isn't top-five material — yet.
Despite this, the toughest omission in terms of talent from this list is Sacramento Kings center Willie Cauley-Stein. His athleticism leaps off the screen, and not just in terms of length or jumping ability. He is straight-up fast, the kind of fast that gives one visions of chasedown blocks, or more importantly, shutting down smaller players on switches. A little more bulk and he could very well challenge for Defensive Player of the Year in the seasons to come. But first he needs to get in the damn game.
Even though he's back to starting after a couple of finger injuries (stop slapping the backboard, Willie!), Cauley-Stein is only averaging 17 minutes a game. Head coach George Karl says it's because he's out of shape, and it's a shame if true (and a bigger shame that Karl called him out publicly). But the fact remains, Cauley-Stein's been a difference-maker on the court, and if the Kings are trying to contend, they need to see how many minutes he can go.
Even as Rajon Rondo has brought his stats back to the levels of his Celtics days, he's still not the long-term answer at point guard, while Ben McLemore remains frustratingly raw at the other guard spot. The Kings still need young core pieces in the backcourt, but on the front line, a DeMarcus Cousins/Cauley-Stein pairing could be a killer for years to come.
5. D'Angelo Russell
Russell is still coming off the bench in favor of Lou Williams, as the Kobe Bryant retirement tour continues to supersede the development of the Lakers' youngsters. He's getting more consistent run, at least, and still showing fits and starts of being a gifted scorer from the point, with an embryonic Chris Paul set of elbow jumpers, spot-ups, and drives. Of course, if he showed more CP3-like passing, Byront Scott wouldn't be able to keep him off the floor. It's tough to show that on a team this awful at sharing the basketball, though.
4. Devin Booker
He's come on like a freight train in the last couple of weeks, averaging 14 points over the past 10 games while filling in for the injured Eric Bledsoe in the starting lineup. What's most exciting is that he's done it while enduring a bit of a cold streak from three, as he's at only 30 percent over the same time period. But he's at 47 percent overall, and getting points all over the floor.
His game has shades of JJ Redick, with quick elevation on his jumpers to maximize the effectiveness of screens (and it helps that Tyson Chandler is such a good screener). He's not the fastest player on the floor, but he's willing to drive off a screen rather than pop for a shot every time. Plenty of players can hit open threes these days, but Booker's offensive game is impressively developed for the youngest player in the NBA.
3. Jahlil Okafor
Okafor, like all the Sixers, has greatly benefited from Ish Smith's distribution at the point guard spot. Since Smith arrived, Jah's shooting percentage is at 59 percent, up 11 points from his season average. Even better, Smith's presence has given life to the thought that Okafor can share the floor with Nerlens Noel. Their three-man lineup actually has a 3.4 Net Rating — a positive net rating! On the Sixers! What a time to be alive.
And remember, Okafor is the best shooter of all three. If the Sixers could find anyone who could actually shoot from the outside, Jah has shown that he can be a true offensive anchor on the inside or where so many teams initiating offense at the high post. Okafor's even stayed out of the news lately — a low bar to clear, but an important one nonetheless.
2. Kristaps Porzingis
We've been through this one enough times to know exactly why he's good. Nothing's changed. The dude dropped 28 points and 11 rebounds on the damn Spurs, one of the greatest defensive teams we've ever seen.
When KP's outside shot is falling, he's pretty well unstoppable. Even so, his ho-hum 32 percent 3-point shooting mark seems to be enough to draw big defenders out of the lane and open up the offense for everyone else. His quick release demands that defenders stay close. And he's still throwing down insane putback dunks, in case you were wondering.
A reverse putback dunk! Ludicrous.
1. Karl-Anthony Towns
When it comes to this year's ROY race, the king stay the king. Actually, KAT has fallen off a bit in the new year (as the whole Timberwolves team has), only topping 20 points once in 2016 and shooting less than 50 percent in three of his last four games. But he's still rebounding at a good rate, and he brings all of the energy you'd expect on defense from a rookie paired with Kevin Garnett. Seriously, if Towns lost this spot, Garnett might actually kill him.
A fun wrinkle to Towns' season, if not all that surprising: he's shooting 85 percent from the free throw line. That's not just competent, that's straight-up great. Of course, he's got range out to (kinda) the 3-point line, but rookie big men just aren't great free-throw shooters very often.
(By the way, Porzingis is also shooting 85 percent from the line. What a year.)