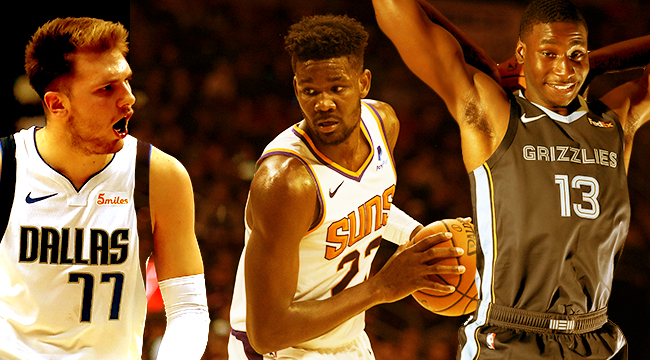 The 2018 NBA Draft class was a highly touted group and considered one of the best draft classes (at least at the top) in recent years — although, in fairness, that tends to get said a lot in June. However, as we approach the quarter-pole of the regular season, chatter about the Rookie of the Year race and how those rookies are faring has been placed on the backburner due to the never-ending drama produced by the rest of the league.
Still, there are some rookies putting up impressive seasons to this point, and, of course, those struggling to adapt to life in the NBA. Through 20-plus games of their careers it's impossible to know who will have the best career, who may stumble along the way, and who might be a late bloomer that has it all click at age 25. Still, the comparisons between rookies is unavoidable and the Rookie of the Year race is underway, so we're here to offer up our rookie rankings for the first month-plus of the season.
Part of the difficulty in evaluating rookies is that those that get big minutes are usually on bad teams with lesser players around them, meaning team peripherals (like offensive and defensive rating) aren't totally their fault. Those on good teams get lesser minutes and worse counting stats, but look better in other areas. Rookie of the Year almost always goes to the rookie with the best counting stats, and I wouldn't expect that to change this year, but quickly I'd like to highlight a few rookies that will probably be off the radar much of the year.
Miles Bridges, Donte DiVincenzo, Hamidou Diallo, and Aaron Holiday are all playing smaller roles and playing them well for playoff contending teams. Their raw stats won't look spectacular, but all four have been impressive in varying amounts of action for good teams, which is usually an indicator that they are all going to be solid NBA players for their careers.
Now, onto our rookie rankings, starting with one of the biggest surprises of this season and someone deserving of a bit of recognition in New York.

10. Allonzo Trier (Knicks):
Trier is averaging 11.8 points per game for the Knicks, shooting the ball at an incredible clip with a 48.7/45.0/81.9 shooting split on the young season. The Knicks are bad, and as such Trier's peripherals are as well. However, he's been a major surprise in a good way for New York as he and Mitchell Robinson have outperformed Kevin Knox to this point of the season among Knicks rookies.
9. Marvin Bagley III (Kings): The Kings have been a lot of fun this season and have been a surprisingly good team. Bagley isn't necessarily one of the reasons why Sacramento has been as shockingly competitive as they have been, but he's done what most hoped would be his base line coming out of Duke. Bagley isn't a good defender, but he's active on the glass (6.7 rebounds per game is third among rookies) and can get buckets, to the tune of 12.7 points per game (tied for the fifth most among rookies). However, the Kings are wildly better with him off the floor than on it, which isn't a tremendous surprise, but does indicate that Bagley's defensive struggles aren't just the product of the team being bad — the Kings are a +7.5 net rating without Bagley and a -8.7 net with him. Arguably the biggest problem for Bagley going forward is one completely out of his control in that he was taken ahead of Luka Doncic and will forever deal with that comparison.
8. Wendell Carter Jr. (Bulls): Carter has similar numbers to Bagley (10.8 points, 7.1 rebounds per game) and they share a similar net rating (Bagley slightly better), but where Bagley's issue is on defense, Carter's is on the offensive end. To this point, Carter has struggled with efficiency (as have the Bulls as a whole) and the offense craters when he's on the floor. However, you can see Carter's potential when he plays, particularly on the defensive end where he does his best to make up for the deficiencies of his teammates on that end with energy and length.
7. Mikal Bridges (Suns): Speaking of players with infectious energy, Mikal Bridges has done exactly what his biggest proponents hoped he could coming out of Villanova. He's not lighting up the stat sheet (6.8 points, 2 rebounds, 1.3 steals in 21.1 minutes per game) but his impact on Phoenix's defense and general energy level is obvious when watching them play and when taking a gander at the stat sheet. He's the only Sun with a positive net rating (+1.1) and when he's off the floor the Suns net rating plummets to a -18.3. He has, basically, been what they hoped Josh Jackson would be when they took him with the fourth pick last year, as a plus defender on the wing that is a capable but not great shooter (35 percent from three). The question for Bridges is whether he can continue to have this kind of positive impact on the Suns as his minutes go up.

6. Trae Young (Hawks):
Maybe the most difficult player to evaluate right now in this rookie class is Trae Young. The point guard out of Oklahoma is being asked to do a ton for the Hawks offensively and the results have been a mixed bag. He's been an excellent creator, dishing out 7.6 assists per game, leading all rookies. He's also been awful shooting the basketball, with a 38.3/25.4/83.3 shooting split, which isn't great for someone taking 14.6 shots per game (the most on the team). Young is not a good defender, which is compounded by the fact that the Hawks have a lot of poor defenders behind him. Advanced metrics aren't kind to Young right now, but I don't think he's been as bad as those indicate. The shooting numbers are a legitimate concern, but the way he's created for others is encouraging and adding John Collins back to the lineup should help him.
5. Collin Sexton (Cavs): It was an awful start to the season for Collin Sexton, but he's come alive of late for the Cavs. He's been much improved as a scorer, averaging 14.7 points per game and doing so by shooting the ball at a 45.1 percent clip (42.4 percent from three, albeit on very limited attempts). You'd like to see him facilitating more (2.5 assists per game), but then again, part of that is the Cavs not exactly surrounding him with the best shooters in the world. He's looked much more in control of his game of late, which is a good sign. He has shown a tendency over his time at Alabama, in Summer League, and early on in the NBA to go too fast and be too aggressive at both ends of the court, but recently he's been better about his personal tempo, which has yielded better results on the court.
4. Shai Gilgeous-Alexander (Clippers): Considering how good the Clippers have been and how much they've asked their rookie point guard to do on a good team, it's impossible not to be impressed with Gilgeous-Alexander so far. His stats don't jump off the page like some of the other top rookies (10.6 points, 3.4 rebounds, 3.1 assists in 27.7 minutes per game), but that he's doing that for one of the West's best teams and has been a positive player (+5.5 net rating) is exceptionally rare for a rookie, especially a rookie point guard. He bothers opposing point guards with his length on defense and he runs the offense with the confidence and composure of a veteran.

3. Deandre Ayton (Suns):
The first overall pick has been pretty much as advertised. He's averaging 16.4 points, 10.4 rebounds, and 2.5 assists per game for Phoenix, and is a dominant presence on the offensive end of the floor. His defense is certainly not what it can be or, to some, should be for a player with his physical traits, but that was not a secret with him entering the draft. The first question was whether he could be as physically dominant and effective on the offensive end in the NBA as he was in college, and to this point the answer is yes. The defensive question will be the one that determines whether his ceiling ever reaches his All-NBA talent.
2. Jaren Jackson Jr. (Grizzlies): The forgotten man at the top of the draft amid all the talk about Ayton, Bagley, and Bamba, as well as the Trae Young-Luka Doncic swap has been a spectacular pick up for Memphis. He's still working on his offensive efficiency, but has shown at times that his three-point range can travel with him to the NBA and working with Marc Gasol daily can only be a positive in him learning how to be an effective big man that stretches the floor. He's averaging 13.7 points and 4.5 rebounds per game, but his greatest impact is on the defensive end where he's been able to be a positive defender on the league's best defensive team, which is no small feat. As he continues to develop offensively, he very well could become a monster in this league because his floor is already being a very good defender.
1. Luka Doncic (Mavs): Everyone wanted to know if Doncic's game would translate to the NBA. We now know it does. He's been spectacular for the Mavs, averaging 19.1 points, 6.5 rebounds, and 4.2 assists per game, and has the best net rating of anyone on the starting unit. He's been lights out from three-point range, hitting 39.8 percent of his 6.2 attempts per game from distance, and his playmaking has been as advertised. There are parts of his game that clearly require improvement. He's not very good defensively, like so many others on this list, and his 3.8 turnovers per game are at times costly. Still, he looks the part of an NBA star and has plenty of room to grow. Dallas has to be thrilled with their decision to trade up for him, and right now he's the clear frontrunner for Rookie of the Year.