Until the All-Star break, many considered Dario Saric's maiden voyage in the NBA to be a disappointment. The 22-year-old forward was a regular contributor to the Philadelphia 76ers, but in the shadow of Joel Embiid and the injured Ben Simmons, Saric was nothing more than the "other" rookie on a largely uninspiring basketball team.
Since that line of demarcation, though, Saric has been phenomenal. In the 56 games that the Croatian rookie appeared prior to the break, Saric averaged 10.8 points, 5.9 rebounds, and 1.8 assists per game while shooting just 39.7 percent from the floor. Over the 15-game stretch beginning on Feb. 24, Saric's numbers have flown through the roof to the tune of 19.0 points, 7.5 rebounds, and 4.1 assists per game with a solid 45 percent shooting clip that has been accompanied by vastly increased usage.
Given that sudden rise, Saric has zoomed to the front of the line when it comes to the Rookie of the Year race. And with good reason. While he certainly has not been as good as his most famous teammate on a per-minute basis, Saric now comfortably leads this rookie class in total points (892) and total rebounds (445), while trailing only Brandon Ingram in total minutes played (1,852). The ROY pursuit has not and should not be based solely on cumulative statistics such as these, but given the preposterously low totals in games (31) and minutes (786) for Embiid, the door is open to the field should someone put together the performance needed to walk through it.
Dario Saric isn't terribly famous – even with die-hard NBA fans – at this juncture and he is operating in relative obscurity on a bad Philadelphia team. Still, his recent performance is more than worthy of praise and the Sixers have stumbled into yet another long-term decision when it comes to how to integrate the potential Rookie of the Year in alongside their duo of franchise building blocks in the future.
Where will Saric land on the Rookie of the Year list as of late March? Let's find out.
5) Willy Hernangomez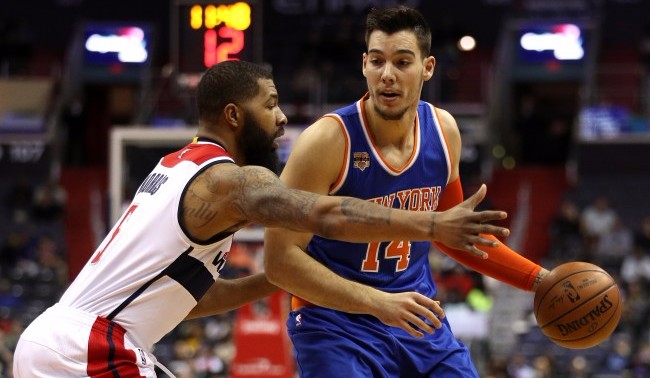 Even in late March, Willy Hernangomez probably isn't as famous or well-known as his brother, Juancho. That doesn't mean he is any less deserving of this slot, though, and New York's "other" young big man has been phenomenal. In the end, there might be a ceiling as to what Hernangomez can accomplish with the Knicks given the presence of Kristaps Porzingis and the fact that the future All-Star is probably a center long-term. Still, the strides made by Hernangomez as a 22-year-old have been encouraging.
In 61 games (11 starts), the youngster from Spain is averaging 7.2 points and 6.6 rebounds per game. That doesn't seem like much, but in this class, it jumps off the page and his per-36 minute averages of 15.3 points and 14.0 rebounds are even more exciting. From an efficiency standpoint, big men with strong rebounding numbers are always treated well by PER but Hernangomez's mark of 18.3 is still quite strong and he is efficient (56.7 percent true shooting) from a scoring perspective. Other rookies like Jamal Murray and Buddy Hield will draw more attention, but Hernangomez has been better this season.
4) Jaylen Brown
Defense matters and that is why Jaylen Brown is on this list. The No. 3 overall pick from California isn't lighting the world on fire statistically in averaging only 13.7 points and 6.1 rebounds per 36 minutes this season, but Brown has taken a massive leap defensively, and it is easy to see why Boston tapped him with that lofty pick.
Brown is now playing 22.9 minutes per game over the last 24 contests for the playoff-bound Celtics, and he is able to stick in the rotation based on explosiveness and versatility. The combo forward isn't a phenomenal shooter (33 percent from deep) by any stretch, but Brown is at least a threat from range and his athleticism helps to pose an offensive threat. Still, this is a bet on his lock-down ability defensively and the pairing of Brown and Marcus Smart (in addition to Jae Crowder and Avery Bradley) can be absolutely devastating to the opposition. It's been fun to watch Brown's development, even over a short period of time.
3) Joel Embiid
The most divisive point when it comes to the Rookie of the Year race is just how credible Embiid's candidacy actually is. As noted above, Embiid appeared in only 31 games and played fewer than 800 minutes this season before succumbing to injury. While his small workload from a minutes perspective isn't exactly a negative indicator given that it was team-mandated, Embiid's overall impact remains up for debate.
In short, no ROY has ever approached the (lack of) minutes that Embiid actually participated in this season, even if he was utterly incredible when he played. As a reminder, the former Kansas star averaged 28.7 points, 11.1 rebounds and 3.5 blocks per 36 minutes this season and, for good measure, Embiid posted a 24.1 PER to go along with a 58.4 percent true shooting clip.
No one would credibly argue against just how dynamic Joel Embiid was when he was on the floor this season but, even in a (very) weak rookie class, there are candidates with more deserving profiles. In the end, it comes down a philosophical debate as to whether Embiid should win the award and this placement indicates which side is depicted in this space.

2) Malcolm Brogdon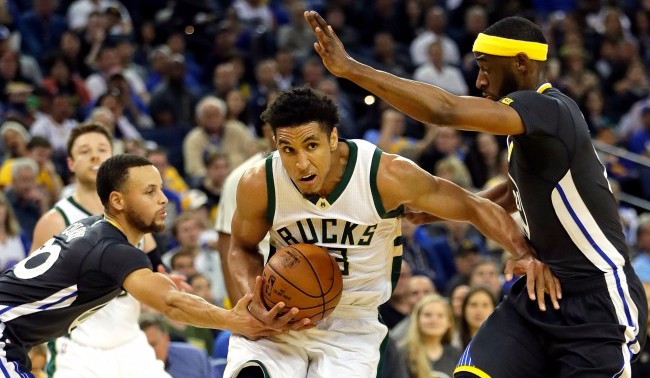 What a story.
Malcolm Brogdon was seen as a "safe" pick at No. 36 overall coming out of Virginia, but almost in an insulting way. Everyone knew how smart and fundamentally sound Brogdon was, but he was already old by rookie standards (Brogdon is now 24) and he isn't a dominant athlete that would tantalize scouts. Fast-forward to late March and Brogdon has a legitimate claim as a Rookie of the Year contender.
In the end, he probably won't have the raw numbers to challenge Saric (or even Embiid) for the crown, but Brogdon has been a staple in Milwaukee's lineup for a reason. Since first joining the starting lineup on Dec. 30, Brogdon has played 29.5 minutes per game over a 39-game sample and his production has been encouraging. His per-game averages of 10.0 points and 4.1 assists look fantastic when compared to his peers, but beyond that, Brogdon's uber-efficient shooting sets him apart.
He is converting 40.6 percent of three-point attempts on the season and that helps to lead Brogdon to an impressive 55.3 percent true shooting clip with a 14.4 PER. Defensively, Brogdon isn't a full-blown "stopper," but he is already a very good defender that can guard multiple positions and, simply put, he has been the best point guard option on the Bucks roster outside of Giannis Antetokounmpo. In fairness, Brogdon may not get much better than he already is but that isn't what this award is supposed to be. He's been fantastic and should be recognized as such.
1) Dario Saric
Much has rightly been made of how bad this class has been outside of "The Process," but Saric's late-season development is helpful in this regard. His season-long numbers (12.6 points, 6.3 rebounds per game) don't necessarily scream of ROY candidacy but they will likely improve down the stretch given his current usage and Saric easily has the best cumulative statistical profile.
Will he win it? We'll see. Should he win it? Probably. Until it happens, though, the debate rages on with fervor.