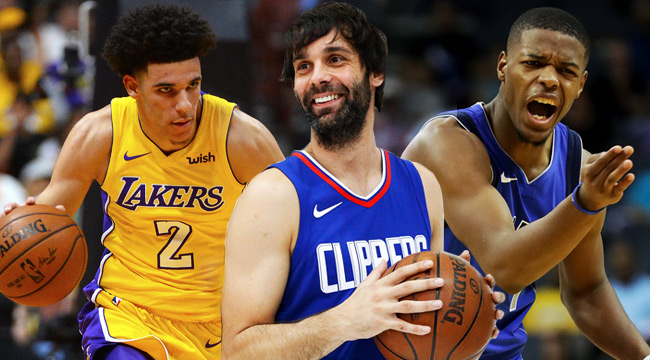 The start of another NBA season means a time to embrace the new and different. Forget about the mega powers in the Eastern and Western conferences and the established stars that will almost certainly lead them to another NBA Finals appearance. LeBron James and Stephen Curry are old hat at this point. We suck young blood in these parts, and the NBA Draft has given us a fresh crop of talent to slake our thirst for new basketball superstars.
But before the new season begins, we have to talk about the potential these rookies have. Will one emerge as the clear-cut Rookie of the Year by season's end? Or will the talent in the 2016 draft class prove so immense that it's a year-long dogfight that dominates your League Pass viewing habits? Will Lonzo Ball forever duck DeAaron Fox, depriving us of another showdown between the rookies and making the writing of this feature that much more difficult?
Probably.
But it must be written, and it will be done. The games will continue unabated. And, Bird willing, we will play this season out as this flat planet's sun circles overhead, turning fall to winter and to spring once more. Who will lead our preseason Rookie of the Year ballot? Read on to expand your mind, friends.

5) DeAaron Fox, Sacramento Kings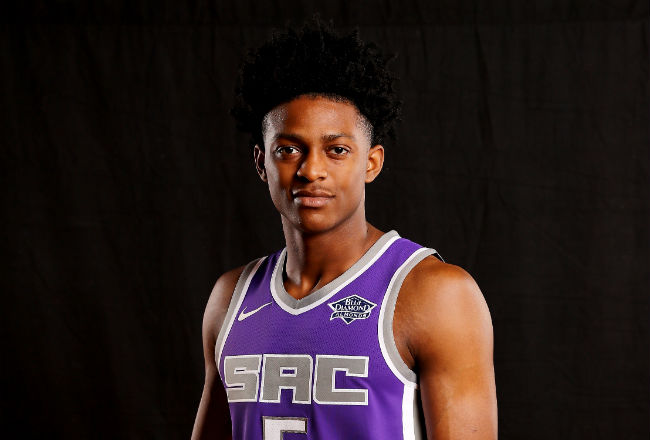 He must be on this list because Lonzo Ball is, of course, on this list. We just can't put Ball behind Fox at this point, and so here he is. Their shared history will create an interesting subplot in this rookie battle whether they'd like to or not. In fact, Ball would likely not want to make this a thing, but it is. The Lakers and Kings will play one another four times this season, and every one of them will be a Ball vs. Fox showcase. If Ball shows up, that is.
On his own, though, Fox is an intriguing talent. He's got hot takes on fast food, which will cost him in this poll. But the Kentucky alum and fifth overall pick in this year's Draft does have killer instinct and plenty of swagger, and he will likely have a much bigger role on the Kangz than other similarly-hyped rookies like Markelle Fultz and Jayson Tatum. Fultz is kind of a mystery at this point and Tatum will likely see a limited role on a stacked team. Fox will get his big moments, if he can live up to them. So far, he's certainly showed up when the moment is big. Against Ball, at least.
4) Ben Simmons, Philadelphia 76ers
Oh, right. The top pick in last year's draft didn't play last season. The irony here is that Simmons is going up against a much tougher draft class here, and he's still got a shot at winning the ROY. There is certainly a lot at play here with the Sixers, including the health of Simmons himself and some notable teammates like Joel Embiid. I'm not going to make any predictions about how the Sixers turn out this season, but I'd recommend a biome primarily made of packing peanuts for them to live in when they're not on the court.
Expectations are cautiously high for this Sixers team, and its young stars certainly have a whole lot to do with that. If Simmons comes back from his injury fully healed, the results keep him on this list all season. If things go wrong, it might be another year of waiting in Philadelphia.
This is the second time Fultz has been mentioned in this piece and he won't be found on this list. A note on that: there's a chance Fultz morphs into a significantly productive player this season. There's a chance he figures out his free throw woes and lives up to his status as top pick, turning from a bench player into a star in his first season. But right now, it seems a lot more likely that everyone else on this list plays better than he does this season. That doesn't mean things won't change, though.
3) Lonzo Ball, Los Angeles Lakers
Ball might just be the most hyped NBA rookie in recent memory. He sold out a Summer League session, has his own reality show, and already has perhaps the loudest hype man in the league. His shoes made more news than some of the guys on this list. But what happens on the floor has little to do with the talk off it, even if talk is all we did over the last few months.
Is he the most valuable rookie on this list? Well, his dad sure seems to think so. And the Lakers certainly are pretty high on the pass-first point guard. He's going to have some big moments this season, and the Lakers will certainly sink or float with Ball this year. He is the future of the franchise, whether LeBron James comes calling or not.
But I am allowed to be skeptical. So let me start the season as skeptical and be the one person on this slowly-dying Earth that actually experiences joy for once. Give me a Western Conference that has some surprises, even if the surprise is that the hype around Ball was worth it in the end.
2) Dennis Smith Jr., Dallas Mavericks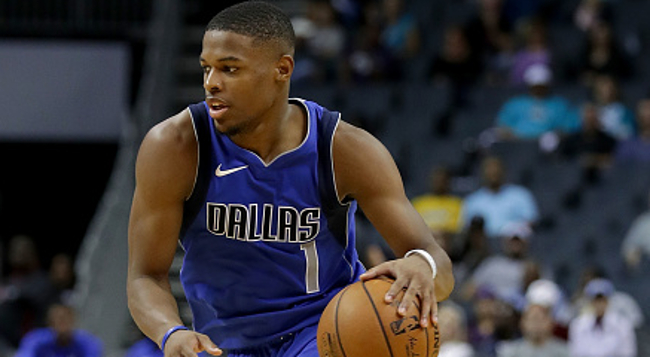 The Dallas Mavericks may have gotten a steal when they drafted Dennis Smith Jr. out of North Carolina State this June. The preseason hype for his immediate impact on the Mavs has truly been something, and many people have him as a dark horse favorite for Rookie of the Year honors. I like this pick as well, but Dennis Smith Jr. has one thing going against him right now: he is not Serbian and does not have the long, flowing locks that make older, greying men long for an era of freedom and fun they can never get back.
Smith, by all accounts, is going to be a tremendous NBA player. But he is not the most exciting "rookie" in the field just yet. Not when the regular season is a mystery and every teams' dreams can come true before the ball is tossed aloft and the clock starts ticking. Maybe next month, Jr.

1) Milos Teodosic, Los Angeles Clippers
Can a 30-year-old actually win a Rookie of the Year award in the NBA. Hell yeah, this 30-year-old can. Teodosic has played in Russia and Greece, but neither of those countries have teams in the Association. And right now it's easy to see why experience wins out over one of the more exciting crops of young talent in the NBA. The 6-foot-5, 198 pound guard can friggin sling the dang basketball around. Whether his 15.5 career points per game stat means anything in terms of NBA production seems irrelevant at this point, honestly.
There's a vacuum effect that can happen to a franchise when it loses a huge part of its offense. Chris Paul leaving for the Houston Rockets could easily derail a team that's come close in the postseason but never quite got there. Last season's postseason disappointment was thought to have signaled the fall of Lob City, but the Clippers never quite had a passer like Teodosic distributing the ball. They've never had that kind of flow, either.
I'm not saying Milos is going to get the Clippers to the forbidden land that is the Western Conference Finals. But I am saying he will be leaned on by this offense, and he's certainly shown he can move the ball in preseason and make things happen. If Malcolm Brogdon can win a Rookie of the Year award, why not a 30-year-old who can sling an underhand pass 70 feet with ease?
Root for Teodosic to do great things. It will be good for your health.