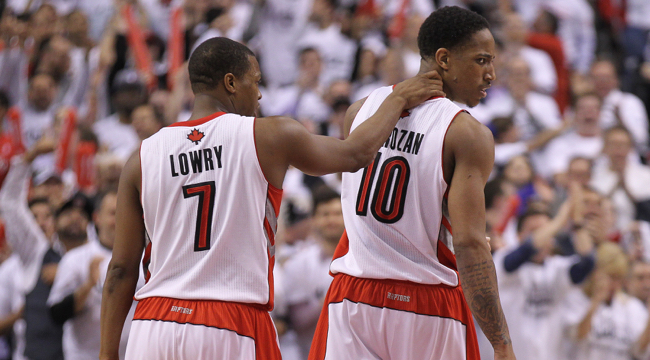 The 2015-16 NBA Season starts in less than two weeks, preseason hoops are in full swing, and playoff prognostications have begun in earnest. Since season previews can get bogged down by team-specific minutiae, and we cover every basketball team, we're providing our readers reasons why you should care about all 30 teams in the Association.
---
---
Next up is the Toronto Raptors, a team who looked destined for a long playoff run in late December last year, but who fizzled badly after the all-star break and got swept by the Wizards in the opening round. Fortunately, they also have a cold-blooded general manager in Masai Ujiri, who surveyed the prospective market to improve at last year's deadline and decided against making a move.
It was a prescient determination considering how they flamed out over the season's second half, but they also re-signed Jonas Valanciunas, who — as you'll see — isn't a perfect low-post presence, particularly at the end of games. His four-year, $64 million rookie extension might sound large, but it's actually a steal when you remember it's under the max and the cap is about to make a jump. On top of that, they signed DeMarre Carroll to a fair deal, shoring up their wing with a Hawks player who was ready to do more — and certainly seems equipped to do so.
This all might make #WeTheNorth fans a bit blasé, but "In Masai We Trust," might as well be on the Canadian dollar.
What might general manager Masai Ujiri do to catapult over Washington, Atlanta, and Chicago in the East?
This past summer, Masai Ujiri appeared to go HAM on the notion of serious rebuild.
But then backtracked.
He ended up keeping his core backcourt of DeMar DeRozan and Kyle Lowry together. Lowry so far this preseason has looked tremendous after losing a bunch of weight this summer.
DeRozan fell into a rut last season after tearing a tendon in his left leg and missing all of December and some of January getting healthy. His All-Star appearance in 2014 was in his rear-view and the Raptors faltered just when he came back, a bad sign for his efficacy with this unit.
But with Masai move the popular off-guard? DeRozan has a player option for $10.05 million next year, and even coming off a rough 2014-15 season, he'll likely opt out regardless of how effective he is this season. There's simply too much money available after the cap hike and there aren't many blue-chip free agents — aside from some guys coming up on rookie-year extensions (Bradley Beal and Andre Drummond) next summer after Kevin Durant.
But does a shooting guard who takes a lot of long 2-pointers — over a third of all his shot attempts over the last three years have come between 16 feet and the 3-pointer arc, or the least efficient shot in basketball — take a step back shooting from downtown?
After shooting a career-high 30.8 percent from beyond the arc in 2014, DeRozan dipped back below 30 percent last year, and 30.8 percent is substantially lower than the league average of 35 percent.
It's just not conducive in today's spread-the-floor NBA where even centers can knock it down from beyond the arc.
But DeRozan's future isn't the only cloudy one in Toronto. Ujiri is that rare executive with the brains and the balls to hoodwink his peers. Yes, general managers have gotten a lot better about remaining frugal to avoid the dreaded luxury taxes, but with the cap jumping so much over the next two seasons, it might provide more instances where Ujiri can take advantage of rival GMs itching to spend some of that freed up money.
He locked up DeMarre Carroll on a smart deal this summer that will look even better in two years. Carroll will space the floor better than DeRozan can, and he can match up with the LeBrons of the world on the other end, something that's key in this day of superstar swingman.
Back to the shooting-guard spot, which is where we're guessing Ujiri might roll the dice. Terrence Ross could be a restricted free agent in the summer of 2017 if they don't sign him to an extension next summer. As DeRozan's backup, he's knocked down better than 37 percent of his triples over the last two years, despite averaging more than 4.5 attempts per game. That's more in line with today's NBA, and it'll be interesting to see how Ujiri reacts if DeRozan starts slow.
The Raptors need to keep bodies out of the paint this year to open things up for the next reason to care about this squad. The best way to do that is with shooting. Patrick Patterson has improved from beyond the arc (37.1 percent on a career-high 3.5 attempts last season), Lowry is certainly a threat, Carroll can knock them down and so can Ross. We'll see just how "open for business" Ujiri is if he's forced to break up the fun-sounding DeMarre-DeRozan combo along the perimeter.
After getting re-signed, can Jonas Valanciunas defend well enough to be on the floor at the end of games?
Before they gave him a four-year, $64 million contract extension in August, it was unclear just what the Toronto Raptors planned to do with Jonas Valanciunas.
The Latvian behemoth has been a solid if unspectacular contributor since Toronto made him the fifth pick of the 2011 draft. He already boasts a combination of extremely enviable qualities in a true center, and clearly still has room to improve – 23-year-olds entering their fourth season are nowhere near their playing peak.
That's why it speaks volumes of Valanciunas' obvious strengths and weaknesses that the Raptors were able to extend his contract for below the maximum amount allowable. A young, true 7-footer who shot 51 percent on a healthy dose of post-up attempts, knocks down free throws at a near 80 percent clip, and has the makings of a reliable mid-range jumper? Players with that offensive profile are extremely rare, and possess immense value in a league that's finally understanding the premium of space on offense.
If the Raptors station shooters around a Valanciunas post-up on the left block, he'll be liable to feast in a one-on-one matchup. Should the opponent decide playing him straight-up is a losing proposition, an additional defender will crash to the ball – beginning a string of rotations bound to yield an open shot if ball movement is sound. Valanciunas has barely flashed the ability to make reads that best exploit those double-teams, but there's reason to believe they'll come with enough reps. His feel on offense is obvious.
It's the other end where one of two things must happen for Toronto and Valanciunas to coax the best from one another: Dwane Casey will either adjust the Raptors' hyper-aggressive defensive scheme to make life easier on his lumbering center, or another season of spending crunch-time on the bench will force Valanciunas into nuance that makes up for his physical deficiencies.
Casey, for his part, is saying all the right things about playing his best big man down the stretch of games in 2015-16. "Father Time is a great teacher and developer of those kind of situations," he told CBS Sports on Media Day. But there are also other factors that could help Valanciunas avoid the fourth quarter that plagued him in 2014-15, when he played a total of 292 minutes in the final stanza – and rode the bench for its entirety on 23 separate occasions.
Not every center moves like Tyson Chandler or even Marc Gasol. Some of the league's biggest players are able to compensate for a lack of quick-twitch athleticism with understanding and technique that makes them effective back-line defenders. Zaza Pachulia comes to mind, and an ever-hobbled Kevin Garnett has remained impactful on that side of the ball despite quickness that would make his former self blush.
Valanciunas isn't that type of defender yet, but he's not Enes Kanter, either. Offensive players shot 46.2 percent against him at the rim last season, a solid number just above that of Timofey Mozgov's. A 7-foot-6 wingspan, believe it or not, comes in handy even when a player is a half-step late. It's on the perimeter where Valanciunas really lags behind. He ranked in the 38th percentile of pick-and-roll defense among bigs last season according to Synergy, consistently failing to find the balance between corralling ball handlers into the tricky area 20 feet from the basket and recovering back to the roll man before the offense exploited his over-activity or indecisiveness.
That's not all on the big man, though. The Raptors' perimeter defense fell into the abyss following the team's hot start to the season, and Masai Ujiri reacted by adding DeMarre Carroll and Corey Joseph to the fold this summer – each of whom represents a major upgrade to Toronto's stable of defensive options.
The onus never falls on the team or individual entirely; success, failure, and something in between is always about symbiosis in basketball. And if Valanciunas rewards Casey's new fourth-quarter faith with a even subtle progress on the mental aspect of defense, the Raptors might have improved enough elsewhere to make him net neutral defensively – a development that would not only further unleash his expanding offensive repertoire, but make him one of basketball's best long-term bargains, too.