(These images are the work of David Rappoccio. You can find him on Twitter at @drawplaydave.)
Basketball and wrestling are a perfect pairing if entertainment with a long history of crossover. Big personalities, fun announcers, and lots of drama permeate both field. So we thought we would make two great tastes taste great together, by reimagining NBA stars as professional wrestlers (or vice versa).
Manute Bol as Giant Gonzalez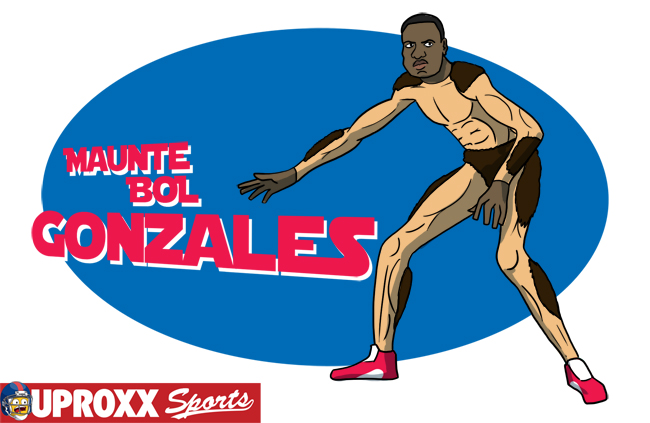 Who doesn't want to see Manute Bol playing entire games in an airbrushed bodysuit that makes him look like a naked, hairy Argentinean? Bol used his size to ether smaller opponents, just like Giant Gonzalez used ether to literally ether The Undertaker at WrestleMania IX. Make sure a very short person is standing near him at all times!
Steph Curry as Rey Mysterio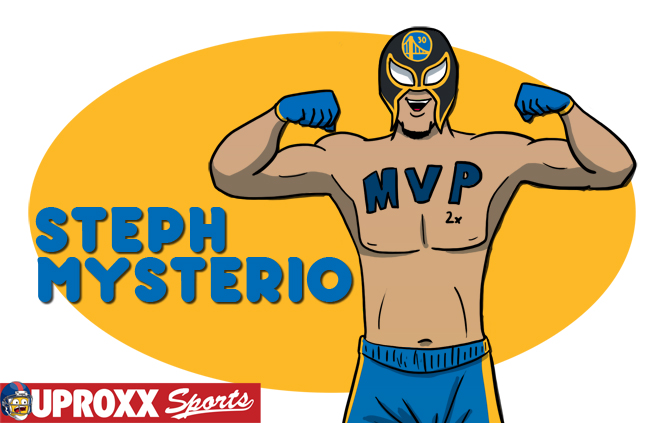 The NBA's "Biggest Little Man" is already one of the greatest of all time, despite detractors thinking his style is showboating and a bunch of cheat codes. Besides, how are we gonna get a picture of Rey Mysterio wearing a Golden State Warriors mask and not make him Steph Curry?
Wait, is it too late to make him Curry Man?
Anthony Davis as Santino Marella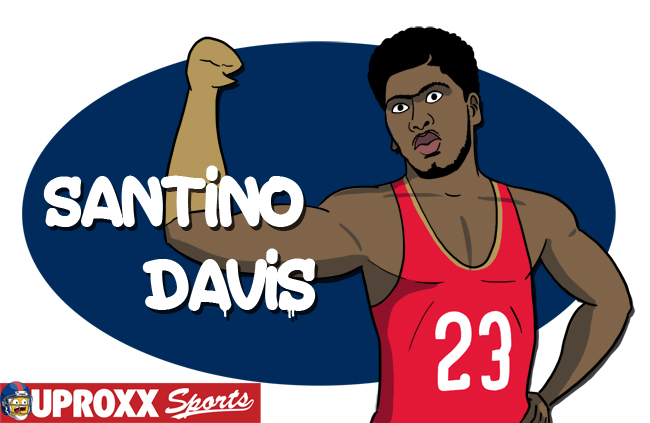 It's all about the unibrow. Plus, who doesn't want to see Davis reach into his shorts in the middle of a game and pull out a pelican sock puppet?
Matthew Dellavedova as Ric Flair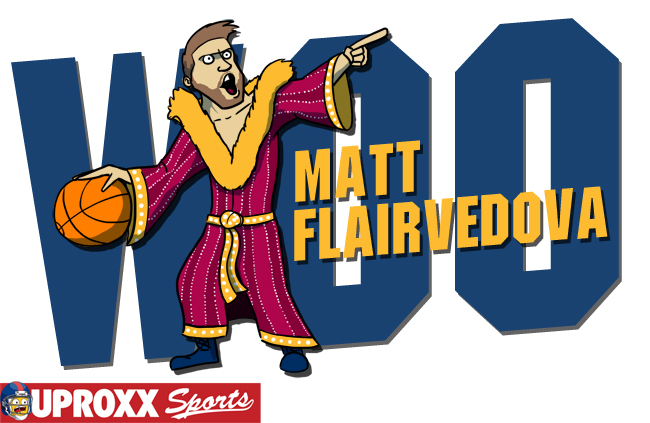 He doesn't quite have the championship pedigree that Ric Flair has, but I don't think anyone is arguing that Matthew Dellavedova is anything other than the dirtiest player in the game. You know that if he could get away with a full uppercut to the groin, he would. He's also the only NBA player in recent memory to apply a leglock during a game.
Tim Duncan as The Undertaker
Tim Duncan's defining traits are his size, his zombified aging process and his ability to stay great as he got older. Add "wears tight cowboy hats" and "is related to a fire demon" and you've got The Undertaker. 90% chance he's powered by an urn with a flashlight in it.
Kevin Durant as Kevin Owens
Be honest, you'd buy that shirt.
George Gervin as Glacier
Glacier Gervin would be one of the best players of all time if it didn't take him half a year to get to games. Too bad he never got to play with Reggie "The Cat" Miller or Markieff Mortis.
Draymond Green as The Ultimate Warrior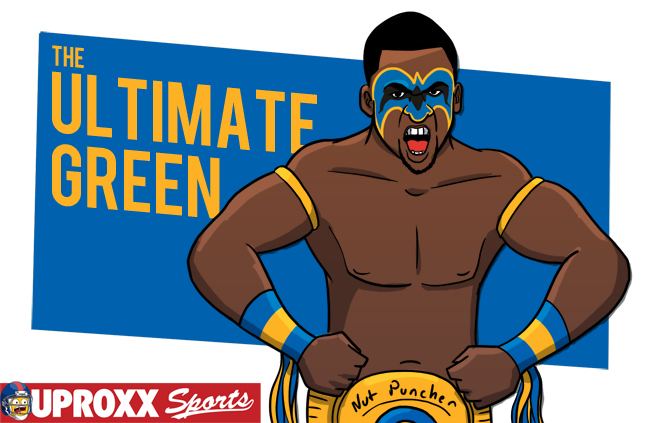 Since the Warriors lost the pivotal Game 5 where Draymond Green was suspended, I'd say he is officially the Ultimate Warrior. No matter what LeBron says.
Blake Griffin as Kane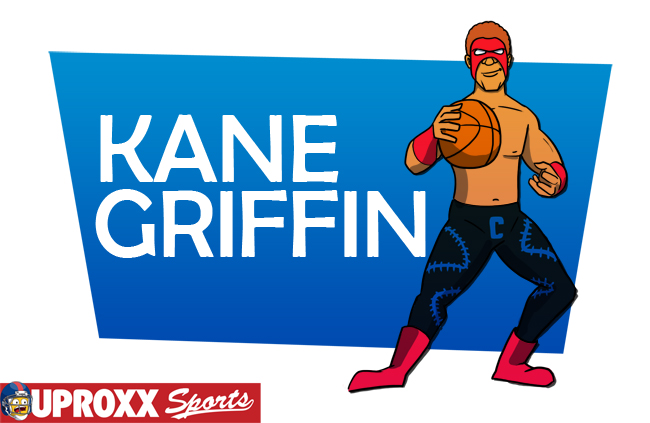 Some people really, really like Kane. Other people really, really hate Kane. There aren't a whole lot of people who are indifferent to him. Depending on what persona he's embodying or role he's playing, Kane can be completely charming or frustrating and insufferable. That all sounds a lot like Blake Griffin to us.
James Harden as Bray Wyatt
Follow the buzzards (to the Rockets' playoff performance)!
Dwight Howard as X-Pac
Both Dwight Howard and X-Pac are perhaps best known for being completely, universally despised just for existing. We'll help you out, Dwight, because we know you're too polite to ever tell anyone to suck it.
Michael Jordan as John Cena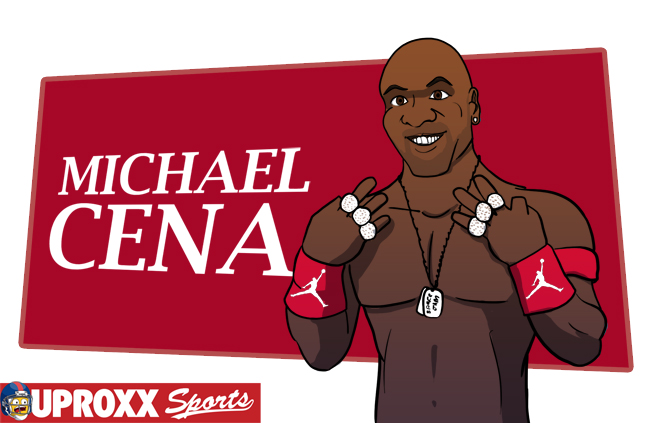 He's one of if not the greatest performer in company history, he's won more championships than almost anyone, and all you want to do is meme him. Everything he wears has his likeness on it. Stars in movies with cartoon characters. Always makes you feel like this:
Christian Laettner as Erik Watts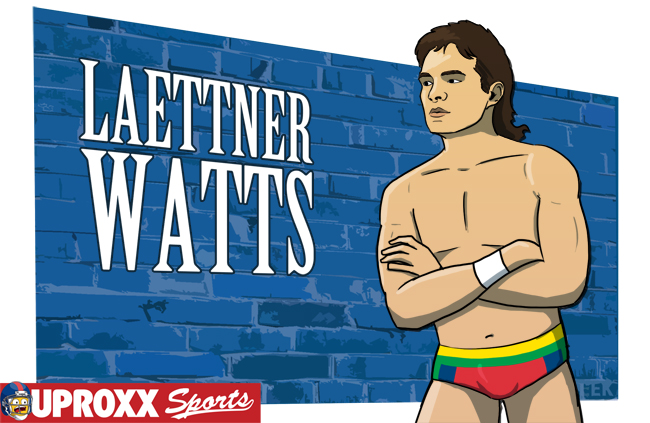 He probably doesn't deserve to be here. Also, not much of a vertical leap.
LeBron James as Dolph Ziggler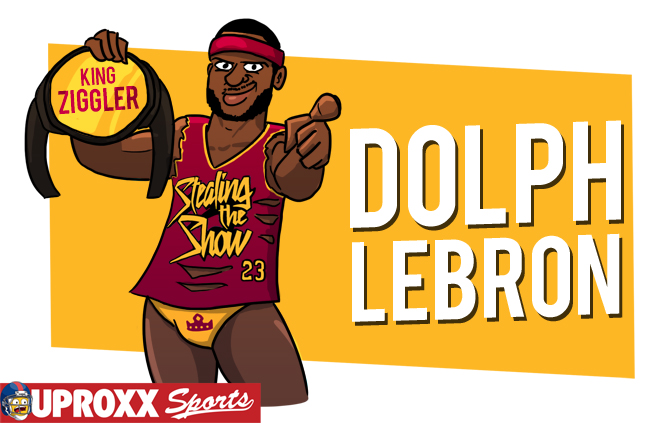 O-H! I-O! Despite winning championships and being one of the most physically gifted performers in the game, he'll always be as defined by his failures as by his accomplishments. One day he'll figure it all out, put on the performance of his life without having to announce what a great performance it is, and win on his own. Also, he should really do something about his hair.
Kevin Love as Brother Love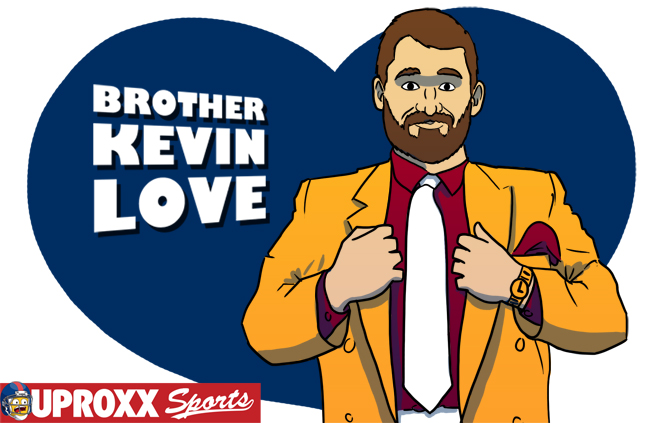 Kevin Love is such a superfan of the Attitude Era that he'd probably be miffed that he's just Brother Love here. But come on, this is a layup (wrestling term).
Carmelo Anthony as Ryback
THE KNICK THUNDER HAWK ROCKET UNEMPLOYED GUY!
Metta World Peace as Randy Orton
He's chilled out in his old age, but man, he was a total sh*thead when he was younger. Like, take a crap in people's gym bags bad. Like, attacking people in the crowd and destroying TV cameras bad. What can you say? Sometimes intermittent explosive disorder makes you pretend you're a snake. It happens.
Kobe Bryant as Shawn Michaels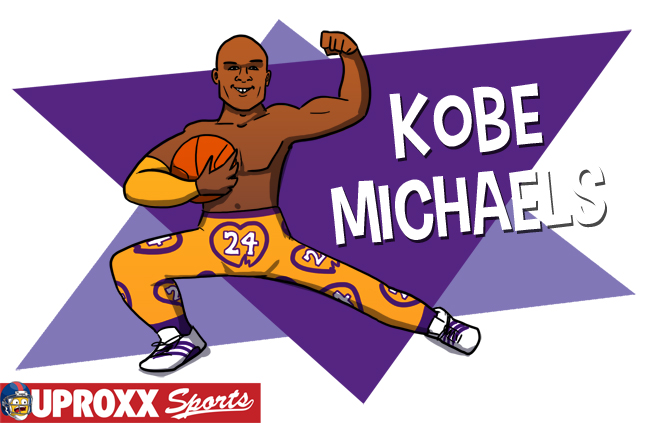 Undoubtedly one of the greatest of all time, but probably not as good as he thinks. Tends to give up and bail if the situation gets too frustrating. Gives himself his own elaborate nicknames. Definitely would've thrown Shaquille O'Neal through the window of a barbershop had he gotten the chance.
Muggsy Bogues as Hornswoggle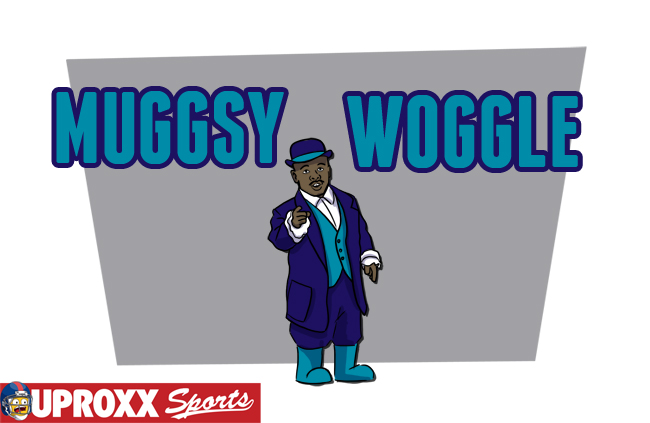 The only problem is figuring out how someone could live under the court.
Steve Nash as Kevin Nash
All we want in life is to be able to call Steve Nash "Little Daddy Cool."
Chris Paul as Sami Zayn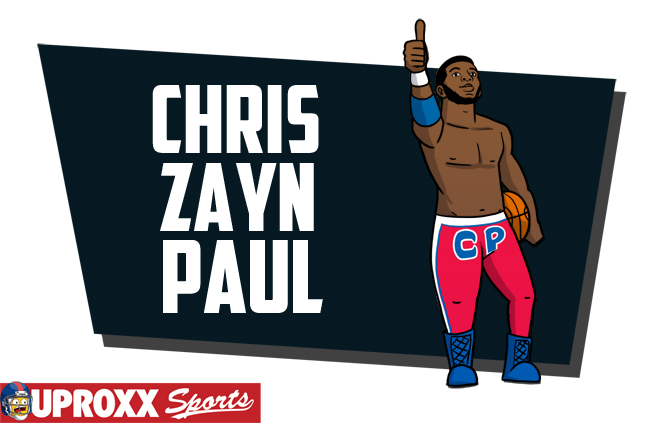 Sami Zayn is the most likable underdog in pro wrestling, who will probably never win anything of real importance. What we're trying to say is: we really, really like you, Chris Paul.
Scottie Pippen as Triple H
Triple H is legitimately the third-biggest star of his generation, who was extremely talented and a Hall of Famer on his own merits. But according to Triple H, he was THE VERY BEST EVER NO BACKSIES YOU CAN'T PROVE OTHERWISE. Don't be surprised if Scottie Pippen has somehow written himself into Adam Silver's will.
Dennis Rodman as Scotty 2 Hotty
Rodman could probably qualify as his own professional wrestler, but all we want to see before we die is Rodman bulldog a guy so hard it makes his opponent flip over in place, bug out his eyes, dance in place, hop on one foot in a giant semi-circle, do The Worm while everyone in an arena spells "worm," shuffle his hands and fall onto a guy with the weakest chop in human history. Wrestling is the only thing weirder than Dennis Rodman.
Derrick Rose as King Barrett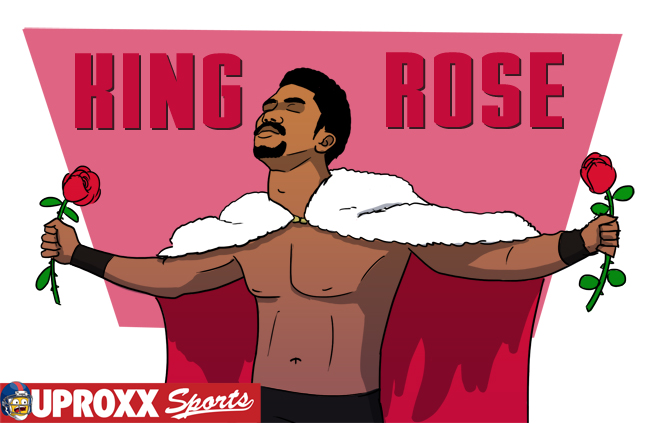 Would be one of the best players in the league if he could stop getting hurt. LOL, that's never happening.
Shaq as Andre the Giant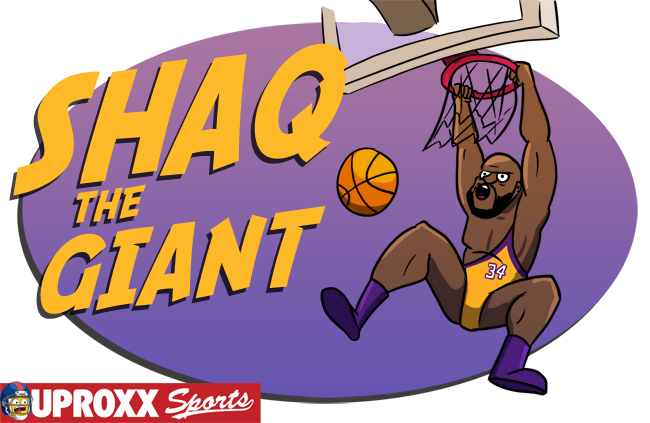 Shaq is the greatest big man of all time, just like Andre. And he's almost certainly going to wrestle Andre's fake large son at next year's WrestleMania. He can only hope he wears the Andre singlet when he does so.
Isiah Thomas as Bret Hart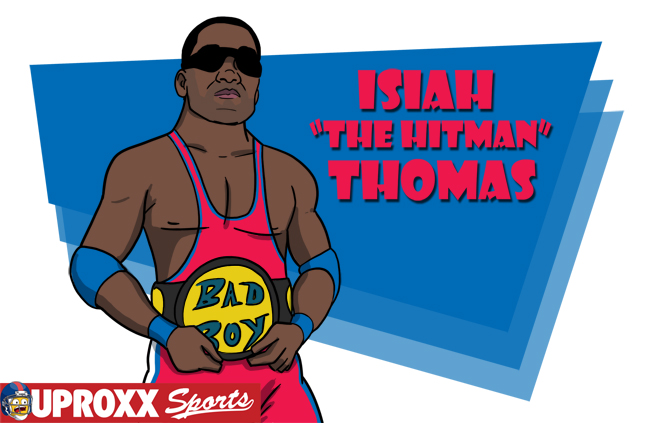 Beloved to children of the 1980s and 1990s, both Bret Hart and Isiah Thomas have kind of lost it as old men. Very talented families, though!
Russell Westbrook as Tyler Breeze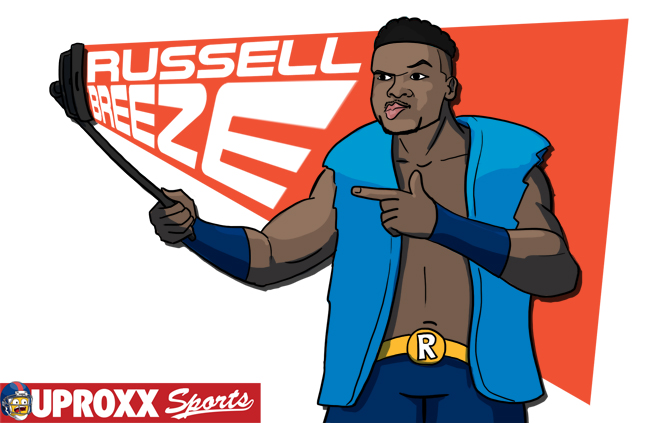 The NBA's resident fashionista wears stuff that is too bold even for Tyler Breeze. We're just dying to know where Westbrook is currently making his seasonal residence.
Dominique Wilkins as Sting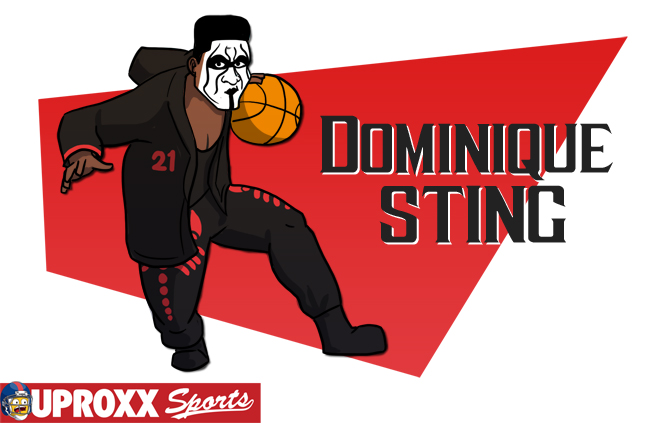 He'd probably be considered one of the greatest players of all time if he hadn't wasted his prime in Atlanta.