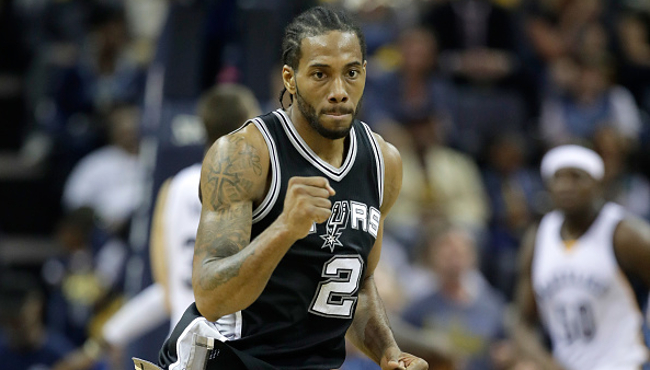 The Kawhi Leonard saga continues. When the Spurs' disgruntled superstar reportedly demanded a trade earlier this summer and cited the Lakers as his preferred destination, many of us assumed he'd be the first shoe to drop in the coming mega-team everyone anticipated forming in Los Angeles this offseason.
But while LeBron James has already signed and Paul George has opted to remain in Oklahoma City for the long-term, Kawhi's future is still very much up in the air. That's at least partially because the Lakers and Spurs can't seem to settle on a deal that is amenable to both parties. The specific details about what's holding things up remain unclear, however.
Some front office execs apparently believe it's because his prospective suitors have lingering reservations about his long-term health outlook and that the lack of communication from his camp throughout his season-long ordeal up to now has muddied the waters even more.

Via Ric Bucher of Bleacher Report:
"They're trying to give the impression that they don't have to trade Kawhi," said one Western Conference GM, who stated he also would make an offer for Leonard if he knew more about his condition and mindset. "The Spurs only like to deal when they have tremendous leverage," he added. "Now they don't have it, and they're trying to create it."

"It seems like every other player is putting out a video on social media of them working out," said the Eastern Conference GM. "If Kawhi did one, he'd instantly get 35,000 hits, and half of them would be from NBA GMs. How can you make a deal or even an offer without knowing if he can play? He's got to be seen. If he came out and played in preseason and looked good, you'd definitely see teams trying harder to get him."
It's become painfully clear in recent months that the conspicuous silence from Kawhi and his agent has only exacerbated matters. Now, it's allegedly holding up the original goal of getting him traded to his hometown team.
Despite their reservations, just about every team in the league would jump at the opportunity to acquire Kawhi. The major obstacles now appears to be ones of leverage and finding out what they'd get if they made a major move for the star forward.
(Via Bleacher Report)